User Concern
"I just purchased an iPhone 13 Pro Max. I backed up my old iPhone and then transferred everything to my new iPhone. For some reason, my contacts didn't transfer. How can I fix this?"
It is always exciting to get a new iPhone like iPhone 15. While setting up a new iPhone, the first thing you're going to do is transferring contacts from your old iPhone to the new one. However, it doesn't seem to go smoothly for some reasons.
In the Apple Community, many users complained that the contacts didn't transfer to new iPhone when they made the transfer with iCloud. We do understand how discomfort it is when having problems to transfer contacts to new iPhone.
Take things easy, we have summarized several methods to help you transfer contacts to your new iPhone 15. Let's check out.
Part 1. Why My Contacts Didn't Transfer to New iPhone
You're probably wondering why contacts didn't transfer to new iPhone before getting to know the solutions for this issue. Here's why:
Contacts Syncing may be disabled on the new iPhone. The contacts saved in iCloud will not be updated on the new iPhone if this is the case.
To sync contacts between 2 different iPhones, the iCloud account on the 2 devices should be the same, otherwise the contacts will not be transferred to the new iPhone.
Unstable network connection: Stable network connection is the most necessary to sync contacts between 2 iOS devices, or the transferring process will be halted.
Part 2. How to Fix Contacts Didn't Transfer to New iPhone
Here are all the possible solutions for you if your contacts are not transferring to the new iPhone 13/13 Pro Max.
1. Enable Contacts in iCloud
As we have stated previously, the contacts will not be transferred if iCloud Contacts is toggled off. So you should turn it on if it is turned off. If this option has already been turned on, then you can try to turn it off and back on again.
Open the Settings app on your new iPhone, click on your name and select iCloud.
If the button of Contacts is not green, then toggle it on.
Then hit on "Keep on My iPhone" and "Merge" to sync the iCloud contacts to your new iPhone.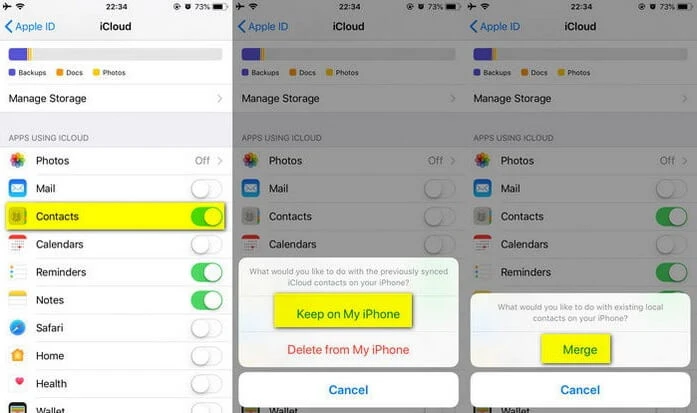 2. Confirm That the 2 iPhones Have the Same iCloud Account
To transfer contacts from one iPhone to another via iCloud, you should ensure that the iCloud accounts used on the 2 devices are the same. Look at the simple steps below:
On your new iPhone, go to Settings and check the iCloud information by hitting on the iCloud account.
Check the Apple ID and ensure that this account is also the one you used on the old iPhone.
If you don't log in with your iCloud account, then sign in with the iCloud account that you use to save the contacts.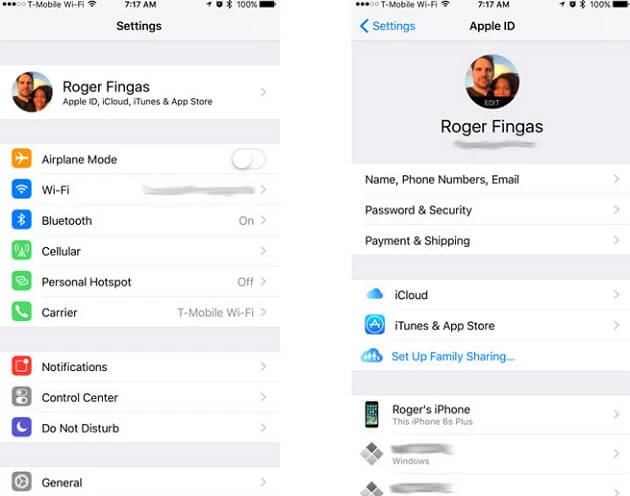 3. Change Default Account to iCloud
You may have problems to transfer contacts to new iPhone if your contacts are set to sync with other 3rd-party accounts (such as Yahoo, Google). In this case, you can try to set iCloud as the default account to fix the contacts didn't transfer to new iPhone issue. Here's what you need to do:
Open the Contacts app on your iPhone, click on "Groups" in the upper left corner.
All the 3rd-party apps that you can sync your contacts with will be displayed. If Yahoo or Gmail is selected, then deselect them and select iCloud as the default account.
Click on "Done" and the contacts will be transferred to new iPhone via iCloud account.
4. Check iCloud Storage Before Transferring Contacts
The free iCloud storage that Apple provides is only 5GB. If the file size of the data stored in iCloud is larger than 5GB, the data will not be synced with iCloud anymore, let alone transferring contacts to new iPhone. So, you will have to check the available iCloud storage on your iPhone.
Get into the Settings, hit on Your name and iCloud on iPhone.
For iOS 11 or later, click on Manage Storage > Backup to check iCloud storage.
For iOS 10.3 or earlier, click on iCloud Storage > Manage Storage to view available iCloud storage.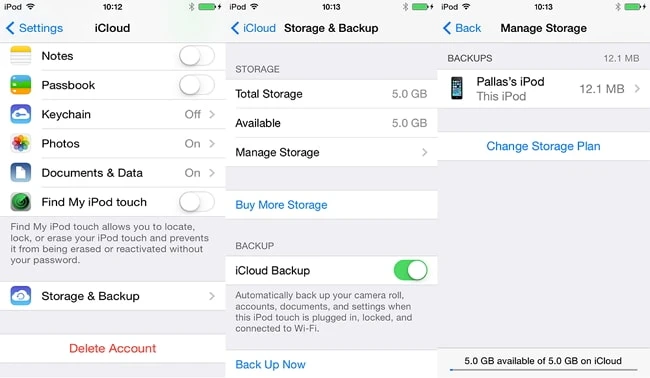 5. Check Your iPhones' Network Connection
Contacts didn't transfer to new iPhone problem can also be caused by unstable network. So, you need to ensure the network connection is strong enough on both iPhones. If necessary, you can try to reset network settings:
Open the Settings app on your iPhone, click on General.
Select Reset and click on Reset Network Settings.
After reset, the WiFi network, cellular data settings and passwords will be erased completely.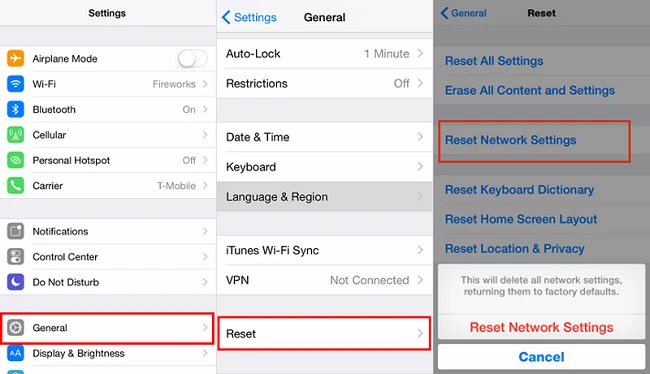 Enter the WiFi password or set cellular data to re-connect to network and then try to transfer contacts to new iPhone again. This could bring a good result.
Part 3. Alternative Methods to Transfer Contacts to New iPhone
You may appeal to 3rd-party software, AirDrop and iTunes if you are still unlucky to transfer contacts to new iPhone.
1. 3rd-Party Software - FoneGeek Backup & Restore (iOS)
FoneGeek Backup & Restore (iOS) is a great application with broad capabilities. With this backup and restore tool, you can selectively transfer contacts from iPhone/iTunes/iCloud backup to new iPhone without overwriting the existing data. You can check more outstanding features of this software below:
Selectively or fully back up contacts and other data on iPhone for FREE.
Restore only contacts or any other files you want to iPhone/Android, such as messages, call logs, WhatsApp messages, notes, photos, etc. It all depends on you.
Preview all data from the backups or from your iPhone before restoring. This service is also free.
It is pretty easy to use for users with all ages.
Download FoneGeek iOS Backup & Restore on your computer and get started.
Step 1: Launch the program and connect your iPhone to the computer, then select "Backup & Restore" tab from the top menu.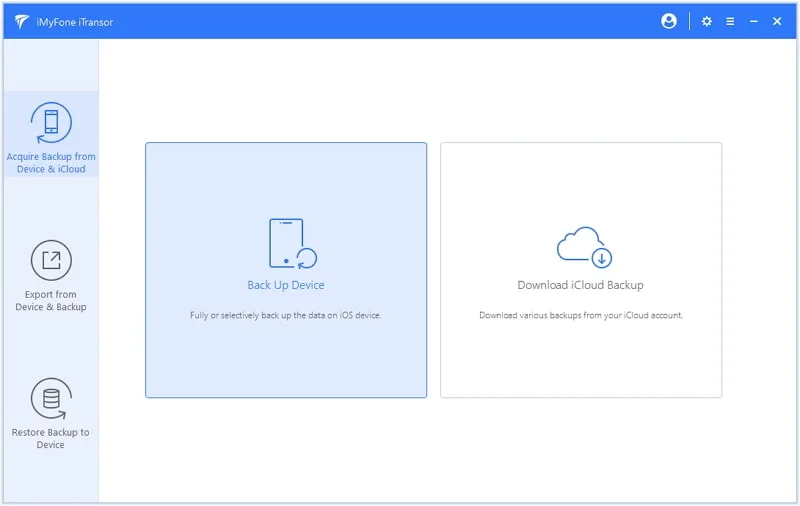 Step 2: FoneGeek will list all the data you are able to back up. Tick the option of "Contacts" so that this program will only back up contacts instead of all the data. Then click on "Backup" to initial the process.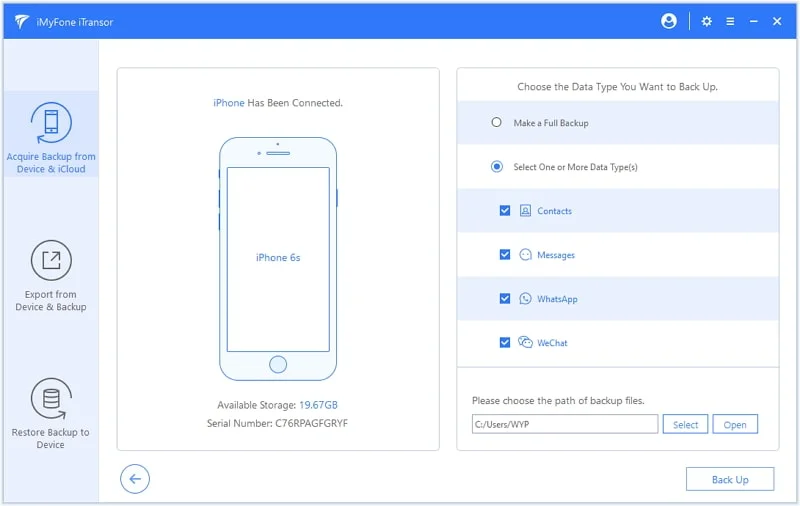 Step 3: The backup process take a few minutes depends on the data size. Once completed, you can click on "View Backup Data" to view the backed up contacts.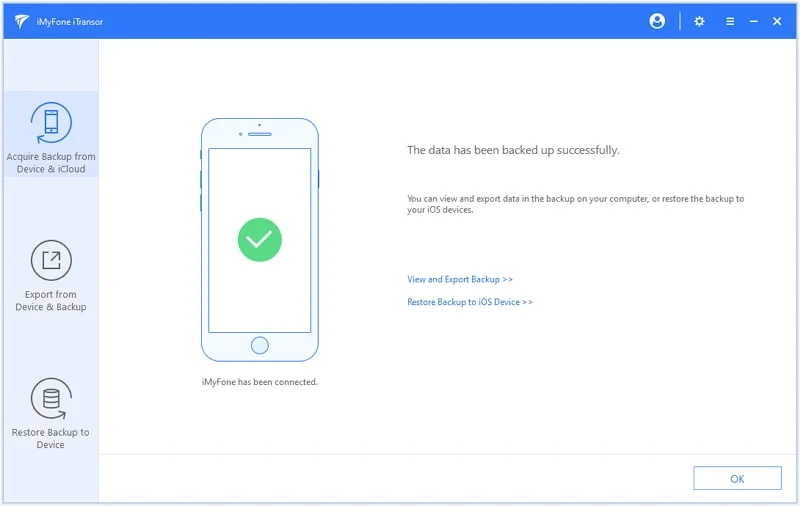 Step 4: Now disconnect the old iPhone and connect the new device you want to to transfer contacts to. Click on "Backup & Restore" tab and choose "To view or restore previous backup files".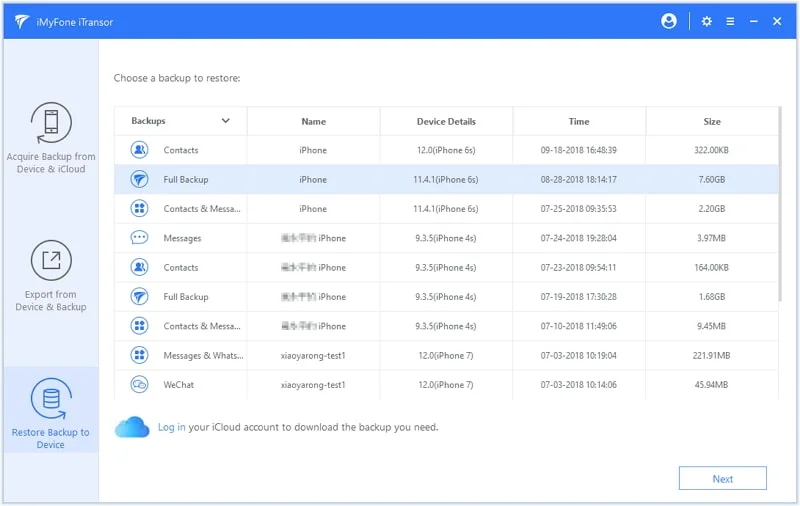 Step 5: Select a backup file to proceed. All the data in the backup will be displayed. Just choose the contacts you want to restore and click on "Restore to Device". The selected contacts will be restored to new iPhone.
2. Sync Contacts via AirDrop
AirDrop is a powerful transfer tool that achieves wireless data transfer between 2 iOS devices. You can use AirDrop to transfer contacts to new iPhone, however, it only allows you to transfer only one contact each time.
Open Control Center on your 2 iPhones and turn on AirDrop. Then choose "Contacts Only".
Go to Contacts app on the old iPhone and choose the contact you want to transfer.
Choose the Share Contact option and hit AirDrop, then select your new iPhone's name.
On your new iPhone, tap Accept to receive the contact. Then you can go to Contacts app to check the shared contact.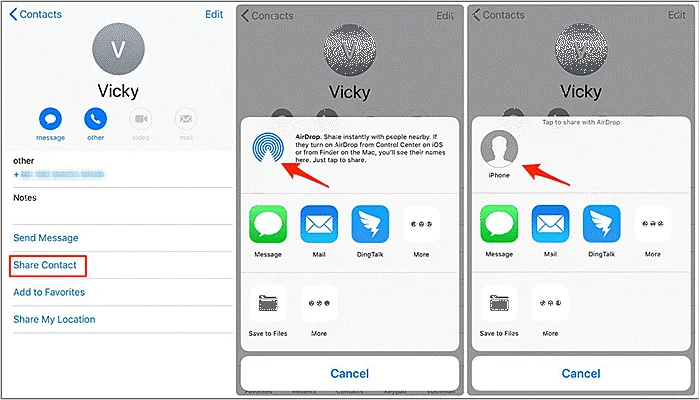 3. Transfer Contacts via iTunes
You can also transfer contacts to new iPhone by creating an iTunes backup of the old iPhone data and restoring the data to new iPhone. However, this will not only transfer contacts but also all other data to the new device.
Step 1. Launch iTunes and connect the old iPhone to computer. Tap on the device icon, hit on Summary and "Back Up Now".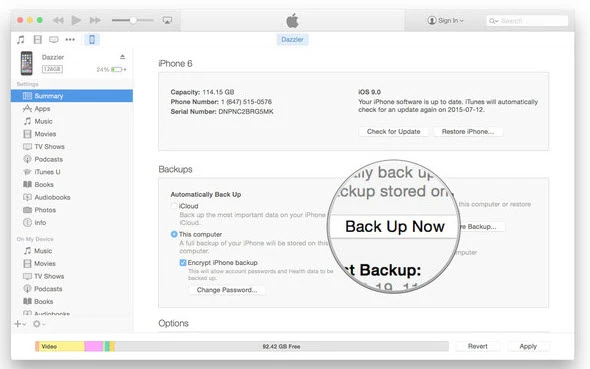 Step 2. After backing up the old iPhone, contact the new iPhone to iTunes, then click on Summary and "Restore Backup".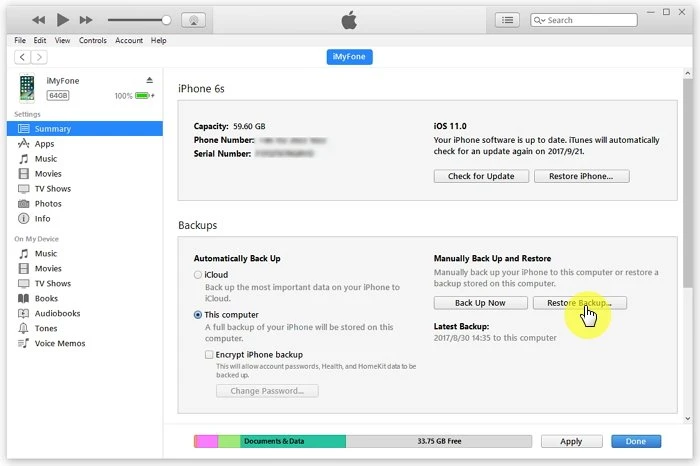 In Conclusion
As what you see in this article, it can be really easy to tackle the problem of contacts didn't transfer to new iPhone. Hope that your contacts have been transferred to new iPhone successfully with one of the methods above.