It is very common to lose iPhone contacts. It may have happened even to you at some point. You may attend a certain function without your iPhone and you need to give a certain contact number to someone. In both of these situations, you will need an alternative solution. If you have been using iCloud, you can easily access your contacts. If you have never accessed your contacts on iCloud before, the first question that comes into your mind is about how this can be done. Reading this article will answer your question. You will learn how to access iCloud contacts.
Part 1: Access iCloud Contacts Online  
Access iCloud Contacts Using iCloud.com
All you need is a web browser and an internet connection. Below, we guide you on how to access iCloud contacts via iCloud.com:
Step 1: Visit icloud.com and log in using your credentials.
Step 2: Click the Contacts icon. All the contacts you have on all your iOS devices should be displayed.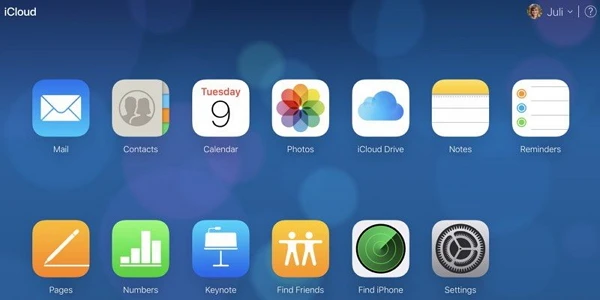 Access iCloud Contacts Using the Control Panel
This method is applicable on your Windows PC. The steps below should let you learn how to access contacts on iCloud via the control panel:
Step 1: Download and install iCloud on your Windows PC.
Step 2: Open the iCloud Control Panel and sign in using your credentials.
Step 3: Select only Mail, Contacts, Calendars, and Tasks and tap Apply. The iCloud Control Panel will sync your contacts and display them.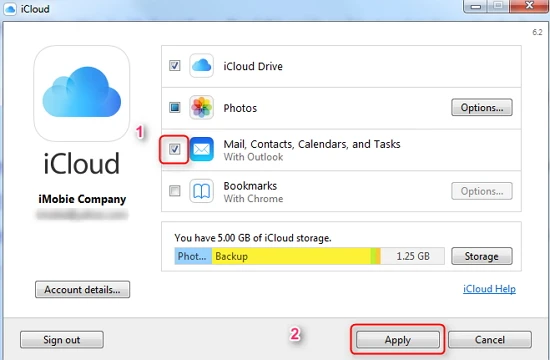 Part 2: View Your iCloud Backup Contacts
To access iCloud contacts you had backed up, you will need to restore the backup. The steps we have included below should take you through the whole process of restoring an iCloud backup:
Step 1: Launch Settings, click General, tap Reset and then click Erase All Content and Settings. The purpose of this first step is to reset your iOS device in order for you to restore the iCloud backup. Resetting your device will erase all your data. Hence, it is important to back up your data before.
Step 2: In the Apps & Data screen, select Restore from iCloud Backup. Log into iCloud and choose a backup. After the restoration is done, your iCloud backup contacts should be available on your device.
Part 3: Access iCloud Contacts by Syncing Them to Your iPhone (Complex and Data Loss)
If you have your iPhone with you, you can sync contacts from iCloud. This might sound more complicated than it actually is. Below, we show you how to access contacts on iCloud via syncing:
Step 1: Launch Settings and click iCloud.
Step 2: Toggle off Contacts. In the popup that shows on your screen, choose the "Keep on My iPhone" option.
Step 3: Turn Contacts on again. In the popup that shows on the screen, choose Merge. Wait for a while and then check your iPhone again. All the contacts you have on iCloud should be available in your device contact list.
Part 4: Access Deleted and Existing Contacts on iCloud (Simple and Fast)
If you are looking for an easier way to access iCloud contacts without restoring your iPhone to factory reset, you should try a 3rd-party tool like FoneGeek iCloud Backup Viewer , which acts like a reliable program to access and extract data on iCloud or iTunes backup without the need of resetting your iPhone.
This program is easy to use without requiring any expertise. Its exclusive features also allow you to access iCloud contacts and more details, such as the contact name, phone number, deleted contacts, etc.
Access iCloud Contacts for Free:
In addition to contacts, it also supports to access messages, photos, notes, WhatsApp messages, call logs, voice memos, etc.
It is completely free to backup WhatsApp messages, contacts, photos and up to 20 types of data for your iPhone, iPad and iPod touch.
It is completely free to access and preview iCloud contacts and other data with this program.
It offers the highest iCloud data analyzing rate in the market.
It is fully compatible with iOS 15 as well as the hottest iPhone 13, 12, 11, XS, XS Max and iPhone XR.
The free iCloud Backup Viewer could be installed on your Windows or Mac. To learn how to access iCloud contacts, just follow the steps below:
Step 1. After launching iOS Backup & Restore program on your Windows PC or Mac, you will need to click 'Restore' option on the interface.
Step 2. Click "Restore from iCloud Backup File" from the left side of the sidebar. The program will prompt you to sign in to iCloud. You need to enter your iCloud credentials to proceed.
Step 3. In the next screen, all the iCloud backup files will be detected and listed as below. Choose the one that may contain the contacts you want to access according to the backup details offered.
Step 4. In no time, the program will start to download the iCloud backup that you selected. The download time depends on the data size saved on the iCloud backup. Once the downloading finished, click 'Contacts' in the list of data types and you will have access to all the contacts. Tick each contact to view more details.
Note: If you happened to get a new iPhone and had a strong demand to transfer the contacts to your new iPhone, then you're in the right place. On the preview page of contacts, click 'Restore to Device', select Contacts or other data you wish to restore to another iPhone and tap on 'Continue', the program will start to restore what you selected to the new phone.
Conclusion
If you have ever wondered how to access contacts on iCloud, all of the four ways introduced will help you do it totally for free. To make an overall comparison of the 4 solutions, the easiest and most time-saving one is the last choice: Free iCloud Backup Viewer. With this easy-to-use program, you can simply access contacts on iCloud in a few clicks. And the core function is to selectively or fully restore backup to Android device or iPhone without restore the phone to factory settings.

As a professional writer who is interested in technology, Edwin J. Parke has helped thousands of users by offering various tips to solve their problems.

Home
>
Backup & Restore
>4 Free Solutions to Access iCloud Contacts Without Data Loss