You may have become accustomed to working via WhatsApp since it is a fast and flexible way to get in touch with your colleagues. Anyhow, you have stored plenty of messages and media files in WhatsApp.
It will be a big loss if they are disappeared all of a sudden. This is also one of the reasons to back up WhatsApp messages regularly.
One feasible way to back up WhatsApp messages on Android is via Goole drive. Google drive makes it easy to make an automatic backup of all WhatsApp messages.
However, the backup will not work without stable internet connection, and you are not allowed to access the backup file unless the backup is restored. So, is there any better alternative to Google drive to back up WhatsApp messages?
In this article, various solutions are listed to back up WhatsApp without Google drive.
1. Backup Single WhatsApp Chat via Email
If you have only a few chats to backup, you can back up individual chat via Email. In this way, the chat history will be exported and saved to your Email. To backup WhatsApp chat or group without Google drive via Emal, follow the simple steps:
On your Android device, run WhatsApp and head over to Settings > Chats > Chat History > Email Chat.
Click the chat history you need and send the selected chat and chat attachment to the Email you entered.
The WhatsApp chats will be saved as the txt document. You can download them from this Email at any time you want in the future.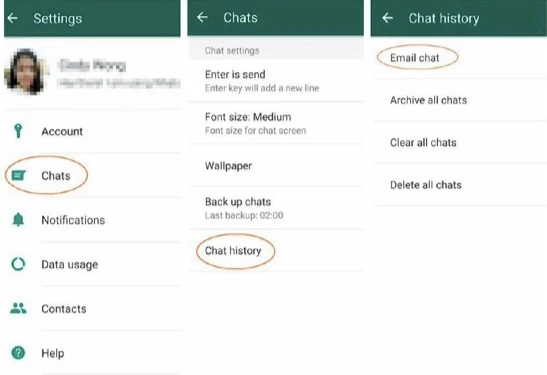 2. Backup WhatsApp Messages to SD Card
On Android devices, WhatsApp messages are always backed up to Google Drive rather than SD card by default. Convenient as it is, the messages and media files are not secure in Google Drive. They are not protected by WhatsApp encryption. In that case, you get one more chance to backup WhatsApp to SD card.
Step 1. Start the WhatsApp on the Android device.
Step 2. On the main screen of WhatsApp, click on 3-dots in the upper right corner and hit on Settings option.
Step 3. On the Settings interface, click on Chats and Chat Backup.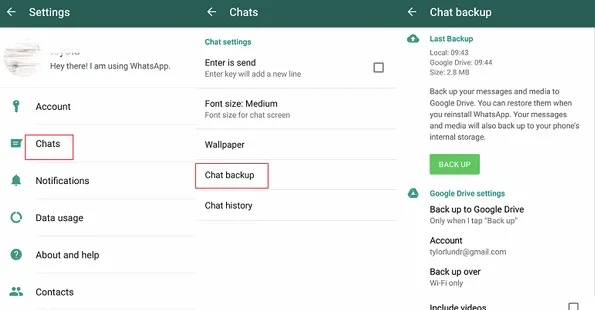 Step 4. Scroll down and click 'Backup to Google Drive' under the section of 'Google Drive Settings'.
Step 5. This will bring up a pop-up window. Select 'Never' and all WhatsApp messages will then be backed up to SD card.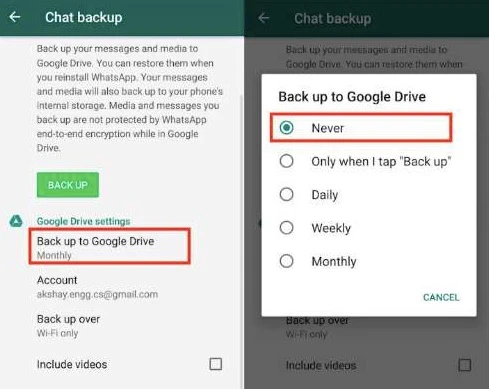 The most troublesome thing is that the device will only keep more than 7 days' worth of local backup. Since you will not be able to enable automatical backup, you need to save the backup data every 7 days.
3. Backup WhatsApp without Google Drive Using FoneGeek
The best Google Drive alternative to back up WhatsApp messages on Android/iPhone is FoneGeek WhatsApp Transfer. This is a free tool that allows everyone to selectively or fully back up WhatsApp messages to computer without affecting the previous backup files, which makes it more convenient for users who needs to keep all WhatsApp backups.
You can also restore the WhatsApp messages to another Android or iPhone if required.
Core feature of FoneGeek WhatsApp Transfer:
Totally free to back up entire WhatsApp messages.
Flexibly back up WhatsApp messages and save them on your computer. In this way, you can restore them to your device when you lost any crucial messages or switched to a new device.
Transfer WhatsApp messages between android device and iPhone, including any items you want.
Now, follow the steps below to back up WhatsApp messages on computer without Google Drive using FoneGeek program.
Step 1. Download FoneGeek WhatsApp Transfer on your computer and run it. On the main screen, select 'WhatsApp' to proceed.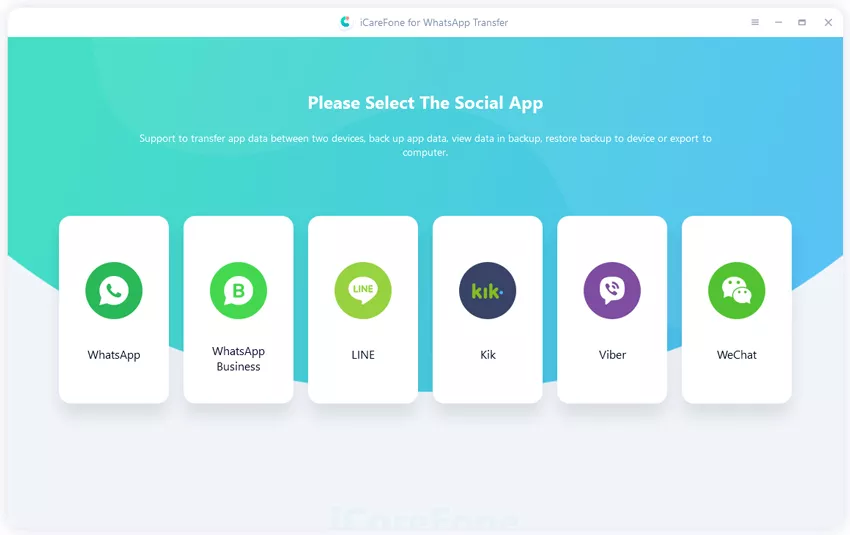 Step 2. Tap the option of 'Backup' and get the Android device connected to your computer. Then click on 'Back Up Now' when the device is detected.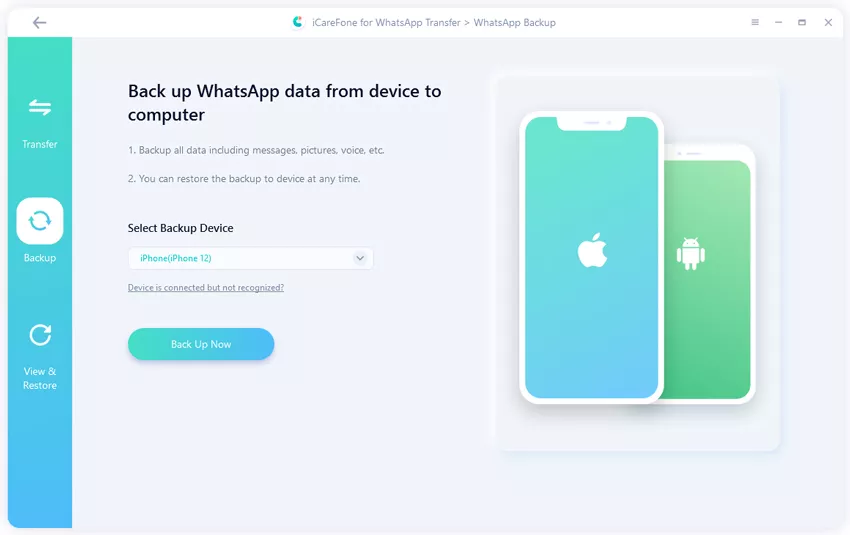 Step 3. It will take a few minutes to back up all the WhatsApp data. Do no disconnect the device during the backup process.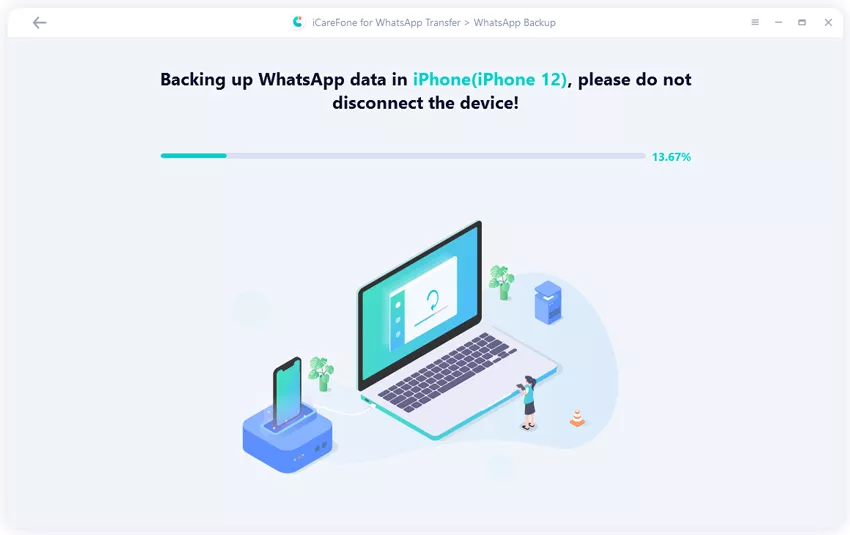 In short, there is no other requirements to be considered except that the Android device should be connected with your computer throughout the complete backup process.
Conclusion
It isn't hard to backup WhatsApp without Google Drive with the methods and application mentioned in this article, is it? You can also leave your comments below if you have more solutions with high efficiency to backup WhatsApp messages without Google Drive.