'I'm trying to restore all my info that was backed up to my computer through itunes from an iphone 7 to an iphone XS. It keeps bringing up the error message that it could not be restored because the backup was corrupt or not compatible with the iphone that is being restored. What can i do?'
It is a good thing to get a new mobile phone, but problems may arise when you start to use it. Recently, many users have reflected that the error of 'iPhone backup corrupt or not compatible' always occur when they try to back up or restore their iPhone.
This type of iPhone backup not compatible error always occurs when we are trying to restore the new iPhone from the backup of previous iPhone. It indicates that the backup is incompatible with the iOS version or system of the new iPhone. It's really a bit awkward now. You don't need to worry about that anymore. This article brings solution to fix the iPhone backup corrupt or not compatible issue. Come and have a look!

1.  Modify Backup Parameter
In face, it may not be the backup error. Sometimes, it is the matter of iOS version. This kind of problem is not that difficult to settle with. You just need to modify the parameters on the iPhone backup file to successfully restore the backup. The specific methods are:
Step 1. First of all, you must find the iPhone backup file saved on your computer. In general, the default backup path of iTunes is on the C drive, specifically C:\Users\username\AppData\Roaming\Apple Computer\MobileSync\Backup.
Step 2. After opening the backup folder, you will see a folder with a very complicated name. This folder is actually the backup of the phone.
Step 3. Open this folder, scroll down to find the info.plist file, open it with Notepad.
Step 4. Now hold down the Ctrl+F on keyboard and searchProduct Version. Modify the number in theX.X.Xto the system version number of the new phone. For example, the old backup version is iOS 12 while the new iPhone version is iOS12.1, you will need to change the number to 12.1.
After modifying the backup parameter, the backup can be successfully restored.
2. Delete the Corrupted Backup and Create a New Backup
If the 1st method doesn't successfully fix the corrupted backup, here is another choice for you, saving your time and effort: delete the corrupted backup. Since a problematic backup will disrupt the whole backup and restore procedure. So the most fundamental solution is to delete the backup and create a new backup. Here are the easy steps on how to delete iphone backup from iTtunes.
Step 1. Install the latest version of iTunes on your computer.
Step 2. Open iTunes and navigate to iTunes > Preferences > Devices. Now, you can view all iPhone backup files that you previous backed up on this computer. Choose the corrupted backup that you want to delete, and then click 'Delete Backup' to delete the selected backup.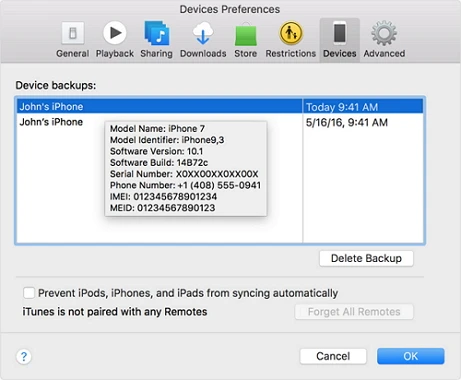 Step 3. You can now create a new backup after deleting the old backup. Relaunch iTunes and connect your old iPhone to computer.
Step 4. When the device icon is appeared on iTunes, click the icon and 'Summary' option. Next, click 'Backup Now' and the new backup will be created.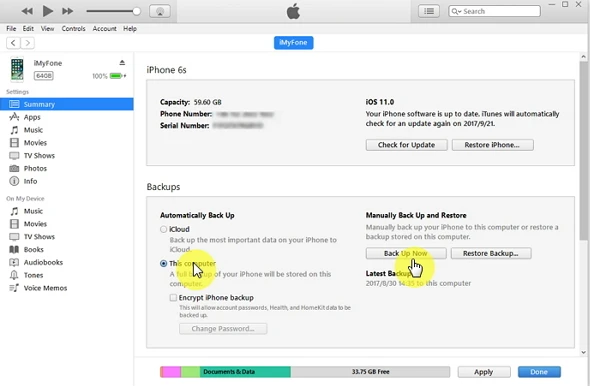 3. Backup and Restore iTunes Backup Using a 3rd-Party Tool
If the corrupted backup is very important to you and the methods above are not working, you can try to turn to a new route: using an iTunes alternative - FoneGeek iOS Backup & Restore to restore the backup to your new iPhone. This multi-functional tool will help to selectively or fully restore iTunes backup to new iPhone without resetting the device.
What makes this iOS Backup & Restore powerful:
Make a full backup or selected backup of iPhone/iPad data to computer for free.
Selectively restore iTunes or iCloud backup to iPhone without data loss.
Restore the full or partial backup from iPhone A to iPhone B or Android device.
Preview and export more than 20 types of iPhone.iPad data to computer.
It is fully compatible with iOS 15 and iOS 14.
Read also:
4 Quick Solutions to Fix 'iPhone Won't Restore' Problem (2019 Updated)
3 Methods to Fully or Selectively Restore iPhone Without iTunes
How to Transfer Messages from iPhone to iPhone Without iCloud
Here are the easy steps to restore iTunes backup to iPhone.
Step 1. After downloading and running this program, select 'iOS Backup & Restore'.
Step 2. Choose 'Restore' option and select 'Restore from iTunes backup' from the sidebar.
Step 3. All the iTunes backup files that you created before will be displayed. Choose the iTunes backup that you want to restore to iPhone and click Next to download the iTunes backup.
Step 4. After the iTunes download process is finished, all the data types will be listed in category. Check whether the data are what you want and tap on "Restore to Device" button.
Step 5. You can choose to restore selected data to iPhone or Android. Remember to connect the new iPhone to the program.
Step 6. After the restore process, you shall check the iTunes backup data on the new iPhone.
4. Extract Corrupted iTunes Backup to Computer
If you just want to have access to the corrupted backup and save the data on computer, FoneGeek iPhone Data Recovery is exact the right choice. With this iPhone backup extractor tool, you can not only extract the existing data but also the deleted ones from iPhone directly, or from iTunes/iCloud backup. Now you can take a brief look at how to extract data from iTunes backup with this program.
Read also:
How to Recover Data after Factory Reset (iOS 12 Supported)
How to Get Photos Out of Locked iPhone (2019 Updated)
Free iPhone Text Message Recovery in 2019 (No Data Loss)
Step 1. The program shall be downloaded and installed on your PC or Mac. After that, launch it and select 'iPhone Data Recovery'.
Step 2. Choose 'Recover from iTunes Backup' option and you will get all iTunes backup files. If the iTunes backup is encrypted, you'd better decrypt the backup first.
Step 3. Choose one iTunes backup and click Next. The program will scan the iTunes backup deeply. After the scanning, you will be able to preview all the data in this iTunes backup.
We hope that the methods above can help you if you encounter an issue of 'iPhone backup corrupt or not compatible'. iOS Backup & Restore should always be an ideal choice for iTunes alternative.

Fay J. Melton has explored the area of technology and software for more than 5 years and he is enthusiastic about helping users solve various technology issues.

Home
>
Backup & Restore
>Is Your iPhone Backup Corrupt or Not Compatible? Here Are 4 Fixes