User Concern
"Just bought a new iPhone 13 and I'm trying to restore the data from old iPhone to it. However, when I go to enter my password to confirm the restore, it says 'iTunes could not restore the iPhone because the password was incorrect'. Anyone know how I can solve this problem?"
When you switch to the new iPhone 14, iPhone 14 Pro or your precious data are lost, you'll need to restore your iPhone from previous backup. When you try to restore iPhone from an encrypted iTunes backup, iTunes will ask you to enter the password. What you can do is to enter the correct password.
Howver, many users are facing the problem of "iTunes could not restore the iPhone because the password was incorrect". It simply means that the password you entered to decrypt the iTunes backup is incorrect.
What you can do depends on what you want now! If you have important files saved in iTunes, you can try all the possible passwords that you remembered to restore the iTunes backup. If what you want are also saved in iCloud, then restoring with iCloud backup is a better choice.
Read on to find out solution that works best for you to fix iTunes restore failed due to incorrect password.
Tip 1. Try As Many Possible Passwords As You Can
If you have forgotten or only remembered part of the password, try all possible password you can think of. It is possible not the most time-saving but the easiest option to fix this issue. You can try the following:
iPhone screen password
Apple ID password
Try the password of all the emails that you have
Any special days such as anniversary or birthday, etc.
The simplistic password, such as 123456, 888888, 654321, abcdefg, etc.
Default password like 000000, 111111, etc.
Bank card password
Administer's password
If none of the above does the trick, try the following solutions.
Tip 2. Find iTunes Backup Password Using Keychain (for Mac Users Only)
For Mac users, if you have ever saved your iTunes backup password on Keychain, it would have little difficulty finding the correct password. Here's how to do it:
On your Mac computer, head over to Application > Utilities > Keychain.
Input "iPhone" in the search box and find the option of "iPhone Backup".
Open the iPhone backup via double-clicking it. Check Show password and enter the keychain password. After that, the iPhone backup password will pop up.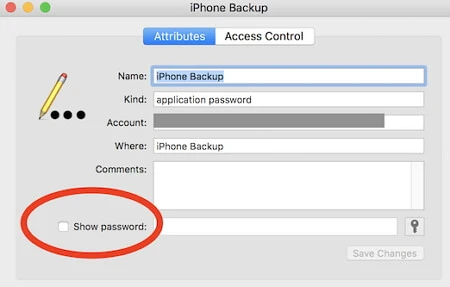 Note
If you haven't saved the iTunes backup password with Keychain, this method is useless for you. Keep reading.
Tip 3. Fully or Partially Restore iPhone with an iTunes Alternative
If you have run into problems when you tried to restore from iTunes backup, you should have the idea of finding an iTunes alternative to restore want you want from iTunes backup. FoneGeek iOS Backup & Restore tool is the one that you want! This tool has powerful features that can meet your needs.
It helps to transfer all data or only Messages, iMessages, WhatsApp messages, WeChat, Contacts or other data from iTunes, iCloud backup or the backup made by the program to save your time and space.
You can make a full or partial backup for free with this program.
It allows you to export more than 20 types of data from your iPhone or from iTunes/iCloud backup in one click.
It is safe and easy to use and compatible with multiple iOS devices and iOS versions, including iOS 16.
Network connection is not needed to backup or restore.
Here's how to fully or selectively restore iPhone from iTunes backup without iTunes
To restore a full or partial backup from iTunes to your iPhone with FoneGeek iOS Backp & Restore, follow the steps below:
Step 1. Install and launch iPhone Backup & Restore tool on your computer and choose the mode of "Backup & Restore".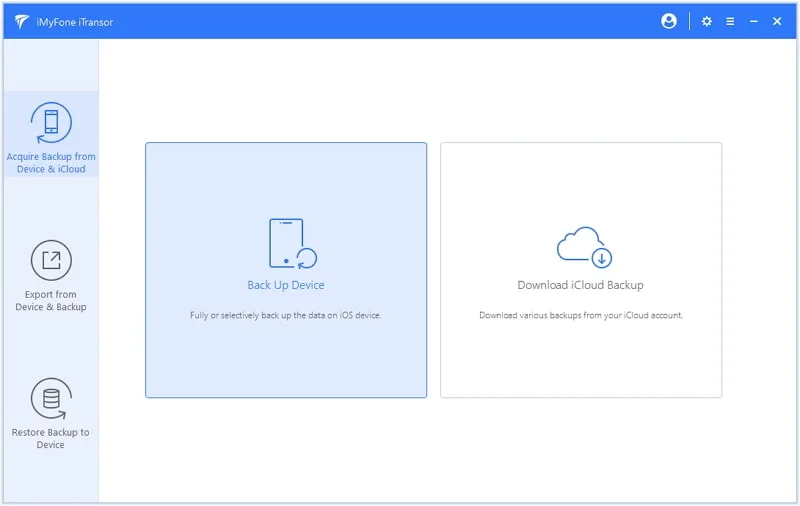 Step 2. On the nex windows. All the backups made by iTunes or the program will be listed. Choose the iTunes backup that you want to restore from and click "Next".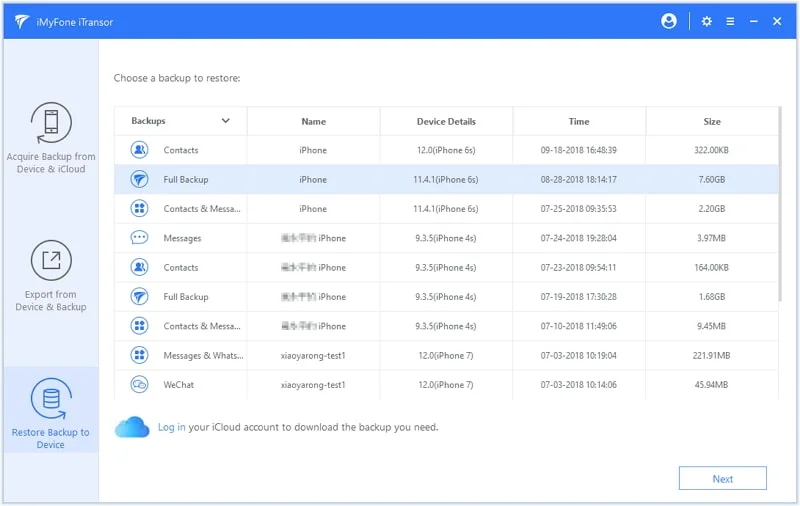 Step 3. On next window, you will have the chance to view the data on iTunes backup after the scanning process. Choose the data in the iTunes backup and tap on "Export to Computer" or "Restore to Device".
Tip 4. Restore the Full Backup with iCloud
If you have backed your iPhone with iCloud before, you can also restore from your iCloud backup. To do that, all the existing data and settings on your iPhone will be erased. Thus make a full backup of your device is required.
Before restoring, you have to reset your iPhone as the new one. To do it, go to Settings > General > Reset > Erase All Content and Settings to reset your device.
Follow the instructions to set up your iPhone until you go to the "Apps & Data" screen. Click "Restore from iCloud Backup".
Sign in with the Apple ID and all the previous iCloud backups will be listed. Choose the most recent backup and the restoring process will get started.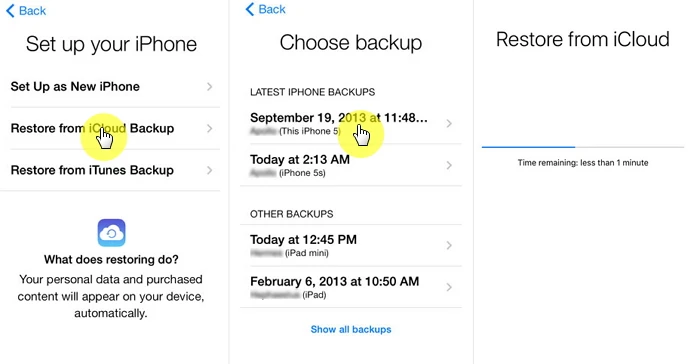 Note
Keep your iPhone with WiFi connection during the whole process, or the restoring process will be interrupted.
Tip 5. Factory Reset Your iPhone Then Restore It Again
If none of the above mentioned solutions helped to fix the issue, then the last option is to factory reset your iPhone and restore it again. This can help tp remove some unknown errors that may cause the "iTunes could not restore iPhone because the password was incorrect" error. Here's how to do it:
Ensure that you have made a backup using iTunes before factory resetting.
On your iPhone, navigate to Settings > General > Reset and choose "Erase All Contents and Settings".
Enter your iPhone's passcode and tap "Erase" to confirm it, then wait until the factory reset is done successfully.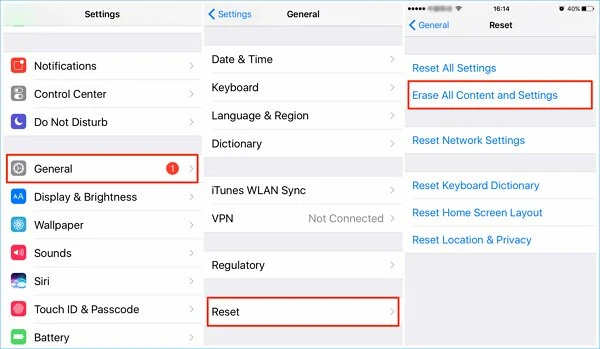 After erasing, connect your iPhone to the computer and launch iTunes, then try to restore the device from an iTunes backup and check if the problem still exists.
Conclusion
All solutions are introduced for you if your iTunes could not restore the iPhone because the password was incorrect. Choose the best alternative for yourself to fix this issue. You can also leave a comment below or share the page to any others who are encountering the same problem.