It is easy to back up all content on iPhone. However, it might not be that easy to restore from previous backup. The complexity depends on whether you need to restore all content or restore specific apps.
Through this article, you will look at various ways to restore iPhone from previous backup fully or selectively.
1. One Click to Restore iPhone from Previous Backup (No Data Loss)
There is one Apple's alternative to restore iPhone from previous backup without using iTunes or iCloud. If you have heard of FoneGeek Backup & Restore (iOS), you shall know that this program is the best alternative. Unlike iCloud and iTunes, you can selectively restore specific app from previous backup. Most importantly, you don't even have to worry about that the current data will be overwritten by previous backup.
FoneGeek iOS Backup & Restore Software:
Current data will not be deleted. This software can flexibly restore any data from iTunes, iCloud and FoneGeek backup without restoring the full data.
Back up your device for free. Back up most data from your iPhone and Android devices, and then export them to computer for free.
Simple-to-use interface and instructions. The user interface is simple and clear. People of all ages could restore their iPhone data with this tool.
Preview before restoration. This program offers the free trial version to preview the data to be restored prior the restoration.
Supports all devices and all iOS versions. It is compatible with all iPhone, iPad, iPod touch ranging from iOS 7 to the newest iOS 13.3.
If you need to start the process of restoring iPhone from previous backup, download the free trial version and follow the operations below.
Step 1. After opening this software, click on where it says 'Phone Backup' from the menu.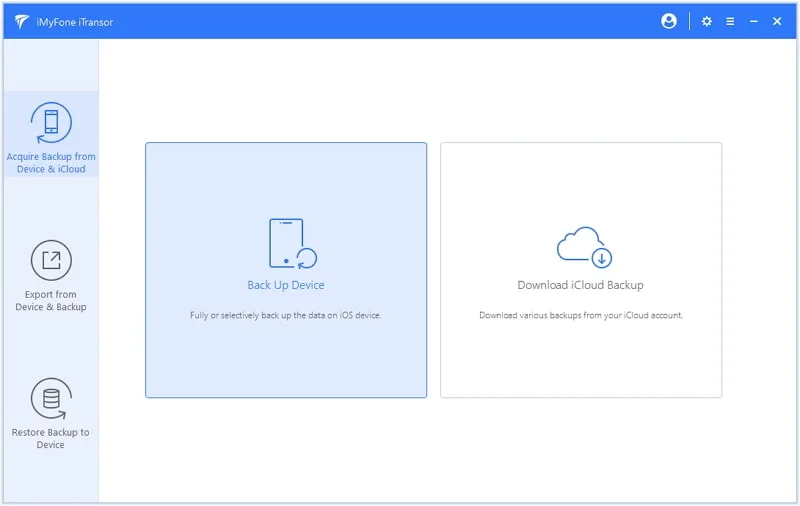 Step 2. If you device has already been backed up via iTunes, iCloud or FoneGeek, click on 'Restore'.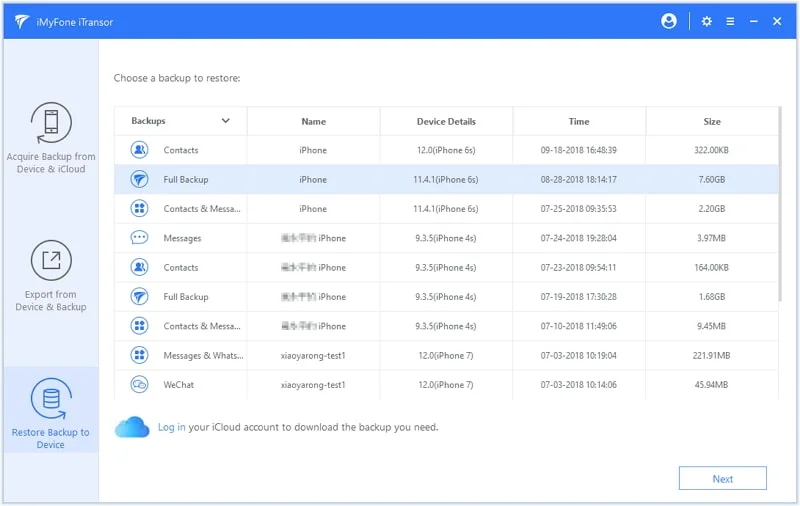 Step 3. You will then find 3 options on the left panel. Choose 'Restore from backup files', 'Restore from iTunes backup' or 'Restore from iCloud backup' based on your individual situation.
Step 4. All the data types you have previously backed up will be listed on this screen. Choose any data as you wish and click 'Restore to Device' to restore previous backup to iPhone.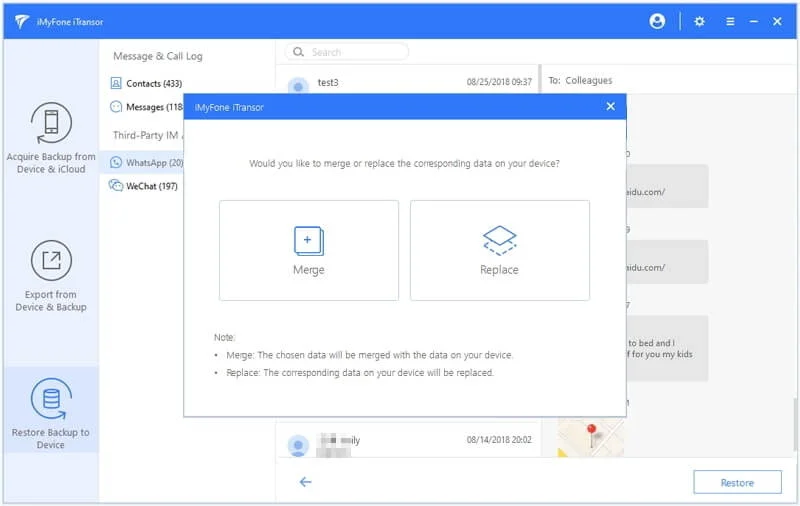 2. Completely Restore iPhone from Previous Backup via iCloud
Restore iPhone from iCloud can be simply done without a computer. However, there are some inconveniences of restoring from iCloud. You need to erase all content and set your iPhone as a new device. And one more challenge should be taken into consideration is that the device should stay online until the restoration process is finished, or any interruptions will be catastrophic.
To get your iPhone in the 'Apps & Data' screen, you need to go to Settings to erase all content and settings first.
Follow the on-screen instructions to sign into iCloud with the same iCloud account. Then hit on 'Restore from iCloud Backup'.
Log into iCloud with the same account and select the iCloud backup you created previously.
Connect your iPhone to Wifi during the entire process.
3. Restore iPhone from Previous Backup Using iTunes
If you prefer to back up iPhone via iTunes and then save the backup files on your computer, you can try to restore iPhone from the latest iTunes backup. On prior to restore from iTunes backup, Find My iPhone should be disabled on your iPhone first. Restoring from iTunes is also your best bet if you have trouble installing the newest iOS system.
Connect your iPhone into a computer or laptop.
Run iTunes and tap on the iPhone icon located on the top left of the corner.
Select 'Summary' from the left panel and hit on 'Restore Backup'.
The restoring box will soon pop up, choose the iPhone you wish to restore the backup to and click on 'Restore'.
If the backup is encrypted, you need to enter the passcode to decrypt the iTunes backup in advance.

Joan J. Mims is interested in researching all tips about iPhone, iPad and Android. He loves to share useful ideas with all users.

Home
>
Backup & Restore
>3 Different Ways to Restore iPhone from Previous Backup