As we know, iTunes is not only a music management program. It is mainly developed to back up iPhone data and restore iPhone to factory settings. The reality is, however useful iTunes is, there are still potential negatives with iTunes. For example,
It runs very slowly on our computer, especially on Windows computer. What's worse, it also slows down the running speed of the system.
In terms of backup and restore, there is no changes to restore only specific data with iTunes.
iTunes error 51, 9, 3014 always occur when restoring iPhone.
iTunes may fail to restore locked iPhone or get the device out of DFU/Recovery mode.
You didn't create any iTunes backup before.
The premise to restore from iTunes backup is to reset the iPhone to factory settings. This is also the reason why a large number of users asking 'How to restore iPhone without iTunes' in Apple forums.
So here we will introduce 4 methods to restore iPhone without iTunes.
1. Traditional Way to Restore iPhone Without iTunes from iCloud Backup
It's been a long time that Apple has provided a powerful way to restore from previous iCloud backup. Here are the steps:
Step 1. To restore from iCloud backup, make sure that an iCloud backup is available. That is to say, the iCloud backup should be enabled from Settings.
Step 2. After that, click Settings tab, then click General, then scrool down to click Reset and tap on Erase All Content and Settings.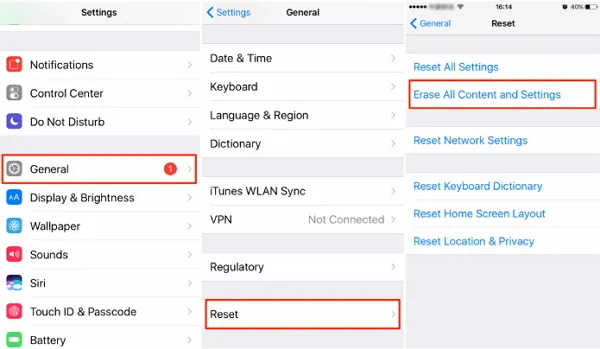 Step 3. The device will be reset as a new one. Then make sure that the device is connected with WiFi and charger.
Step 4. Complete the basic settings and select 'Restore from iCloud Backup'.
Step 5. Enter your iCloud id and password, then select the newest iCloud backup to restore.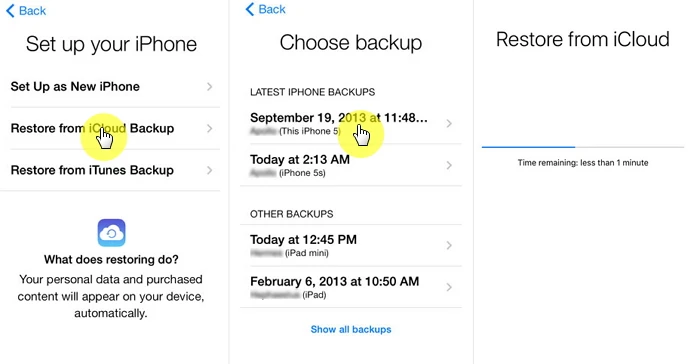 Note
After trying it, you will find it complex to use iCloud to backup and restore your iPhone. On one hand, it always takes a long time for the restore process as you can only restore a whole backup rather than selected backup. On the other hand, the device will be reset as a new one. In other word, you may suffer from the risk of data loss. Well, if you still need to try this way, then do as follow:
2. Restore iPhone via "Find My" Service
This solutions is available is you have enabled 'Find My iPhone' feature on iPhone before. This feature is developed to prevent iCloud to be used to unlock disabled iPhone.
Open the site of icloud.com on your computer and log in with your iCloud account.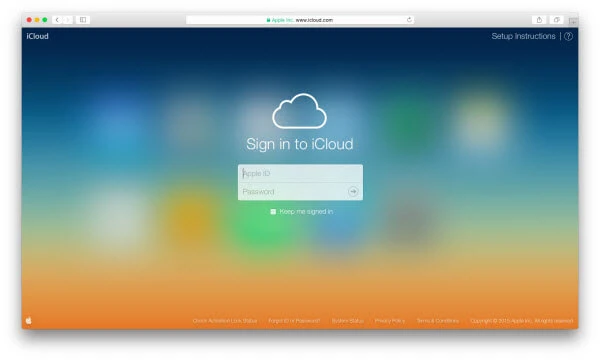 After logging in the iCloud account, click on 'Find My iPhone' option.
You may be required to enter the Apple ID password. Then tap on 'All Devices' and choose your iPhone.
Click on 'Erase iPhone' to erase your iPhone data.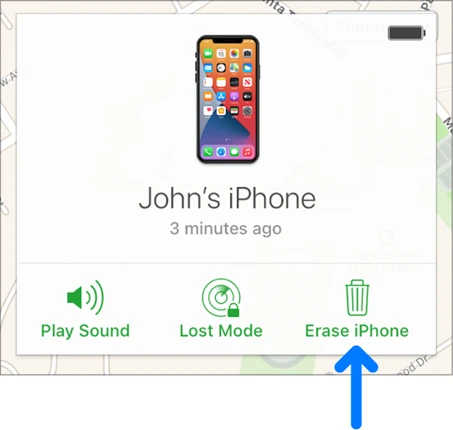 After that, your iPhone will display 'Hello' on the screen, which means that your iPhone is set as a new one.
You can choose to restore from iCloud backup or set as new iPhone.
3. Restore iPhone without iTunes via 3rd-Party Tool
When your iPhone is disabled or couldn't work as normal, you may want to restore your iPhone system with iTunes. However, iTunes may not successfully restore iPhone due to errors 3014, 3013, etc. Fortunately, one more solution to restore iPhone using a 3rd-party tool.

FoneGeek iOS System Recovery can restore iPhone system without iTunes easily and make your iPhone work as normal.
What makes this software really shines is its ability:
Restore iPhone/iPad system without iTunes and iCloud.
Fix most difficult iPhone/iPad issues such as iPhone stuck in Recovery mode, iPhone stuck in boot loop, etc.
It has been highly recommended by a great many media sites, including Filehorse, GetDroidTips, Lera Blog, etc.
Steps to Restore iPhone without iTunes via FoneGeek iOS System Recovery
Step 1. After you have downloaded this program on your computer, run it and choose 'Standard Mode' from all the toolkits.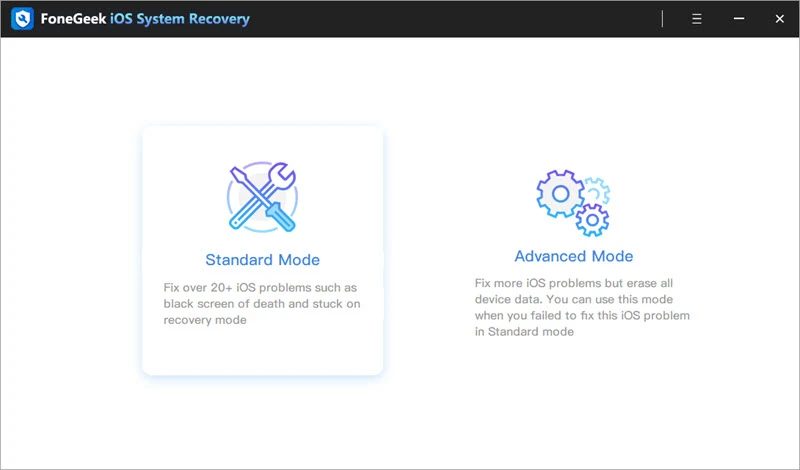 Step 2. Don't forget to connect the iPhone to PC using an USB cable.
If your iPhone can be unlocked, you just need to directly connect your iPhone with computer. If your iPhone cannot be unlocked, you need to put your iPhone into DFU/Recovery mode to allow the program detect your iPhone.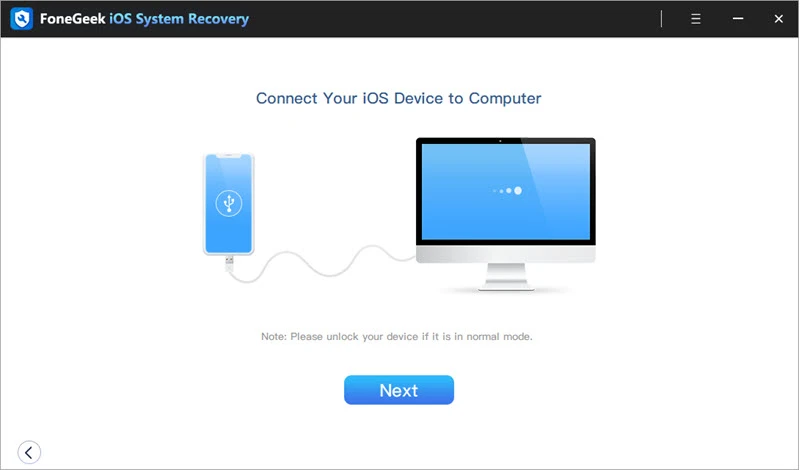 Step 3. FoneGeek will then detect the iPhone information and show suitable firmware package. Tap on 'Download' to download the firmware package.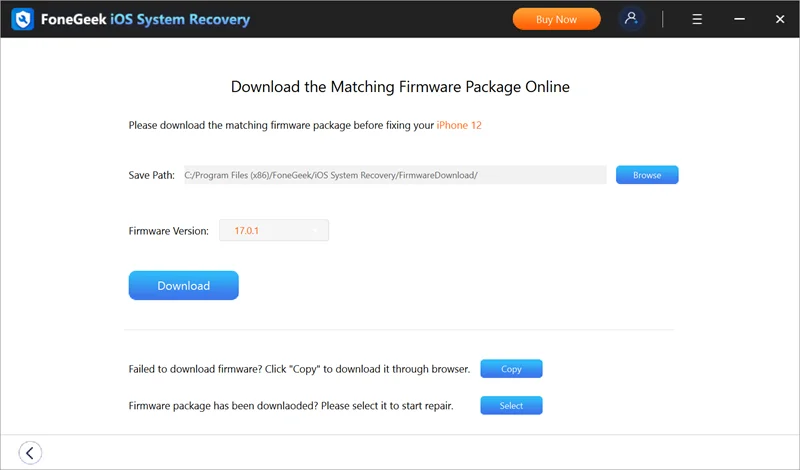 Step 4. When you download the firmware package, click on 'Fix Now' and the program will start to restore the iPhone system.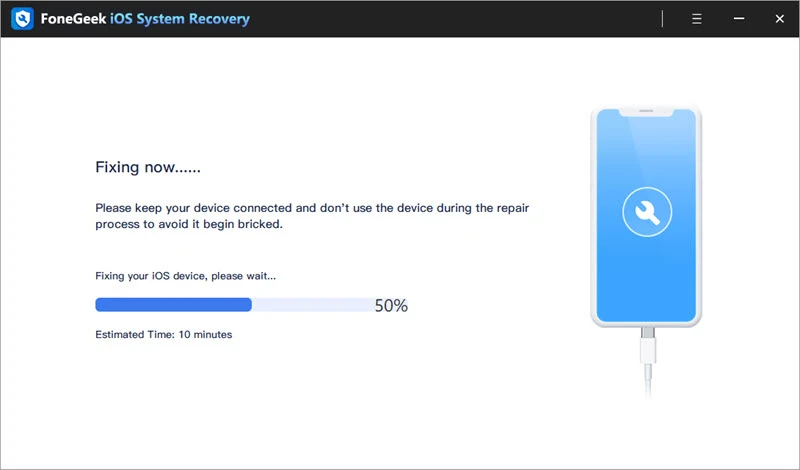 Bonus: Useful Tips on Restoring iPhone
When you set up the iPhone as new or restore the device with an the previous backups, the device can be activated if it has cellular service.
Before taking the steps to restore iPhone, it is necessary to back up important iPhone data in computer. If you use iTunes to restore iPhone, you can even back up your iPhone with iTunes and then choose to restore from iTunes backup.
After trying the solutions in this article, we sincerely hope that you could successfully restore iPhone without iTunes.