User Concern
"I bought the new iPhone 13 and would like to migrate WhatsApp chats to my new device by restoring the iTunes backup. Is there any way to restore only WhatsApp messages?"
Any individuals who gets a new iPhone may need to restore iTunes backup to migrate important messages such as WhatsApp chat history.
What if you need to restore only WhatsApp messages from iTunes backup to your iPhone? You must have thought of restoring a subset of data from iTunes without restoring other data sets. Actually, it's not a daydream. Visit this article up to end and you'll be satisfied with the powerful software.
Right Tool Required: FoneGeek iOS Data Backup & Restore
On the basis of data analysis, the best backup and restore program that enables you to preview and restore data from iTunes/iCloud backup to iPhone/Android is FoneGeek iOS Data Backup & Restore. With simply-to-understand interface, the job can be done easily and quickly. Before proceeding with the procedures of restoring only WhatsApp from iTunes backup, we can take a look at the key features of this WhatsApp backup & restore tool.
Restore only WhatsApp messages: Restore only WhatsApp chat history and all the attachments from without restoring other types of data.
Backup WhatsApp messages for free: Make a full backup of all the conversations for free.
Supports all devices: FoneGeek software is compatible with all types of iOS and Android devices.
Now, you have gained insight into the key features of this tool, you can easily follow the steps below to restore only WhatsApp messages from iTunes backup with FoneGeek software.
Step 1. Firstly, head over to the official site of this software to download it on your computer. Run it and select "Backup & Restore".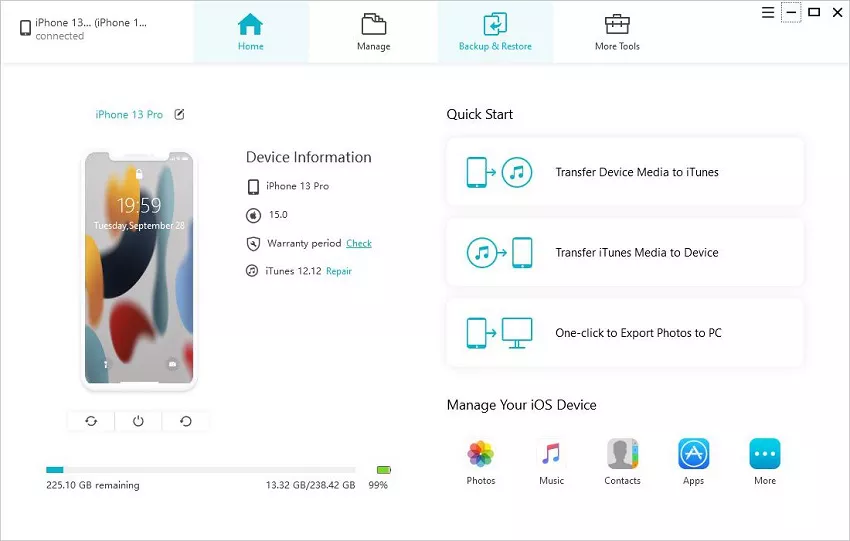 Step 2. Click on "To view or restore previous backup files". You'll be given all backup files created by iTunes, iCloud and FoneGeek software. Tick one iTunes backup that keep the WhatsApp messages and click on "View".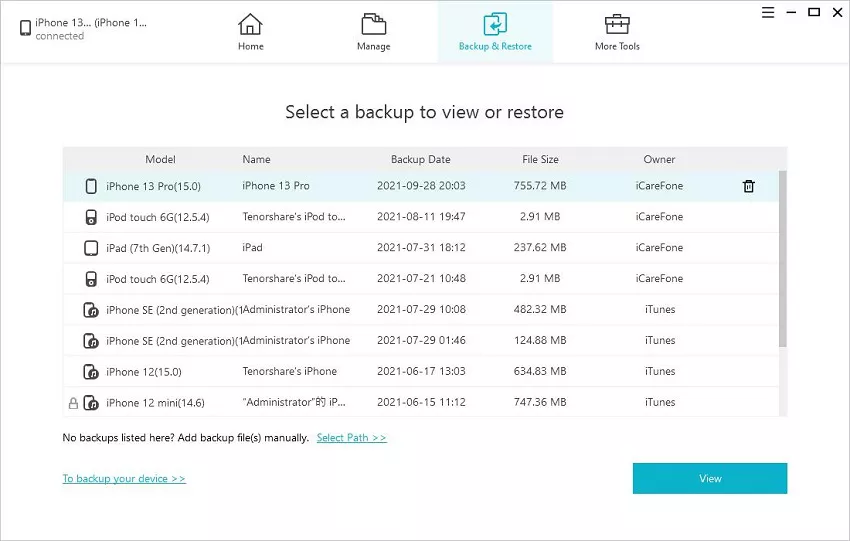 Step 3. Click "WhatsApp" or "WhatsApp Attachments" to view all the WhatsApp information. After checking and verifying that nothing is wrong, click on "Restore to Device" and the entire WhatsApp messages will be restored from iTunes backup to your device.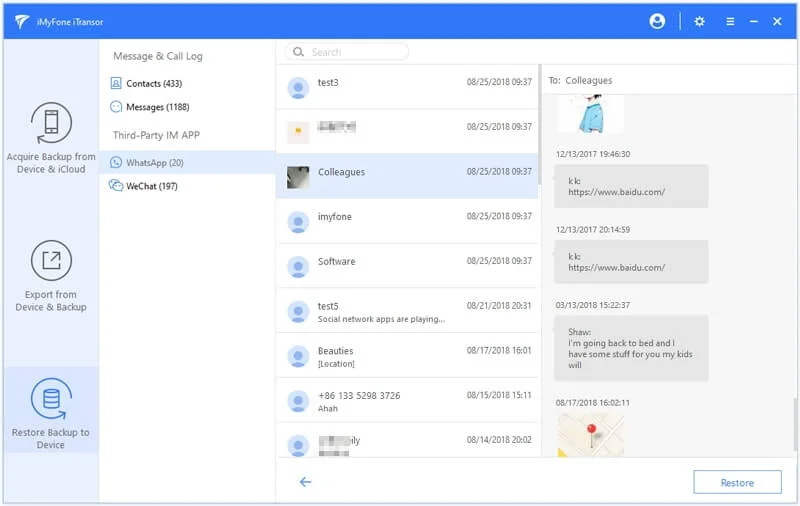 Conclusion
That's all about the requirements to restore only WhatsApp messages from iTunes to iPhone. You must realize that FoneGeek WhatsApp Transfer software makes it possible to restore specific data from iTunes without having to restore everything. With this tool, you will save yourself a lot of time and trouble.