When you bought a new device, you might need to transfer WhatsApp to the device by restoring WhatsApp messages from previous backup. On the other hand, if your WhatsApp messages are deleted due to iOS version or WhatsApp version update, you might also get them back by restoring previous WhatsApp backup files. In any case, you definitely need to restore WhatsApp messages on iPhone to a new iPhone or Android phone. In this article, different methods will be covered below.
1. The Easiest Way to Restore WhatsApp Messages on iPhone
From this part, you will learn how to restore WhatsApp messages on iPhone without uninstalling WhatsApp application. FoneGeek - WhatsApp Transfer is the best software for this job. It is developed to transfer, backup and restore WhatsApp messages for Android and iPhone users when they switch to a new phone. You can look at the shining features of this program:
Selectively restore WhatsApp messages: Restore selected WhatsApp messages to Android devices or iPhone without deleting this application.
Free backup service for WhatsApp messages: Backup only WhatsApp message for free without overwriting previous backup files.
Flexibly transfer WhatsApp messages: Preview and transfer WhatsApp messages between 2 devices in one click.
Step to Restore WhatsApp Messages on iPhone Using FoneGeek
Refer to the procedures outlined below to restore WhatsApp messages with FoneGeek WhatsApp transfer program. The screenshot of each procedure is also provided.
Step 1. Launch this FoneGeek software and open it. Select the mode of 'WhatsApp Transfer'.
Step 2. Go to the desired mode of 'Backup WhatsApp Messages' and connect the iPhone to computer. The backup process will be started.
Step 3. Click on 'View it' once the backup process has been completed.
Step 4. Choose the desired WhatsApp backup file and click on 'Next' to proceed.
Step 5. Then select the WhatsApp chat history you need to narrow down the restoring time. Tap on 'Restore to Device' to restore selected WhatsApp messages to another device.
2. Restore WhatsApp Messages on iPhone to New iPhone via iCloud Drive
From WhatsApp settings on iPhone, you can back up all WhatsApp conversation to iCloud Drive, including text messages, images, videos and documents. That's to say, you can restore all WhatsApp chat history to a new iPhone through iCloud Drive.
Step 1. Ensure that your iPhone is connected to wifi network and go to Settings > your name > iCloud to enable iCloud Drive.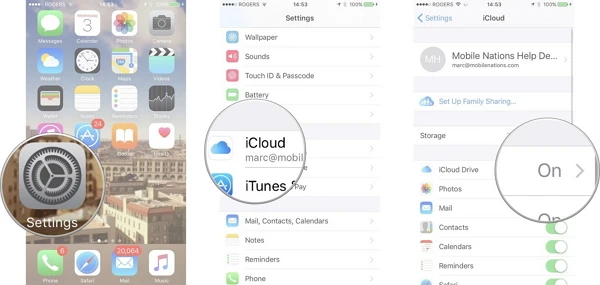 Step 2. The go to Settings on WhatsApp, click on Chats > Chat Backup > Back Up Now to back up iPhone WhatsApp messages to iCloud Drive.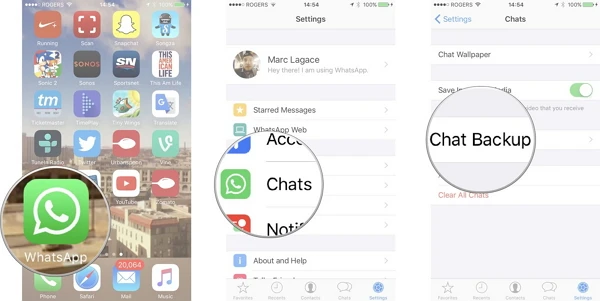 Step 3. Your new iPhone should also be connected with a stable network. Then turn on iCloud Drive.
Step 4. Re-install WhatsApp on your new iPhone, then you need to use the phone number of the old iPhone to sign into WhatsApp. When the phone number is verified, you can restore the WhatsApp chat history of the old iPhone to new iPhone.
Things should be noted:
The phone number and Apple ID used to log into WhatsApp and iCloud on the 2 devices should be the same.
3. Restore All WhatsApp Messages on iPhone via iCloud Backup
This way is a bit different from using iCloud Drive. Just take a look at steps below:
Step 1. Enable iCloud backup on by referring to the steps described in Part 2.
Step 2. Log into iCloud with the same Apple ID on your new iPhone and set the device as a new one by erasing all content and settings.
Step 3. Follow the step-by-step guide and choose to restore from iCloud backup. Through this approach, all data on iPhone, including WhatsApp messages will be restored to your new iPhone.
What Shoud Be Considered When Restoring WhatsApp Messages on iPhone
The things below should be taken into consideration If you encounter problems when you are trying to restore WhatsApp messages.
If you choose to restore via iCloud Drive, the WhatsApp messages will only be restored on device running iOS 8 and later.
Your iPhone should have enough space to store WhatsApp messages.
The phone number and iCloud account used to retrieve WhatsApp messages should be the same with the account used to back up these WhatsApp messages.
Try to connect the device with a different network if the restoring process gets stuck.
Conclusion
These 3 proven solutions are aimed to restore WhatsApp messages on iPhone to a new iPhone/Android device without uninstalling this application. But for your convenience, I still recommend FoneGeek - WhatsApp Transfer program for you.

Fay J. Melton has explored the area of technology and software for more than 5 years and he is enthusiastic about helping users solve various technology issues.

Home
>
Backup & Restore
>3 Free Methods to Restore WhatsApp Messages on iPhone