Losing all personal data, including photos, contacts, messages, videos, music, personal files, documents, etc., can be troublesome. However, being able to manage, back up, and restore these precious data can help you avoid such an experience. You can do this easily using iOS data manager software.
Tenorshare iCareFone is a perfect example. This tool makes it really simple to manage all your iPhone/iPad data, plus it comes with several additional useful features that other similar software and even iTunes don't provide.
In this post, we'll share our in-depth Tenorshare iCareFone review to give you a clear picture of how it works, along with its main features, usage, and more details. Let's dig into it right away!
What is Tenorshare iCareFone?
Tenorshare iCareFone is an iOS data manager that works in an almost similar manner to iTunes. It allows iOS users to quickly perform various operations like managing, transferring, and backing up files and other relevant data with just a few clicks. It helps you completely manage your iPhone and guarantees great performance.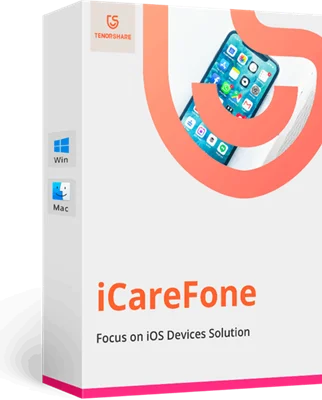 Besides that, you can access it from both Mac and Windows PC. This Tenorshare iOS manager software also comes with a few unique features that are pretty useful. It's the ideal software for transferring photos, music, videos, contacts, messages, and other iPhone data without limitations.
Key Features of Tenorshare iCareFone
iCareFone does offer plenty of benefits. It's not just the ideal software for safely transferring and restoring iPhone/iPad data. Also, it offers a lot of other useful and effective functionalities. Some of its key features include:
Transfer files between any iOS device and PC or Mac easily and smoothly. It doesn't matter if it's music, videos, photos, voice memos, contacts, and whatnot!
Backup and restore any iDevice with just a few clicks. It doesn't require iTunes.
Selective restore feature. Select specific files/data that you want to restore or back up.
Remove all duplicate files during the backup or data transfer process.
Transfer WhatsApp and Line data between iOS and Android easily and smoothly.
Integrated photo and video manager that's capable of exporting all your favorite photos to your PC or Mac within seconds.
Optimal performance and no flaws at all during backup or restore processes.
An intuitive and minimalist interface that's clean and simple.
Pros & Cons of Tenorshare iCareFone
Pros
Quickly transfer photos and other data types, including music, videos, podcasts, apps, contacts, bookmarks, and more, between iOS devices, PC/MAC, and iTunes.
Can perform various operations, including adding, deleting, organizing, and de-duplicating iOS files.
You can select the specific data you want to back up and restore.
Supports all iOS/iPadOS versions and all iOS devices, including the latest iOS 17 and iPhone 15/14.
Simple, intuitive interface that's easy to understand and use.
Cons
The Mac version of the software costs more than the Windows version.
Moving photos to Camera Roll requires an additional app that you have to install on your iOS device.
The response time of iCareFone is quite slow when loading and backing up messages.
Most of the powerful features aren't available with the Tenorshare iCareFone free-trial version.
Tenorshare iCareFone Download
Want to confirm if Tenorshare iCareFone really works? Well, the only way to do that is to try it out. You can easily download the iCareFone Windows and Mac version here. Note that this Tenorshare iCareFone download has gone through expert testing several times. We're guaranteed that it contains no viruses, adware, Trojans, or malware.
How to Use Tenorshare iCareFone
You can create a free backup using this iCareFone software and also use it to manage your iOS device. To do so, follow the instructions below. First, download the right version of Tenorshare iCareFone on your computer.
Using iCareFone for Data Backup
After downloading iCareFone, install it on your PC, then launch it. Next, connect your iDevice to the PC using Apple's USB cable.
From the software's main interface, click the "Backup & Restore" option from the left menu. Now, select the files you want to back up.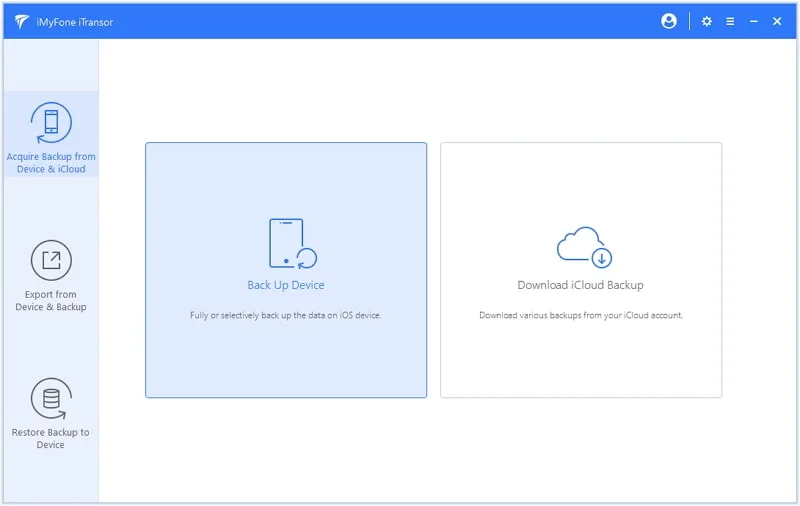 When selecting your files, click the "Backup" button at the bottom right corner. iCareFone will immediately start backing up all the files. Depending on the files' size, you may have to wait a while for the process to finish.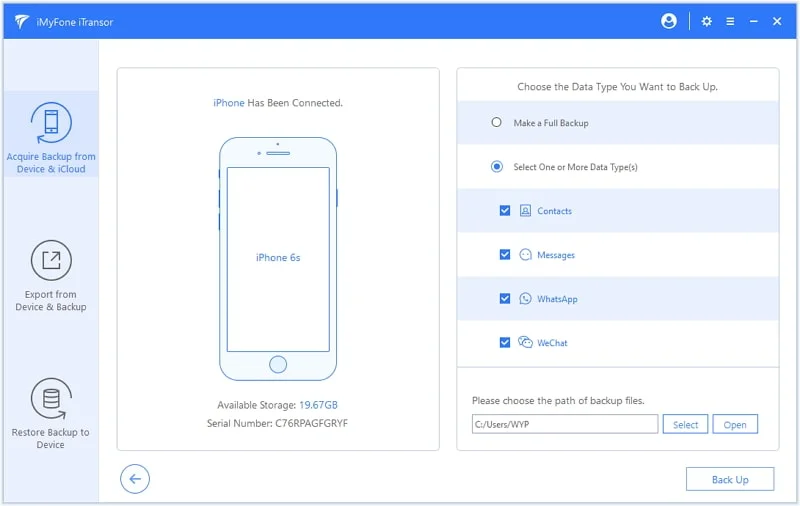 Using iCareFone to Manage Files
With the iCareFone "Manage" feature, you can manage nearly 8 different data types on your iDevice. To use this "Manage" feature, follow these steps:
Open the iCareFone software. Using Apple's USB cable, connect your iDevice to the PC. Head to the top menu of the software and click the "Manage" option.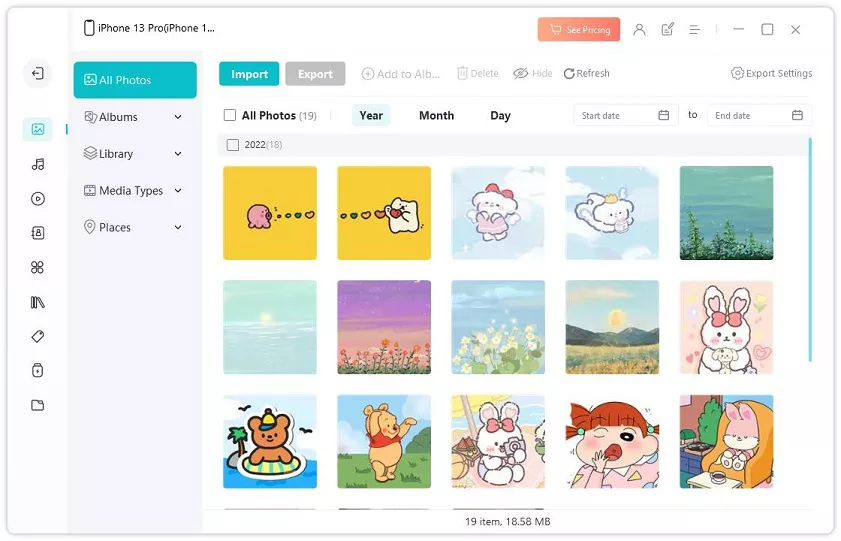 If you want to import files from the PC to your iOS device, click the corresponding option. Now, select the photos/files from the folder.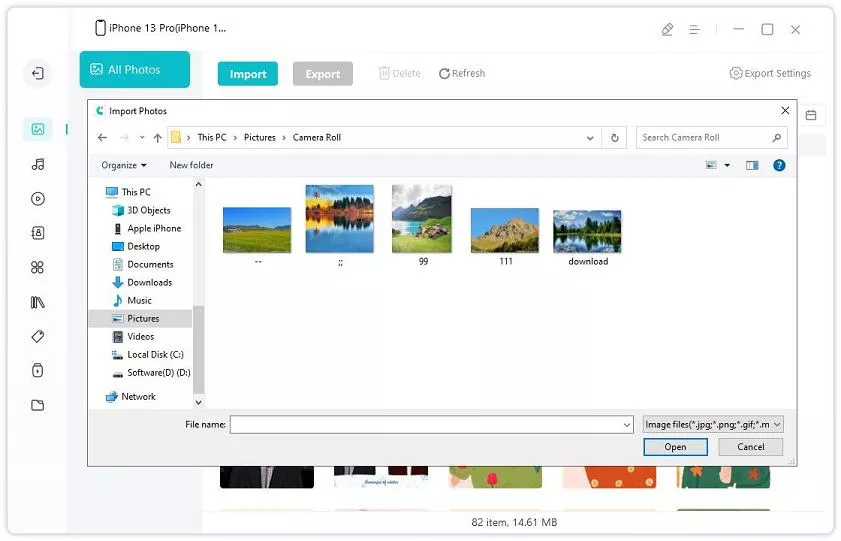 If you want to export files from your iOS device to the PC, click the "Export" option. Select the photos/files from the folder and then save them to the PC.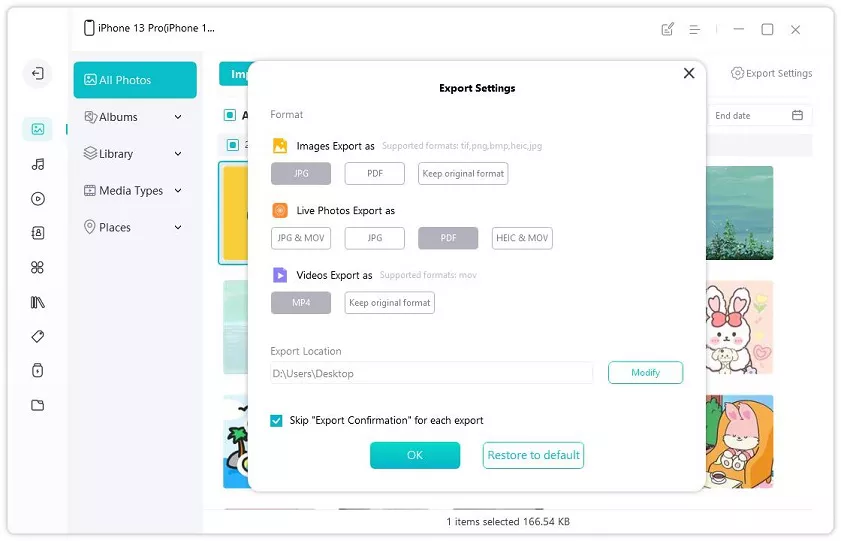 You can follow these steps to use iCareFone to back up and manage files. As you've seen, it takes just a few clicks to transfer the files between your iPhone and computer easily.
FAQs about Tenorshare iCareFone
Is Tenorshare iCareFone Free?
Tenorshare iCareFone comes in two versions, just like most third-party iOS manager software. There's the free version and the paid version. As you may have guessed, the free version is comparatively limited in functionalities. Unlike other similar options, though, the iCareFone free version offers a free backup feature which many users really appreciated.
You can get the trial Tenorshare iCareFone download version to try this feature. The paid version provides access to all the other iCareFone features, but you'll have to pay for the license if you opt for it. The price starts from $35.95 for a one-month license - that's considerably affordable compared to other iOS managers.
Is Tenorshare iCareFone Safe?
Safety is a serious concern to many iPhone/smartphone users. As such, you may be relieved to know that Tenorshare iCareFone is safe. It's definitely a very secure and safe tool for the backup, transfer, and restore process.
When carrying out any of these processes (backup, restore or transfer), iCareFone always ensures that the files don't get corrupted or damaged. When you connect any device to it, it instantly requests a passcode, a further security measure showing how safe it is. You can expect no data breach because iCareFone won't keep any of your personal data.
Is Tenorshare iCareFone Legal?
Yes, it is! It transfers data between an iDevice (iPhone/iPad) and a PC using a USB cable. It doesn't upload any of your files to a server. Based on our research, no major antivirus reports viruses while using iCareFone. Should your antivirus block it, then disable it directly.
What If Tenorshare iCareFone Doesn't Work?
If you use Tenorshare iCareFone and its performance is not that good, and you fail to get the expected results, then you need to get in touch with their support team. Their customer support is available 24/7 and ready to help. They'll explain why the software doesn't work and what you're doing wrong while using the tool to perform the process.
Can Tenorshare iCareFeone Repair iOS Errors?
One of the features that iCareFone offers is iOS System Repair. If you use this feature, then it can help repair some of the common iOS issues on your iDevice. Note, though, that the nature of the errors, as well as many other factors, will determine the success rate of this feature.
Final Words
We've covered everything you need to know about Tenorshare iCareFone, so it's you to take the next step. As you've seen above, iCareFone does indeed offer an easy and better way to manage your iOS data. It's the best iTunes alternative not just because of its convenience and great performance but also because of the fact that it offers some other useful features/functionalities. Give it a try.