User Concern
"My iPhone X screen goes black during a call and the only way to wake it up is to start shutting of the phone, which ends the call. Is there a fix for this?"
In short, it is very troublesome when your iPhone screen goes black during a call. But it is not hard to settle this matter. In this article, we will tell you why iPhone screen goes black druing call and share 10 quick tips you can try to fix the problem easily.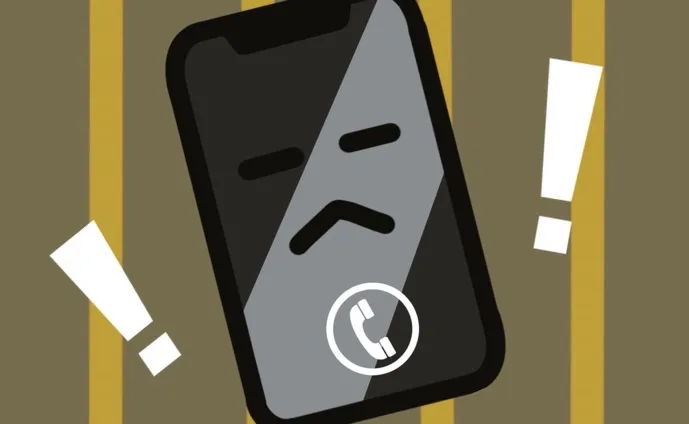 Why Does My iPhone Screen Go Black When I Make A Call?
Have you ever experienced your iPhone screen going black when you're making a call? This can be frustrating, especially when you need to use the keypad or any other features during the call. Here are a few reasons why this might be happening and some potential solutions:
One common reason for the iPhone screen going black during a call is due to the proximity sensor getting enabled. This happens when you bring the iPhone too close to your ear, and the sensor thinks the phone is against your face.
Sometimes, this can also occur if you are using a hard case that is too tight and pressing down on the side button, which locks the screen during a call.
Using screen protection films can also cause confusion with the proximity sensor, leading to the screen turning off. If you suspect this might be the issue, try removing the film to see if it makes a difference.
In some cases, if you have installed a developer beta build of iOS, this may be buggy and cause the screen to go black while receiving or making a phone call.
Prerequisite for Fixing iPhone Screen Goes Black During Phone Call
Some solutions below will require you to erase all data and settings on your iPhone. Thus, don't forget to back up your iPhone in advance.
Run iTunes and connect your iPhone to computer.
Click on Summary after the device connection.
Under the option of "Automatically Back Up", select "This Computer" and then click "Back Up Now".
The iPhone data and settings will soon be backed up to your computer.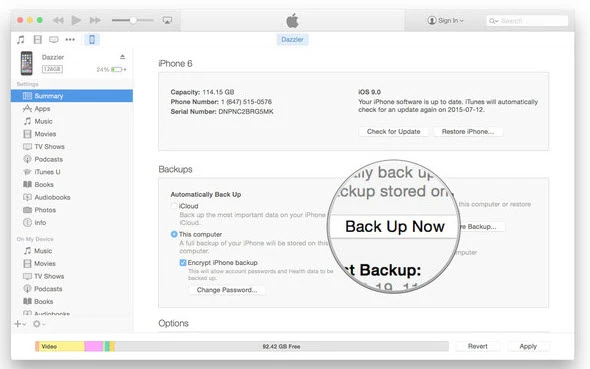 Using a tool like FoneGeek iOS Backup & Restore can also help you save your iPhone data selectively and locally, without having to back up the entire device. This tool can save you a lot of time if you're in a rush and need to quickly back up your data.
How to Fix iPhone Screen Goes Black During Call
1. Press the Side Button to Wake Screen
When you take a call on your iPhone, the proximity sensor kicks in and turns off the screen so you can avoid pressing the wrong button during the call. If you move the device too far away from your ear, the proximity sensor will be triggered again and turn on the screen.
If the proximity sensor fails to turn on the screen, you can try pressing the side button on your iPhone to manually turn on the display.
2. Remove Hard Case and Cover from iPhone
The proximity sensor may not work normally if your iPhone screen is protected with a hard case or cover. It may mistakenly detect the distance between you and the iPhone screen, and then turn off the screen. So, you can try to remove such hard case or cover and test if your iPhone screen is still going black during a call.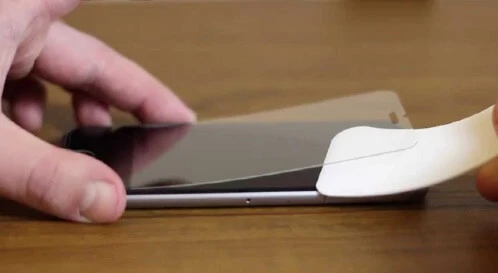 3. Clean Up the iPhone Screen
When your iPhone is used over a period of time, dust will accumulate quickly on the screen to prevent the intelligent detection of proximity sensor, and the result is that your iPhone screen goes black during call. Hence, whenever you have this issue, using a fair cloth to clean away the dirty on the screen.
4. Restart Your iPhone
If you are still experiencing the iPhone screen goes black during call issue after removing the hard case and cleaning up the iPhone screen, you may want to restart the device to fix it.
On your iPhone 14/13/12/11 without home button: Press and hold the Side button and either Volume button until the slider appears to turn off the device.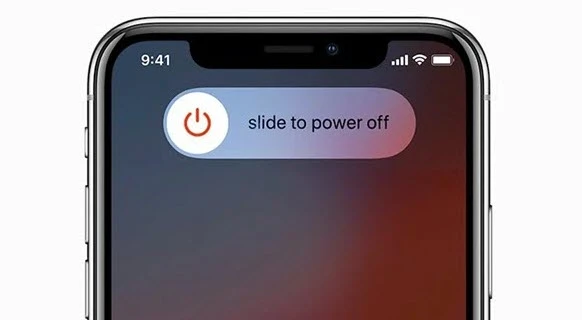 On your iPhone 8 and easier models with home button: Press and hold the Side or Top button until you see the slider to turn off the device.
After turning off the iPhone, wait for a few minutes and turn it back on.
5. Disable Reduce Motion from iPhone Settings
Reduce Motion can highly influence the sensing speed of your iPhone when it is turned on. Thus disable reduce motion should also be taken into conshiderison if your iPhone goes black during the call. Now you can follow the steps below:
Go to Settings on iPhone and tap on Accessbility.
Choose Motion and then turn off the Reduce Motion option.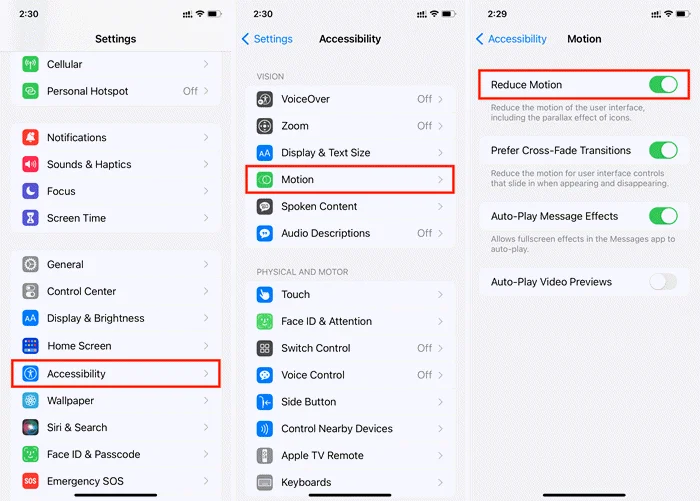 6. Uninstall Compass App
This solution is discovered by some users. They said that their iPhone screen would not go black during the call after uninstalling the default Compass app. You might also give it a try.
Hold and press the Compress app, then click the X icon to delete the app. In later time, reinstall this app to your iPhone from the App Store.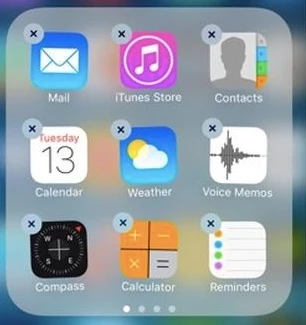 7. Reset All Settings
If you've accidentally changed a setting that's causing the screen to go black during a call, resetting all settings can help. To do this, go to the General menu in the Settings app, then select "Reset" and choose "Reset All Settings."
8. Update iOS to the Latest
Another potential cause of this black screen issue is a buggy iOS update. You can check if an update is available by going to the Settings app, tapping on General, and then on Software Update. If an update is available, download and install it while connected to WiFi.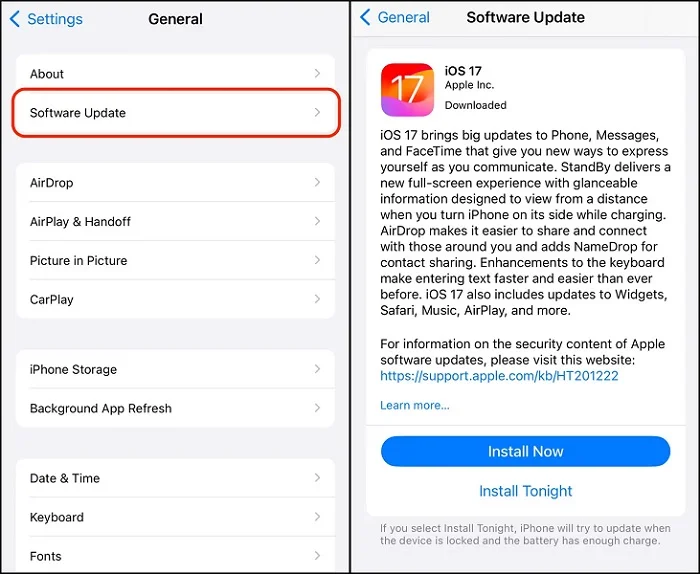 9. Factory Reset Your iPhone
After using this method, not only your iPhone settings but also all the data on the device will be erased. Therefore, you should make a full backup of all the data and settings on your iPhone first. Then follow the steps below:
Go to iPhone Settings, hit the General > Transfer or Reseti Phone option and choose "Erase All Content and Settings".
Enter your passcode or Apple ID password when required and confirm that you want to erase the device.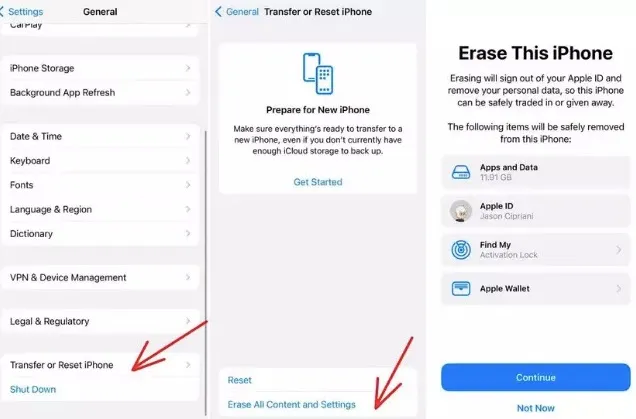 10. Restore iPhone with iTunes
The iPhone screen goes black during call problem will occur when something goes wrong with your iPhone system. In this situation, restoring iPhone system will get rid of this error.
After opening the newest version of iTunes, plug the device into your computer.
On the main screen of iTunes, hit the device icon and choose to "Restore iPhone".
Click on "Restore" again to confirm the action. iTunes will erase the iPhone and installs the latest iOS to the device.
After the iPhone has been restored to factory settings, it will reboot and you can set it up as a new one.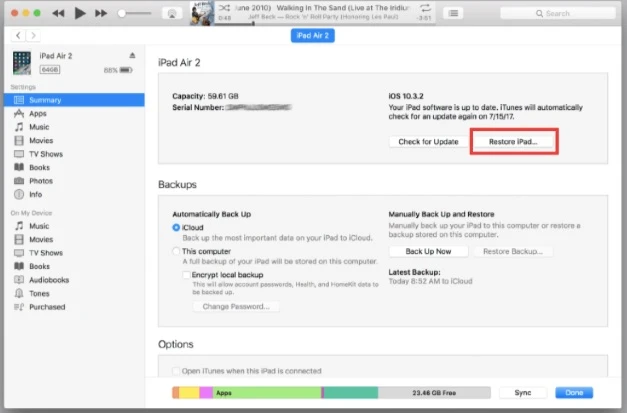 11. Best Way to Fix iPhone Screen Goes Black During Call
If you don't want to erase the data on your iPhone, we advise you to use a tool specialized in fixing this kind of issue in one click. FoneGeek iOS System Recovery is such a professional toolkit to repair all iOS software-related issue, includng iPhone black screen, stuck on Apple logo, recovery mode, etc. without data loss.
It has been put forward and recommended by Mobile Mall, GetDroidTips, Inspirationfeed, Techjury, Pakainfo and other technical sites.
It is easy to use for each user. No technical knowledge required.
Your iPhone data and settings will still be saved on your device after the repair process.
Works well with all iOS versions and iPhone models, even the newest iOS 16 and iPhone 14.
Step 1. Launch this iOS System Recovery tool on your computer and choose "Standard Mode"to fix iPhone screen goes black during call without data loss.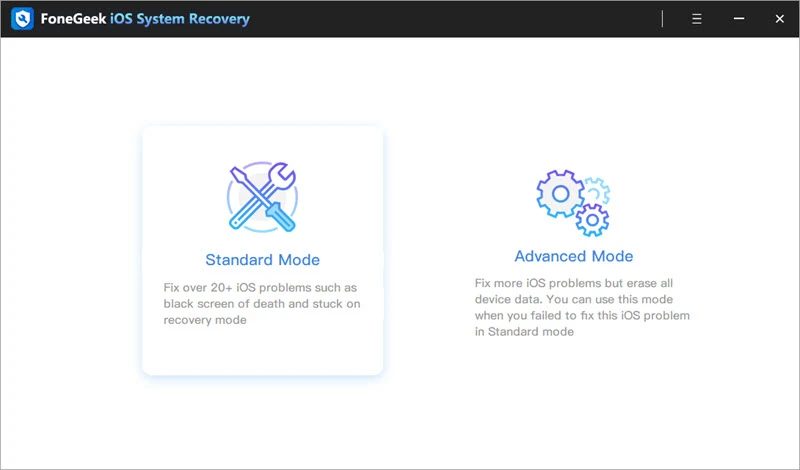 Step 2. You will then be prompted to connect your iPhone. Click on "Next" to proceed. (Get the device in Recovery mode or DFU mode if the device cannot be recognized.).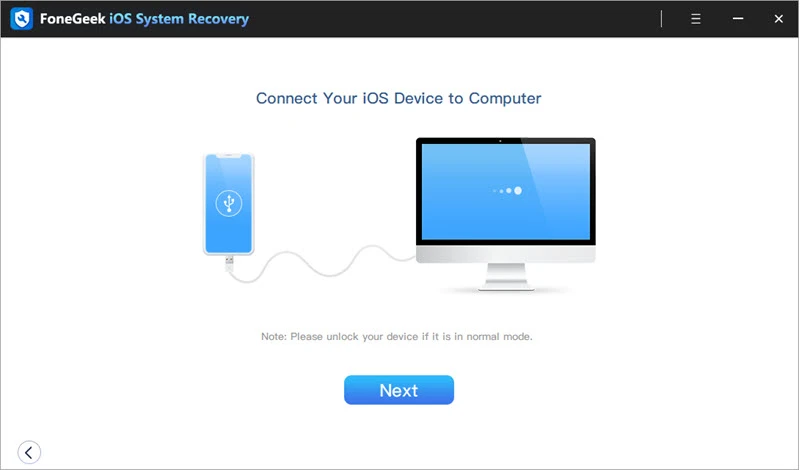 Step 3. On the next screen, your iPhone will be detected and the newest firmware package will be listed as well. Choose the most suitable firmware and tap on "Download".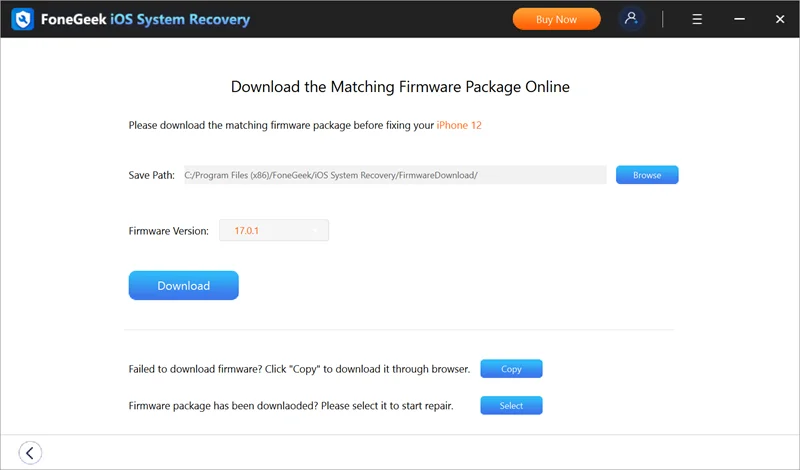 Step 4. When the download is complete, click on "Fix Now" to begin the repair process. Do not use your iPhone and disconnect it from your computer when the program is fixing this issue.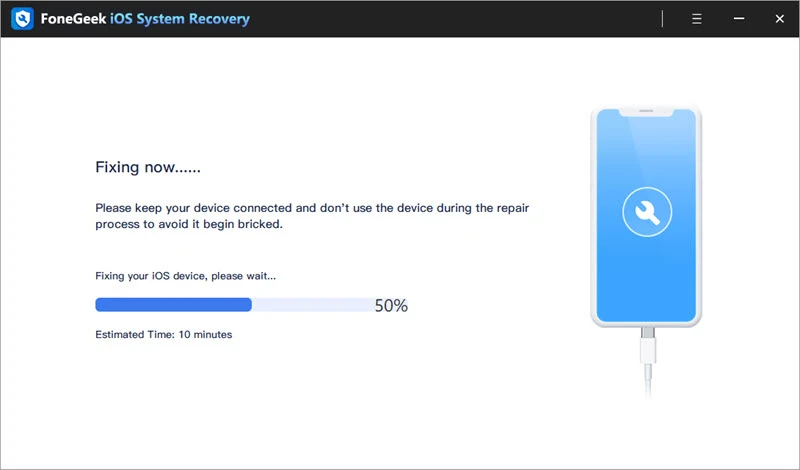 Final Words
In conclusion, there are several potential reasons why your iPhone screen might go black during a call, but hopefully, the above solutions will help you get it fixed.
If you've tried all of the above and the issue persists, it's possible that your proximity sensor needs to be replaced. Contact Apple Support or book an appointment at an Apple Service Center for diagnosis and repair.