User Concern
"I'm trying to send a file from my iPhone 13 to my Macbook Air via AirDrop, but I am getting a message saying 'No People Found. there is no one nearby to share with'. My AirDrop is on and set to everyone. WiFi and Bluetooth are also on. What's the problem?"
If you are using an iPhone and intend to transfer files to another iPhone, iPad, Mac or any other recent Apple device, you can simply do it via the feature of AirDrop.
Actually, Airdrop functions similar to the Bluetooth, allowing users to discover nearby Apple devices and directly transfer files like photos, videos, contacts, documents, etc. over Wi-Fi and Bluetooth.
However, lots of users complained that they are having problem with AirDrop. Don't worry, keep reading and discover how to fix AirDrop not working on iPhone, iPad or Mac.
Part 1. What You Should Check First
Check If Your Device Supports AirDrop: At present, the AirDrop is only available on the iPhone 5 or later, iPad 4 or later, iPad mini, 5th-generation iPod touch, as well as Mac models released in 2012 and later running OS X Yosemite or later.
Check If WiFi & Bluetooth Is Turned On: Bluetooth and Wi-Fi must be turned on on both devices to transfer and receive data, as iPhone relies on Bluetooth to create a point-to-point Wi-Fi network between 2 devices, and then searching for nearby devices for transmission.
Check If AirDrop Is Enabled: Make sure that AirDrop is enabled on both devices and placed within 10 meters from each other.
Check If Your Device Is Locked or Powered Off: If your iPhone/iPad is locked or powered off, the device won't appear to someone else as an available device for sending files via AirDrop.
Part 2. How to Fix Airdrop Not Working Issue (11 Tips)
Tip 1. Change AirDrop Settings
AirDrop has 3 levels: Everyone, Contacts Only and Off. Among the 3 levels, "Contacts Only" is the most complicated which limits shares to people in your contacts. If the AirDrop is not working, you can change the level to "Everyone" and try again. Here's how to do it:
On iPhone and iPad: Open Settings and tap "General", then tap "AirDrop" and choose the "Everyone" option.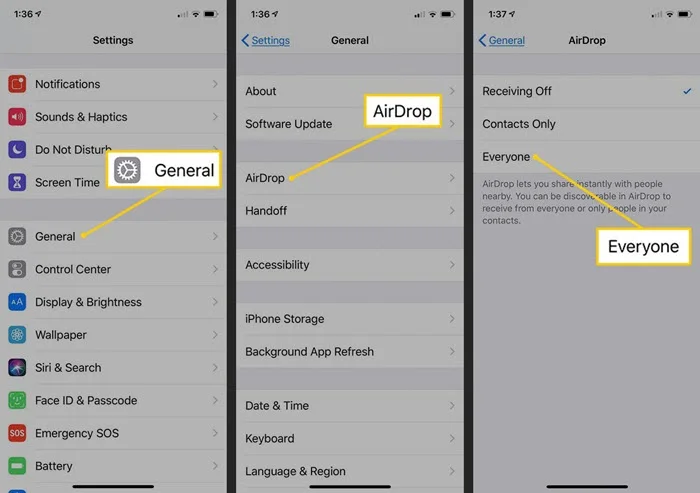 On Mac: Open Finder and choose "AirDrop" from the sidebar. Tap on "Allow me to be discovered by" and choose "Everyone" from the drop-down menu.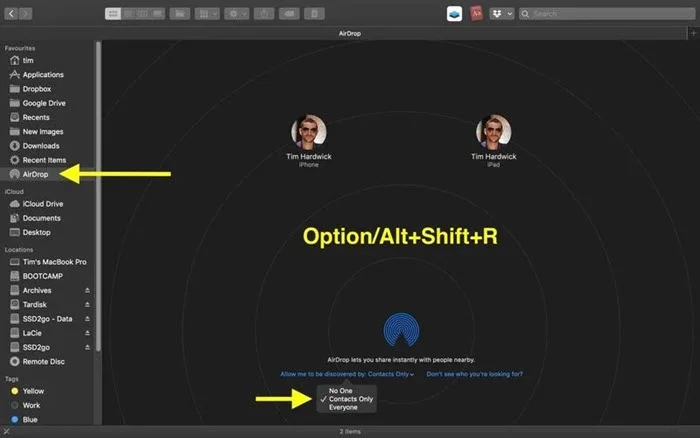 Tip 2. Turn WiFi & Bluetooth Off and On Again
As discussed above, both Bluetooth and WiFi should be turned on to ensure proper file transfer via AirDrop. If you found AirDrop not working, you can turn off Bluetooth and WiFi and then turn them back on again to see if it is helpful to fix this issue.
On iPhone and iPad: Go to Settings and tap the switch next to Wi-Fi and Bluetooth to turn them off, then tap the switch again to turn them back on.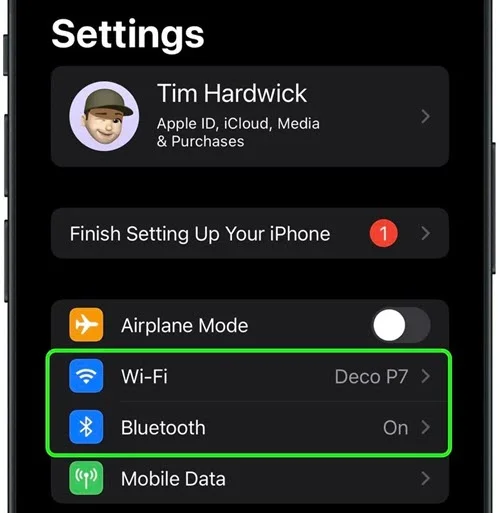 On Mac: In the top menu bar, click on the "Control Center" icon and tap on "WiFi" and "Bluetooth" to turn them off and on.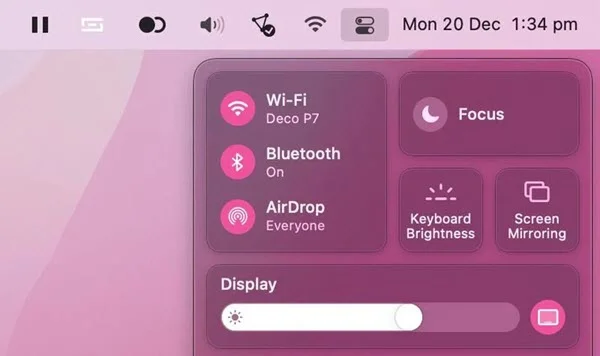 Tip 3. Turn Off Airplane Mode
If Airplane Mode is turned on, all the signals sent or received from iOS devices will be shut down. That's also to say, both the WiFi and Bluetooth will also be turned off to affect the usage AirDrop. Thus deactivate Airplane mode and try again.
First, find and click Settings app on the main interface on iPhone.
On the Settings interface, the first option is Airplane. Slide the button to the left to turn it off.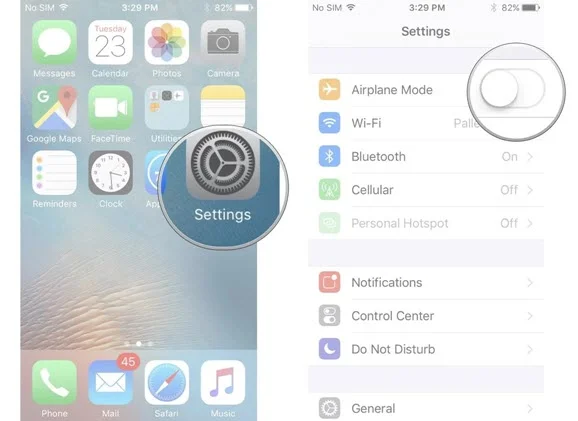 Tip 4. Disable Personal Hotspot
AirDrop won't work properly if you are hosting a Personal Hotspot on your iPhone to provide internet access to other devices. In this situation, the only solution is to disable the Personal Hotspot.
Just open the Control Center on your iPhone/iPad and long-press the Bluetooth icon. In the next screen, tap on "Personal Hotspot" to ensure it is "Not Discoverable". Once you have transferred files over AirDrop, you can turn it back on again.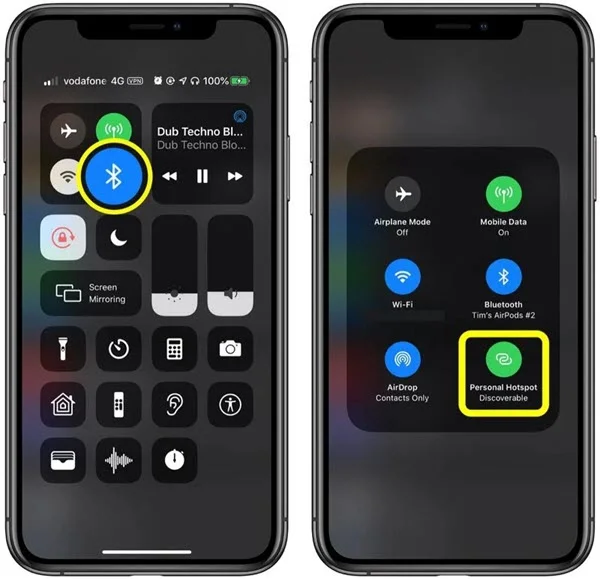 Tip 5. Restart Your Devices
Rebooting your iPhone, iPad or Mac can effectively fix some temporary issues on the device. If AirDrop is not working as normal, just do a simple restart and this usually takes a moment to try. After reboot, the AirDrop should begin working properly again.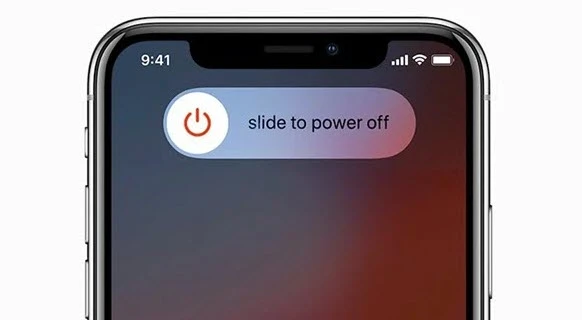 Tip 6. Sign Out and Sign In iCloud
AirDrop is still not working to transfer photos or other data after restarting the devices? You can also try to sign out and re-sign in the iCloud account. It is also regarded as one of the best methods to fix AirDrop not working issue.
On iPhone and iPad: Open the Settings app and tap on your name, then scroll down to the bottom and tap on "Sign Out". Wait for some time and sign in again.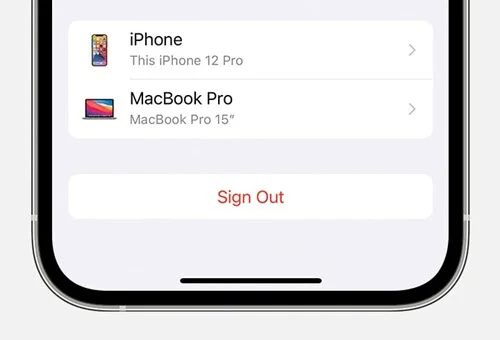 On Mac: Click on the Apple menu icon and go to "System Preferences", then click "Apple ID", then click "Sign Out".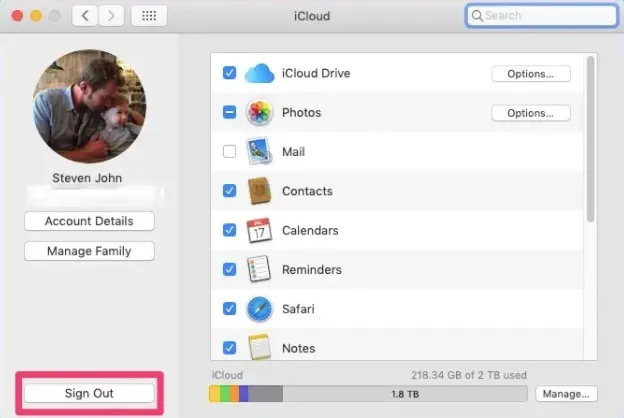 Tip 7. Reset Network Settings on iPhone
If AirDrop goes wrong and prevents you from successfully transferring files to other iOS devices, you can also try to reset the network settings on iPhone or iPad. Here is how to do it:
Run Settings application on the home screen of your iPhone/iPad. Click on General and hit "Reset" option.
Find and tap on "Reset Network Settings" option on the bottom and you will be asked to enter the network passcode set before.
After entering the passcode, re-click "Reset Network Settings" to confirm the reset.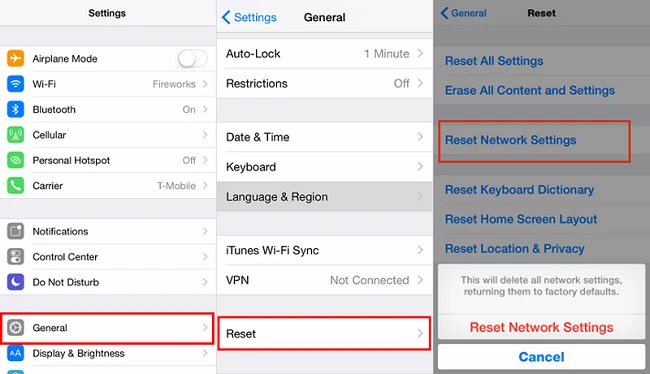 After the network reset is finished, the Bluetooth and WiFi will be disconnected from devices, you need to manually reconnect them on both of the 2 iOS devices. Then test to see if it is woking to transfer via AirDrop.
Tip 8. Update Your Devices to the Latest Software
AirDrop will also stop working due to system errors on your device. The basic way to solve system errors is to update the devices to the latest version of iOS or macOS.
Update iPhone and iPad: Connect the device into a power source and WiFi. Then go to Settings > General > Software, click "Downlaod and Install" if an iOS update is available.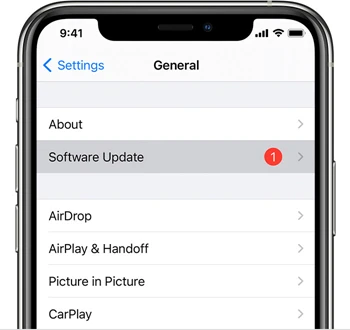 Update Mac: Tap on the Apple menu icon and head over to System Preferences > Software Update > Update Now to get the latest version of MacOS.

Tip 9. Change Mac's Firewall Settings
If you're attempting to transfer files to a Mac via AirDrop, but the computer is not showing up on the sending device, you should check the fireware settings and ensure it is allow for new connections.
On your Mac's menu bar, click on the Apple icon and choose "System Preferences".
Then go to "Security & Privacy" > "Firware". If the firewall is on, click the lock icon in the bottom-left corner.
Enter your Mac's administrator passcode and click on "Firewall Options", then uncheck "Block all incoming connections".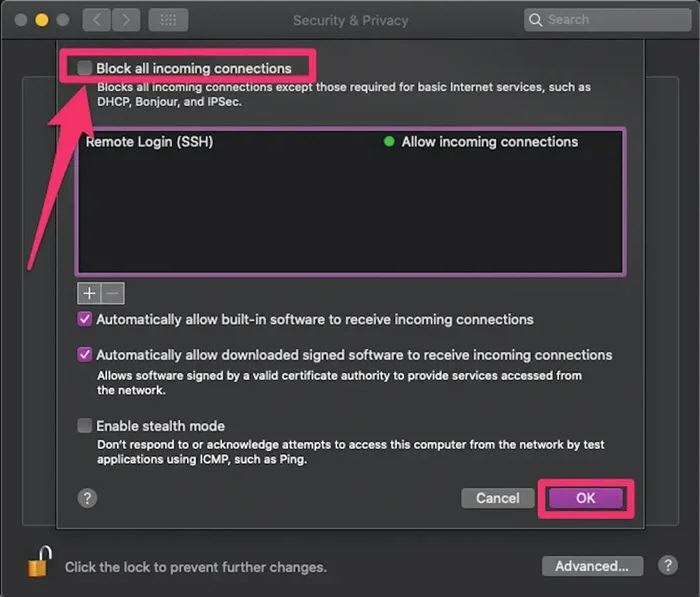 Tip 10. Fix AirDrop Not Working on iPhone without Data Loss
If AirDrop not working error is due to iOS system issues, FoneGeek iOS System Recovery will be your best choice to fix it. As one of the most popular repair tools to fix iOS issues, this software will be able to fix all iOS system issues that you may encounter without losing any data on your device.
Key Features of FoneGeek iOS System Recovery (iOS 16 Supported):
Troubleshoot AirDrop problems in one click without erasing any of your iPhone data.
Many other iOS problems that you confront will also be solved with ease, including iPhone ghost touch, iPhone stuck on press home to upgrade, stuck in boot loop, etc.
Reviewed and recommended by a great many reliable media sites like by Mobile Mall, GetDroidTips, Inspirationfeed, Techjury, Pakainfo, etc.
Works for all device models, such as iPhone 14, iPhone 13, iPhone 12, iPhone 11, iPhone XS, iPhone XR, etc.
Looking through the detailed guide below to fix AirDrop not working with FoneGeek iOS System Recovery:
Step 1. Once the program is downloaded and launched on your computer, click on "Standard Mode" tab.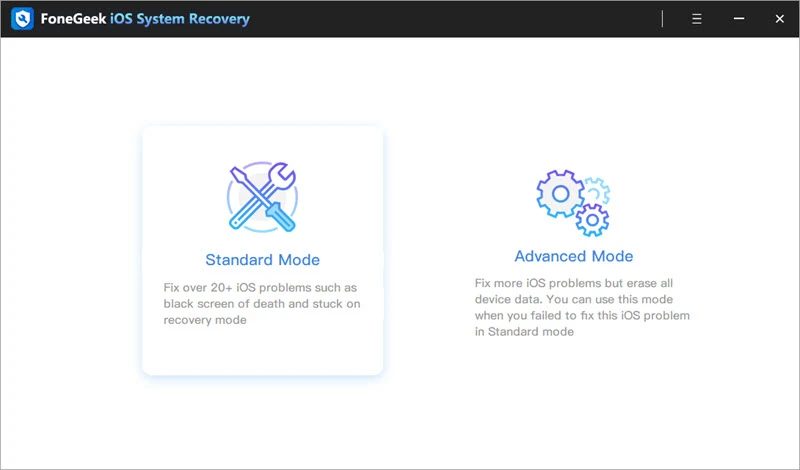 Step 2. FoneGeek iOS System Recovery will detect your device details, then click "Download" to download the most appropriate firmware package that will fix the existed issues on iPhone.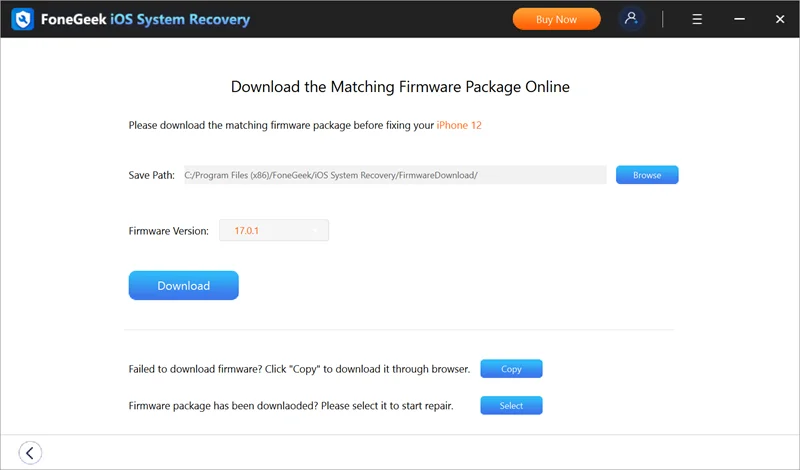 Step 3. Once the firmware is downloaded successfully, click on "Fix Now" and the program will begin repairing the connected iPhone.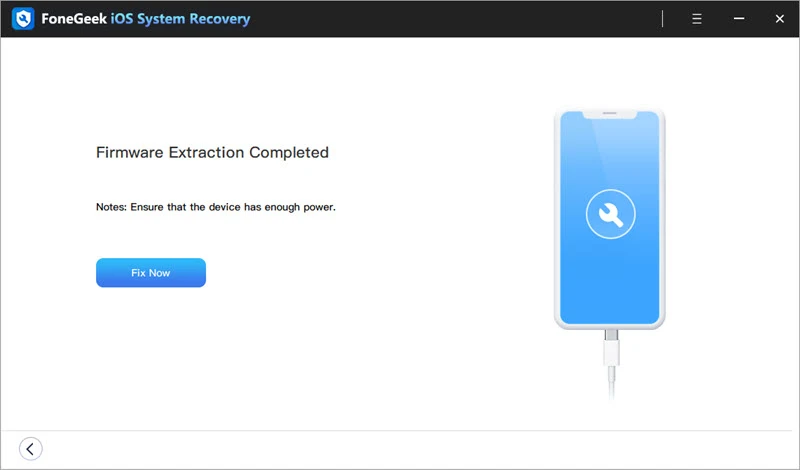 Tip 11. Transfer iPhone Data to Mac with AirDrop Alternative
We have known that the core feature of AirDrop is its data sharing and transferring feature. You are able to simply transfer your photos, contacts and other data from one device to another in one click via AirDrop.
If AirDrop is not working on iPhone and the solutions above failed to fix this issue, then why not use another tool to for data transfer? FoneGeek Backup & Restore is one of the best tools to transfer almost all data from iOS devices to Mac in one click.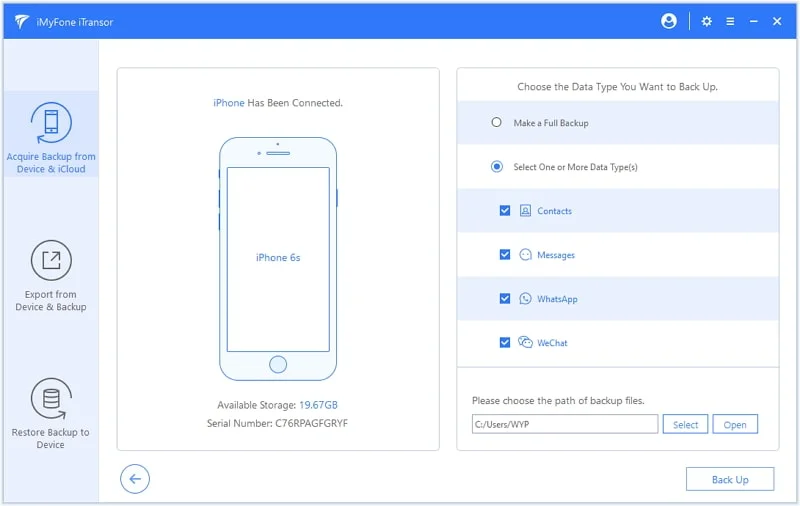 FoneGeek iOS Backup & Restore can do more than you can imagine. Why not download it on your computer and have a try?