User Concern
"There are reports of iPhone contacts names suddenly missing -- showing only numbers, no names (except for Facebook contacts). Anyone have a fix?"
Just as the problem above, many iOS users left the comments complaining that iPhone contact names go missing without any reasons after upgrading to iOS 16/15.
You can imagine how annoying it is for the missing contact names bugs. We have devoted ourselves to helping users who encountered the problem of iPhone not showing contact names and came up with several tips to bring back those missing contact names.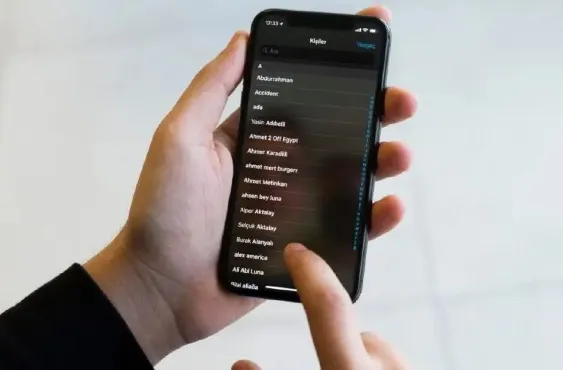 Tip 1. Try A Quick Tip: Restart iPhone
You must have learned that most small glitches could be fixed by restarting the iPhone. If you are annoyed by the missing names of iPhone contacts, the first thing you can try is to restart the device.
Tip 2. Ask Siri to Show Contacts
As a virtual assistant, Siri can do much more than what you can imagine. The contact names could also be recognized by Siri. Try with this less-common tip before going ahead.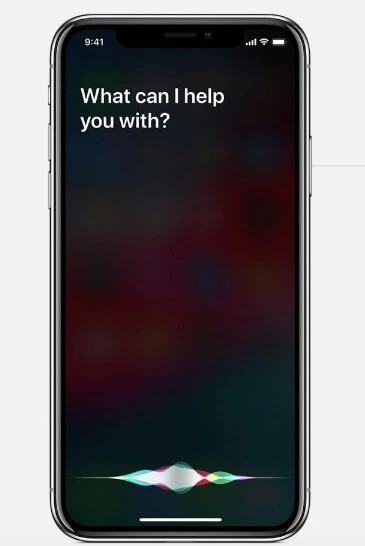 Tip 3. Refresh Contact Database
It is also quite likely that refresh the contact database will sometimes fix the problem of iPhone contacts missing names problem.
Open up your iPhone's Contact app, choose the contact that the name disappears.
The information for this contact will be showed in detail, including email, address, mobile number, etc.
Click Edit on the top-right corner to make a minor change of the contact database.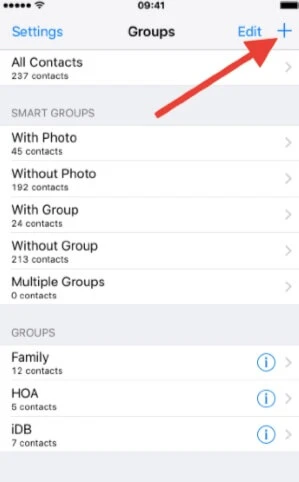 Tip 4. Change Contact Settings
Check the following steps to change contact settings:
Open the Contact App. On the top of the contacts page, click on "Groups" and select "All on My iPhone".
Now, you can check whether the contacts name have come back. If not, try the solution below.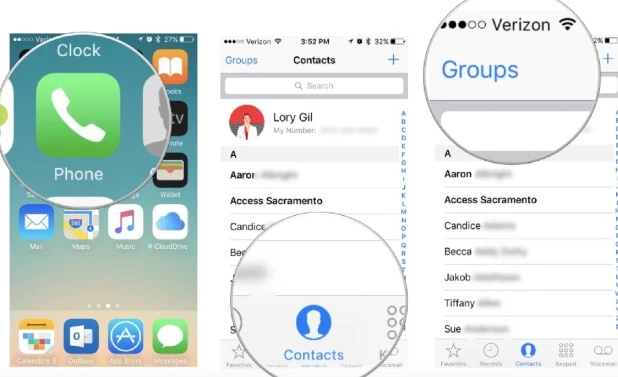 Tip 5. Enable Show All Contacts
The contacts name may not appear when you turned on the "Hide All Contacts" option. If you accidentally enabled this option, you should go to Contacts > Groups to enable the option of "Show All Contacts".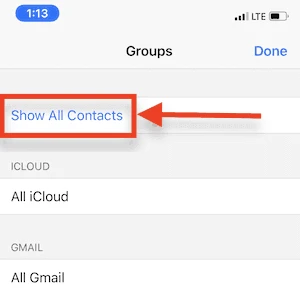 Tip 6. Turn Off and Turn On Short Name
Open iPhone Settings and go to Contacts > Short Name to turn it off and then turn it back on. You can also turn it off to check whether it works or not.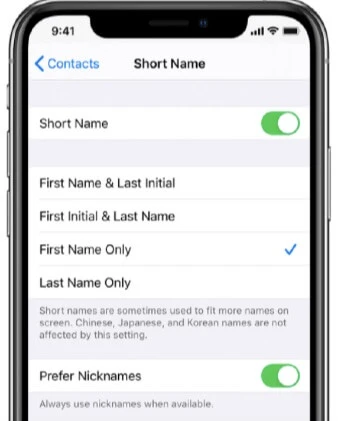 Tip 7. Check the Google Account
iPhone contacts will be synced with Google account if the Contacts backup is enabled in iCloud. It is always neglected by most users. Look into the steps given below to check whether you can find the contact names from the Google Account.
Find the option of Contacts from iPhone Settings.
Go to Accounts > Gmail to select your Google account.
You can check whether the Contacts is toggled ON or not. If not, toggle it On to get your contacts back.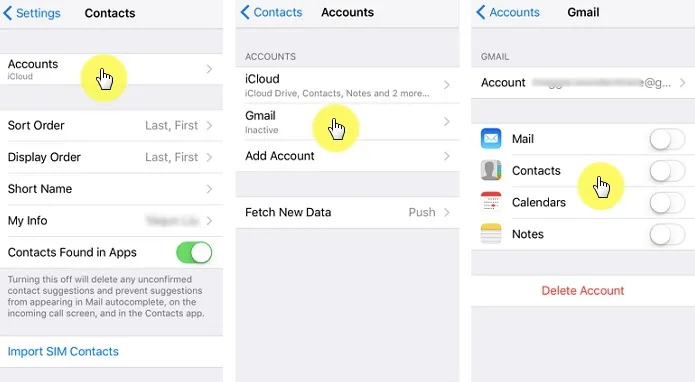 Tip 8. Toggle Contacts On/Off In iCloud
The contact names also disappear due to the sync issue of contacts between iPhone and iCloud account.
Open Settings and click on "Accounts & Passwords". On this screen, you'll be prompted to select your default email.
If the "Contacts" option is on, just toggle it off and restart your iPhone.
When the iPhone is turned on, repeat the steps above to go the screen of "Accounts & Passwords", select the Email and toggle "Contacts" on.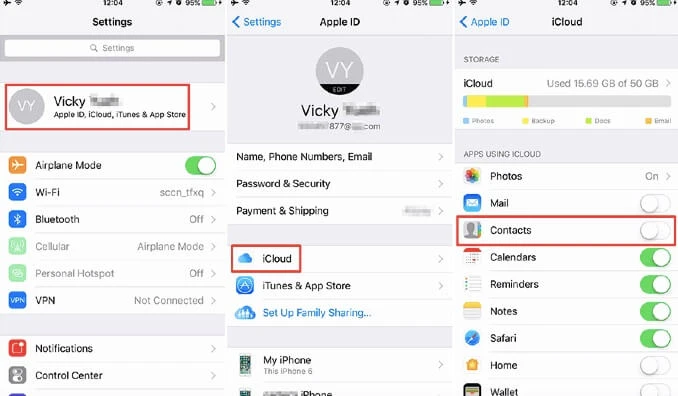 Tip 9. Sign Out of and Sign Back to iCloud
We have gone through the user reviews from different Apple forums and found that most users left the comment of signing out of iCloud account and sign in again could get this contact name issue fixed. This may also be workable for some of you.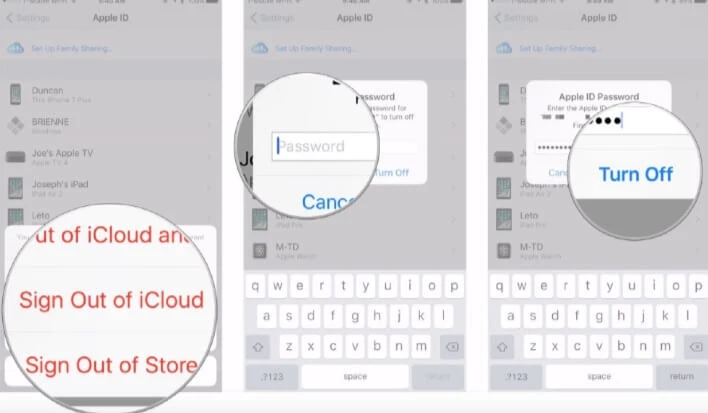 Tip 10. Turn iMessages OFF/ON
The iPhone contact names missing will also occur due to a small glitch on the Message app. In this case, you can go to Settings > Messages and disable iMessage. Then restart your device and turn on iMessage option again.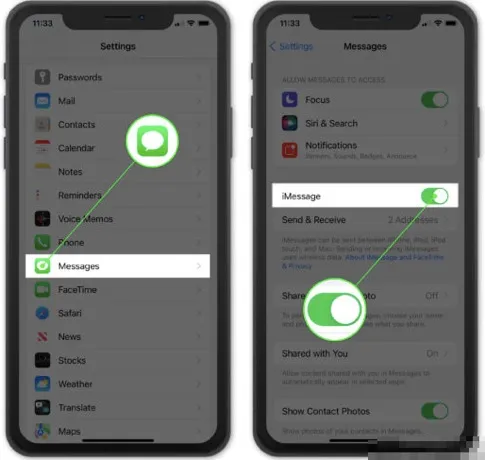 Tip 11. Reset Network Connections
The contact name missing bug may also be caused by the network connection error. Thus resetting network connection may well be a good way to successfully solve the problem. And it will take only about 2-3 minutes. To reset your network settings, just follow the simple steps:
Go to Settings on iPhone, scroll down to tap General.
Find Reset tab and select Reset Network Settings.
Once you select the option, the cellular settings, Wi-Fi networks and passwords, VPN and APN settings will be erased and reset.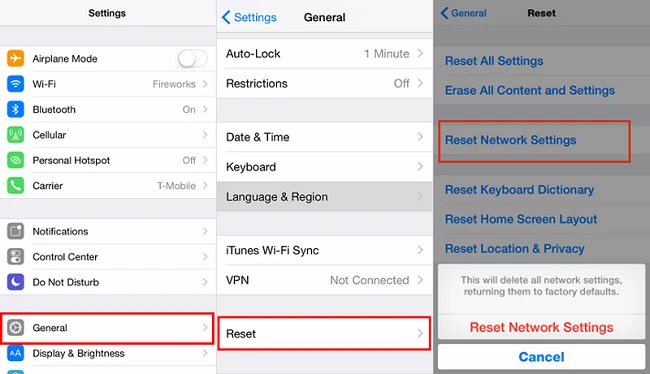 Bonus Tip: How to Recover Missing Contacts on iPhone
If you found the contacts disappeared without self-awareness, FoneGeek iPhone Data Recovery is recommended (iOS 16/15 supported) to recover iPhone missing contacts. In addition to contacts, it can also be used to recover other frequently used app data for iPhone, iPad, iPod touch, like messages, photos, videos, voice memo, WhatsApp messages, viber, Kik, Notes, safari history, voicemail, etc.
Conclusion
We hope that our experiences to fix the contacts missing names on iPhone issue could be helpful to you. Whatever the reason of the contact name missing issue, you can get this issue fixed with one of the tips in this post.