When your iPhone keeps saying no SIM installed in your device, neither you will able to make any calls to other cellular networks nor connect to wireless data.
This issue is not limited to any specific iPhone model and even the latest iPhone face this problem. It is very annoying to get this error suddenly when you have to use it.
It seems a minor error, but often it requires some serious efforts to resolve that error. Here we have given the best 10 solutions.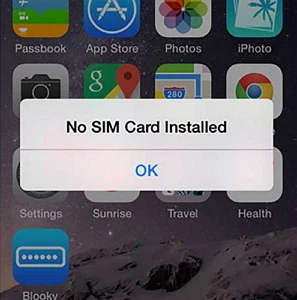 Why iPhone Says No SIM Card?
In addition to getting an error message, you can also know that your iPhone is having SIM card problem when the carrier name and the signal bar at the top of your iPhone disappears. The reasons for this error can be anything, making this issue more complex. Some of the possible reasons are given below:
Before putting the SIM card into the iPhone, you must check whether the SIM card is clean. Always clean the SIM card with a soft cloth and blow air into the slot to remove any dirt inside.
Wet or Overheated Battery
The iOS device should be used in a proper environment for it to work in an optimum condition. If the iPhone gets overheated or wet, many iOS issues can occur.
This error can also occur not because of your device but because of a faulty SIM card. If the SIM card is damaged, it is better to contact your service provider and get it replaced.
Your iPhone might have some glitches because your device may not recognize the SIM card. When you reboot the iPhone, most of the issues get solved.
Best 10 Solutions to Fix iPhone Keeps Saying no SIM
It doesn't matter what the reason is for this error. Follow the methods given below to solve this error within a few minutes.
Solution #1. Check Whether Your iPhone SIM Tray is Closed
Did you close your SIM tray properly after inserting it? If not, check and close the SIM tray for the iPhone to recognize your SIM card.
Solution #2. Remove and Reinstall SIM Card
If your iPhone keeps saying no SIM card, there is a chance of your SIM card getting dislodged. You need to remove the SIM card and again put it back into its place properly to solve this error.
Step 1: Use Apple SIM card tray remover tool to open the SIM tray.
Step 2: Remove the SIM card and put it back into the tray and close it.
Step 3: Within a few seconds, your iPhone will recognize the SIM card and the carrier name should reappear.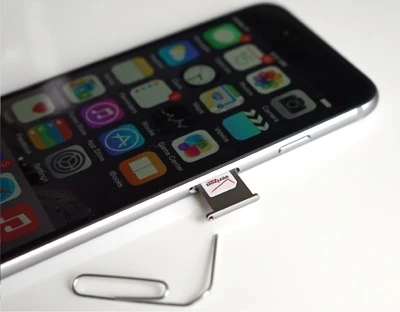 Solution #3. Restart Your iPhone
Try to solve this error by restarting your iPhone.
If you are using iPhone X or later models then press and hold the Power button and any of the Volume button until you see the slider.
If you are using iPhone 8 and earlier models, press and hold the Side button or Top button until you see the slider.
Drag the slider to turn off the device. After some time, turn on it and check if the issue is solved.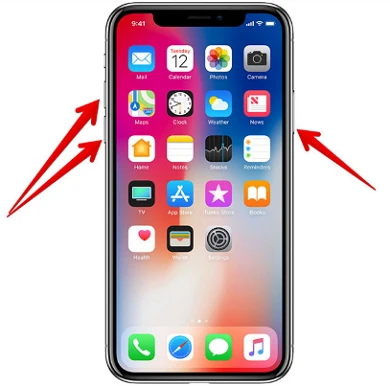 Solution #4. Turn on/off Airplane Mode
Disconnect your device from the carrier network by turning on the Airplane mode.
Step 1: Open Settings of your iPhone. Toggle on Airplane mode.
Step 2: After some time, turn off Airplane mode.
Step 3: You can also turn on the Airplane mode from the Control Center of your iPhone.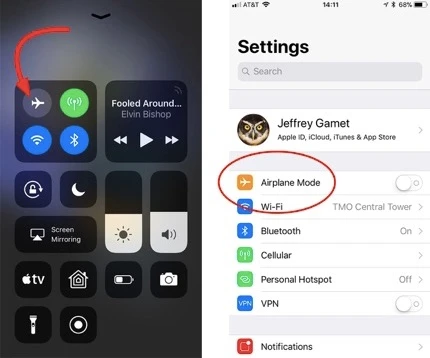 Solution #5. Clean SIM Socket
If there is dirt lodged in the SIM tray, your iPhone might keep saying that there is no SIM card installed in your device. So, clean the SIM socket and see if the error gets solved.
Step 1: Open the SIM tray with the Apple SIM tray remover tool.
Step 2: Pull the tray and clean the socket by blowing air in it.
Step 3: Then close the tray. Your iPhone should display the carrier name with signal bars.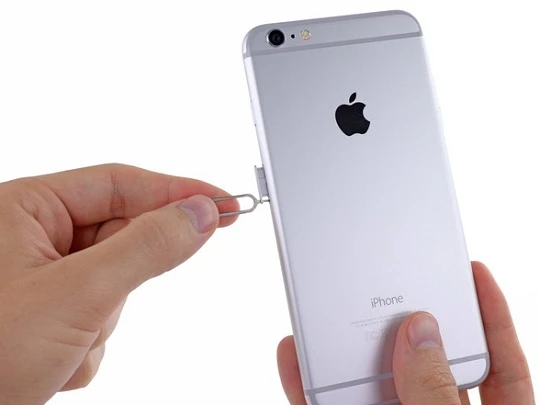 Solution #6. Update iOS to Latest
Apple releases iOS updates to fix the bugs and software glitches in the last versions. To make sure that your iPhone is up-to-date, follow the steps below.
Step 1: Open Settings and tap General.
Step 2: Next, tap Software Update. Your device will immediately check for new updates.
Step 3: If there is an update available, tap Download and install the new iOS 14 update.
Solution #7. Fix iPhone Keeps Saying no SIM without Data Loss
If you are worried that you will lose your iPhone data while fixing this issue, try FoneGeek iOS System Recovery. Using the standard mode of Fixppo, you can easily fix this issue without data loss.
It has full compatibility. All iOS versions and iOS devices are supported, even the latest iOS 15/14 and iPhone 13/12/11.
It has been recommended by software.informer, Cult of Mac, Payetteforward, Makeuseof and so on.
Step 1. Connect your iPhone to the computer and choose Standard mode on FoneGeek Home screen. Click Next. If it still does not recognize, put the device in DFU or Recovery mode. Follow all the instructions given on the screen to put the device in DFU mode or Recovery mode.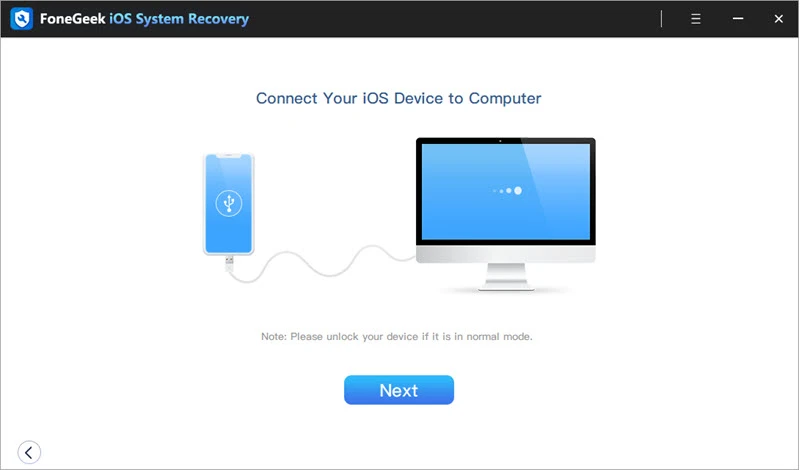 Step 2. You can choose the firmware version and click "Download" once the software displays all the available firmware versions. It will extract the software after the firmware is downloaded.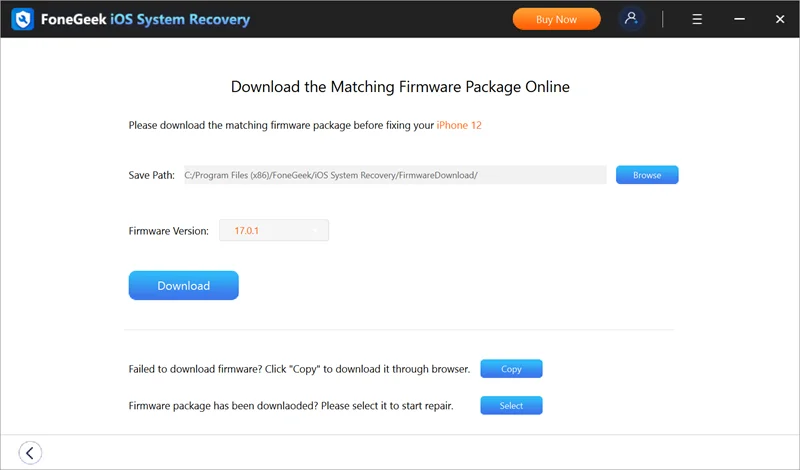 Step 3. Now, when you click Start, the program will start to fix this error. During this process, don't use your iPhone or do not unplug it. The entire process will finish within a few minutes. Now check if you can restart the iPhone normally.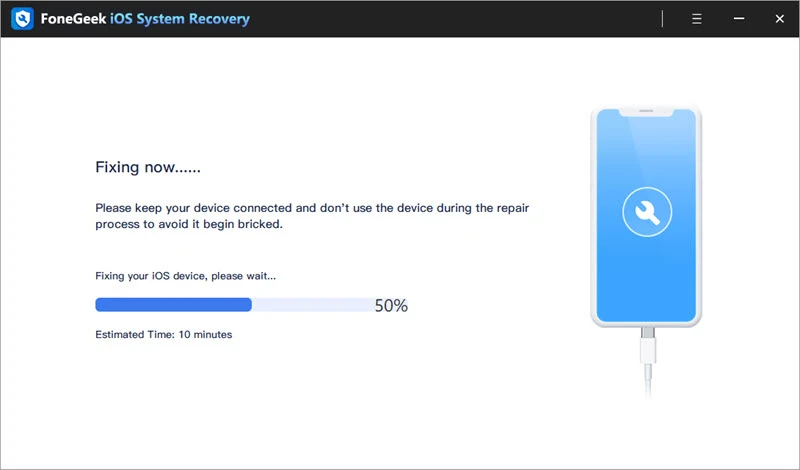 Solution #8. Reset Network Settings
You can try resetting the network settings for solving this error.
Step 1: Open Settings and go to General -> Reset.
Step 2: Choose Reset Network Settings.
Step 3: The network settings will be reset after this step.
Solution #9. Try Another SIM Card
Inserting a SIM card from a different phone that you know is also an option. If your iPhone displays the carrier name and signal bar after inserting another SIM card then your iPhone SIM is faulty. Replace it from your service provider.
Solution #10. Contact Apple
If none of the methods solves your issue, you need to contact the Apple Support Center to check whether there is something wrong with the hardware.
Make Sure You have Available Backups before Fixing
Before you try to fix the issue with any of the methods, ensure that you back up your iPhone. Make a full backup of your iPhone using iTunes or iCloud before trying to fix the iPhone keeps saying no SIM issue. You can also use FoneGeek iPhone Data Recovery for making a partial backup of your device data.
Step 1. Open FoneGeek iPhone Data Recovery on your computer and click on "Recover from iOS Device". Click "Start". Your iPhone will automatically get detected by the program. Now, click "Next".
Step 2. The available file types will be shown on the screen. Choose the file types you want to back up and click "Scan".
Step 3. Once the scan is over, all the files will be shown. Now, choose the files you want to save and click "Recover". Make a new folder or choose an old one to store the backed up data. Once all the steps are completed, all the files will be backed up to computer.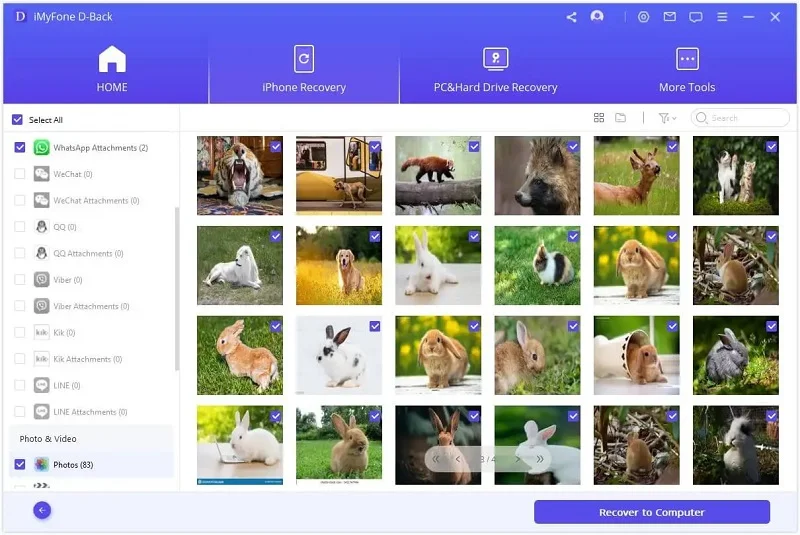 Conclusion
Don't panic if your iPhone keeps saying no SIM. You can find all the methods here that will help you solve this issue for you. Try the method only after you are sure and trust it. If you feel we have left out something, please let us know in the comments section below.

Fay J. Melton has explored the area of technology and software for more than 5 years and he is enthusiastic about helping users solve various technology issues.

Home
>
iPhone Issues
>iPhone Keeps Saying No SIM? Best 10 Solutions Here