User Concern
"Has anyone had issues with visual voicemail not working on iPhone running iOS 17? I hadn't noticed until last week and I still can't get my voicemail to work."
Voicemail is a handy feature that helps you receive voice messages when you're unable to answer calls. So, it is really frustrating when the voicemail stops working on your iPhone or iPad.
In case you've jump into the same trouble and found out that voicemail is not working on your iPhone soon after updating to iOS 17, then this article will prove very useful to you.
Here we will address some of the most common iPhone visual voicemail not working problems, as well as what should be done to fix the error and get the voicemail running normally again on your iPhone or iPad.
Why Is My Voicemail Not Working on iPhone?
Before we get to the solutions, it is important to understand the reasons behind the voicemail not working issue on your iPhone. In this way, it can be easier to determine the best solution for your particular problem. The possible reasons include the following:
You haven't set up voicemail the right way on your iPhone.
The phone carrier you're using has blocked the voicemail access.
You have used up your monthly data with your carrier.
The cellular network you are using is malfuction.
Your iPhone doesn't have enough free storeage space for receving voice messages.
Your iPhone has system bugs or ourdated software that prevent you from using voicemails.
The SIM card was damaged or removed incorrectly.
You may experience different issues related to your iPhone voicemail if above factors exist. Some of the problems you can met are:
Your iPhone is not showing or downloading voicemail messages.
You can't set up voicemail after iOS 16 update.
You don't receive alerts or notifications about voicemails.
Callers are not able to leave a voicemail message.
Voicemail is currently unavailable or you cannot access voicemail.
You are getting duplicate or multiple copies of voicemail messages.
You can't hear or listen to the voicemail messages.
You can't delete the voicemail messages.
The following are some of the working solutions if you are facing one or more of the above iPhone voicemail not working issues:
Fix 1: Verify If Voicemail is Set Up Properly
It is not uncommon for an iOS update to change the device's configuration. So, if you are experiencing voicemail issues after an iOS 17 update, it is a good idea to check if voicemail settings are set up correctly. Here's how you can do that:
Open the Phone app and choose "Voicemail" at the bottom.
If it hasn't been set up, tap on "Set Up Now".
Follow the instructions to create a new password for voicemail.
Choose a default greeting message or record one and then tap "Done" to save it.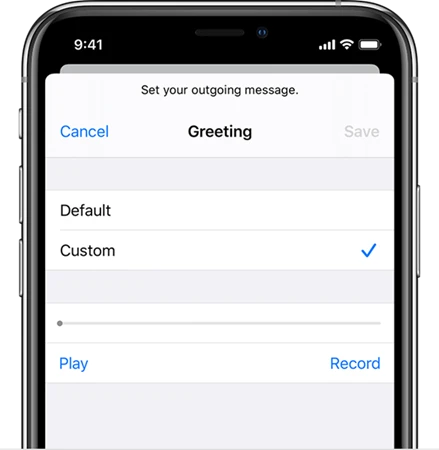 Fix 2: Try to Call the Voicemail Directly
Open the Phone app and click on Keypad on the bottom. Keep pressing the number 1 and it will directly call the voicemail. Then you can check all your voicemails here.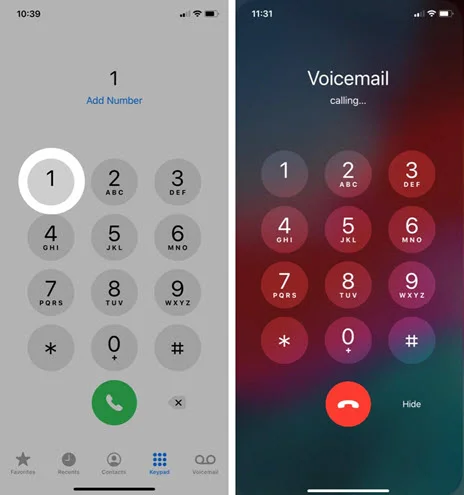 Fix 3: Force Quit the Phone App and Reopen It
One of the easiest ways to get the iPhone voicemail feature working properly again is to close and reopen the Phone app. This is the best solution to try before attempting any more invasive solutions.
For iPhone X and later, just swipe up from the bottom of the screen until you see all the recently used apps. For iPhone 8 and earlier, double-click the home button. Then swipe up the Phone app's preview to force close it.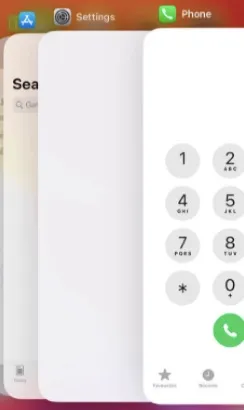 If you still can't get voicemail to work smoothly even after closing and reopening the Phone app, try the next solution.
Fix 4: Ensure Cellular Data Is On
Voicemail is a carrier feature, which requires cellular data to send and receive voicemails. If the voicemail stops working on your iPhone, you should check if you have data turned on from Settings. If Cellular Data is already enabled, make sure you're not on a limited data plan.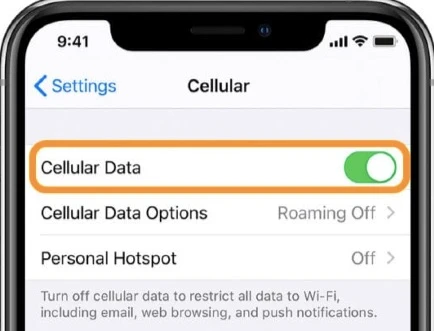 Fix 5: Turn Cellular Service Off and On
A simple restart of your cellular service can also help to fix some voicemail related issues. There are 2 ways to toggle the Cellular service on and off: via Settings and Control Center.
To do it from Settings: Open Settings on your iPhone and click on Cellular, then turn off the "Cellular Data" feature and turn it back on after 30 seconds.
Fix 6: Turn Airplane Mode On and Off
Toggling Airplane mode on and off is also an effective solution to fix voicemail issues on your iPhone or iPad. You can go to Settings > Airplane mode and turn it on. Wait a few seconds and then turn it off again. Also, you can simply do that in Control Center.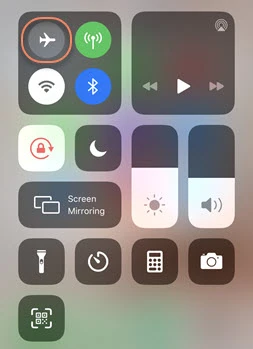 Fix 7: Force Restart Your iPhone
The next simple solution to try if your iPhone's voicemail not working properly is to force restart the device. This will be particularly helpful if the iOS system has a glitch that could be causing the problem. Here's how you can force restart your iPhone:
For iPhone 8 or later - Press and quickly release the Volume Up button, and then press and quickly release the Volume Down button. Now keep holding the Power (Side) button until you see the Apple logo.
For iPhone 7 and 7 Plus - Press and hold the Power and Volume Down buttons together until the Apple logo appears on the screen.
For iPhone 6 and earlier - Press and hold the Home and Power button at the same time until you see the Apple logo.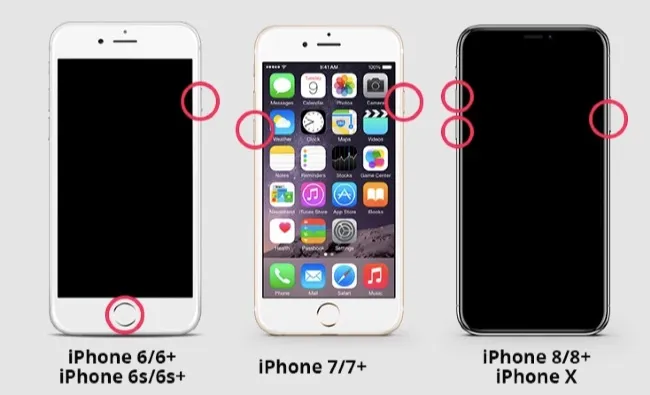 Fix 8: Turn Off WiFi on iPhone
Some users said that they successfully fixed this voicemail not working issue by turning off WiFi on iPhone. To disable WiFi on iPhone, you can go to Control Center or click on Settings > WiFi to turn it off.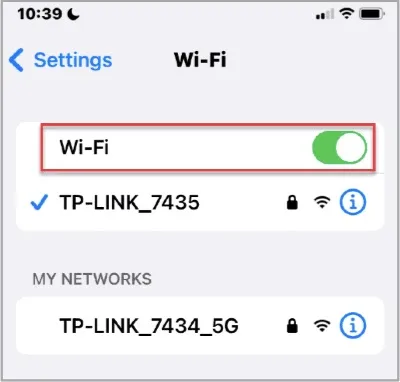 Fix 9: Toggle Off Call Forwarding on iPhone
If Call Forwarding feature is set up, it may cause conflicts with voicemail and your calls may have been directed to a different number. You can go to Settings > Phone > Call Forwarding to disable it.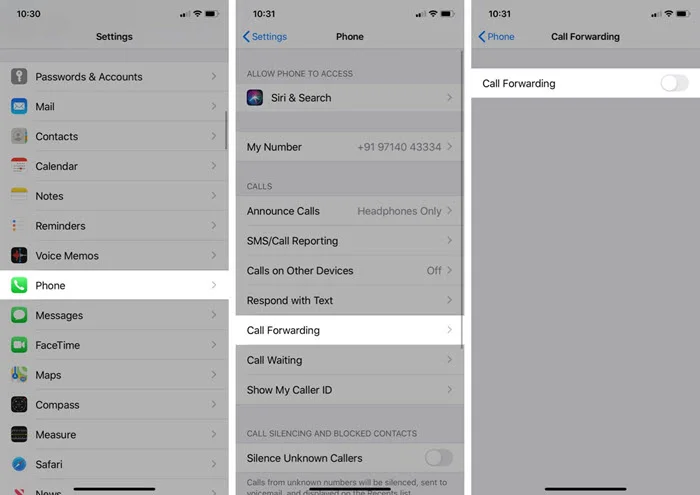 Fix 10: Automatically Set Date & Time on iPhone
Some users have also suggested reset Time Zone and automatically set the time. Go to Settings > General > Date & Time and select "Set Automatically".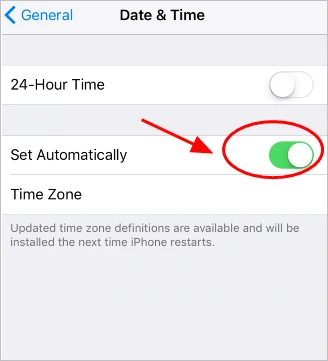 Fix 11: Reset Network Settings
Resetting network settings on your iPhone could also work to solve this problem. But keep in mind that you will have to sign in to all your networks again after doing this. To reset iPhone network settings, follow these simple steps:
Open Settings on your iPhone.
Go to General > Reset and tap on "Reset Network Settings".
Enter your device's passcode to confirm the reset and wait for the process to be completed.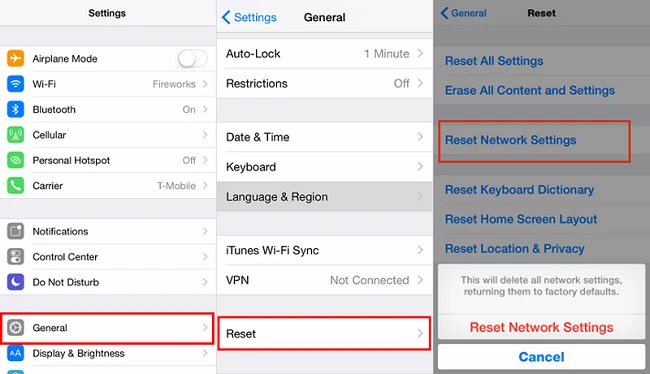 Fix 12: Reset Voicemail Password
You may also be able to fix the problem with voicemail on your iPhone by resetting the voicemail password. Here's how to do it:
Begin by contacting your carrier's service about the problem. Be sure to be as detailed as possible.
Now on your iPhone, open the Phone app and then navigate to the voicemail tab.
A popup will appear telling you to set up your voicemail. You can tap "Change Voicemail Password" to reset the password.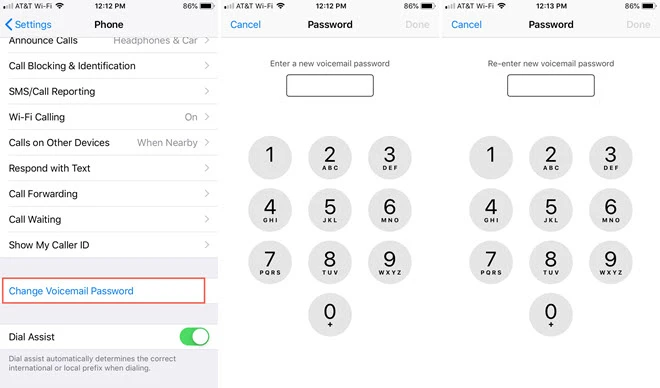 Fix 13: Check & Update Carrier Settings
You can also try to update the carrier settings to see if this will fix the voicemail not working problem. Here's how to do that:
Open the Settings and then go to General > About.
If an update is available, tap "Update" to install the carrier settings.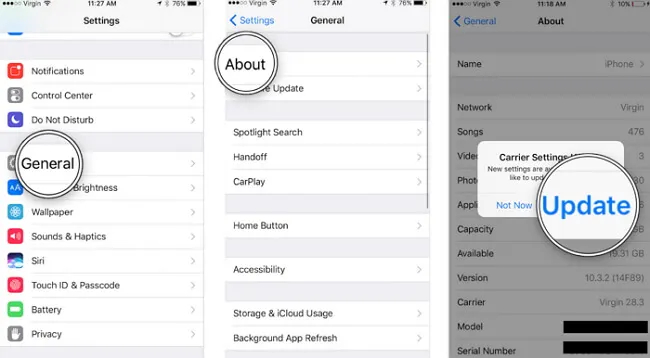 Fix 14: Fix iPhone Voicemail Not Working without Data Loss
If all the solutions above fail to work, the problem might be the iOS system itself in which case you might need an iOS system repair tool. One of the best tools to use is FoneGeek iOS System Recovery.
The program is very simple to use and will repair any iOS issues without data loss including voicemail related problems, iPhone stuck in Recovery mode, DFU mode, white Apple logo, black screen, keeps restarting, etc. Plus, it is fully compatible with the latest iOS 16 and iPhone 15/14/13/12 Pro (Max).
To fix voicemail not working on iPhone problem, download and install the iOS repair tool on to your computer and then follow these simple steps:
Step 1: Open FoneGeek iOS System Recovery software on your computer after successful installation and in the main window, select the "Standard Mode" option.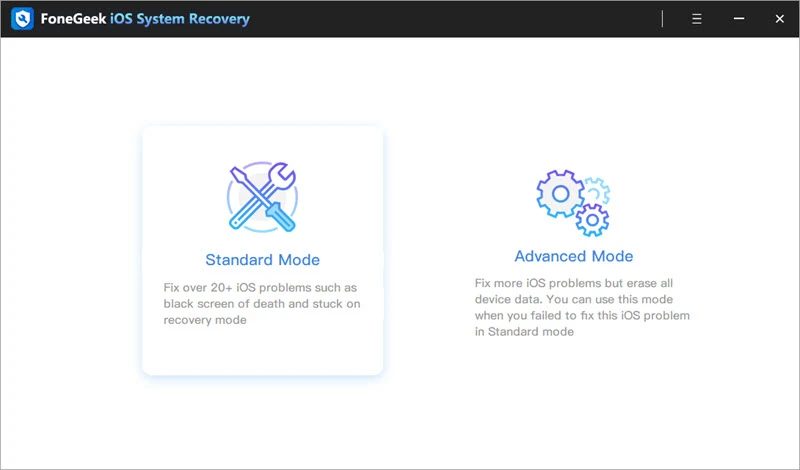 Step 2: Now connect your iPhone to the computer via USB cable. The program should automatically detect the device.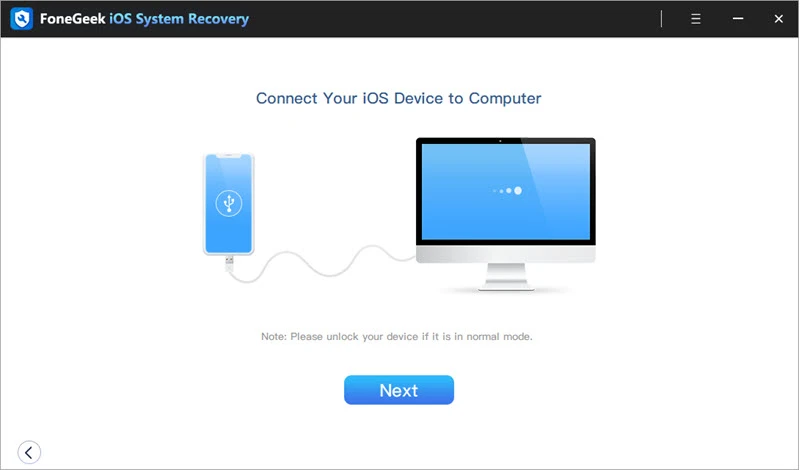 Step 3: The program will immediately search for the latest firmware for your device. Select a proper version and click on "Download" to begin downloading the firmware package.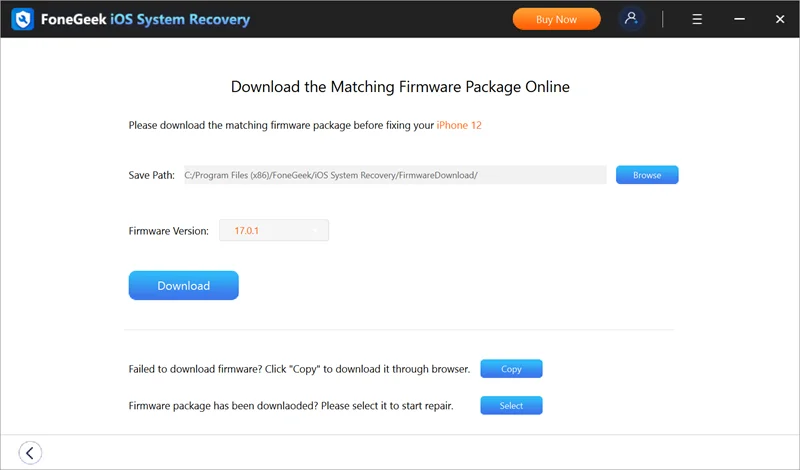 Step 4: When the firmware has been downloaded, click on "Fix Now" and the program will begin repairing the device. Please keep your iPhone connected to the computer and wait for the process to complete.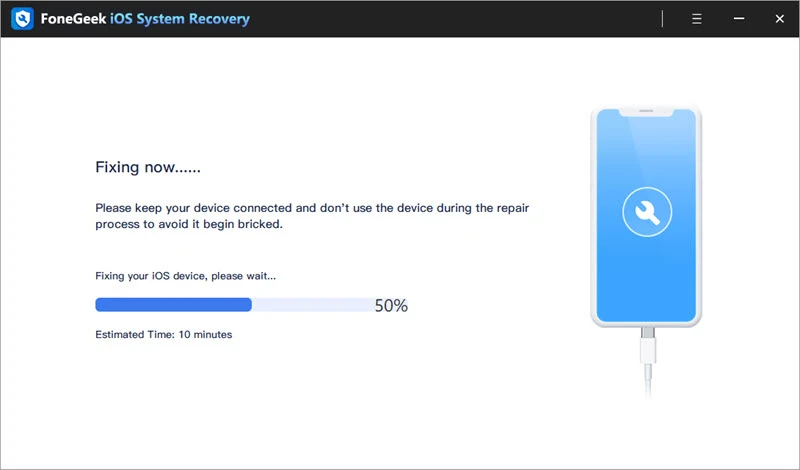 The whole process will take only a few minutes. The device will restart in normal mode and the iPhone voicemail not working problem should be gone.
Fix 15: Contact Carrier or Apple Support
If you still have problems with voicemail on your iPhone, you can try to contact your carrier and ask them to check for any other errors. Also, you can contact Apple Support online or go to your local Apple Store for further assistance.