Have you ever wondered if you can find people's location on WhatsApp? Perhaps you want to know whether your friend or spouse is lying when they say they are at home.
Well, whatever reason you want to check someone's location on WhatsApp, you should know that there are actually several ways to do it.
In this article, we are going to share with you some of the most effective ways to check or find someone else's location on WhatsApp on iPhone or iPad.
Way 1: Via Share Location Feature
The best and perhaps the easiest way to check someone's location through WhatsApp is to use the "Share Location" feature. WhatsApp introduced this feature in 2007, enabling users to share locations in both one-on-one chats and group chats. Most people use this feature in WhatsApp to coordinate events or meet-ups, and it is also a good way to find someone's location. Here's how to use the Share Location feature in WhatsApp:
Step 1: Open WhatsApp on your iPhone or iPad.
Step 2: Start a new chat with the person or group whose location you would like to track.
Step 3: Tao on the "Paperclip" icon next to the text field.
Step 4: In the different options of attachment that you can add to a WhatsApp message, select "Location" icon.
Step 5: When prompted to allow WhatsApp to access the device's location, tap "Continue".
Step 6: This will open a map. Tap on "Share Live Location" and you will see a warning letting you know that all participants in that chat will see your location.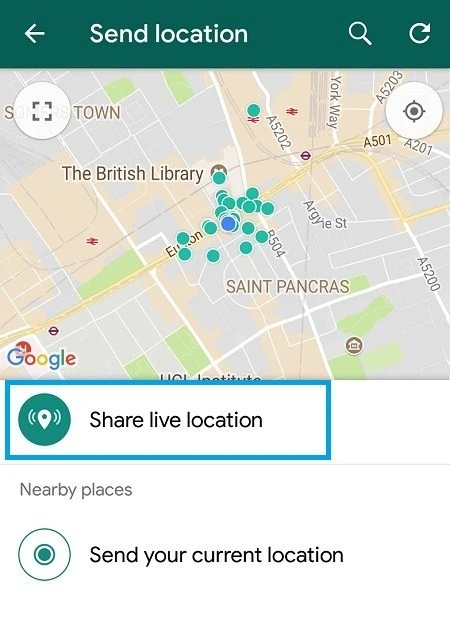 Step 7: Select the period you would like to continue sharing your location from the options presented. You can also choose to add a comment if you want to and then tap on "Send".
If other participants in the chat agree to share their location with you, you will be able to see their names appear on the same map. You can stop sharing your location by simply tapping the "Stop sharing" button in the chat.
Way 2: Via Command Prompt
If you don't have your iPhone or iPad around, you can use the Command Prompt to locate a WhatsApp user. It is important to note that this method will only work with the web version of WhatsApp. Here's how to do it:
Step 1: Open WhatsApp web on your computer and then open a chat with the person whose location you would like to track.
Step 2: Take a moment to close all the programs and processes that may be running on your computer as they are likely to interfere with the process.
Step 3: Now hit "Ctrl + Alt + Delete" on your keyboard to open the Task Manager and make sure that all running tasks on the computer have been closed.
Step 4: Now hit the "Windows" key and "R" at the same time to open the "Run" window.
Step 5: In the text field, type in "cmd" and then click "OK" to open Command Prompt.
Step 6: In the command line, type "netstat-an" and hit "Enter". Command prompt will display the IP address of the person you are chatting with.
Step 7: Copy this IP address and then go to https://www.iptrackeronline.com/ and paste it in the search bar. Hit Enter on your keyboard and you'll be able to see where the person you are chatting with is.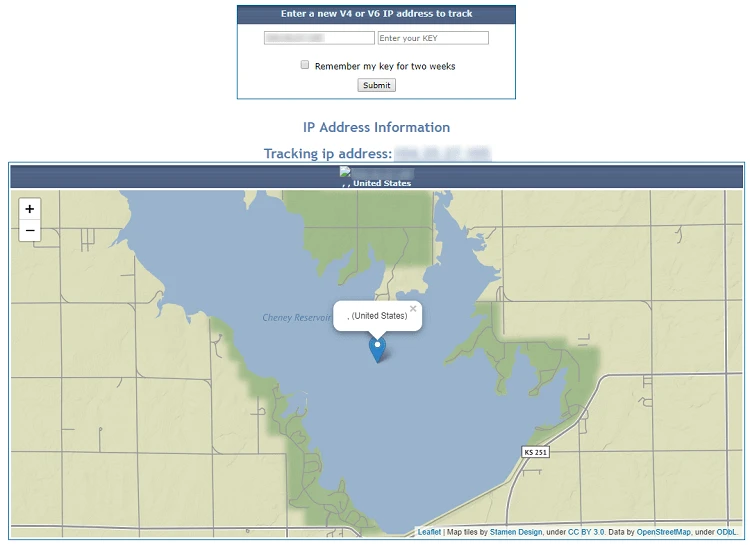 Way 3: Using Tracking Links
You can also use tracking links to find someone's location on WhatsApp if the above method doesn't work. This process is a little bit lengthy but may be the best option especially if someone doesn't want to share their location with you. Follow these simple steps to do it:
Step 1: To begin, create a free hosting account with one of those hosting services that will offer free hosting. Good examples include My3gb, Hostgator and 000webshot.
Step 2: Log in to your hosting account and then go to the "File Manager" section. Here, download the "Tracking ZIP file" to your computer.
Step 3: Extract the ZIP file and then upload the files to the file manager's root folder of your hosting account.
Step 4: Send the link with the uploaded files to the person whose location you want to track and you'll see all the information including the location of the target device in the log.txt file in the root folder.
Way 4: Using InspectLet
Of course you can also use a third-party app or online service to track someone's location. One such service is InspectLet which can be used to locate people you chat with on WhatsApp or Facebook. Here's how to use InspectLet to track someone's location:
Step 1: On any browser, go to https://www.inspectlet.com/ to access this tool.
Step 2: Create an account if you don't already have one and then log in.
Step 3: InspectLet will provide a tracking code. Copy and paste this code into the WhatsApp chat.
Step 4: When the person taps or opens the link, InspectLet will share with you their location.
Bonus: Recover Deleted WhatsApp Chats
As you probably already know, it can be very easy to lose important messages and chats on WhatsApp. This is primarily why we often recommend you to back up all WhatsApp data regularly. But if you lose the data without having a backup, don't panic, FoneGeek iPhone Data Recovery can help you easily recover the deleted WhatsApp chats even without a backup. The following are just some of the program's most useful features:
It can recover all types of data on your iPhone including photos, videos, messages, contacts, call history, notes and app data like WhatsApp messages.
It can recover data directly from the iOS device, or from your iTunes or iCloud Backup file provided you have one.
It can recover any data no matter how you lost it and enables you to preview the files before recovery.
It supports all iOS devices including the new iPhone 14 as well as all versions of iOS including iOS 16.
To recover deleted WhatsApp chats on iPhone, follow these simple steps:
Step 1: Download and install the iPhone WhatsApp Recovery tool on to your computer and then connect the iPhone to the computer using USB cable. Launch the program and then select "Recover" to continue.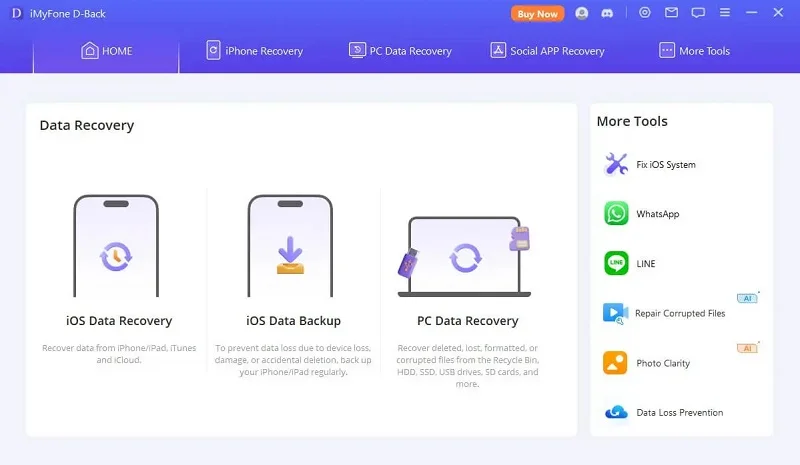 Step 2: The program will detect the device and you should see all the different types of data that you can recover. Select the type of data you would like to recover, in this case "WhatsApp", and then click on "Start Scan".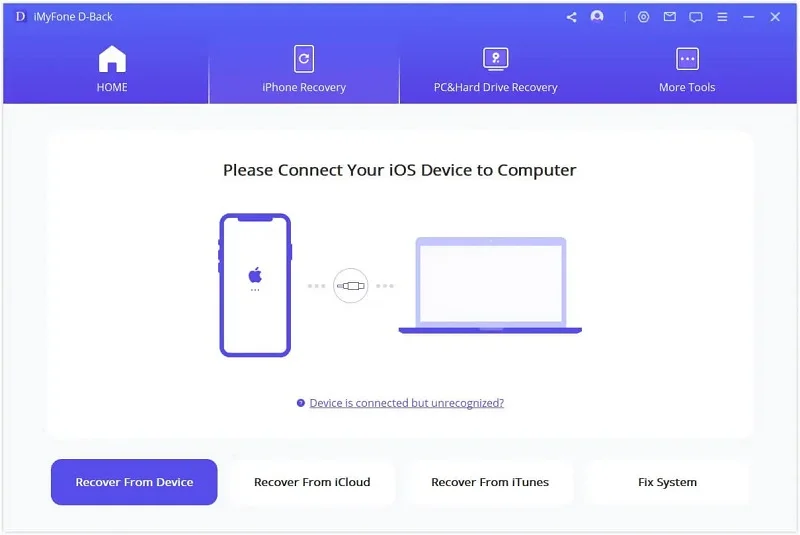 Step 3: The program will begin scanning your device for the deleted chats. Keep the device connected through the scanning process. If you should see the data you are looking for during the scan, click on "Pause" to stop the process.
Step 4: Once the scan is complete, you should see all data on the device in the next window. You can click on "Only Display the deleted items". Click on the type of data and then select the files you would like to recover on the left. Click "Recover to Computer" or "Recover to Device" to recover the WhatsApp messages.