iPhone is a popular device that offers a wide variety of functionality. The awesome functions and features of iPhone make users cannot live without it. But the problem arises when some unfortunate conditions happen and leads to unwanted results like losing iPhone contacts.
Contacts on iPhone always play a vital role in daily life. We rely on iPhone contacts to message, call and as well as to Facetime to our relatives, classmates, friends and colleagues. However, if you have lost your iPhone contacts and now searching for a way to quickly get them back, then you don't have to worry. Many ways can help you recover and download contacts from iCloud effectively.
Just go on with the article to figure out whether these methods are useful for you.
Method 1. Sync all your iPhone contacts from iCloud to your iOS device
If you are looking for a free and quick way, then this solution is for you. You can simply merge all your iPhone contacts in iCloud backup to your iPhone. This solution will help in keeping all the contacts on your device and will also help you download contacts from iCloud backup. Please follow the steps below to do this process.
Go to the Settings > iCloud, and turn off the Contacts.
Select the option Keep on My iPhone in the pop-up messaging.
Turn on Contacts and then choose "Merge" to easily merge the existing contacts with those stored in your iCloud account.
After some time you will see that the new contacts are successfully exported onto your device.
Method 2. Restore your iOS device with the help of an iCloud backup file
To download contacts from iCloud, you can also use this way, but it is quite risky. If you really want to download contacts or may be looking forward to restoring into a new device then this option can be the nicest and as well as the wisest. This method will let you restore all iCloud backup of your device like messages, contacts, photos, notes and as well as much more. Please follow the below steps to do this process.
Step 1: Erase all the content and as well as settings。
The very first step that you have to do in this method is to first erase all of the content and as well as settings on your iPhone device, to do this just go to Settings > General > Reset and then click on Erasing All Content and Settings.
Step 2:  Restore iPhone contacts from iCloud backup file。
After the above steps, your device will get restarted and will ask you to set it up. Simply choose restore from the iCloud backup, then sign in to your account and choose a backup to restore your contacts.
Method 3. Download contacts from iCloud by FoneGeek
FoneGeek iPhone Data Recovery is one of the most popular and ideal iPhone recovery software that can help you get back various types of file including popular third party messenger apps, for example WhatsApp history from the iPad/iPhone/iPod. This method allows you to recover and download your iPhone contacts with four recovery modes as mentioned below.
Recover directly from iOS Device: If you have lost your iPhone data without any backup, then you must try FoneGeek iPhone Data Recovery to easily search and recover your lost data simply from the iOS device.
Recover from iTunes Backup: If your iPhone device is lost or damaged, then you can easily recover your all precious data from the help of iTunes backup without even connecting the iDevice.
Recover from iCloud Backup: With the help of FoneGeek iPhone Data Recovery software you can easily extract the all backup data from the iCloud to your computer and as well as can also avoid all the conditions of overwriting the present data of your iPhone.
How FoneGeek to download iPhone contacts from iCloud?
Select the file type Contact that you have lost.
Log in your iCloud account to download the backup(s).
Simply scan lost contacts from backup.
Preview and confirm the found contacts.
Recover iPhone contacts from iCloud backup.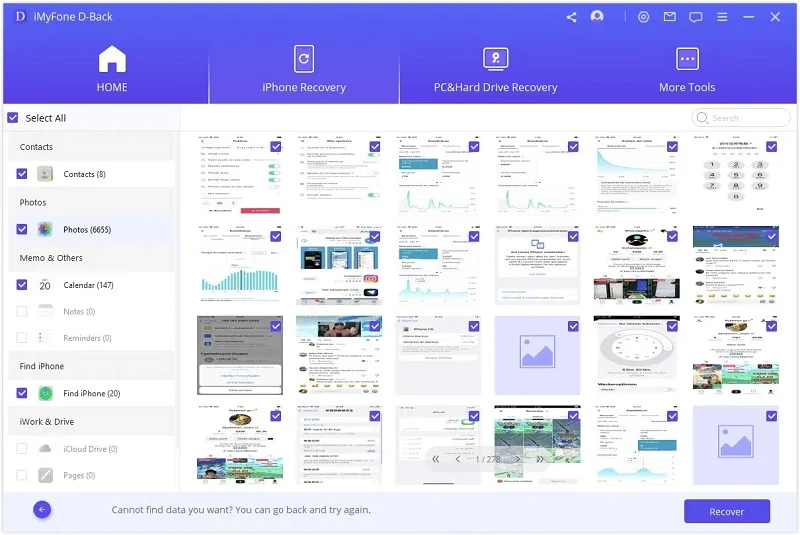 See? With easy steps you can get back your contacts. And for now there is a bonus. You can free download FoneGeek iPhone Data Recovery to figure out whether your contacts can be found! Why not have a try? Remember that what FoneGeek iPhone Data Recovery is not only contacts but many others!

As a professional writer who is interested in technology, Edwin J. Parke has helped thousands of users by offering various tips to solve their problems.

Home
>
iPhone Recovery
>3 Methods to Download Contacts from iCloud