We know that one of the functions of iTunes is to transfer data between iPhone and computer. However, not every iOS user love to use it. On one hand, the transferring process usually takes for a very long time. On the other hand, error messages always occur during the transferring process. It is really frustrating a lot. Whatever the reasons are, this post will be a good helper for you if you need to transfer files from iPhone to pc without iTunes.
1. Transfer Files from iPhone to PC without iTunes in 1 Click
With the improvement of advanced technology, there are more and more 3rd-party tools that acts as the tool to transfer files from iOS devices to computer. One of the most trustworthy choice is FoneGeek iPhone Data Recovery. It provides an all-in-one solutions to transfer all the files from iPhone or iPad to computer.
It is one of the alternative to iTunes in the market. Some of its core features make it become the most popular choice for most iOS users:
The supported data types of FoneGeek iPhone Data Recovery is much more than iTunes. iTunes only supports to transfer 5 types of data while PR iPhone Data Recovery supports more than 22 types of data.
The data saved in iTunes is unreadable while you can preview all the files in detail for free when choosing to transfer files via PR iPhone Data Recovery.
Selectively transfer the files from iPhone/iPad to computer.
No need to connect your iPhone/iPad or computer to Wifi.
The current data on your iOS devices will not be overwritten or erased.
Here are the detailed steps to transfer files from iPhone to PC without iTunes via FoneGeek iPhone Data Recovery.
Step 1. Download FoneGeek iPhone Data Recovery and run it on your computer. After that, choose 'iPhone Data Recovery'.
Step 2. Thereafter, select the option of 'Recover from iOS Device' from the left penal of the software and connect your iPhone to PC.
Step 3. Select the file you need to transfer to pc from the category and click on Recover to start the transfer process.
2. Transfer Files from iPhone to PC via iCloud
iCloud can also be used to transfer files from your iPhone or iPad to computer. And this tool is more convenient than iTunes. You can directly perform the transferring process without connecting your iPhone to computer. However, it provides a limited free storage of 5 GB. You need to purchase more storage if the free storage are run out of.
Here are the steps to back up iPhone data to iCloud to export files from iCloud backup to computer.
2.1 Back Up iPhone with iCloud
Step 1. Sign into iCloud account on your iPhone/iPad.
Step 2. Ensure that your phone is connected to wifi network.
Step 3. Click iCloud from iPhone settings and enable iCloud Backup.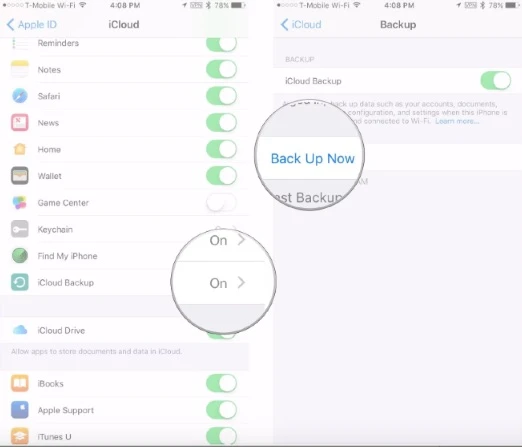 2.2 Transfer Files from iCloud to Computer via 2 Methods
Download Files from iCloud to PC Online
There are many ways users can use to access iCloud backup data. A common way is to visit the iCloud website. Log in to the iCloud website with your Apple ID username and password. Then choose the files you need to download to your pc.
Pros: Access iCloud files online.
Cons: The data that you can be accessed is limited. Some important data such as WhatsApp messages and its attachments are not supported to be exported via iCloud.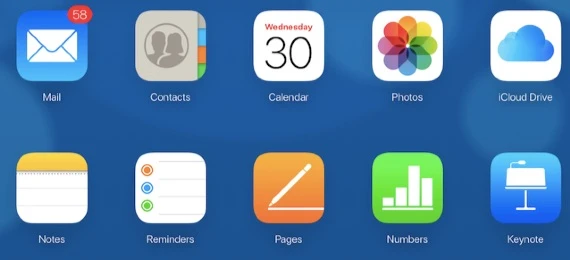 Access iCloud Backup via iCloud Control Panel
The 2nd method to access and manage iCloud backup data is via iCloud control panel.
Step 1. Download iCloud for Windows from the official site of Apple.
Step 2. Sign into the iCloud account with the Apple ID username and password.
Step 3. Check the files you want to sync and click on 'Apply' button.
3. Transfer Files from iPhone to PC without iTunes via Email
Photos, documents, contacts and other data on your iPhone could also be transferred to pc via Email. However, it is very complicated. You cannot transfer multiple files at the same time.
Step 1. Open the contacts, photos or note app on your iPhone, then find the share button to share the files to your email.
Step 2. Then, log into your Email account on your computer and then download the files to your computer.
Conclusion
Therefore, above are all the possible solutions to transfer files from iPhone to PC without iTunes. Let's make a comparison of the 3 methods. iCloud is an old and traditional tool to backup and transfer iPhone files. But it has storage limitations. In other word, only parts of the data can be moved to your computer. If you want to transfer all files in one click, then the last method is not appropriate for you. So the best way is using FoneGeek iPhone Data Recovery. Don't miss this tool out!

Joan J. Mims is interested in researching all tips about iPhone, iPad and Android. He loves to share useful ideas with all users.

Home
>
Transfer
>3 Tricks to Transfer Files from iPhone to PC without iTunes for Free