User Concern
"Hey new pixel 3xl user here. Switched form iPhone. Is there anyway I can transfer all my WhatsApp chats and photos? I backed up to iCloud but obviously can't restore from Google Drive. Does any one have experience of this?"
After switching to a new Samsung, Google Pixel, OnePlus, HTC or other new Android devices from an iPhone, you probably would want to transfer important data, such as WhatsApp chats, to the new Android. So, how to transfer WhatsApp messages from iPhone to Android? When searching online, different tips and tricks will be presented. However, it doesn't mean that these tricks are all reliable and effective.
Don't worry, this article lists all the possible solutions to transfer WhatsApp chats from iPhone to Android and introduce each one in details, allowing you to make a comparison and choose the best solution.
1. Transfer WhatsApp Messages from iPhone to Android in One Click
FoneGeek WhatsApp Transfer is absolute the most appropriate option for you when it comes to transferring WhatsApp message from iPhone to Android. Why? This program makes it possible to transfer only WhatsApp messages and attachments, including photos, videos, etc. from iPhone to Android or to another iOS device in one click. It will save you much time. In addition to data transferring, it also gives you the chance to back up WhatsApp, Kik, Line, Viber and WeChat on your iPhone for free.
Check these steps to transfer WhatsApp messages from iPhone to Android with FoneGeek WhatsApp Transfer:
Step 1. Download and install this FoneGeek WhatsApp Transfer on your PC/Mac. Run the program and connect your iPhone and Android to the computer.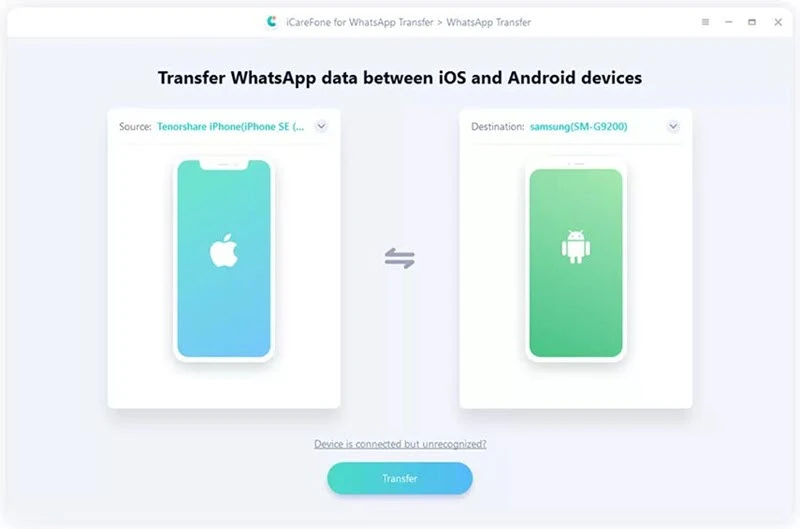 Step 2. Click on "Transfer", the program will back up WhatsApp data on your iPhone. Then verify the WhatsApp account on your Android device by following the on-screen instructions.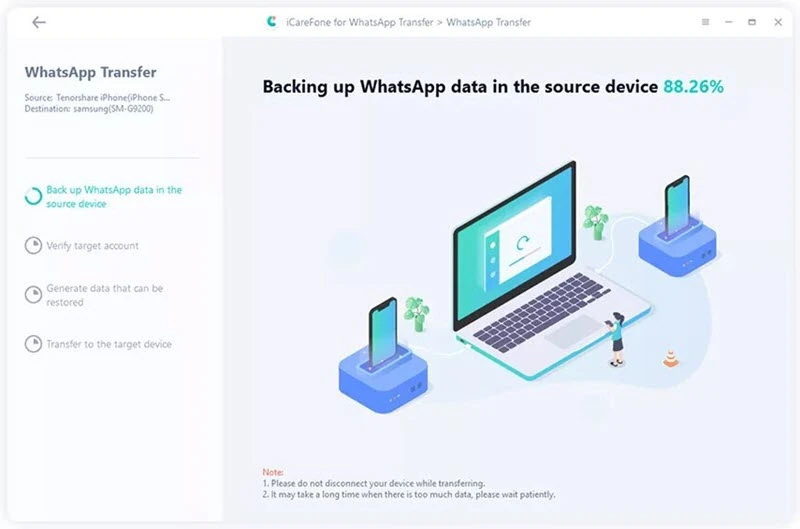 Step 3. After verification, the program will start to generate and transfer WhatsApp data to the Android device.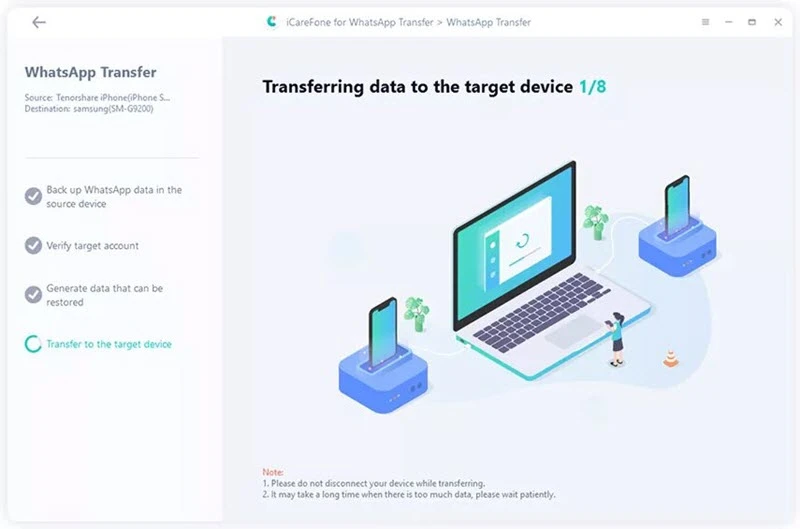 Features that make FoneGeek WhatsApp Transfer the ideal solution:
Transfer WhatsApp and WhatsApp Business data from iPhone to Android and vice versa.

Backup WhatsApp and other sacial app data to your computer/Mac in one click.

Restore WhatsApp and other social app backup to your device without data loss.

Fully compatible with the latest iOS/iPadOS 15 and Android 10.
Cons:
Your previous WhatsApp chats on the target Android device will be overwritten.

You're not allowed to preview the WhatsApp messages before transferring.
2. Transfer WhatsApp Messages from iPhone to Android via Email
You can also transfer WhatsApp messages from iPhone to Android using the email chat feature. Here is the step-by-step guide:
Step 1. Run WhatsApp app on your iPhone, click on Settings option and select "Chat Settings".
Step 2. Check the WhatsApp chat history that you want to transfer and swipe to the left to click "More". The message of "Export Chat" will pop up from the list. Here you can choose to send the attach media files or not.
Step 3. Enter the Email address that you have access to and tap on "Send".
Step 4. Lastly, on the Android phone, open the email and sigh in with the Email that you sent WhatsApp messages to and you will view this WhatsApp message in Email.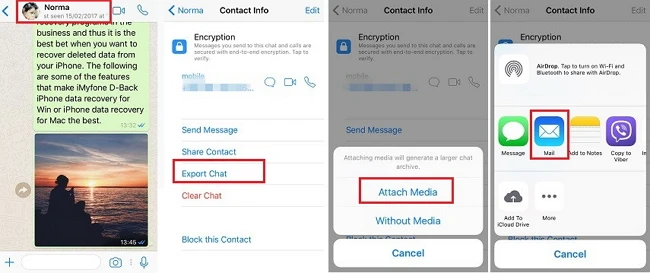 Pros:
This method is simple, no need to use other tools.

It iscompletely for free.
Cons:
You have no chance to move all WhatsApp messages to Android in one click.

You can only view the WhatsApp messages from Email, not open them on WhatsApp in your Android phone.

It will take some time if you need to transfer multiple conversations and it may not work if the WhatsApp data size is big.
3. Transfer WhatsApp Messages from iPhone to Android via WazzapMigrator
WazzapMigrator is a data transfer app that helps you transfer WhatsApp chat history as well as its attachments (images, videos, audios, emojs) from iPhone to Android in one click. Check the detailed guide below:
Step 1. Connect your iPhone to a computer using USB cable and launch iTunes. TapSummary and uncheck "Encrypt Local Backup", then click on "Back Up Now".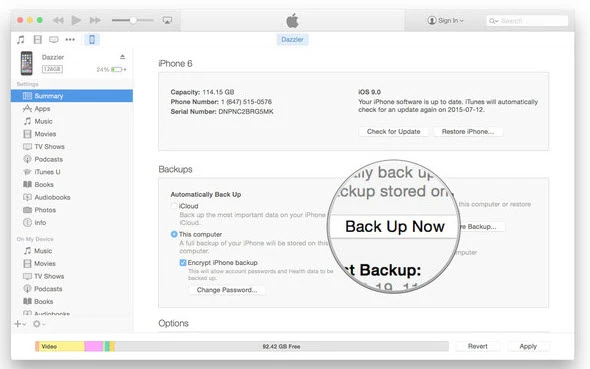 Step 2. Go to the WazzapMigrator Website and download the WazzapMigrator Extractor on to your computer. It will extract the backup file you just created for the migration.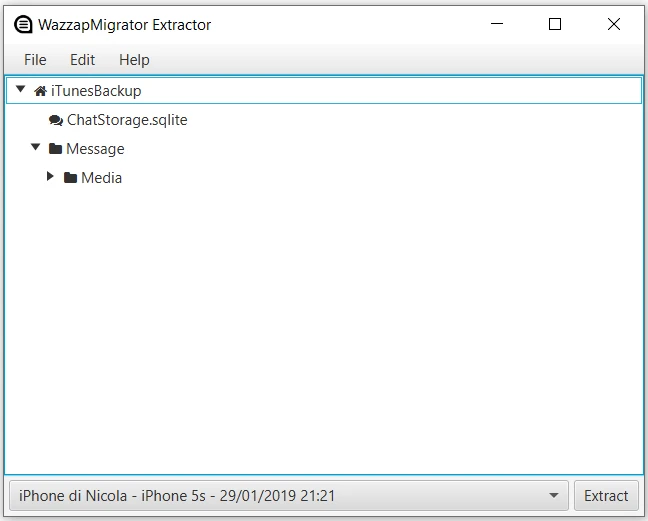 Step 3. After extaction, you can let WazzapMigrator Extractor upload the files to your Google Drive.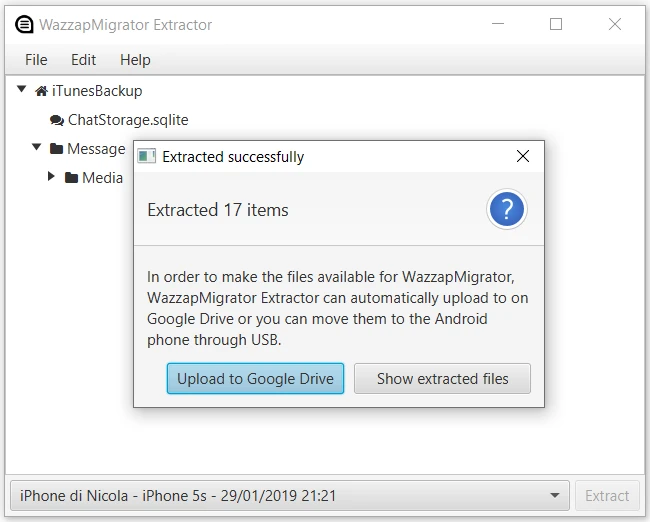 Step 4. Install Wazza Migrator from Google Playon your Android phone. Open it up and choose "Select iPhone Archive", the app will automatically detect the WhatsApp backup files.
Step 5. Then click the Play button and the WhatsApp messages will soon be transferred to the Android device. The transferring time depends on the data size of all the WhatsApp messages.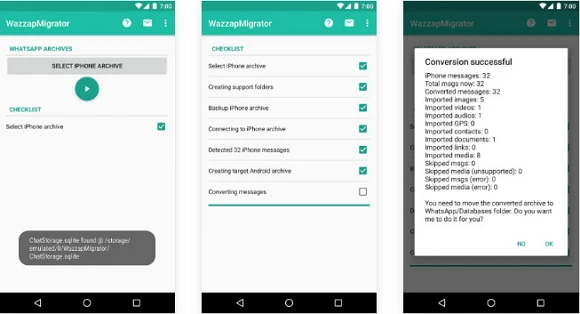 Pros:
It supports to transfer a variety of media files, including photos, videos, audios, GPS, etc.
Cons:
This method requires you to create an iPhone backup in iTunes.

There are messages missing during the transferring process.

The steps arecomplicated and not suitable for most users.
4. Misleading Way: Transfer WhatsApp Chats from iPhone to Android via Backup
Transferring WhatsApp chats from iPhone to Android via backup is actually a misleading way and won't work. WhatsApp doesn't offer solutions to transfer chat history between iOS and Android devices. You can only restore WhatsApp chats from iPhone to iPhone throught iCloud backup, or Android to Android through Google Drive backup. It is impossible to directly restore backup from Google Drive to iPhone or iCloud to Android.
Below are the steps to backup WhatsApp messages on iPhone and restore WhatsApp backup to Android, please don't trust and follow them.
Step 1. Open iPhone WhatsApp, then click Settings > Chat > Chat Backup, then tap on "Back Up Now" to make a full backup of the whole WhatsApp chat history.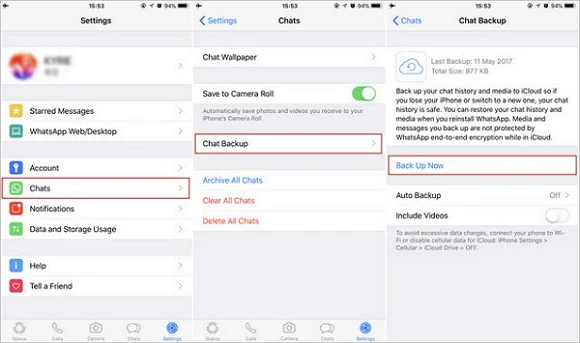 Step 2. After the backup, delete WhatsApp application from iPhone, then install this app on your new Android phone.
Step 3. Now sign in to WhatsApp with the same WhatsApp account that you used on the old iPhone.
Step 4. You will be prompted to verify the WhatsApp account. There will be 2 options for your choices: Restore and No Thanks. You need to click "Restore" and all the WhatsApp messages that you backed up on iPhone will be transferred to Android devices.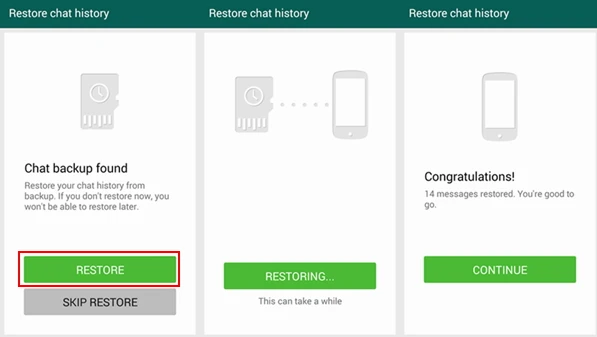 In Conclusion
This article summarizes four solutions to transfer WhatsApp messages from iPhone to Android. Including the way via FoneGeek WhatsApp Transfer, Email, Wazzap Migrator, Backup. On the whole, FoneGeek WhatsApp is the best choice that will meet your needs to transfer all WhatsApp conversations from iPhone to Android in one click. If you are switching from Android to a new iPhone 12/12 mini/12 Pro (Max), we also have the guide to help you transfer WhatsApp messages from Android to iPhone. Have a look around!

Fay J. Melton has explored the area of technology and software for more than 5 years and he is enthusiastic about helping users solve various technology issues.

Home
>
Transfer
>4 Ways to Transfer WhatsApp from iPhone to Android 2022