Looking for the best text-to-speech voice generator out there?
Want to spice up your content with some of the beloved character voices?
15 ai voice generator can provide you all that and more. From promotional campaigns, online podcasts or character voices, you can generate A.I. voices that should suit your needs. It is one of the most widely used voice generators out there and for a good reason. It can create captivating and engaging voices that would surely catch your audience's attention.
Part 1. What You Need to Know about 15 AI Voice Generator
Here's everything you need to know about 15.ai voice generator. What it does, how it works and what other features you can take advantage of.
What is 15.AI and What's it About?
If you're a content creator, you probably have heard of 15.ai by now and know that it is a non-commercial freeware emotive A.I. voice generator. It is a text-to-speech voice generator where you can use voices of some of the most popular fictional characters including Spongebob, the narrator of The Stanley Parable, supporting characters from My Little Pony, and so much more.
How Good is 15.AI Voice and How it Works?
ai voice generator is regarded as one of the most effective real-time A.I. voice generator tool out there. What separates 15.ai from other voice generator tool is that it creates voices in real-time. This means the tool generates voices as soon as you're writing the text. The developer made use of speech synthesis deep neural networks, audio syntheses algorithms and sentiment analysis models to make the voices sound emotive and less robotic. You can also pick your favorite character voices to up to 44.1 kHz, making it sound clearer and more accurate.
How to use 15.AI Voice to Create Cute and Funny Sounds
You can start creating cute and funny noise by visiting their official website 15.ai and exploring their platform. Follow the steps below to start generating audio.
Once you're on the platform, pick the emotion you want to convey for your text.
Pick a character from their list of characters that you want to work with.
Type in the text you want to convert into audio.
Multiple audios will be generated and you can just hit the "play" button to hear that sample.
Once you've picked your desired audio, click on the "download" button to save it to your storage.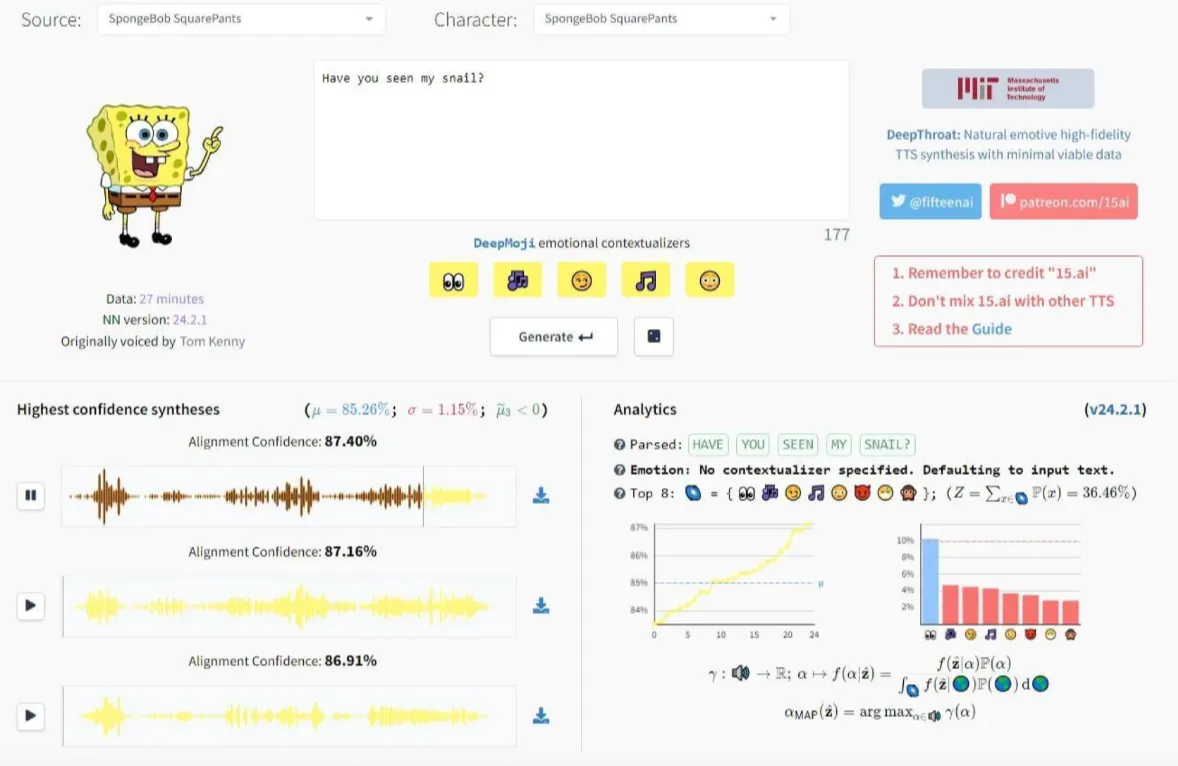 Congratulations, you now have generated your 15.ai voices for your project. Unfortunately, the website has been under maintenance for quite some time, so we offer you some of the best A.I. voice generator as an alternative instead.
Part 2. Most Recommended 15.ai Voice Generator Alternatives
When 15 ai voice generator or your favorite voice generator is not working, you can try these other alternatives. These are regarded as some of the best A.I. voice generators aside from 15.ai.
FoneGeek AI Voice Generator
Unlike 15.ai voice generator, FoneGeek AI Voice Generator does not turn your text to speech, instead it changes your voice to your desired favorite character voices. What makes it stand out among the rest of voice changers is that it can change your voice in real-time. You can use this in various social media platforms to make your voice cute, funny, or unrecognizable.
Features:
The app offers around 225+ voice filters.
You can enjoy their 600+ soundboard sound effects.
Easy to use custom voice adjustments with applicable sound parameters.
You can enjoy the app's own noise reduction technology with just 1 click.
Pros:
Easy to use and only takes up a fraction of your storage at 3MB.
The tool has over 100 voice effects for you to choose from.
The voices are customizable to capture your desired voice.
It can capture your voice in real-time.
You can change voices from audio recordings.
Cons:
Does not generate voice from text.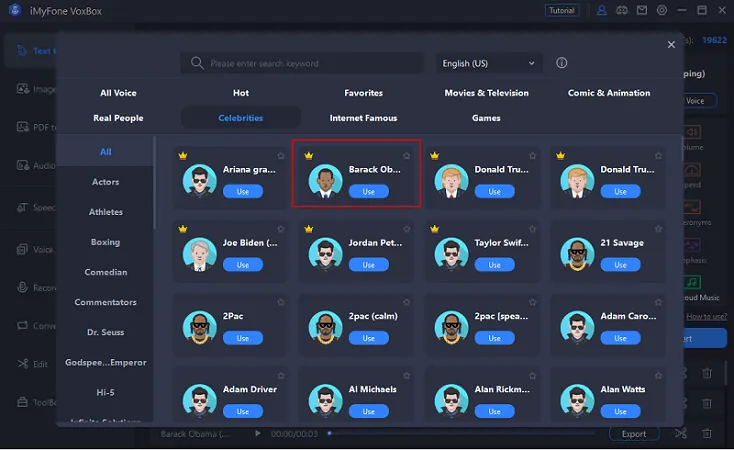 Murf.AI
Murf.AI is one of the most popular voice generators out there. As a Murf.AI user, you can select from 120+ natural-sounding voices. One of the app features that stands out among its peers is its multi-language. Whether you want to change your voice or generate a voice using text, you can't go wrong with Murf.AI. You can use the software for free, but you do need to buy its rights for commercial usage.
Features:
Voice Cloning – recreate or clone some of your favorite voice styles.
Voice Changer – convert any recorded audio to a high-quality AI voice.
Background Music – add any background music to the generated audio recording.
Team Collaboration – You can have multiple users work on a project.
Pros:
There are unlimited voice characters to choose from.
You can select your desired voice from various offered styles.
The software supports multiple file formats.
You have unlimited download for your voice recordings and generations.
Offers multi-language and with different accents.
Top notch quality with non-robotic sounds.
Cons:
The software is not free for commercial use. You will have to pay a monthly subscription.
You can't download HD audio file if you're not a paid subscriber.
How to Use Murf.AI
First, you have to download and install Murf.AI
Launch the software and your desired voice from a selection of voices by going to the "Voices" menu.
Enter the text script you want to generate a voice with.
Edit and test the results by clicking on "Build Audio" button and then clicking on "Play" button.
You can download the HD audio file if you are a subscriber to t8heir software.
Narakeet
If you are working internationally and require multiple languages for your project, Narakket may be the one you're looking for. It is a text-to-speech voice generator that offers 80 languages and has over 500 voices you can select from. It is widely popular among content creators that create videos by organizing still images.
Pros:
There are more than 80 languages supported to generate voices.
You can add background music to your audio recordings to your videos.
Create and customize your own template for your content creation on various platforms such as YouTube, LinkdIn, and Facebook.
Cons:
The videos generated can only handle 2560 x 2560 pixels.
There are limited customization options such as pitch and speed.
You will have limited use of the software if you are on a free account.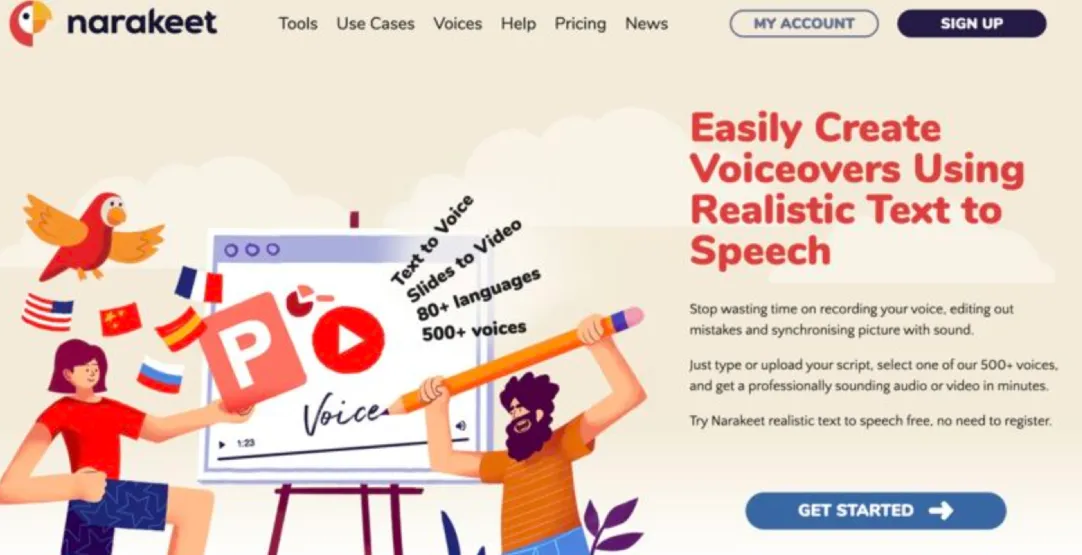 Play.ht
Play.ht is undeniably one of the best text-to-speech ai generator when it comes to multiple languages. Users can take advantage of over 900 voices and a whopping 140+ languages to create their desired A.I. voice. It boasts its high-quality voice results and its customizable features, making your audio recordings/generations sound more realistic.
Pros:
Offers 140+ languages to choose from.
The software ensures voice consistency for your projects by allowing users to clone their favorite voices.
Make your voices more personalized by setting your desired parameters for your pitch, emphasis, speed, and even pauses.
Cons:
You may have to pay a subscription fee or plan to fully utilize the features of Play.ht.
There has been reports that the customer support is lacking and my hinder users from creating their desired audio content.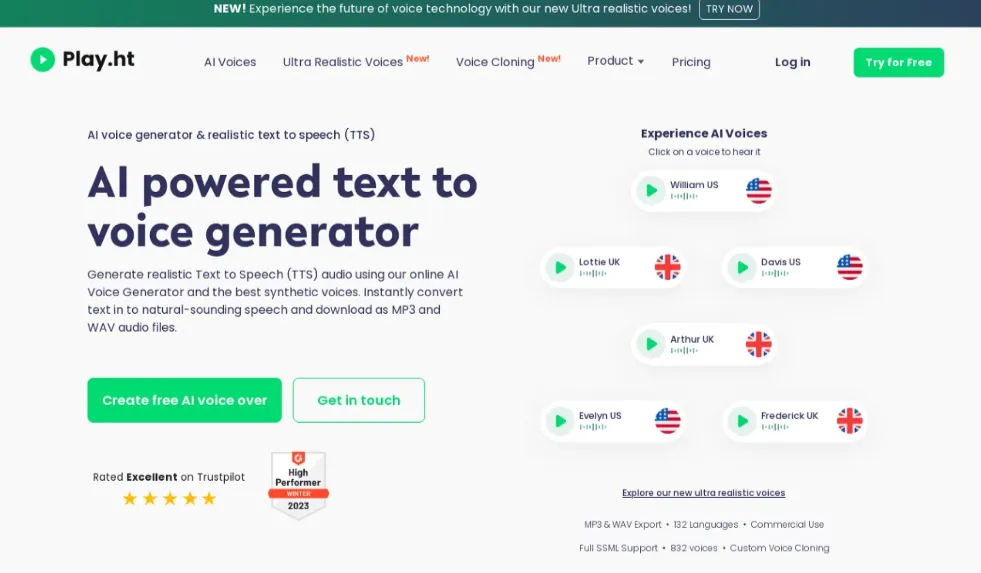 Part 3. FAQs You Need to Know About 15.AI Text-to-Speech Generator
Q: What are the Available Character Voices in 15.ai
The available voices in 15.AI is currently expanding, but as of today, you can generate voices from the TV hit show Rick and Morty, supporting characters from My Little Pony: Friendship is Magic, Spongebob, the narrator of The Stanley Parable, the narrator from Portal 2 and so much more.
Q: Is 15.AI Voice Generator Free?
Yes, you can use 15.ai voice generator for free for your own personal use or other non-commercial use. Do note that the availability of the platform may have changed and may have introduced a new subscription plan for their licensing.
Q: Do I Have to Pay for 15.AI for Commercial Use?
The last known update in regards to commercial licensing is that 15.AI does not allow their platform be used for commercial purposes. Since its maintenance on September 8 2022, there has been no news regarding licensing. Once the platform is back online, you should consult their team to avoid any violations.
Conclusion
15.ai voice generator is no doubt one of best AI voice generator tools, but it does have its shortcomings. Since its maintenance last year, the platform is still offline to this day, and no one really knows when it will come back online. Fortunately, there are other AI voice generator alternatives that you can choose from such as FoneGeek AI Voice Generator, Murf.ai, Narakeet, and Play.ht. They may not be 15.ai, but they're among the best out there.