Do you enjoy pranking people? Then the iMyFone MagicMic is a terrific tool that will surely be beneficial for you. You can modify your voice with the tool to something else, like an anime character, ghost, or so on.
In this write-up about the iMyFone MagicMic, we will drive into the features, price, and benefits of using the program. Let's get started!
What is iMyFone MagicMic?
iMyFone MagicMic is a voice changer software that enables users to alter their voice in real time. Furnished with more than 200+ voice effects, allowing you to change your voice to the way you want. As it is real-time, you can apply these voice effects while streaming, gaming, or other activities, making it more fun-filled.
Amongst the voice effects, some popular voices include Spongebob, Anime, male-to-female, ghost, and much more. You can also create unique voice filters to make it more interesting. Overall, it's an excellent voice-changing program that you can utilize for your benefit.
Key Features of MagicMic Voice Changer
MagicMic Voice Changer is filled with many exciting features to give you a fun-filled voice-changing experience. Some of the top features of the software include the following:
Real-time Voice Change
The best thing about the MagicMic Voice Changer is you can alter your voice in real-time. That means when you are playing a game with your friends or streaming a video online, you can utilize a filtered voice like cartoon, anime, robot or ghost, etc. voices to prank people. Check out the different voice filters available on the software to find the preferred one.
Free Voices Everyday
In the MagicMic Voice Changer progam, you will find multiple voices available free of charge for a duration. As they are free, you can instantly check them out with your voice and use them as you want.
Voice Meme
You will love the voice meme feature in the MagicMic for sure! As the name suggests, this feature enables you to import a regular voice file and turn it into a voice meme, exactly like the one you see in social media outlets. By making the voice meme, you can share them with your friends and family to make them laugh.
Massive Library of Sound Effects
MagicMic Voice Changer brings you more than 200+ sound effects that you use in real-time. From this massive array of voice effects, you will surely discover something that you will love to use.
Create Own Voice with Voice Studio
There is a unique feature of the MagicMic which enables you to produce your customized voice with just a few clicks. This way, you can make your voice unrecognizable and prank your friends, colleagues, or family members.
Is iMyFone MagicMic Safe & Legal?
Typically, you can use any voice changer, including iMyFone MagicMic, without any legal issues. However, any criminal and illegal activities using this app are indeed unlawful. Illegal activities with voice-changing software include scaring or threatening people, cursing people, etc.
Besides, legal usage includes creating funny audio clips, entertaining your fans while streaming, and making fun with your friends on calls or games. So, we can say that although it is generally safe and harmless to use these programs, it's strictly prohibited to utilize them for any sort of criminal activity.
Is iMyFone MagicMic Free?
There are both paid and free plans of the MagicMic. As usual, the free versions arrive with limited arrays of features, while the paid version enables you to enjoy the full version and everything the program offers.
How much does iMyFone MagicMic cost?
When it comes to the paid versions, there are four options for you. The Lifetime Plan enables you to use it as long as you want by paying just $39.99. Besides, the Yearly Plan costs $19.92, the Quarterly Plan costs $12.99 and the Monthly Plan cost just $8.99.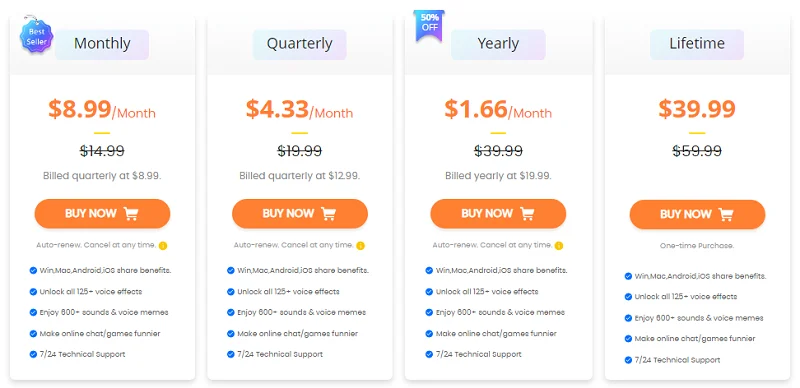 If you opt for any of the paid plans and are not satisfied, there is a 30-day money-back guarantee so that you can request a refund.
How to Use iMyFone MagicMic
Using the iMyFone MagicMic is pretty easy. Here are the exact steps you should follow:
Step 1: Download, install, and launch the iMyFone MagicMic on your computer. Then set up the program if you are using it for the first time.
Step 2: To begin, set up the input and output devices to utilize the program. Pick your microphone as the input device and headphones as the output device. Once the settings are done, you should find a popup on the screen saying that your sound setup is done.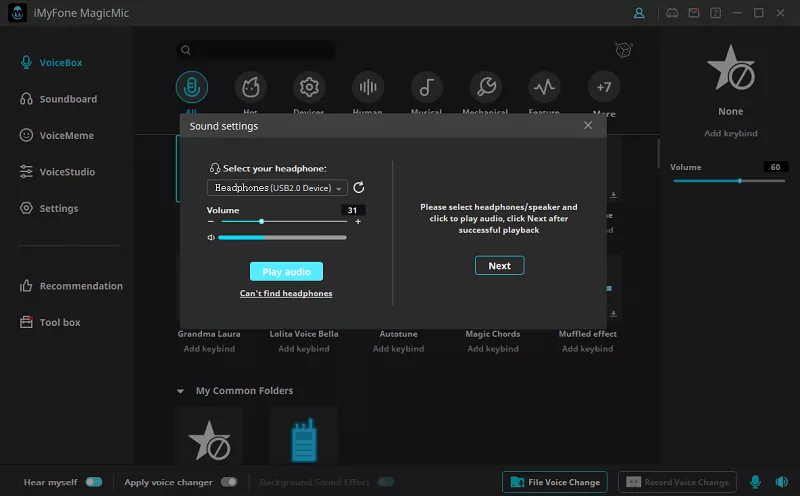 Step 3: Now select the preferred voice effect that you want to use. Then, simply click on the voice effect, speak into the microphone, and check out the output from your headphone.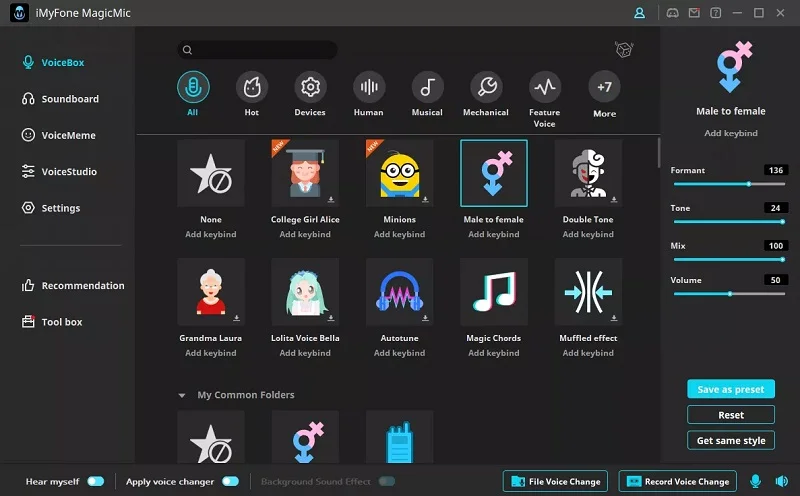 You can use the MagicMic on a variety of platforms, including Discord, Skype, PUBG, Fortnite, and more. To use the real-time voice-changing feature, follow these steps:
Start the preferred program where you want to use the voice effect and open Voice Settings.
Select "Microphone (Voice Changer Virtual Audio Device (WDM)). That's it; now the altered voice will be sent as output instead of the real voice on the program.
Why Choose MagicMic Voice Changer?
Here are a few of the numerous reasons why you should select iMyFone MagicMic Voice Changer:
One of the best voice changer apps to customize your own voice and make it different.
Has many features, like real-time voice changer, voice meme, sound effects, and more.
Let you download the output as WAV or MP3 file with a few clicks.
Choose keybinds for voices and utilize them instantly without any issues.
Conclusion
iMyFone MagicMic Voice Changer can be a fantastic way to make your normal voice more fun-filled and interesting. Whether you are into gaming, streaming, or desire to make some funny audio clips, the voice changer application can be handy for you. So, go ahead and try it out!