Changing your voice now is very possible with the help of a voice changer. Voicemod is one such tool, which is used by many people and its popularity is ever-increasing because of its features. However, it has faced various issues recently which has caused people to question its credibility. There are many who still wonder, is Voicemod safe?
Well, such concern is quite logical and normal, and this article will ascertain if it's true or not. We'll not only clarify if Voicemod is safe, but also share its pros and cons, how to use it, and also how you can uninstall it. We'll as well share a much better alternative to Voicemod that you can consider. Before we start though, let's first learn more about Voicemod.
What is Voicemod Voice Changer?
Voicemod is a versatile software that serves as a soundboard and voice changer. It's available for Windows systems and provides audio tools for generating unique audio identities and voice clones for filmmaking, content creation, and other purposes. Its voice changer functionality also works in real time, which can change your voice during a live stream or ongoing call to a girl's voice, pirate voice, robot voice, or even to a celebrity's or a politician's voice.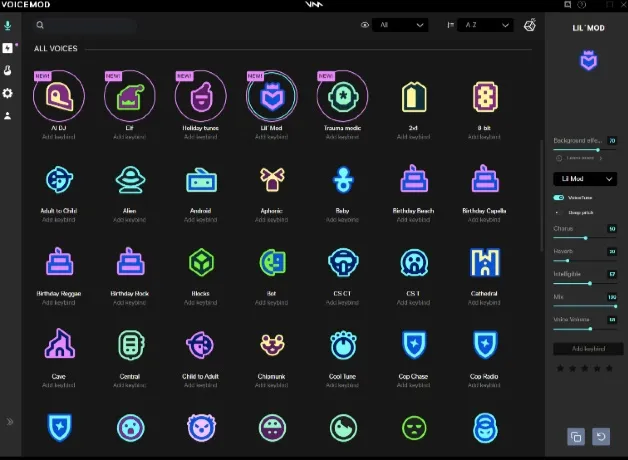 Generally, its fantastic features and functionalities are what have earned its great popularity. What's more is that it works with many platforms and applications, including Skype, Zoom, WhatsApp Desktop, Discord, Minecraft, etc. Here are some of its impressive features:
AI voice changer changes voices in real time.
Integrates with many platforms like TikTok Live Studio, Elgato Stream Deck, Twitch, etc.
Create unique audio identify and voice skins.
More than 110 voice effects to choose from.
Add sound effects instantly to vlogs, voice chats, streams, etc with Soundboard.
Voicelab feature for creating custom voice filters.
With the features of Voicemod highlighted, now it's time to clarify the issue, is Voicemod Safe?
Is Voicemod Safe?
As mentioned earlier, many people want to know, is Voicemod safe. Well, the views on the internet about the security of Voicemod are quite divergent. There are always two sides to a story, though, so let's clear up the confusion.
Is Voicemod a Virus?
We've seen a lot of posts online that claim Voicemod is a virus. So, is Voicemod a virus? Well, some users believe Voicemod is likely a virus because it's blocked from updating by antivirus like Avast and even some firewalls such as ESET stop it from installing. Malwarebytes as well usually scan it and identify it as harmful malware or a potentially unwanted program (PUP).
Users have also claimed that the audio drivers can get messed up by Voicemod, causing the microphone and headset to stop functioning as usual. You have to reinstall the drivers again and troubleshoot them to fix the issue. There are users that also reported having problems uninstalling Voicemod from their computers.
Voicemod clarified all these claims, though, on its official Reddit page. They explained that the official Voicemod tool has no issues. It's safe and clean. They also stated that those claiming that Voicemod is unsafe and a virus could be using a version of Voicemod that's cracked or pirated. As such, the company recommends downloading the genuine Voicemod software from its official website or the Discord server.
Tips of Using Voicemod More Safely
If you get the official version from Voicemod's official website, the only problems you may encounter are rare minor bugs. Still, though, it's worth taking precautions to keep your device safe. Here's what you should do:
Have Your Data Backed Up
Backing up data constantly is a measure that can help ensure your data is safe in case of theft, physical damage, malware, or something else. Several ways you can save your data include using USBs, external hard drives, and online backup storage platforms like cloud storage.
Use Antivirus Software Regularly
You should use antivirus software to scan your device regularly. It's an essential step that will help get rid of harmful programs that you may get online. Besides, you should have firewalls enabled whenever you download something from the internet.
Get Software from Official Websites
Ensure you use only the official websites or servers when downloading paid software. Avoid using cracked Voicemod. Even the patches and updates must be downloaded right from the official websites or servers.
Pros & Cons of The Voicemod Voice Changer
Voicemod is not different from the other voice changers. It has its benefits and setbacks as shown below.
Pros
Change your voice in recorded audio or in real-time.
Various voice effects including male, female, animal, cartoon character, etc.
Voice editing features that include adjusting pitch, frequency, tune, etc.
Make your custom sound effects.
Get a free version with several useful features.
Cons
Most features are only offered on the paid version.
You can't use it on other operating system besides Windows (7/8/10).
Faces bugs and errors, even with the official paid version.
It always seems to crash when changing the voice.
Users have reported that the quality of the sounds is not good.
Contains Ads that can be annoying.
It's clear that Voicemod is not short of downsides. So, if you feel that it's not the ideal voice changer for you, we have a better alternative for you below.
How to Uninstall Voicemod?
There have been claims that some users couldn't uninstall Voicemod. That's far from the truth, though, because Voicemod can be uninstalled. The only thing is that the process of uninstalling it is different if you're using a cracked version of Voicemod.
For the official premium version, though, the uninstallation process is the same as other software or tools.
You first click the Start menu and open Settings.
Select Apps and locate Voicemod from the list of apps that are installed on your device.
Click the Voicemod app and then click Uninstall. Click Uninstall again on the confirmation prompt.
Now allow administrator access. Once Voicemod has the uninstall confirmed, click on Yes. The tool will now start uninstalling, which shouldn't take more than a few minutes.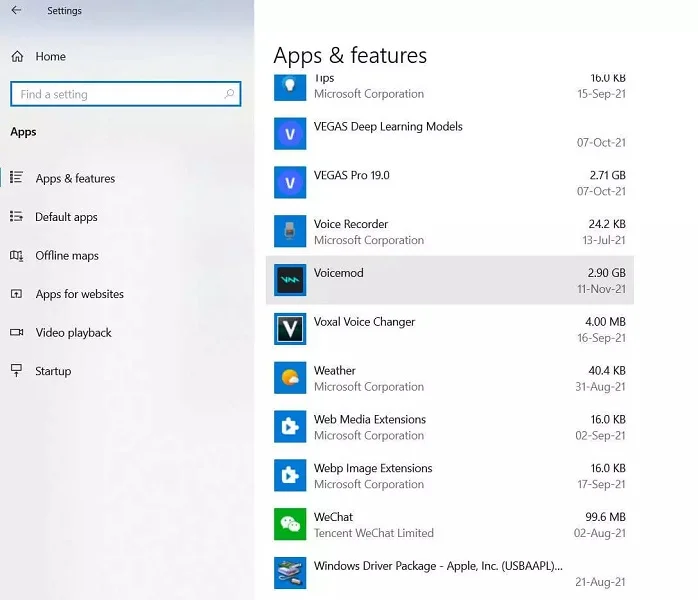 Best Alternative to Voicemod Voice Changer
FoneGeek Voice Changer is no doubt the best alternative to Voicemod. It works flawlessly without the various issues that you encounter while using Voicemod. It changes your voice perfectly and the quality of the voices is always great. You can change the voice in recorded audio or in real time. What's more, the FoneGeek has virtually all the functionalities and features that Voicemod offers. Using it is also hassle-free, even for beginners, thanks to its simple interface.
FoneGeek Voice Changer Key Features
Over 20 voices to choose from with just a single click.
Over 190 different sound effects to ensure a real and more interesting voice.
Change voice in recorded audio or in real-time.
Select the microphone and the output device you want.
Integrates with programs like games and tools like Skype, Discord, Twitch, etc.
How to use FoneGeek Voice Changer to change your voice:
Download FoneGeek Voice Changer from the official website - should take around 2 minutes. After installing the application, launch it on your computer.
Choose your microphone and headphones when prompted by the app. Alternatively, you can set them right from the Settings tab. From there, select the voice effect you desire from the provided options.
Add the sound effects you want to the audio. Open the Sound Effects tab. Go to the top part and click categories. Click on the category you prefer and then select the sound effect that you want to apply to the audio.
Now exit or minimize the program to tray by clicking the close button and then clicking OK. If you decide to minimize the the program to tray, it will continue changing your voice while running in the background.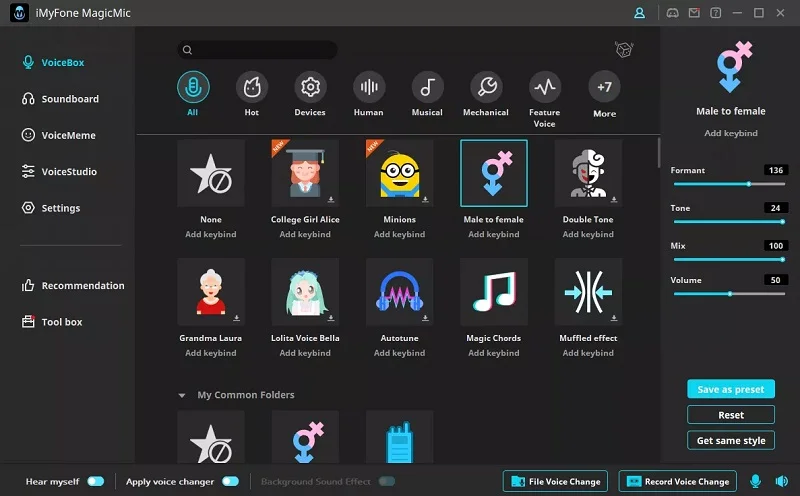 More FAQs about Voicemod Voice Changer
Is Voicemod Legit?
The question, "Is Voicemod safe and legit?" has been troubling many people. To put it simply, Voicemod is safe and legit, provided you get the app from Voicemod's official site. Avoid any version of Voicemod that's cracked. They are not only illegal, but they can also cause some issues on your computer.
Is Voicemod Free?
There's a free version of Voicemod that you can use, but there's also a paid version known as Voicemod Pro. And to access all the features of Voicemod, you'll have to get the paid version.
Should I Buy the Voicemod Pro?
You have to factor in your situation and preference before making your choice here. In case you don't intend to do any serious professional content creation or other tasks that require using the app often, the free Voicemod version might be ideal for you.
Conclusion
It's clear now that Voicemod is not really a virus. It's legit and absolutely safe to use provided you get it from the official website. The setback is that it faces several issues and bugs that can make it unpleasant to use. That's why we recommend a better alternative, FoneGeek Voice Changer.
This tremendous AI voice changer is much better than Voicemod because it works flawlessly without causing any issues. It can change your voice without crushing. This tool also has all features and functionalities that Voicemod offers but it's much easier to use due to the straightforward interface. What's more, you can use it with almost any tool, game, or application.