Since the inception of AI voice technology, there has been a high demand for an interesting female voice for various applications. From professional use such as voiceover work to entertainment like online gaming and making podcasts or animations, the areas of application are simply endless. Some people are even using it to troll and pull pranks on their friends.
However, knowing which girl voice changer to select is where it gets challenging as there are plenty of options to choose from. No need to worry, though. Herein we'll explore the 10 best female voice changer tools that are worth considering. We'll reveal what makes them the best choice and also highlight their pros and cons so you know what you're getting. Let's jump in.
5 Best Girl Voice Changer Tools for Windows & Mac
FoneGeek Voice Changer
FoneGeek Voice Changer has built a great reputation as a reliable and effective voice changer in just a short period. It's no doubt one of the best female voice changers out there. It features various female voices such as little girl, young lady, grandma, and anime girl voice filters that include Lolita, Paimon, Miku, and so on. There are also over 125 other AI voice filters, 600 sound effects, and various voice memes.
The best part about the FoneGeek Voice Changer, however, is its advanced AI voice cloning function which allows you to make your own interesting female voice. It's so effective that the generated female voice sounds very natural and realistic. Moreover, FoneGeek can integrate with various programs and platforms, so once you've generated your female voice, you can use it on chats, online games, and live stream platforms such as Fortnite, Discord, etc.
Main Features of FoneGeek Female Voice Changer
Various realistic female voices, including a little girl, young girl, grandma, etc.
Over 125 other incredible voice effects and 600 sound effects.
Advanced AI voice cloning for creating a unique interesting female voice.
Voice studio with audio adjustment parameter for customizing generated voices.
Various voice memes and you can import sound effects and background music.
Integration with various chats, online games, and live stream platforms.
The interface of the software is also slick and easy to use.
How to use FoneGeek Female Voice Changer to modify your voice:
Download the program on your computer and install it. Once it's set up, launch it on your PC.
Choose your input and output device. Open the particular application that you want to modify voice like PUBG, Fortnite, GTA-V, etc.
Next, set Voice Change Virtual Audio Device (WDM/"Microphone") as the audio input device.
Now choose the female voice filter you want to use in the application. That's all.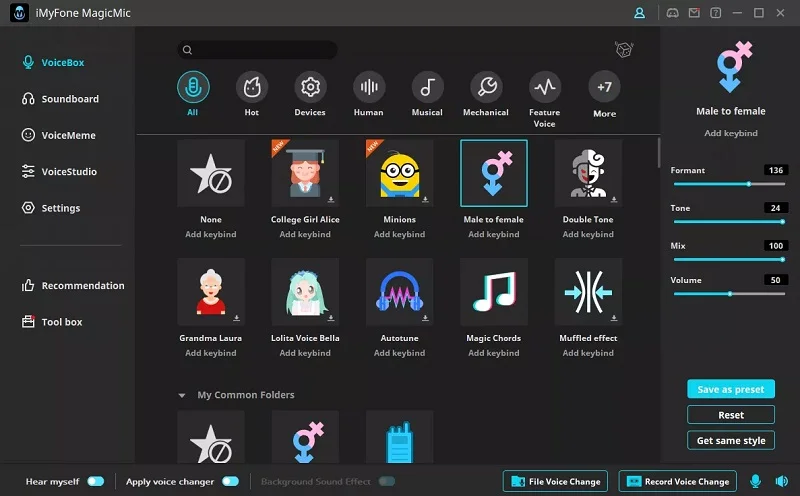 Voicemod
If you're after a real-time girl voice changer, then Voicemod will suit you best. The tool not only has an impressive collection of unique girl voice filters to choose from, but it can also transform your voice to your selected female voice in real time. This means you can instantly change your voice while gaming, streaming, chatting, or during live calls. The software integrates with different real-time games and programs like Viber, Skype, VR Chat, Discord, PUBG, Fortnite, etc.
Voicemod also gives you the option to alter your voice in recorded audio in case you don't want to do it in real-time. You can further enhance the generated female voice in the voice studio section of the software. The user interface is simple and easy to navigate for beginners. Generally, if you're an online gamer or streamer, and want an interesting female voice to use in real-time, Voicemod will certainly serve your purpose.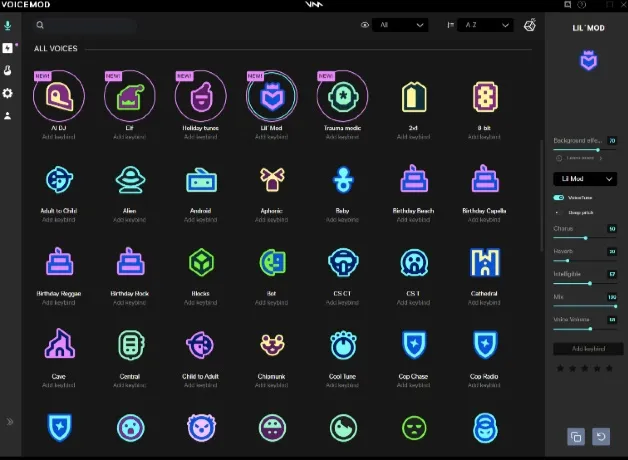 Main Features of Voicemod Girl Voice Changer
Change voice in real-time or in audio recording with ease.
Decent collection of AI voices (over 90), including unique girl voices.
Voicelab features for editing the frequency, pitch, and tone of generated voices.
Background voice blending feature to make the voice more convincing.
Compatible with many real-time games, chatting and streaming programs.
Available in free trial and paid pro versions, both compatible with Windows systems.
Clownfish
Clownfish is another top woman voice changer software that's worth your attention. It provides a simple yet effective way to modify your voice so that you can sound like a girl or woman on online games, streaming platforms, or e-chat such as Skype or Steam. It offers several mesmerizing female voice effects as well as other AI voice effects like a child, ghost, and Robot voices. There are keyboard shortcuts that you can use to quickly switch between the various voice effects offered in the platform and hear them in order to find the one you want.
Clownfish does support VST plugins, which you can use to generate new female sounds and over 20 audio effects. It's also able to do real-time translation of messages into various different languages, so you can definitely use it for international communication. Once you have your audio transformed into a female voice, the software allows you to export it to all social media platforms like Facebook, Instagram, etc.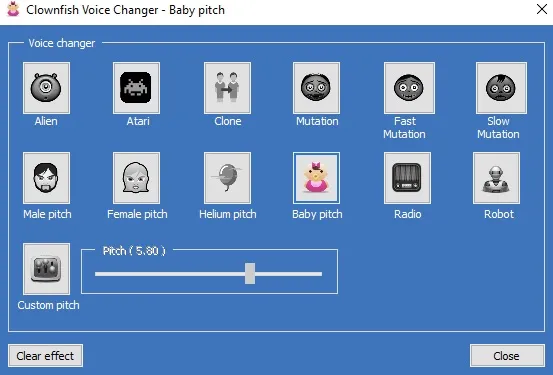 Main Features of Clownfish Female Voice Changer
Different voice effects, including a woman, child, robot, and ghost voice.
Real-time female voice-changing capabilities for online games and chatting platforms.
Supports VST plugins for generating new female voices and 20+ other audio effects.
Export the generated audio with a female voice to social media platforms.
Easy to use interface and supports Mac OS and all Windows versions.
MorphVox
MorphVox is a well-known female voice changer and it boasts an excellent voice-changing algorithm that's able to tweak your voice to that of a woman quickly and seamlessly. It has a variety of quality and useful girl voice filters such as Angela, Celeste, Julie, Lisa, Donna, Agnes, and so on. The program can integrate with games and various communication platforms like Discord, Teamspeak, and Skype, so you can do real-time girl voice changing. It allows voice recording and playback too in case you want to create content like a video in a woman's voice.
It's also possible to adjust your modified voice with this MorphVox tool so that it can better fit your purpose. There are several settings offered that you can use like timbre, frequency, and pitch. You can even do background noise suppression to help enhance the quality of your modified voice so that it sounds more natural.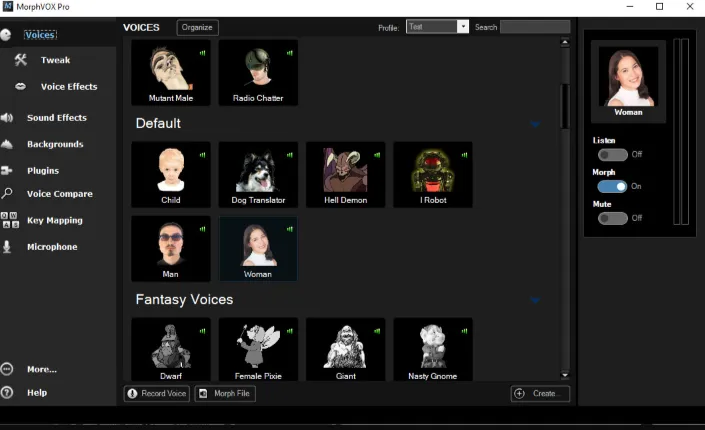 Main Features of MorphVox Female Voice Changer
Supports real-time voice changing, and voice recording and playback.
Various useful AI girl voice filters like Agnes, Celeste, Lisas, Julies, etc.
Settings to adjust frequency, timbre, and pitch of modified voice.
Supports background noise suppression to make the voice clearer.
Compatible with online games and several communication platforms like Discord.
Voxal Voice Changer
This is another real-time woman voice changer software that you can consider. Like the other options above, the Voxal Voice Changer is available in free and premium versions. The free version doesn't have some basic features plus it has few voice options. It's still pretty useful, though, as it offers around 30 different kinds of AI voices which include female voices like that of a baby girl, teenage girl, an old woman, and more. Using a microphone, you modify your voice into any of these voices instantly in real-time in online games or other programs.
The tool supports streaming platforms such as YouTube, Facebook, and DailyMotion as well as various real-time games like PUBG, Xbox, CS, and Fortnite. So, if you're a streamer or gamer searching for an easier way to add a female voice in a game, then you can go for Voxal Voice Changer. You can also use the tool for voice recording and ultimately add the female voice effect to the recorded voice.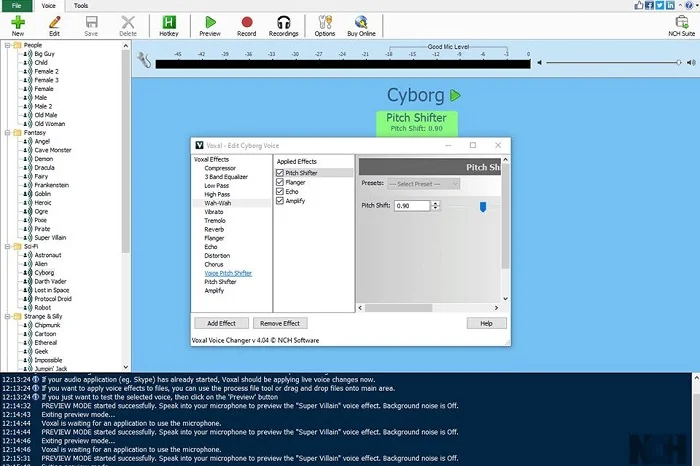 Main Features of Voxal Voice Changer
Supports voice changing in real-time and in recorded voices.
Over 30 AI voices including female voices like a baby girl, a teenage girl, etc.
Integration with various online games, and chatting and streaming platforms.
Simpler interface with the option to alter the pitch of voices.
5 Best Girl Voice Changer Apps for Android & iOS
Voice Changer Plus
If you want a practical and functional voice changer girl application for recording your voice and transforming it to a woman's voice within seconds, then Voice Changer Plus is your best bet. It generates quality girl voices that are clear and sound quite natural. Apart from generating girl voices, the app offers more than 50 other amazing voice effects like Mickey Mouse voices, which you can use to make your videos hilarious or for other projects.
Moreover, Voice Changer Plus supports voice-over recordings, a feature that not many woman voice changer apps offer. This application also allows you to fine-tune your voice after modifying it and then share it on social media platforms directly.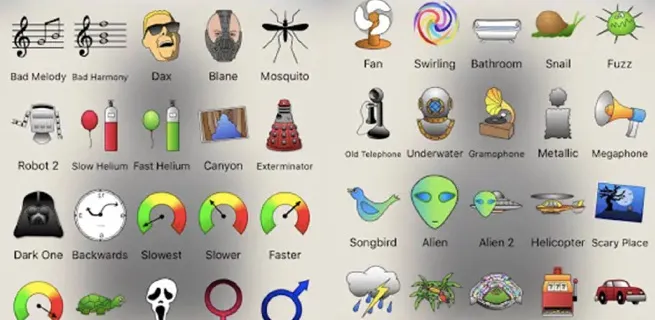 Main Features of Voice Changer Plus
Over 50 different voices, including girl voices.
Voice-over recording function.
Supports audio editing after voice modulation.
Direct sharing of modified voices on social media platforms.
Compatible with iOS 8 and newer versions.
Funcall
With the help of Funcall, you can have your voice modified in real time to sound like that of a woman during a call. It's a really effective voice changer girl app, ideal for pranking friends with an interesting female voice. It even includes various other fun and hilarious voice effects that can spice up your conversations.
With this incredible app, you can record your calls or audio notes and alter their pitch or listen to them again later or share them online. This great feature allows you to easily keep track of all your important conversations or simply relieve your funniest moments.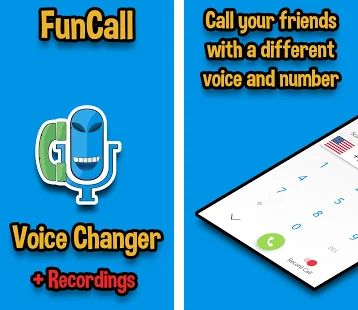 Main Features of Funcall
A variety of AI voices - include female, funny, scary, and animal voices.
Voice modification in real-time.
Record audio notes or calls to listen back to them or alter the voice pitch.
Compatible with Android and iOS systems.
Available on both smartphones and tablets.
Celebrity Voice Changer
Celebrity Voice Changer is a voice changer girl app that allows you to transform your voice into any female or male celebrity voice instantly. You only need to speak into the mic or provide audio and the app will automatically generate a video in your changed voice which you can then share with friends. The app has various pre-built voice filters of celebrities you can use and also offers the option of requesting voice filters that suit your preference.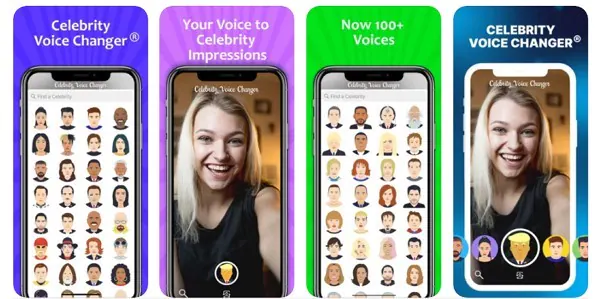 Main Features of Celebrity Voice Changer
Perform automatic voice changing once you speak into the mic.
Many flawless voice filters of female and male celebrities.
Request voice filters according to your preference.
Share generated video containing your changed voice.
Compatible with iPhone 8 and higher models.
Voice Changer with Effects
Unlike the other voice changer girl apps, Voice Changer with Effects is quite flexible as it's able to convert voice in pre-recorded audio as well as convert text into speech in a female voice. None of the other apps can create a voice from text. Moreover, the Voice Changer with Effects offers over 40 voice effects, so if you don't want to sound like a girl, you can change it to sound robotic, alien, or a monster.
The process itself is simple. You input your text/script, record your voice, or import pre-recorded audio and then simply apply effects to modify the voice. You can even edit the prerecorded audio right on the app and then after modifying it, share it with friends on social media.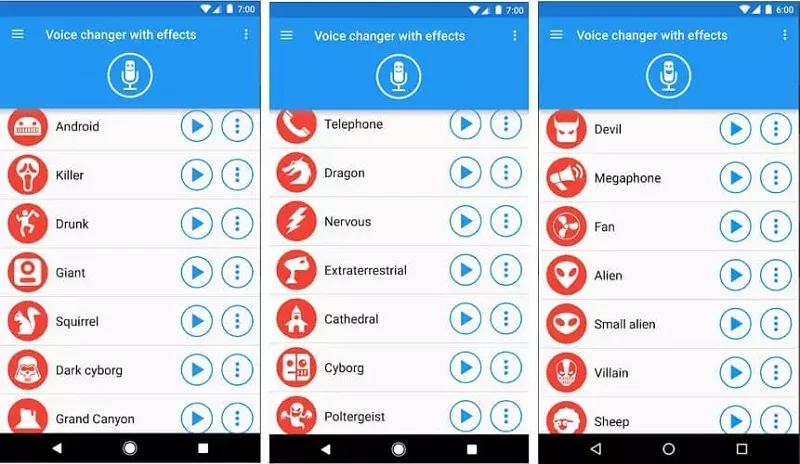 Main Features of Voice Changer with Effects
Modify voice in pre-recorded audio or create a voice from text.
Over 40 voice effects, including female voices.
Edit pre-recorded audio and share it on social media after modifying it.
Android-based female voice changer.
Voice Changer - Voice Effects
While it's a free-to-install application, Voice Changer-Voice Effects provides plenty of voice filters and several practical functions that are pretty useful. It's able to change the voice in audio files or voice recordings into a female voice almost instantly. Its abundant voice effects also allow you to modify your voice to whatever else you want such as a baby voice or some animal voice like sheep or bee. You only need to import the audio or voice recordings, and then apply the voice filter you want.
The app can as well modify voice from a video file or for video recording. There are parameters for adjusting each voice effect like changing the voice clarity, volume, pitch, etc. You can also modify the ambient sound in audio files or voice recordings such that it sounds like it happens in a different place or scene like a noisy street, a cave, on a rainy day, etc.
Main Features of Voice Changer-Voice Effects
Change voice for audio files, voice recordings, video recordings, or video files.
Abundant voice filters that include female voices, animal voices, etc.
Adjust voice parameters of any voice filter like pitch, volume, clarity, etc.
Modify ambient sounds to sound like in a different place or scene.
Share modified voice recordings in female voice on social media.
Conclusion
From entertainment to various practical and professional uses, it's clear that the applications for female voices are so many. Every girl voice changer we've highlighted above is capable of providing you with interesting female voices that will enhance your experience in your intended use. However, if we were to pick a more befitting girl voice changer, then we'll certainly go with FoneGeek Voice Changer.
It's the best in the market in terms of user-friendliness, the features it offers, and compatibility with various platforms like game apps, chatting platforms, and streaming sites. Besides those, FoneGeek has a large collection of female voices and other voice filters, plus it offers more customization options for each voice filter compared to the rest. It's generally the real deal if you want a female voice that's high-quality and realistic.