Apple has released iOS 16 with many cool new features, including customizable lock screen, unsend or edit text messages, improved focus setup and better parental controls, etc. It is currently in its developer beta phase and available for download on iPhone.
If you're enthusiastic about iOS 16's new features and eager to try out them ahead of the public release later this year, you can download the iOS 16 developer beta. Here's how to download and install the iOS 16 beta and the risk associated.
Remember that iOS beta versions are usually unstable and contains many bugs that may not be present in the final release. So proceed with caution!
What You Should Know Before Installing iOS 16 Beta
iOS 16 beta is now available to download and install on iPhone, and while it's not yet stable, some important things are worth noting.
The Risk of Installing iOS 16 Beta
There is always a risk associated with installing beta software, as it is not as stable as the final release. This means that you may encounter bugs, glitches, and crashes that can prevent you from accessing various parts of your iPhone. Therefore, it is essential to be aware of these potential risks before installing the iOS 16 beta.
Make an Archived Backup of Your iPhone
Please note that Apple doesn't support to restore iPhone from newer software updates. You won't be able to restore from iOS 16 backup if you've revert back to iOS 15. So, before installing iOS 16 beta, make sure you have an archived backup of your iPhone in case anything goes wrong. Here's how to do it;
First, ensure you have downloaded and installed the latest version of iTunes on your computer.
Connect your iPhone to the computer using USB cable and launch iTunes.
Click on the iPhone icon in iTunes. Then click "Back Up Now" and wait for it to finish.
Once the backup is complete, click on "Preferences" from the iTunes menu and choose "Devices".
Right-click on the fresh backup you've made and choose "Archive" to save it from being overwritten.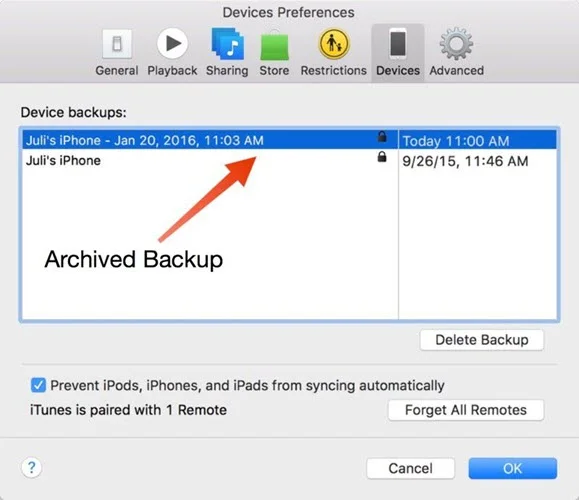 iOS 16 Developer Beta: Supported Devices
iOS 16 beta is now available to download on supported devices. However, compared to the phones that are able to run iOS 15, the iOS 16 beta supported devices aren't as widespread.
You can download the iOS 16 beta if you have an iPhone 8 or later. It is not compatible with old iPhone models like iPhone SE (2016), iPhone 6s or iPhone 6s Plus, iPhone 7 or 7 Plus. That means these devices are all out of eligibility for the latest features and improvements in iOS 16.
To make you more clear, below are all the devices which can download and install iOS 16: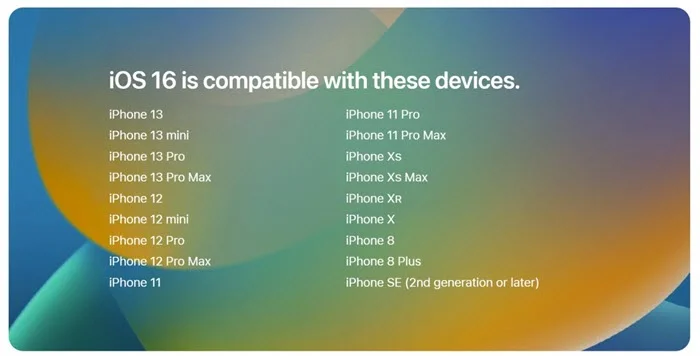 How to Download and Install iOS 16 Beta on iPhone
#1 Enroll in the Apple Developer Program
So, if you want to try out the new features and bug fixes before iOS 16 is released to the general public, you can enroll your device in the beta program by following these instructions;
Step 1: Go to the App Store and download the Apple Developer app.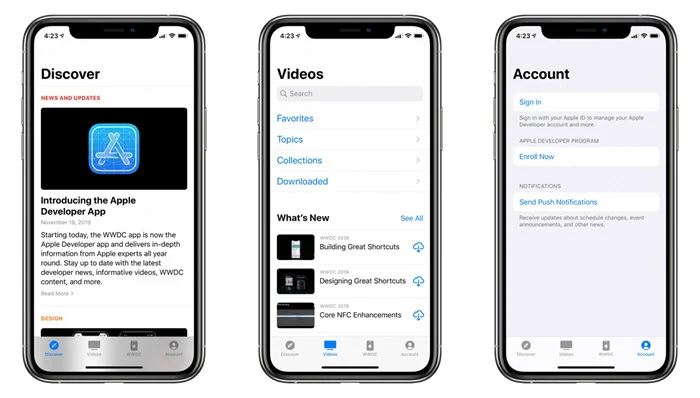 Step 2: Open the app, navigate to the "Account" menu and select "Enroll Now". Then sign in with your Apple ID and password.
Step 3: Verify your identity by entering your personal information and scanning your ID. Then select your entity and agree to the program license agreement.
Step 4: After that, you must pay the annual $99 Apple Developer membership fee (with Apple Pay), which is equivalent to around £80 or AU$140.
#2 Download the iOS 16 Developer Beta
If your iPhone is supported and you've enrolled in the Apple developer program, you can follow the simple steps below to install the iOS 16 developer beta on your iPhone;
Step 1: Navigate to the Apple Developer Program download page on your iPhone or iPad, press "Install Profile" for iOS 16 beta (if you're using an iPhone) or iPadOS 16 beta (if you're using an iPad), and then hit "Allow".
Step 2: Launch the Settings app, scroll to the "Profile Downloaded" section, and then press the "Install" button in the upper-right corner. If asked, enter your passcode. It is then necessary to restart your phone.
Step 3: Once your iPhone/iPad reboots, connect it to a power source, ensure that you are connected to Wi-Fi, and then proceed to Settings > General > Software Update.
Step 4: Lastly, press Download and Install > Install and input your password to update your iPhone to iOS 16 beta.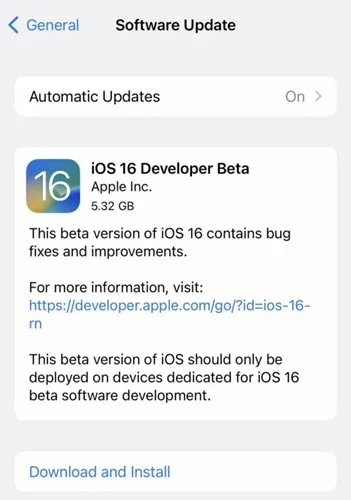 How to Uninstall iOS 16 Beta and Revert Back to iOS 15
If you've installed the iOS 16 beta on your iPhone and encountered many troubles with the device, you may want to go back to the more stable iOS 15. How to downgrade iOS 16 beta to iOS 15?
Of course, you can restore your iPhone using iTunes or Finder, however, the process is a little bit complicated and you should have an archived backup of your iPhone, or you will run the risk of losing all data. Luckily, there is a better option - FoneGeek iOS System Recovery.
It is a professional tool which helps users to fix various iOS system issues on iPhone/iPad, such as device stuck in recovery/DFU mode, white Apple logo, black screen, boot loop, etc. Also, it enables users to upgrade or downgrade iPhone/iPad without data loss. This tool is fully compatible with all iOS devices and iOS versions, even the newest iPhone 14/13 and iOS 16.
Here's how to downgrade iOS 16 beta to iOS 15 using FoneGeek
Step 1: Download the FoneGeek iOS System Recovery software and install it on your computer, whether it's a PC or a Mac. Run it and choose the "Standard Mode" option.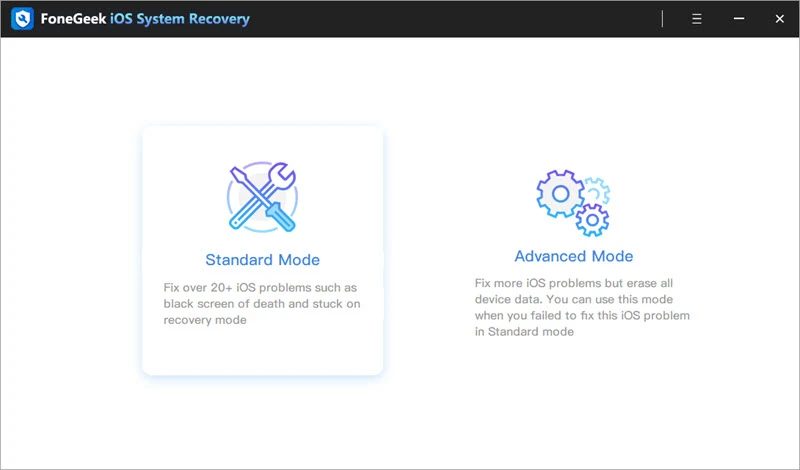 Step 2: Using a lightning cable to connect the iPhone or iPad that already has the beta version installed in it to the computer. Once the device is detected, click "Next".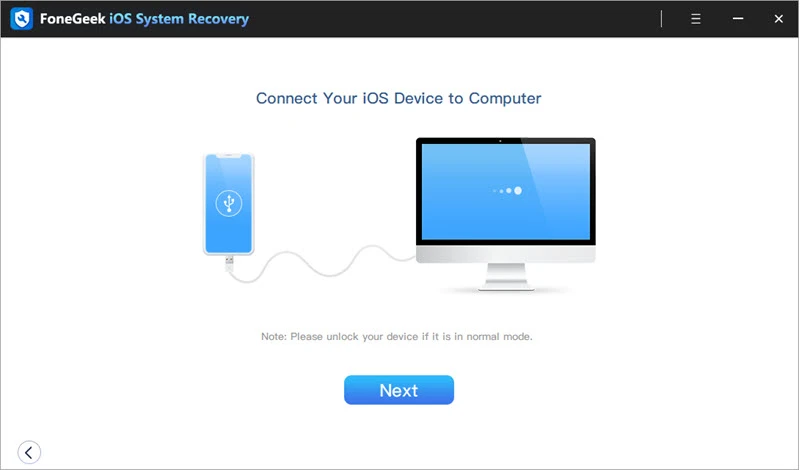 Step 3: The software will display all the firmware version that is compatible with the device. After making your select, click the "Download" button to get the firmware package.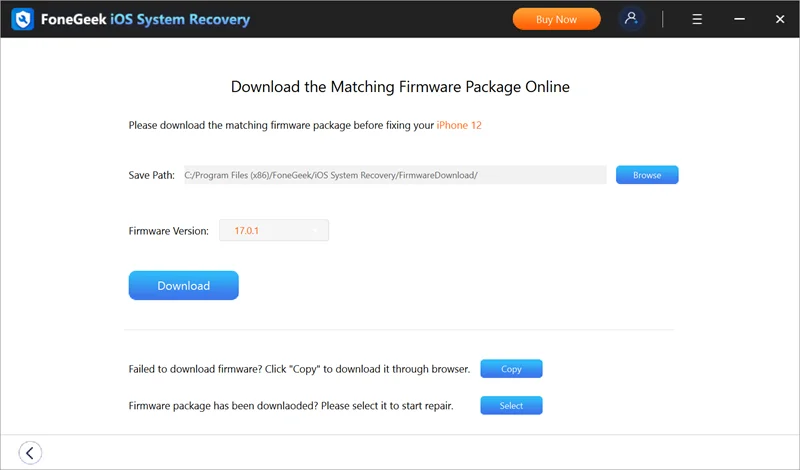 Step 4: When the download is completed, select "Fix Now" to begin the process of downgrading iOS 16 beta. Once it is down, your iPhone will be in iOS 15 version.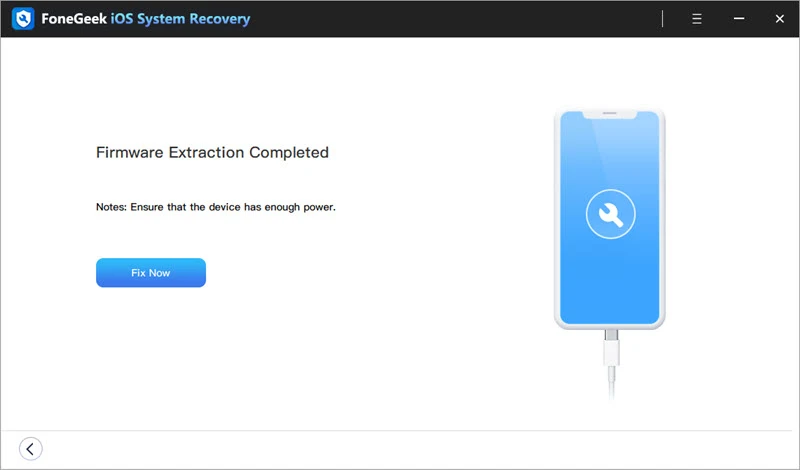 Hot FAQs on iOS 16
Is it safe to use the iOS 16/iPadOS 16 beta?
There's no doubt that the latest version of iOS is packed with many new features and enhancements. But like with any new update, there's always a risk of something going wrong. So before downloading or installing the iOS 16 beta, be sure to consider all the possible risks and decide whether they're worth taking.
Does iOS 16 beta mess up your iPhone?
The installation process is not difficult or highly dangerous for users, but it is still necessary to proceed cautiously if you want to download and install the iOS 16 beta. It's important to keep a proper backup in case something goes wrong so that you can restore your iPhone to its previous state.
How to remove the iOS 16 beta profile?
If you're an iOS 16 beta user and don't like the new features or changes, there's a way to remove the beta profile and stop receiving updates. Here's how: Go to Settings > General > VPN & Device Management to find the iOS 16 Beta Software Profile and click on "Remove Profile".
What will happen if I remove the iOS 16 beta profile?
If you remove the iOS 16 beta profile, your iPhone will no longer be able to install or use any of the 16 beta-exclusive features, including future updates.
When will the iOS 16 public version be released?
Apple has already started distributing the iOS 16 public beta to users, so the public version will likely be released soon. The release date for the public vesion is still unknown, but we can expect it to be available in late September or early October.