New iOS versions often introduce new functionality, and you cannot wait to upgrade your iPhone to iOS 16. However, when you review your device's status in Settings, it claims it's up-to-date. It's safe to assume that you will not see the latest software update until it's officially released. You can try out the iOS public beta ahead of time. Nevertheless, Apple has officially released the final edition of iOS 16, and you have yet to receive the software upgrade on your iPhone.
This post will go through possible causes of iOS 16 not showing up in software update and how to fix it so you can take full advantage of the new iOS 16.
Part 1. Why is the iOS 16 Update Not Showing Up
Keep reading if you're curious about why your iPhone doesn't show up the iOS 16 version and how to fix it. You'll find everything you need in this part.
As you can see, this problem could be caused by various factors. It's possible that you didn't install the right beta profile, your network settings aren't working, your iPhone isn't supported, and so on. Here's a rundown of all the plausible causes.
Your iPhone isn't compatible with iOS 16 and will never get the upgrade.
You have not yet installed the iOS 16 beta profile or the proper profile.
Your network configurations aren't correct.
Your iOS system is malfunctioning.
Part 2. How to Troubleshott the iOS update Not Showing Up Issue
#1. Check the Compatibility
First and foremost, ensure that your phone supports iPadOS 16 or iOS 16. If your device isn't on the list of compatible devices, you won't get the software upgrade.
iOS 16 compatible devices
iPhone 13 Mini/Pro/Pro Max
iPhone 12 Mini/Pro/Pro Max
iPhone SE (2020)
iPhone 11/Pro Max/ Pro
iPhone X/XR/XS Max/XS
iPhone 8 Plus/8 Plain
iPhone 7+/Plain
iPhone 6s Plus/6s
iPhone SE
iPod touch 7
iPadOS 16 compatible devices
12.9-inch iPad Pro
11-inch iPad Pro
10.5-inch iPad Pro
9.7-inch iPad Pro
iPad (7th gen)
iPad (6th gen)
iPad (5th gen)
iPad mini (5th gen)
iPad mini 4
iPad Air (3rd gen)
iPad Air 2
#2. Check the Apple System Status
If your iOS device is listed as an iOS 16 compatible device, yet the updates are not appearing, you can check Apple's system performance for its applications. If the Apple system is down or has a technical issue, your iPhone won't connect to it, leading to the iOS 16 update not showing up in the system update menu.
You can go to Apple support website to see if the Apple system is functioning properly. The system status is good if all of the functions are showing green. You'll have to wait for the Apple systems to come back online if they go down and become temporarily inaccessible.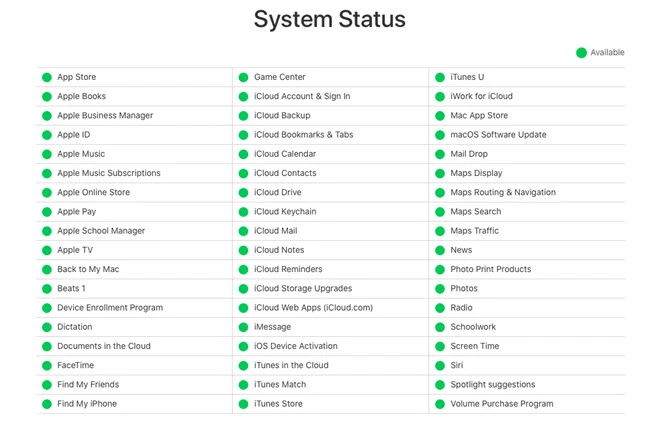 #3. Check the Network Connection
A strong internet connection is essential to prompt the software update. The iOS 16 update may not show up if the internet connection is poor. To refresh the connection to the internet, you can turn on/off the flight mode.
Furthermore, network configuration difficulties could be the source of the problem. To figure things out, head to the Settings > General > Reset > select Reset Network Settings > then press Reset Network Configurations. Finally, re-enter the password to connect to the W-Fi.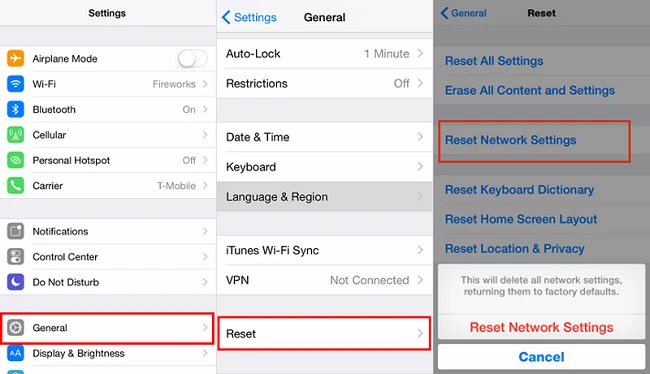 #4. Restart Your Device
If you've double-checked that your iPhone iOS 16 is compatible but can't download the update, try restarting your device. Follow the following step to restart your device;
Restart iPhone 13, 12, 11, X
Hold down the power and volume buttons together until the shutdown slider displays.
To turn off the device, drag the slider.
Hold down the power button until you see the Apple badge.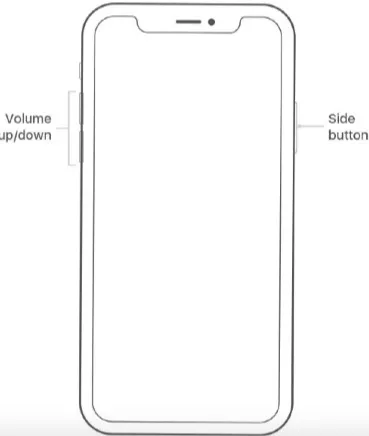 Restart iPhone 6, 7, 8, and SE (2020)
Hold down the power button until you see the power off slider appear
To switch the device, drop the slider to the off position
To restart the device, tap and hold the power button till the Apple logo appears.
Restart iPhone 5, SE, and earlier
Hold down the top power switch till the power off slider displays.
To switch off the device, drag the slider left or right.
Hold power down until you see the Apple logo. Allow time for the device to start up.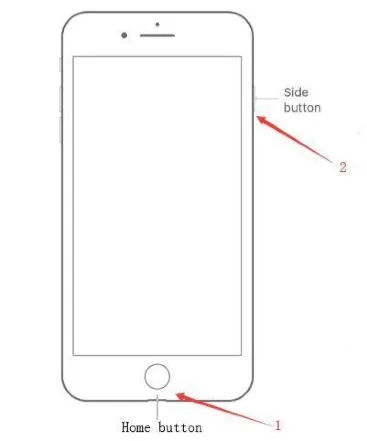 #5. Delete the Beta Profile
You should remove the beta profile from your iPhone if the iOS 16 beta is running. You won't get the legitimate software update if you don't do so.
Navigate to Settings > tap General > profiles and device management.
Select iOS Beta Software Profile > Remove Profile > Enter your code if prompted, then click on Delete.
Restart your iPhone and check the Settings to see if the problem has been resolved.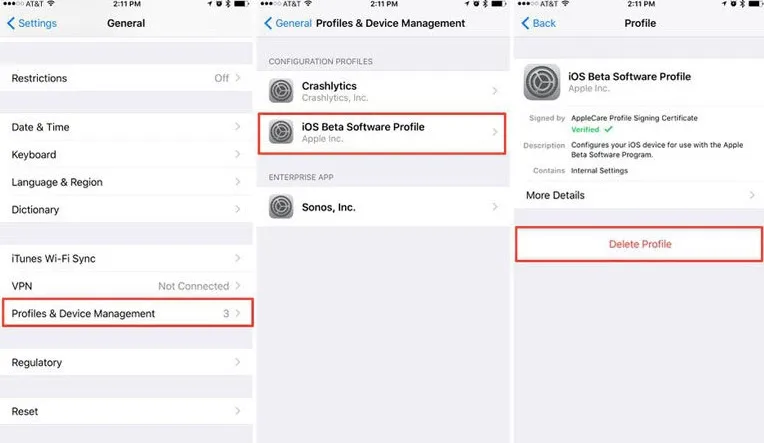 #6. Update iPhone via iTunes
If none of the previous techniques resolve the iOS 16 version not showing up, you can use iTunes to upgrade your iPhone or iPad.
Ensure that you have the most recent version of iTunes loaded on your computer.
Open iTunes and plug your iPhone into your computer using a USB cord.
Go to the Device section, then to Summary, then to Check for Updates.
To ensure that the update has been found, select Install and Update.

#7. Fix iOS 16 Update Not Showing Up without Data Loss
If none of the previous methods for resolving the iOS 16 not showing update issue succeed, there may be a problem with your device's system. Fortunately, FoneGeek iOS System Recovery can swiftly correct this.
FoneGeek iOS System Recovery is a solution that can fix various iOS system faults and restore iOS to its original state without wiping your data. This is how to utilize FoneGeek to fix the issue of iOS 16 not showing updates.
Install the newest version of PhoneGeek iOS system recovery on your Windows or Mac computer.
Choose "Standard Mode" to escape data loss on the main screen. Make sure you read all of the instructions before you begin.
Connect your device to computer and click the "Start" button.
Click on "Download" when the system prompts you to select and download the firmware package.
Finally, tap on "Start Repair" from the menu when the firmware is downloaded.
Allow the process to finish, and you're good to go.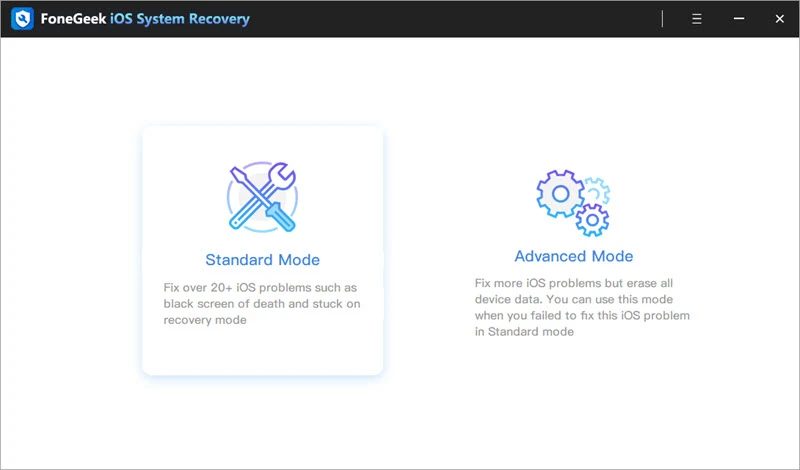 Final Remarks
Apple has officially published the iOS 16 beta. However, many users are reporting that the iOS 16 update not turning up. Consider using FoneGeek iOS System Recovery. This is your greatest ally throughout this troubleshooting process.

As a professional writer who is interested in technology, Edwin J. Parke has helped thousands of users by offering various tips to solve their problems.

Home
>
iOS 16
>7 Best Ways to Fix iOS 16 Not Showing Up in Software Update