Have you ever sent a message and wished you could delete or edit it. It could be a message with a typo(s) sent to your parents, clients, bosses, or someone important, or a message sent to the wrong person. These can be embarrassing and disastrous.
On the 6th of June, 2022, Apple announced some major updates and features in iOS 16. Some of these new features include advanced lock screen widgets, better notifications management, and the best of them all, editing and unsending messages on your iPhone.
Thanks to this new feature on the Messages app, you won't have to stress about embarrassing errors anymore. Within 15 minutes of sending them, messages can now be edited or even unsent.
In this article, we will show you how to edit and unsend messages on iPhone/iPad running iOS 16 or later. Keep reading!
Limits to Editing and Unsending Messages
Though the iOS 16 feature on iMessage is great, there are still some limitations on editing and unsending messages on iPhone or iPad;
It is only for iOS 16 or higher users and won't work for other iOS versions.
Unsending a message to someone using an earlier iOS version will not work. This means the message will not be unsent. In this scenario, the person you sent the message to will still see it and not be aware that you unsent the message, even though it disappears from your phone.
This feature will only work for iPhone users using the Messages app on iOS. They don't work for other messaging apps or Android SMS.
You can only edit and unsend iMessages, and you won't be able to use this feature in text messages.
The timeframe of editing and unsending messages is limited to 15 minutes. After 15 minutes, there is no options to edit or unsend messages on your iPhone.
How to Edit Messages in iOS 16
Are there some typos in the message that you didn't notice until the message had been sent? Ever wished you could turn back time and edit? The new editing message on iPhone feature in iOS 16 can be the answer to that.
Here's how to edit messages on iPhone in iOS 16;
Open the Messages app on your iPhone or iPad.
Find the message that you want to make the edit. If you have not sent a message, start a new conversation, type the message and send.
Long press the sent message, and click on the "Edit" button in the pop-up menu.
Highlight the word(s) you want to edit, and replace them with the right ones.
Once done, click on the blue checkmark to save your changes and send the message.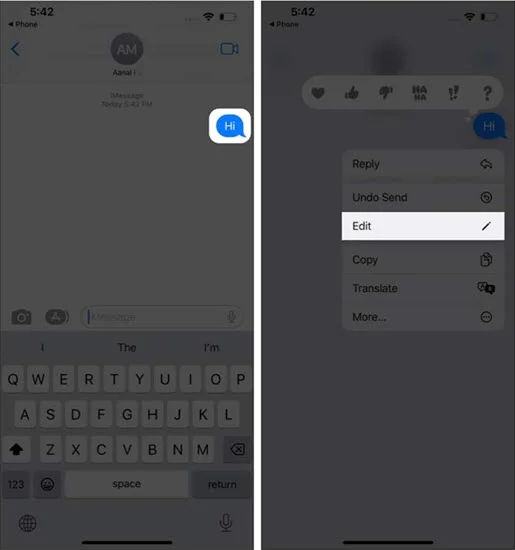 Note
The edited message will show Edited below the message to indicate that changes were made. If the recipient is on an older version of iOS, they will not see the changes.
How to Unsend iMessages in iOS 16
Looking for ways to delete that embarrassing message? iOS 16 not only allows you to edit messages, but also unsend them if necessary. Here's how to unsend messages on iPhone or iPad in iOS 16;
Open the Messages app and find the conversation that you want to unsend a message.
Select and hold the message. Click on the "Undo Send" button on the pop-up menu.
Burst-like animation will appear, which indicates that the message has been deleted.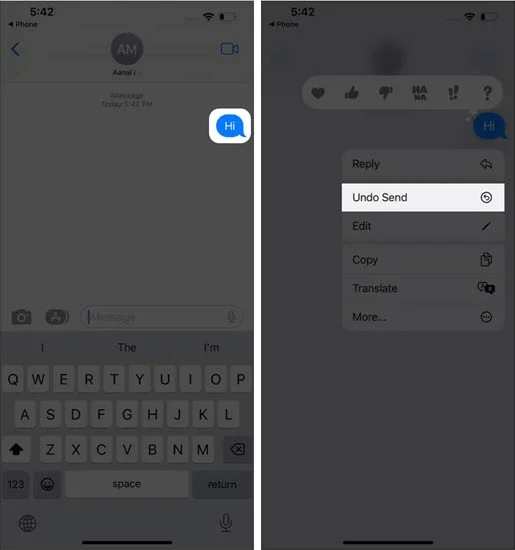 Note
Messages that have been unsent will disappear, a status message will appear in the chat transcript informing everyone that a message was unsent by the original sender. But, if the recipient is on an older version of iOS, they will still see the message.
How to Mark Messages as Unread in iOS 16
Marking messages as unread is another cool messaging feature in iOS 16. This feature is helpful whenever you read a message and you can't respond to it immediately. Marking it as unread will remind you to get to it later.
Open the Messages app on your iPhone and locate the text that you want to mark as unread.
Swipe right on the text thread and click "Mark as unread" once the popup appears.
Once marked, a blue dot will appear on the left-side of the message, indicating that it is unread.
If you want to mark an unread message as read, swipe right on it and click "Mark as read" on the pop-up button.
FAQs about iOS 16 iMessages Feature
How do you remove a heart from a text messages?
If you reacted with a heart tapback or emoji, and want to remove it, here are the steps. Select the message you want to remove the heart from. Hold the message and tap the heart tapback to remove. In iOS 16, you can also delete a heart if you added it in a text.
Does deleting an iMessage delete it for the other person?
Unlike unsend messages on iPhone in iOS 16, deleting an iMessage will only remove it from your phone and not from the other recipient's end. The Undo Send feature ensures the messages disappear from your end and the recipient's end within 15 minutes. Therefore, when you delete an iMessage, you delete it for yourself and not the other recipient.
Can others see if you edit or unsend a message?
Yes. If you edit or unsent a message, the receiver will get a notification underneath the message stating "Delivered-Edited" or "This message was deleted." However, the receiver won't see the original message edited or unsent.
Bonus: How to Recover Deleted iMessages on iPhone
Perhaps while editing or unsending a message on iPhone, you accidentally deleted all your messages or some important ones and want to recover them. It might be easy if you backed up your messages.
But if you don't have a backup, don't worry. You can still recover all the deleted messages on your iPhone with third-party tool. You can use FoneGeek iPhone Data Recovery to recover your iMessages directly from iPhone/iPad.
Here's how to recover deleted iMessages with backup
Launch FoneGeek iPhone Data Recovery on your computer and choose "Recover from iOS Device."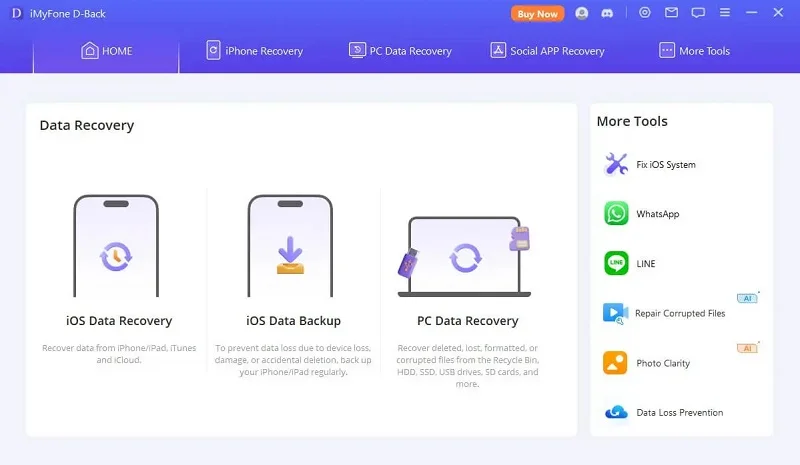 Using a USB cable to connect your iPhone to the computer. Select the data type Messages that you would like to scan and recover. Click "Scan" to continue.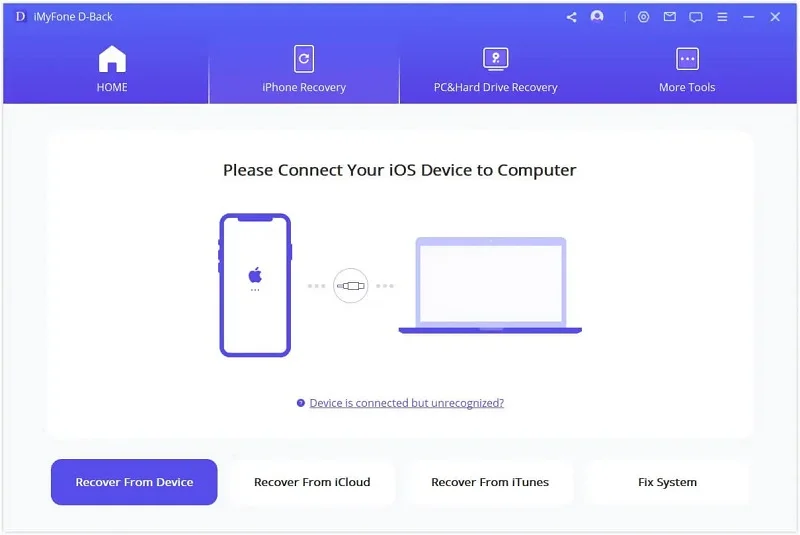 Once the scanning is completed, all the messages deleted will be generated. Enable the "Show Deleted" option to find the deleted messages quickly.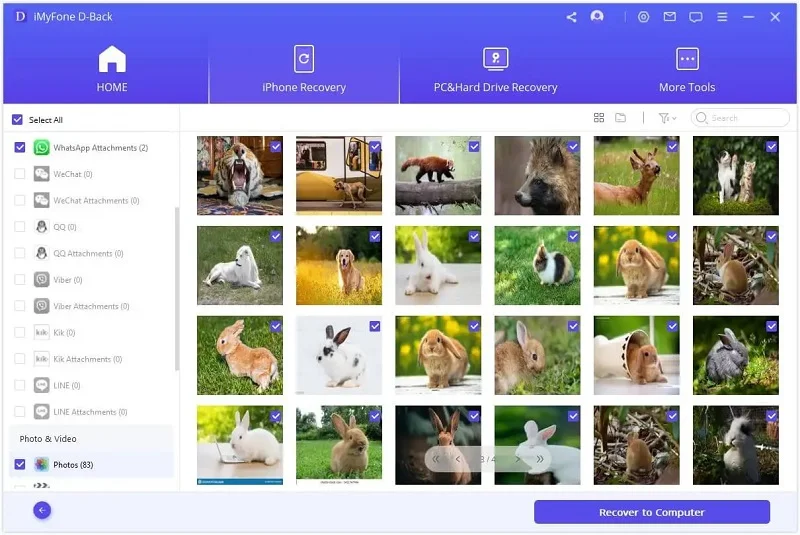 Select the deleted messages and click "Recover" to save them on your computer.
Conclusion
Finally, iOS 16 is bringing an end to unwanted autocorrect, bad typos, and sending the wrong messages with the edit and unsend messages on iPhone. Read our guide to get more on new iPhone features and what to expect.