Almost all iOS updates released by Apple bring exciting new features and bug fixes that not only improve the iPhone performance but also enhance the user experience. However, the update process itself doesn't always run smoothly.
Sometimes, you can end up with the iOS 16 update stuck on resume download and whatever you do, the update doesn't resume or complete. It's a frustrating experience and the cause of it could be anything. It could happen due to the network-related issue or something else. The good news though is that it's a fixable problem and we will share some effective methods that can help you do this in this article. These methods will help get your update moving again. But first, let's see some of the reasons that can cause iOS 16 to get stuck on resume download.
Why Is iOS 16 Stuck on Resume Download?
Several reasons could lead to the iOS update stuck on resume download error. One main cause is unstable network conditions. When the internet connection gets interrupted during the downloading session, then the process will automatically halt and it's hard to resume the download.
Your iPhone also needs to have sufficient storage space to download and install the iOS 16 installation package. If there's not enough storage, then the update process may get stuck. The same issue can occur due to iPhone system glitches. It can happen too if there are any issues with the Apple server. These are basically the main reasons that usually lead to the update stuck problem. With that in mind, the following methods can help you resolve it.
How to Fix iOS 16 Stuck On Resume Download
Reset All Network Settings
An unstable network is often the main culprit behind iOS 16 stuck on resume download. If your internet connection gets interrupted in the middle of an update download, then the update process/session will automatically pause. A weak or fluctuating internet connection could also cause this to happen. The update process usually resumes once your internet connection gets better, but sometimes it may fail to do so.
One way you can surely know that the update has halted due to your internet connection is when the Resume Download option on your phone's update screen is grayed out. This shows there's a problem with your internet connection. Fortunately, there are several fixes you can implement to improve or rectify your network conditions.
You can start by first resetting your Wi-Fi connection. Turn off your iPhone's Wi-Fi and turn it back on again.
Secondly, you can perform a quick soft reset. Simply restart your iPhone.
The third method you can try is turning on and off the Airplane Mode from the Control Center of your iPhone. This will help restore your connections.
You can as well reset all your iPhone network settings which will clear out any underlying connectivity issues.
Finally, try resetting or restarting your router.
Free Up Storage Space
The iOS update can stop downloading midway or when almost done if your iPhone runs low on storage. Usually, iPhone will inform you of the size of the file before it starts the update download. The actual size of these iOS updates often tends to range between 1.5GB and 2GB. However, it normally takes twice that size (storage space) for the update to be downloaded and get installed.
So, to ensure there's sufficient storage space on your iPhone to carry out the update to completion, head to Settings, tap General, and then tap iPhone Storage. In case the storage space isn't enough, try creating more space by removing some media or unused apps.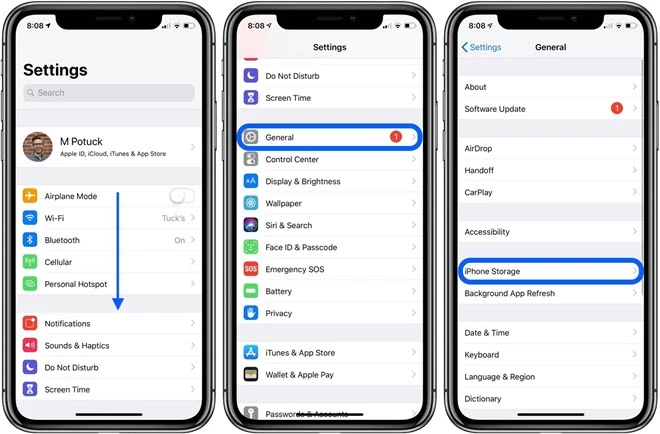 If the space is still not sufficient to download and install the update, then you can choose to update your iPhone using Mac. This method doesn't really require a lot of free space on your iPhone. Here are the steps to implement it.
Use an USB cable to connect your iPhone to your Mac computer.
Launch Finder to identify your iPhone. If requested to trust your device, then do so to proceed.
Go to the sidebar of Finder and select your iPhone. Click on Check for Update.
Should you note that your iPhone has sufficient storage space for downloading and installing the update, then storage may not be an issue here. So, try the next fix.
Uninstall the iOS Beta Version or Delete the Incomplete Update
You may end up with an iOS update stuck on resume download if you have an iOS beta already downloaded on your iPhone or there's an existing incomplete update. In this case, the best move is to uninstall the downloaded beta version or delete the incomplete update package. You can do this by opening Settings and heading to the General page. From there, tap on iPhone Storage, navigate down to Software Update and then tap it. Now, tap Delete to finish.
After removing the update file, try restarting the update by heading to Settings, General page, and then Software Update.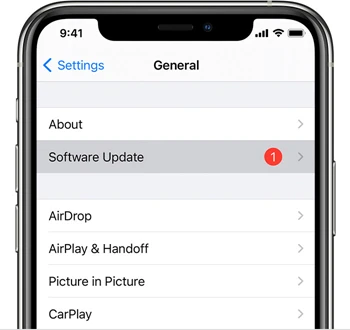 Force Restart your iPhone
The iOS update may get stuck because of a minor firmware issue or glitch. It could also be due to a firmware crash at some point which interfered with the normal operation of your iPhone leading to some inconsistencies. Refreshing your iPhone memory by performing the force restart can help resolve this. The force restart is generally similar to a simulated battery removal, meaning it refreshes the iPhone memory and as well reloads all the apps and services. Follow these steps to do it:
Start with the Volume Up button. Press it quickly and then release it. Move to the Volume Down button and do the same.
Once you let go of the Volume Down button, long-press the Side/Power button, then release it when the Apple logo shows up.
After your iPhone successfully reboots, head back to the Software Update page and check if your iPhone can resume the update download.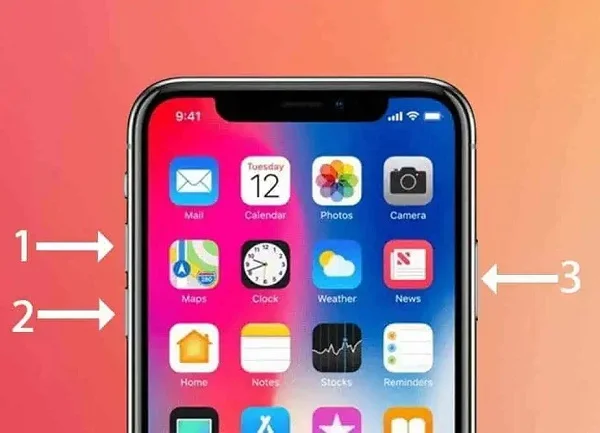 If the iOS update stuck on resume download because of a minor firmware issue, then it should be resolved by this procedure.
Reset All iPhone Settings
The configurations of your apps may have changed while using the apps on your iPhone. Some of the changes in these configurations could have been the cause of this iOS stuck problem.
Therefore, when you reset all settings, then this issue could easily be solved. To do so, head to Settings, open General, and then tap Reset. Next, tap Reset All Settings.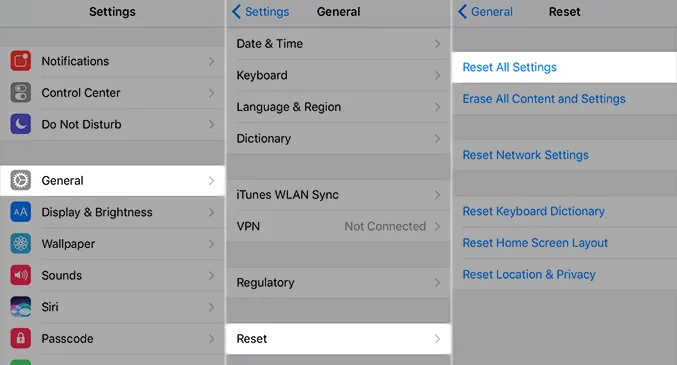 Disable the Content and Privacy Restrictions
The Content and Privacy restriction is a great feature that many iPhone users turn on when they want to block themselves or other people from installing or deleting apps on their devices. Parents also often use it when trying to block their kids from accessing certain content. However, in case you turned on content restrictions for both iTunes and App Store purchases, then your iOS update is likely to fail.
Therefore, you should disable the restrictions by heading to Settings, turning o Screen Time, and then tapping Content & Privacy Restrictions.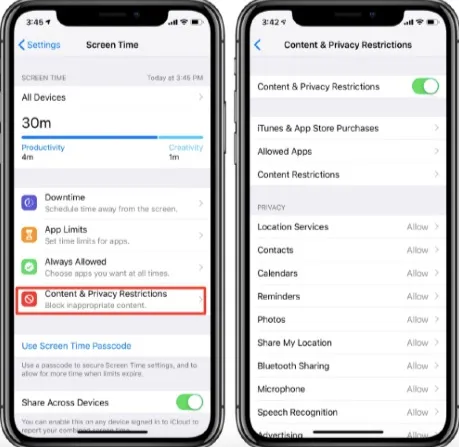 To disable all restrictions, just turn off the toggle at the upper part of the page. You can also grant access to specific categories. For instance, you can tap on iTunes & App Store Purchase option to set up custom access rules for installing apps or deleting them.
Check the Status of Apple System
Apple servers sometimes become overloaded when the new iOS update is released because iPhone users around the globe often rush to download it. This usually causes downtime which ends up slowing down the update process. While it's not something that happens quite often, still it's possible that your iOS 16 stuck on resume download because Apple's update servers are down.
You can check if this is true by visiting Apple's system status page. When you're there, check if there's a green circle next to the services linked to the update like App Store and iCloud account. If you see no green circle, that should tell you that there's a problem with Apple's Servers. The only thing you can do here is to wait for Apple to fix the issue and try the update download again once the services/servers are up and running.
Still Stuck on the Resume Download or Update Requested Error?
If you're still unable to update iOS 16 after trying all the above methods, probably there's a bug in the iOS 16. FoneGeek iOS System Recovery can help to completely deal with this problem and allow the iOS 16 update to finish. It's a professional iOS system repair tool that can fix over 200 iOS system issues, even the bugs causing the iOS 16 stuck on resume download error. You can use the tool to also update or downgrade iOS 16 and perform several other useful functions.
Features of FoneGeek iOS System Recovery:
One click to update or downgrade to iOS 16.
Repair over 200 iPhone/iPad system issues including iOS update problems.
Intuitive user interface that's easy to understand.
Compatible with all the latest iOS devices and versions.
Steps to fix the iOS update stuck on resume download issue using FoneGeek iOS System Recovery:
Start by clicking the appropriate download link above to get the latest FoneGeek iOS System Recovery. Install it on your respective computer. Launch the software, then select "Standard Mode" when the home page appears. Allow the software to identify your iPhone after connecting it to your computer using a lightning cable.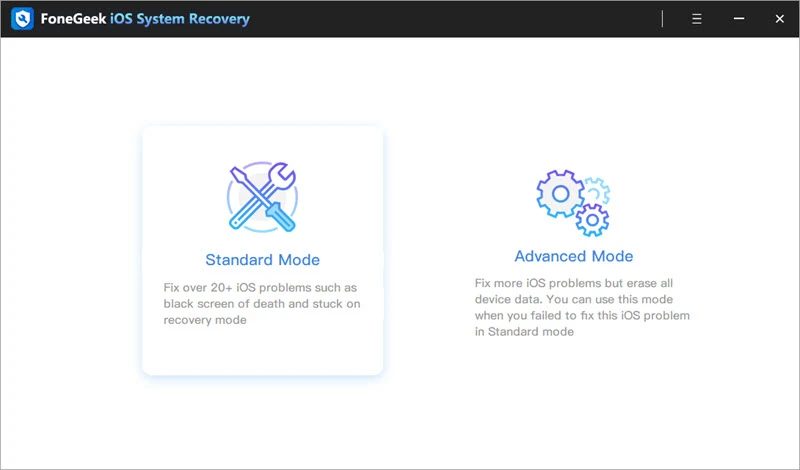 Now, select the appropriate firmware package according to your device model. Click Browse to choose the path for your firmware and click Download so that it can start downloading.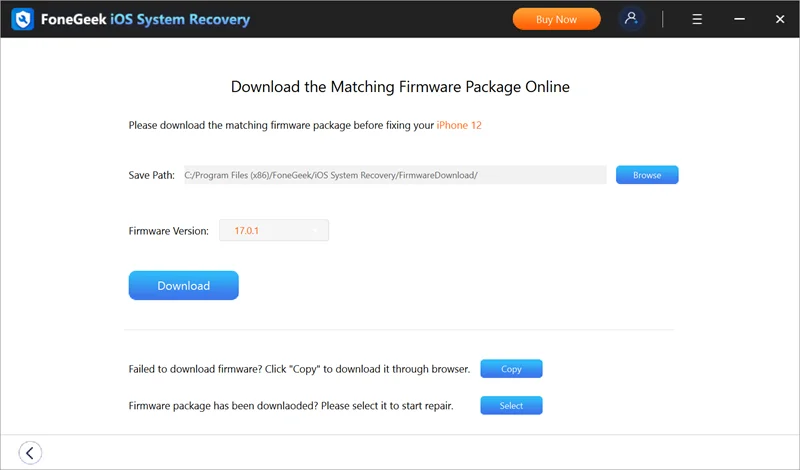 After the firmware is downloaded, click on Fix Now to begin fixing the iPhone. Ensure your device remains connected to your computer throughout the repair process.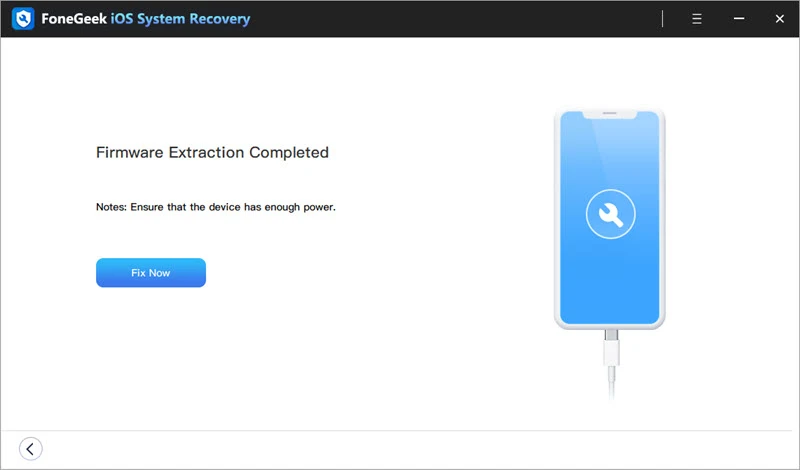 Conclusion
One of these methods should resolve your iOS 16 update stuck problem to allow your iPhone to complete the update download. Just ensure that you tap resume download after trying each method to confirm if the problem is fixed. Among the methods, the one we would recommend most is using FoneGeek iOS System Recovery. It's the best option for fixing iOS update problems and bugs as it assures high success rate than any of the other methods. Moreover, you can use it to fix other iPhone issues too. So, go for it.