Spatial Audio is one of Apple's great audio features that allow users to enjoy an immersive 3D sound experience on their AirPod Pro when listening to their playlist or watching their favorite movie. While it's quite exciting, it can be disappointing when you find Spatial Audio not working on AirPods Pro as you won't experience the same sound quality.
If you've been facing this same issue, then we're here to help you. We'll look at some of the reasons why you're having Spatial Audio not working on AirPods Pro and also give you some solutions that should help you fix it and have you enjoying Spatial Audio again. So, continue reading.
What Is Really Spatial Audio?
Spatial audio is basically a kind of audio technology that Apple introduced to create and give users an immersive 3D surround sound experience. It achieves this by placing the audio sources in a form of a virtual 3D environment. By doing so, it simulates or recreates the sound of real-world environments, like a movie theater or a concert hall hence delivering a more realistic soundscape. You can use Spatial Audio for all media applications including virtual reality and gaming. Moreover, this Spatial audio technology by Apple comes in several types including, AirPods Pro Spatial Audio, Dolby Atmos, and MPEG-H.
What Causes the Spatial Audio Not Working On AirPods Pro?
Before you can fix this iOS 16 Spatial Audio not working issue, it's important to first know the reasons that could be causing it so as to implement the right solution. Some of these causes include:
Your device's model may not be supported because this feature only works on iPhone 7 or newer models. If your device model is an older version, then it won't support Spatial Audio, so ensure you check that your device supports the feature.
The firmware may not be installed correctly in your phone and doesn't support Spatial Audio.
You may be using regular AirPods. As an elite feature, Spatial Audio only works with Airpods Pro, so if it's a regular AirPods, then Spatial Audio won't work.
How to Fix Spatial Audio Not Working on Airpods Pro
Disconnect AirPods Pro and Connect It Again
You can easily fix this Spatial Audio not working issue using just a simple trick like disconnecting your AirPods and then connecting it again with an iPhone that supports the Spatial Audio feature. Doing this will help refresh the connections and ultimately fix the cause behind the issue. So, put your AirPods Pro in its case and then close the Lid. Hold the AirPords, closed in the case, for a few seconds.
With the iPhone Settings app opened, tap on Bluetooth.
Scroll the list and choose the info (i) icon that's beside the name of the particular AirPods that you intend to disconnect. Now tap on Forget This Device on the following screen.
Head to the back of your AirPods case and press the back button. Hold on to the button until you see the flashlight twinkling.
Once you do that, your phone will take you through the process of connecting back your AirPods Pro to your iPhone. From there, you can enable Spatial Audio again and check if it's working now.
Reset Personalized Spatial Audio
In order to set up Personalized Spatial Audio, you have to scan your face and ears. Therefore, if you set up Personalized Spatial Audio when there was no sufficient lighting, your face and ear may have not been scanned properly and that's why you're having Spatial Audio not working on AirPods Pro. It could also be that you set it up during a beta phase of the iOS 16, which was actually not the ideal time.
So, try resetting the Personalized Spatial Audio again as the iOS 16 is now stable. Just follow these steps.
Get your AirPods/Beats Fit Pro connected to your iPhone.
Head to your iPhone's Settings app and open the AirPods settings.
Navigate down to Personalized Spatial Audio and tap it.
Next, select Stop Using Personalized Spatial Audio.
Now head back and choose Personalized Spatial Audio. Tap on Personalized Spatial Audio again.
Finally, scan both your face and ears as instructed by the on-screen guide.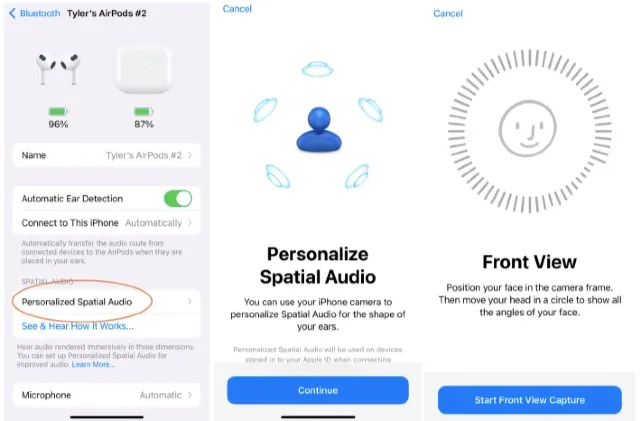 After scanning your face and ears, and the setup process is done, the Personalized Spatial Audio should now be working normally.
Ensure Your Device Is Compatible With Personalized Spatial Audio
Setting up Personalized Spatial Audio requires an iPhone that runs on iOS 16 and features the TrueDepth Camera system. After setting it up, you should be able to use it on your other devices such as iPad, Mac, Apple TV, and Apple Watch. Besides that, you'll require a pair of Beats Fit Pro, AirPods Max, AirPods 1st generation, 2nd generation, or 3rd generation.
On top of that, you'll require an application that's compatible with Spatial Audio, such as Apple Music, Apple TV+, FaceTime, Netflix, and others. If you have all these requirements set and Personalized Spatial Audio still fails to work, check the next fix.
Activate Spatial Audio Right From The Control Center
You have to turn on Spatial Audio when pairing your AirPods with your device to play a song because it's usually turned off by default. To enable it, you need to tap the toggle manually from the control center to enable the feature. To do that:
Get to the Control Center whether it's on your Mac, iPad, or iPhone.
Bring up more settings by long-pressing the volume toggle. An icon at the bottom should show up if the AirPods are connected. Tap the Spatial Audio icon.
Now enable the Spatial Audio by choosing the Head Tracked or Fixed option.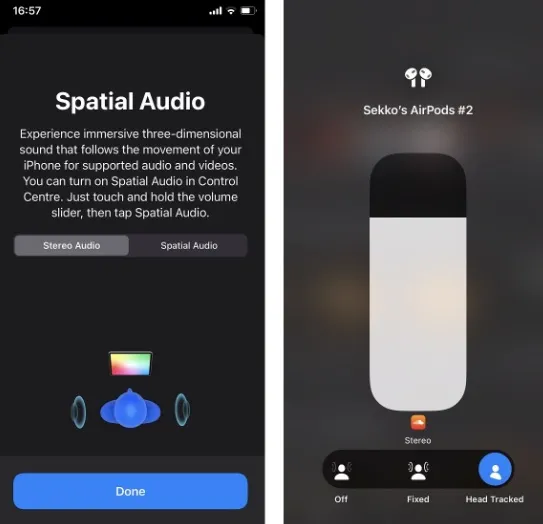 Disable Mono Audio From Accessibility Settings
When the Mono Audio is activated, iPhone usually ends up having a flat, narrow sound that's less dynamic. It's true that Spatial Audio is designed to offer a 3D audio experience, but all said and done, if the Mono Audio is turned on, Spatial Audio won't work. Therefore, the best option is to turn off Mono Audio right from your iPhone's accessibility settings.
Head to the Accessibility option once you open your iPhone's Settings app.
Navigate down and choose Audio/Visual.
Check if the toggle for Mono Audio is enabled. If it is, tap on it to disable it. If it's already turned off, turn it on and then turn it back off. Doing this will make sure that the functionality is really disabled.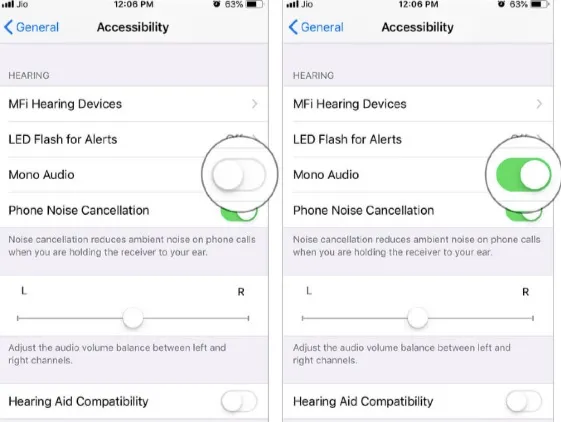 Ensure That Head Tracking Is Turned On
If dynamic head tracking gets turned on, the Spatial Audio for supported TV shows and movies will sound like it comes from the iPhone yet it should follow the head movement.
Launch the Settings app once you have your iPhone home screen unlocked.
Choose AirPods Setting and tap on Accessibility.
Go to Spatial Audio Head Tracking Menu. Disable the Follow iPhone toggle.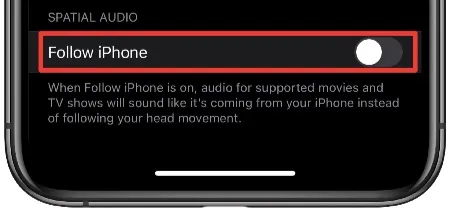 Next, return to your iPhone's Home screen and open the Control Center by swiping up the screen.
Now go to the Volume Bar in the Control Center and force-press it.
The Volume Bar screen may show up with no options or it may only show the Specialised Stereo Fixed option. If it's the first case, then it's because no AirPods are connected to the iPhone. If it's the second case, then it's because Head Tracking is disabled.
Head to the Volume Bar Screen and tap Specialised Stereo Fixed. Now, select Head Tracked.
Disable The Automatic Ear Detection Feature
You can as well solve this iOS 16 Spatial Audio not working issue by disabling Automatic Ear Detection. When you have Automatic Ear Detection turned on, the music will play from the speaker of your iPhone when no AirPods are connected to it. While this feature is indeed helpful, it tends to interfere with the proper functioning of Spatial Audio. Therefore, try to turn it off using these steps.
Tap AirPods Settings once you're in your iPhone's Settings app.
Go to the toggle next to the Automatic Ear Detection option and tap on it to disable the feature.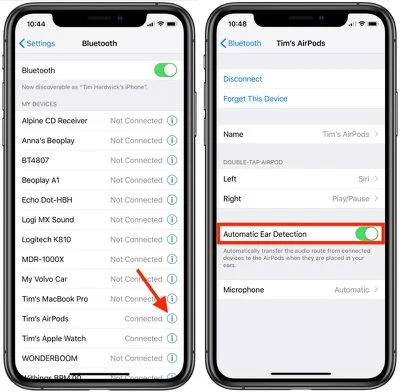 Or you can,
Tap the Bluetooth option in your phone's Settings app.
Head to the (i) icon next to your connected AirPods and select it.
When taken to AirPods Settings, disable Automatic Ear Detection by tapping the toggle beside it.
Now check that Spatial Audio not tracking your head movement is ruled out. If you still experience the same issue, check the next solution.
Disable Bluetooth
Turning off Bluetooth is another method that can fix iOS 16 Spatial Audio not working.
You can do this by heading to your device's Settings app. Find the Bluetooth option. Disable Bluetooth by tapping the toggle that's beside it. When you're done with this, try now to use Spatial Audio again.
Use An App That's Compatible With Spatial Audio
Considering that Spatial Audio is a relatively new feature, not many apps are currently compatible with it. Apple's Music app, for instance, is one of the few apps that actually support it. To put it simply, you can only enjoy Spatial Audio if the app you're using is compatible with it. So, follow these steps to check and confirm that you're indeed using a compatible app.
Launch the app you want and then access the Control Center.
Go to the Volume toggle and long-press it to view more settings.
Reset The AirPods
If the Spatial Audio not working on AirPods Pro problem persists, you can try to reset your AirPods as this may also make a difference. Just follow these steps.
Place the AirPods into their case. Once you do this, it will start charging.
Open the lid of your AirPods case.
Head to the back of your AirPods case and long-press the button that's there for about 15 seconds. Check the front part of the AirPods case. The LED that's there should be blinking white. If that's the case, then release the button.
Close and reopen the AirPods case. A prompt asking you to connect your AirPods to your iPhone will appear.
Connect the AirPods and it should now work as normal.
Update the Firmware of AirPods Pro or Beats Fit Pro
Your AirPods have to be running on the latest firmware in order for them to work with the latest Apple audio features such as Personalized Spatial Audio. Fortunately, AirPods firmware updates happen automatically in the background. You can visit the Apple Support website to check if there's any latest firmware version for your AirPods or even Beats Fit Pro. Compare your AirPods firmware and the latest firmware version available to confirm that they are both newer versions.
Get your AirPods connected to your iPhone.
Open your iPhone's Settings app.
Choose the connected AirPods option or the Beats Fit Pro option.
Navigate down to Version and check the text beside it which is actually your current firmware.
In case your AirPods firmware doesn't match with the latest AirPods firmware, then you just have to wait for your AirPods firmware to be updated automatically in the background. Ensure you always check the firmware version on regular basis to confirm that it's updated.
Update the Device To the Latest iOS 16
You may have the Spatial Audio not working on AirPods Pro simply because your device runs on a previous iOS version. As we mentioned before, the Spatial Audio feature is only available on iOS 14.6. Therefore, your device software version has to be updated for you to enjoy this feature. To install the latest software update on your device follow these steps.
Get to your device's Settings app and open the General menu.
Tap "Download and Install" to get your software updated to iOS 16.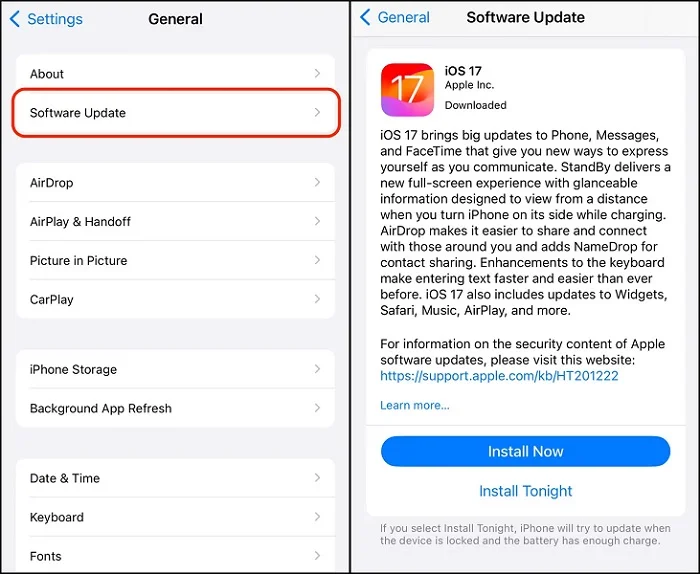 Fix Spatial Audio Failure Caused By Software Issue
If you were unable to resolve Spatial Audio not working on AirPods Pro with any of the above methods, your best option then is FoneGeek iOS System Recovery. This powerful tool is highly reliable when it comes to fixing all kinds of iOS system problems, even iOS 16 Spatial Audio not working. It's able to get down to the source of the problem and easily fix it in no time.
The interface is simple and user-friendly, providing one-click repair including, iOS system repair and device optimization, among others. Besides that, the tool supports all iOS devices (iPhones/iPads/iPods). In general, FoneGeek iOS System Recovery is the best way to deal with Spatial Audio not working on AirPods Pro.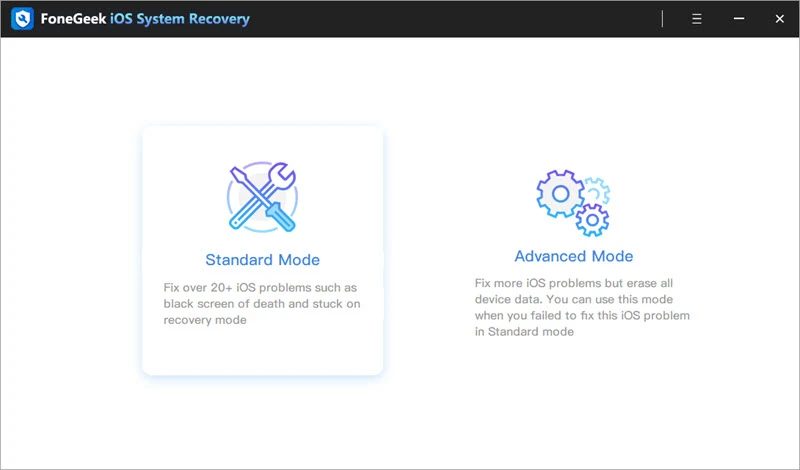 Conclusion
All these methods should help you quickly resolve the Spatial Audio not working on AirPods Pro issue you're facing. However, the ultimate solution we would recommend FoneGeek iOS System Recovery. This powerful tool is simple to use and effectively fixes all iOS issues, including Spatial Audio issues. It does this very quickly. So, if you want to save time and get your Spatial Audio working again in no time, then it's the best option. Give it a try.