Keeping the iOS version up-to-date is crucial to get a smooth and efficient performance on your iPhone. However, there are times when you start downloading an iPhone update, and for some reason, you want to stop it before completing. But there is no pause or stop button for this. So, how to stop iPhone updates in progress?
Although there are no dedicated buttons to stop an iPhone update in progress, you might still be able to do so by following some tricks. Keep reading to find out more!
Part 1. Can I Stop iPhone Update in Progress?
iPhone update happens in two parts: the first part consists of downloading the update, and the second part consists of installation. So your iPhone will first download the update, and then it will complete the installation.
Unfortunately, there is no button like stop or pause that enables you to exit these phases. However, you can still stop the update by temporarily disconnecting from the internet.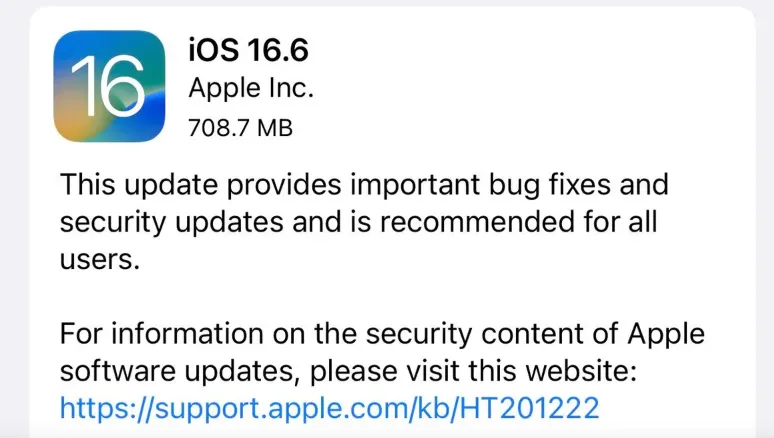 Part 2. How to Stop iOS 16 Update in Progress: 3 Methods
Enable the Airplane Mode
Do you know that all the apps running the background will be stopped when you enable the Airplane Mode on iPhone? Let's follow the steps below to stop the iOS 16 update in progress:
Launch the Control Center of your iPhone by swiping down from the top-right corner on iPhone X or newer (swiping up from the bottom of the screen for older models).
Now find and press the Airplane Mode (plane icon) from the Control Center to turn off the internet.
Now exit the Control Center by swiping the screen up from the bottom or tapping any area of the screen.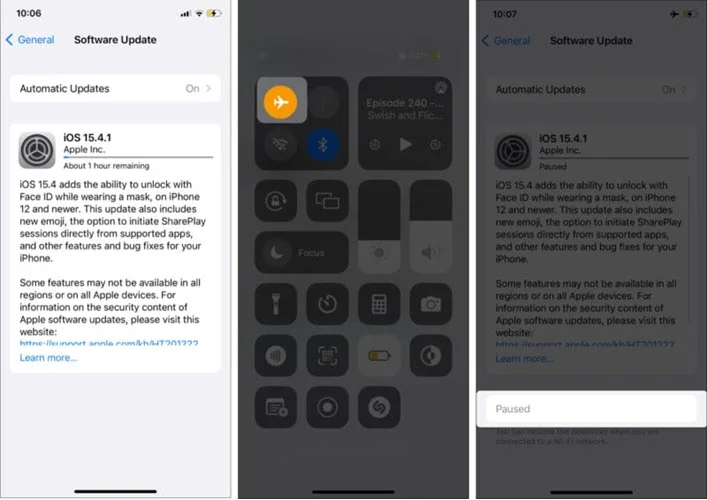 That's it. However, how can you be sure that the download is stopped? Simply go to Software Update from Settings > General. If you see the Download button, then the download is stopped. You can turn off the Airplane Mode after that to start using the internet again.
Delete the Update File
If the iOS update file is downloaded partially or fully, you can still stop the update by following the steps below. The steps are also valid to stop an iPhone update that is started but not finished yet. Here is what to do:
Open Settings > General. Then Go to iPhone Storage.
Locate the iOS update file and click on it. Then press Delete Update.
Press "Delete Update" again on the confirmation popup.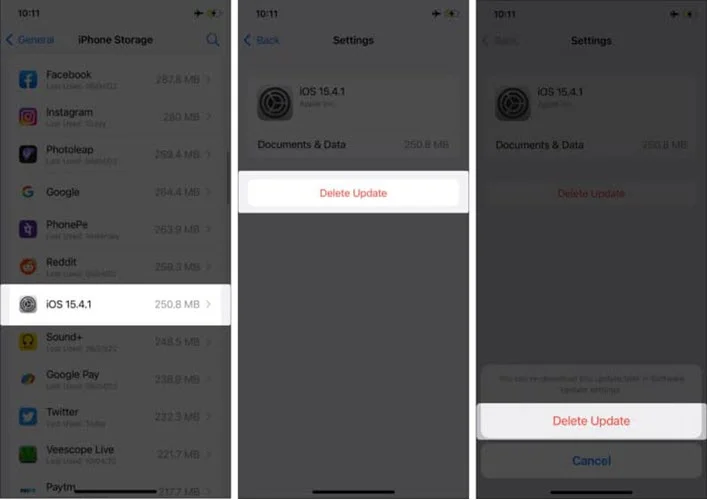 Turn off Automatic iOS Updates
It's pretty easy to turn off automatic iOS updates. Here is what you need to do:
Open Settings > General. Go to Software Update.
Press on Automatic Updates.
Turn off the toggle bar for "Download iOS updates."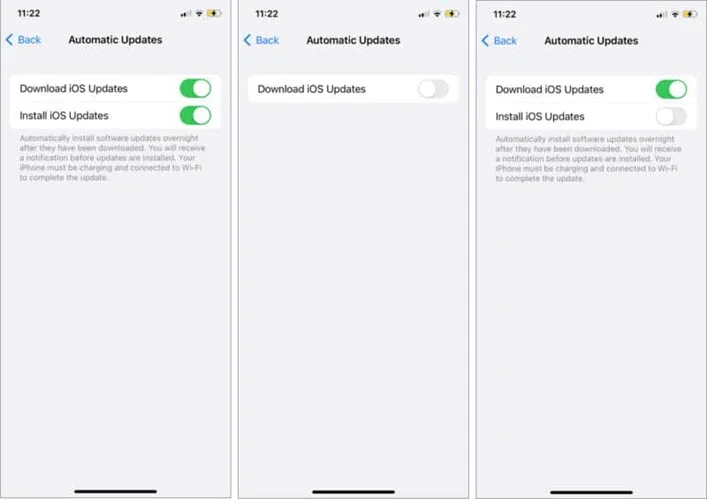 You can also stop automatic iOS updates by leaving the other option on. This will download the updates, but it will not be installed automatically.
Part 3. What Might Happen If I Interrupt the iPhone Update?
When you update your iPhone, you should see "Do not disconnect your device until the update has finished". Even though Apple gives the hint, they don't explain what will happen if the phone is disconnected during the iPhone update.
Interrupting the update can cause severe software corruption and disrupt the normal functioning of the device, ultimately resulting in a bricked iPhone. Some users complained that they cannot return to the home screen after attempting to boot the device following an unsuccessful firmware update.
Part 4. Fix iOS Update Stuck Errors with One Click [Bonus Tip]
If your iOS update is stuck at a certain point, then there might be some issues with the system software of your iPhone. The good news is that you can easily fix the issue using a third-party program like FoneGeek iOS System Recovery. It enables you to get rid of many system-related errors on your iPhone, including stuck on update screens. Le't check more details below:
Fix iPhone black screem, dead screen, iPhone update failure, etc easily.
High success rate of 98% is guaranteed to fix all common iPhone/iPad issues.
Downgrade iOS version without jailbreak the device.
Fully supports all iOS versions and iPhone models.
FoneGeek iOS System Recovery tool is pretty easy to use. Here is how to utilize it to fix the iOS update stuck error.
Step 1: Get the FoneGeek iOS System Recovery for Windows/Mac from its official website and complete the installation. Then select Standard Mode from home page.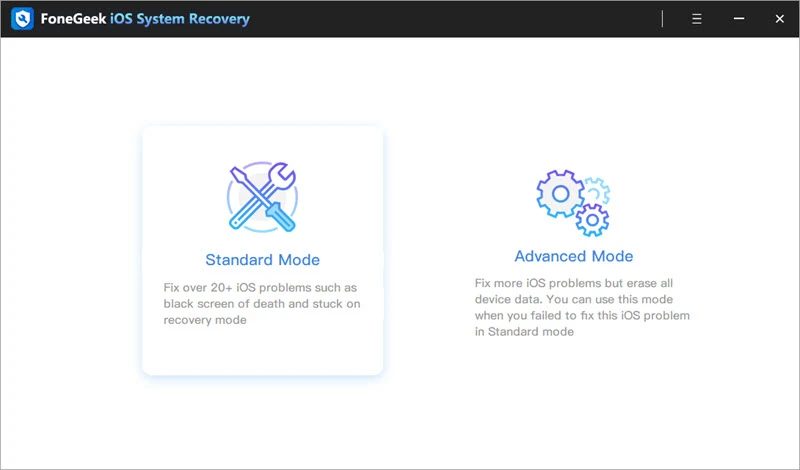 Step 2: The next thing you require to do is to connect your iPhone with the computer through a USB cable. Click Next on the iPhone if a prompt occurs.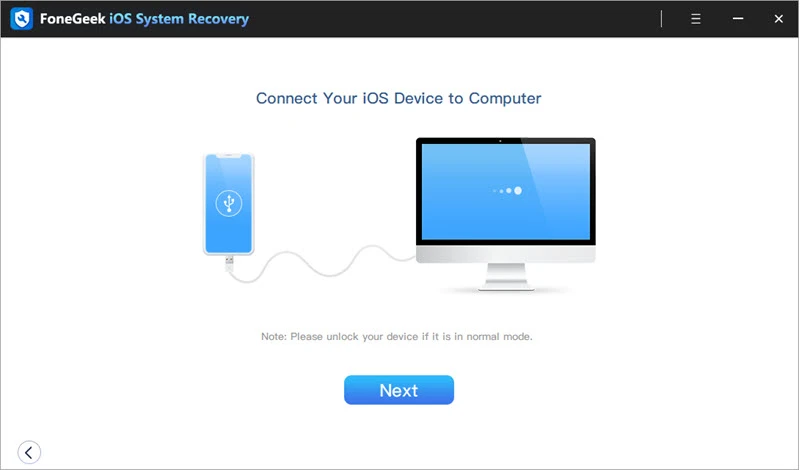 If you don't see the iPhone detected on the FoneGeek app, you must boot the device into Recovery/DFU mode following the on-screen guide.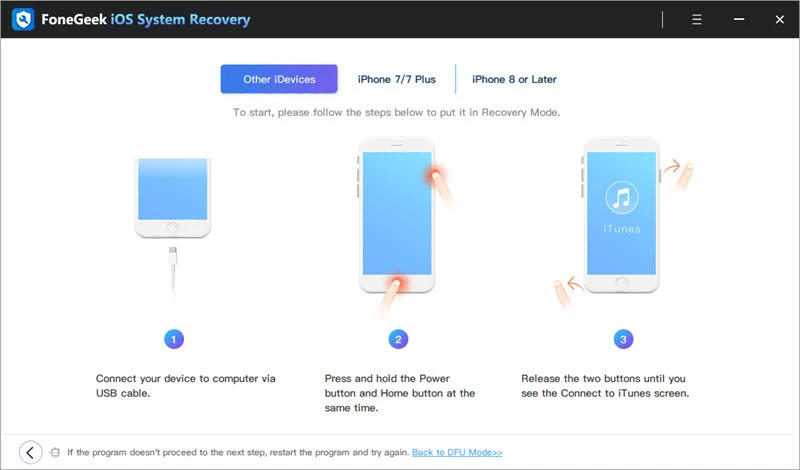 Step 3: Now, you need to select and download the firmware version for your device. Pick the preferred firmware version and tap Download to start the download.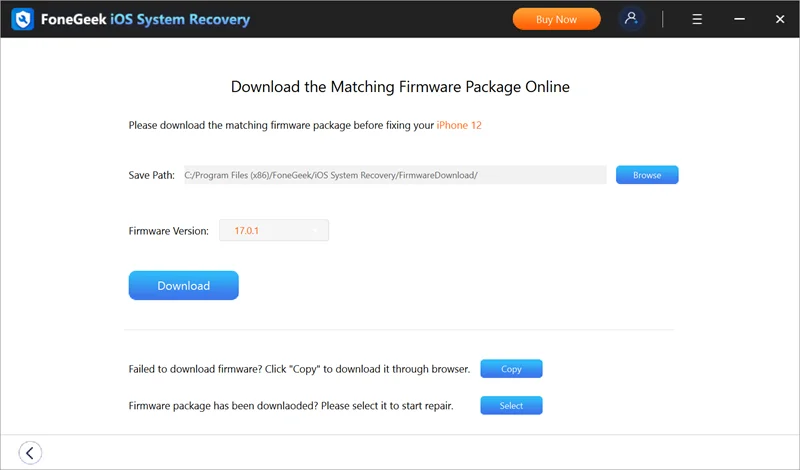 Step 4: Once the firmware download is complete and verified, press Fix Now. Now the FoneGeek app will start fixing your device, and it should return to its normal state within a while.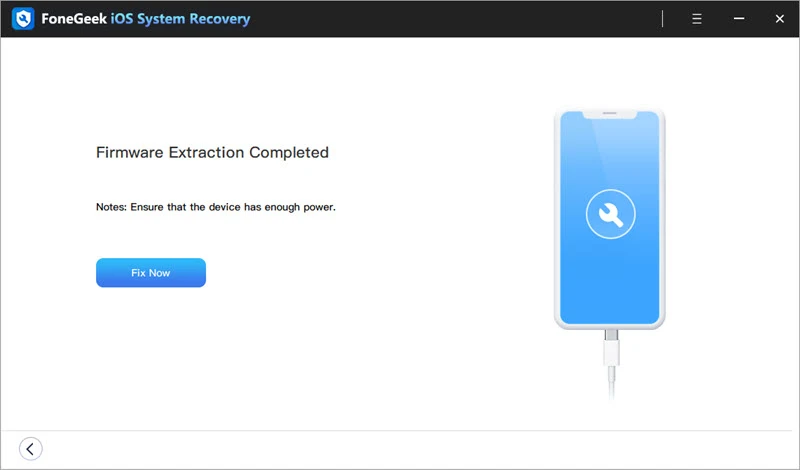 Part 5. FAQs about iPhone Update
How do I update my iPhone wirelessly?
It's pretty easy to update your iPhone wirelessly. Simply plug in your device and connect to the Wi-Fi. Then open Settings > General and go to Software Update. If the update is available, download and install it.
Why won't my iPhone update?
Your iPhone simply won't update when it's yet available. Sometimes you see an update available, but it still won't download or install. It may happen because there is not enough memory on your iPhone. Sometimes the internet connection can also hinder the update.
Can I stop an iOS update while it's installing?
There is no ultimate way to stop an iOS update when the installation process is already started. Attempting to do so will cause problems in your iPhone, which can even leave it in a useless condition. So, it's not recommended to stop an iOS update while installing.
The Bottom Line
iPhone update might be helpful in many ways, but in some situations, you may need to cancel or stop it. We hope the above guide helped you acknowledge the tricks you can utilize to stop an iPhone update in progress. And, if you find the iPhone constantly stuck while downloading or installing the update, consider using the FoneGeek iOS System Recovery to fix the error. Thanks for reading!