Installed iOS 15 or iPadOS 15 on your iPhone or iPad and now want to downgrade back to iOS 14?
You can downgrade the iOS to previous iOS version when Apple keeps signning the previous iOS versions. But in the early time, Apple has closed the download channel of iOS 14. That's to say, you are only allowed to downgrade iOS 15 to iOS 14.8 now.  
iTunes isan essential part when it comes to iOS downgrade. However, errors always occur when we try to downgrade iOS with iTunes. Don't fret, this article can help you downgrade iOS 15 without iTunes.
1. What You Need Know Before Downgrading iOS without iTunes
The most important thing you should take into consideration is to back up the iPhone data before the downgrade process. As you know, all the data on the device will be wiped off when you install the old iOS version of our iPhone. We can back up the iPhone via iCloud and Finder.
How to Back Up iPhone with iCloud
iCloud is a free tool for you. It offers a free 5GB cloud storage for iOS users to back up the iPhone data to iCloud. Below are the steps to back up iPhone with iCloud.
First of all, ensure that your iPhone is connected to a stable WiFi network.
Open the Settings app, click your name and select iCloud options. (If your iPhone's iOS version is earlier than iOS 10.2, scroll down and click on iCloud)
Hit on Back Up and enable this feature.
Then all of the iPhone data will be backed up to the iCloud.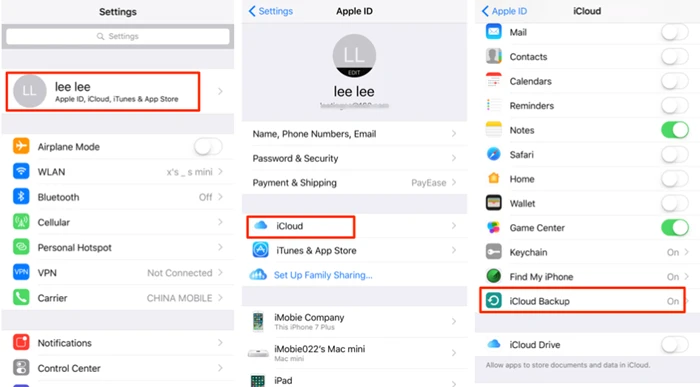 Back Up iPhone with iTunes
Run iTunes and connect the iPhone to computer.
When 'Trust this Computer' pops up on your iPhone, just click on this option.
Click the device icon on iTunes and tap 'Back Up Now'.
When the backup process is done, you will find the backup folder on your computer.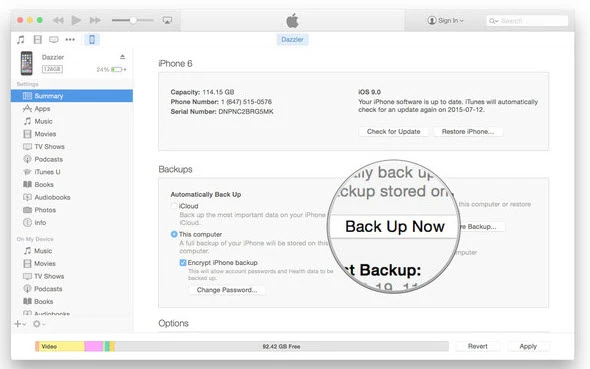 2. How to Downgrade iOS 15 without iTunes
Though Apple officials say that it is almost impossible to downgrade iOS without iTunes, there are still chances helping in downgrading without using iTunes.
Method 1. Downgrade iOS 15 without iTunes via FoneGeek
As an alternative to iTunes, FoneGeek iOS System Recovery is always a great program to upgrade, downgrade or restore iOS system for iPhone, iPad and iPod Touch. Besides, what makes it better than iTunes is that it can not only restore or downgrade iOS version, but also acts as a repair tool to fix all iPhone or iPad issues. Any problems coming large and small can be resolved in one click, including iPhone won't turn on, iPhone stuck in boot loop, iPhone stuck in black screen, touch id problems, etc.
It allows you to downgrade iOS 15 without iTunes in a safe way. Your data is 100% secured, not data will get erased or lost during or after the downgrade process.
Step 1. After downloading and installing this repair tool on your Win or Mac, then run the program.
Step 2. Now using a good quality USB cable to connect the device to computer, and the device will be detected by the repair program. Then click on the "Standard Mode" button.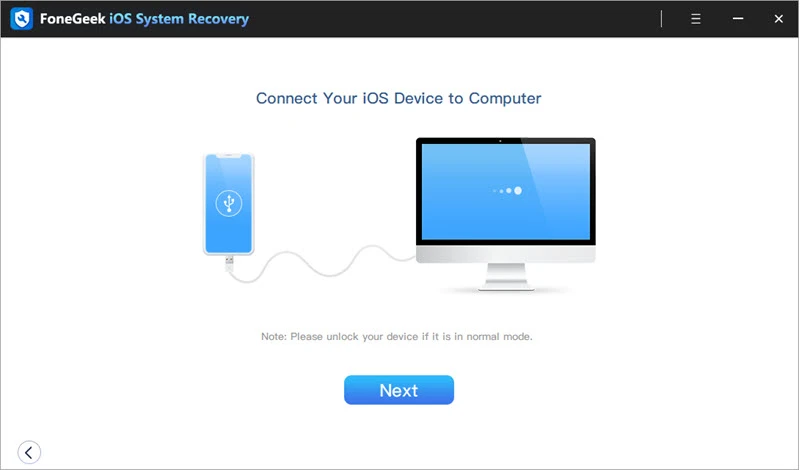 Step 3. Your iPhone is prompted to be boot into DFU mode. First, turn off your device, then press and hold the Volume down button and the on/off button for 8 -10 seconds. Then keep pressing the Volume down button while release the on/off button until the iPhone is successfully put into DFU mode.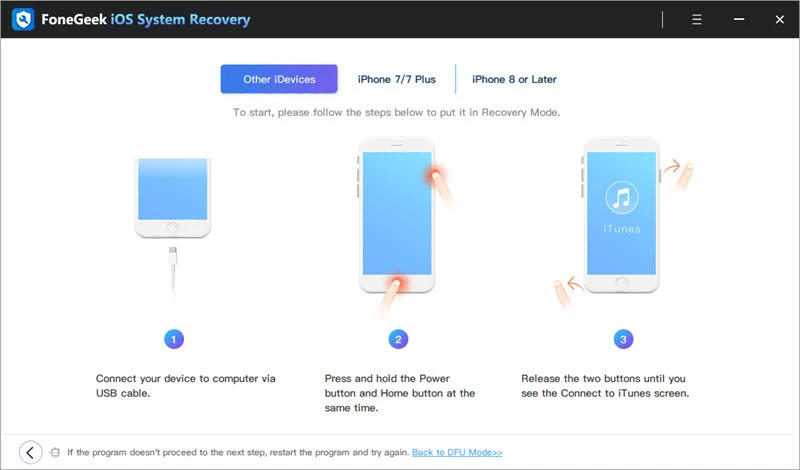 Step 4. Different iOS firmware package will be displayed. Since that you are trying to downgrade iOS 15 to lower iOS versions, you can choose an older iOS version, such as iOS 14.8, then click "Download" button.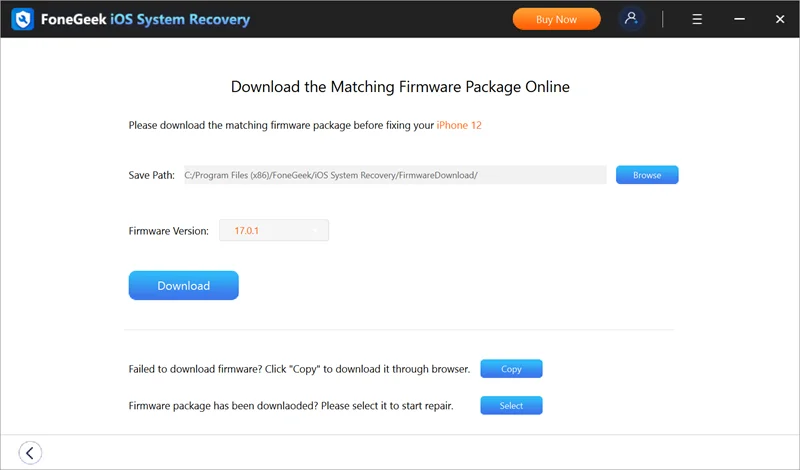 Step 5. When the repair process get started, the iOS 14.8 firmware package will be installed on your iPhone. At the same time, stable network connection is also required in case the process being interrupted. After that process, you will find that your device has been downgraded from iOS 15.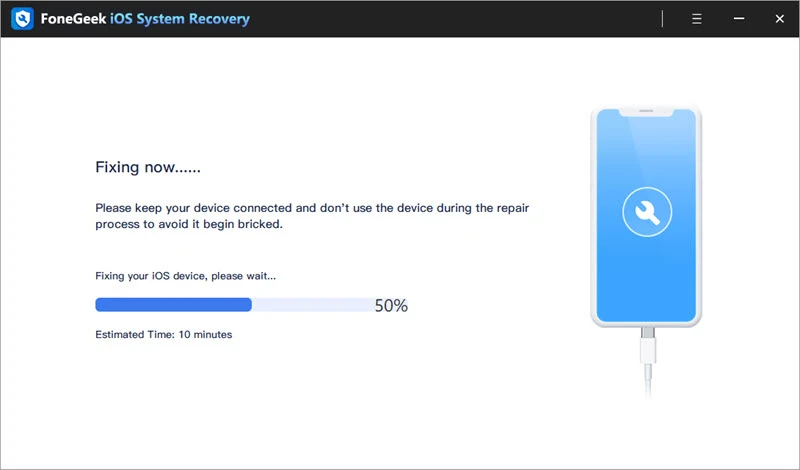 Method 2. Downgrade iOS with TinyUmbrella
The 2nd way is to jailbreak your iPhone to downgrade iOS. However, there is one issue that your iPhone warranty will be in no avail after jailbreaking the device. And the whole process is very complicated. Here are the steps to downgrade iOS without iTunes using TinyUmbrella.
Step 1. Copy the url http://www.ijailbreak.com/ijailbreak-downloads-section/ to download Tiny Umbrella first.
Step 2. Run this tool and get the device connected to PC. The device will be automatically contected.
Step 3. Tap on 'Save SHSH' and 'Start TSS Server' option.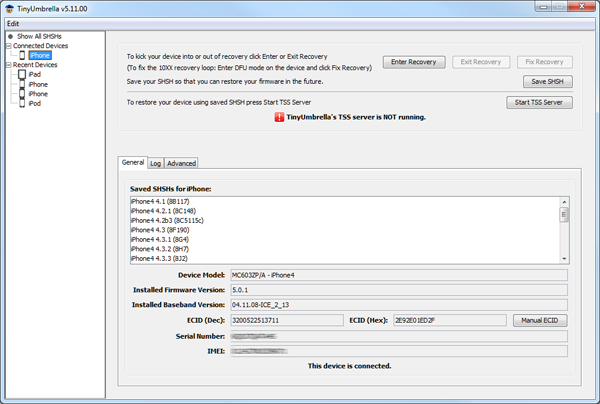 Step 4. Right click on your device button and select 'Exit Recovery' option.
Step 5. Click on 'Advanced' option and uncheck the Set Hosts to Cydia on Exit option. Click on 'Save SHSH' and the downgrade process will get started.
3. Bonus Tips about Downloading from iOS 15
Q1. How do I Restore iPhone Data from Backup after Downgrading
After downgrading your iPhone, you may need to restore iPhone from iCloud backup.
Enter iCloud.com on the browser and enter the iCloud account & password.
On the home interface of the iCloud backup, if you want to restore photos, you can click on 'Photos' first, choose the target photo and click on 'Download' to download them to computer.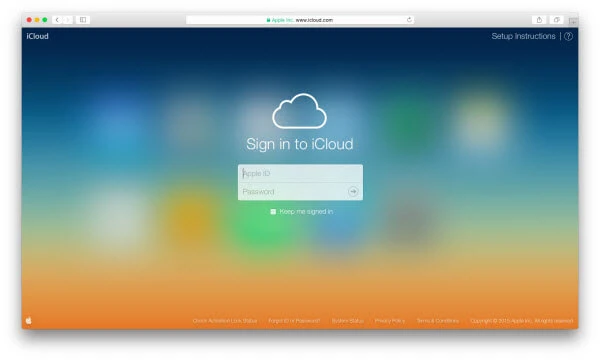 Q2. Can you downgrade iOS without a computer?
NO, it's impossible to downgrade iOS without a computer. Whether we use iTunes or the tools introduced above to carry out the iOS downgrade, we will need a computer.
Q3. What to do if the iOS downgrade gets stuck?
If you are trying to downgrade iOS 15 with iTunes and finally encounter the stuck issue, what will you do? To handle this kind of stuck issue, we recommend you to read the tips in this article to solve this problem. To avoid this problem from the root, FoneGeek iOS System Recovery can be used to downgrade iOS without iTunes or fix all iOS issues.
Wrap Up
You should have a clear idea of how to downgrade iOS without iTunes after going through the methods provided in this article. FoneGeek iOS System Recovery is a simple and amazing program allowing you to downgrade from iOS without any data loss. And it will only take a short time for the downgrade process to complete.

Joan J. Mims is interested in researching all tips about iPhone, iPad and Android. He loves to share useful ideas with all users.

Home
>
iPhone Issues
>[2022] How to Downgrade iOS 15 without iTunes: 2 Methods