Face ID is a exciting new verification method for iPhone, iPad and iPod touch, allowing you to unlock device, sign into apps or authenticate purchases without much effort.
It can really be frustrating if Face ID is not working on your iPhone or iPad. Don't worry, we've got you covered. In this article, you will learn 11 tips to fix this problem and get your Face ID working again.
Make Sure That Your iPhone Supports Face ID
Before we dive into the troubleshooting tips, it is a good idea to make sure that your iPhone or iPad model supports Face ID. The Face ID technology is still new to iPhone and you can only use it on these devices:
iPhone: iPhone 15, iPhone 14, iPhone 14 Max, iPhone 14 Pro, iPhone 14 Pro Msx, iPhone 13 Pro Max, iPhone 13 Pro, iPhone 13 mini, iPhone 13, iPhone 12 Pro Max, iPhone 12 Pro, iPhone 12 mini, iPhone 12, iPhone 11 Pro Max, iPhone 11 Pro, iPhone 11, iPhone XS Max, iPhone XS, iPhone XR, iPhone X
iPad: iPad Pro 12.9-inch (4th generation), iPad Pro 12.9-inch (3rd generation), iPad Pro 11-inch (2nd generation), iPad Pro 11-inch
If your iPhone or iPad supports Face ID but it is malfunctioning, then you can follow the tips below to fix it.
1. Restart Your iPhone
Restarting your iPhone or iPad is the first thing you can try when Face ID is not working. This will give the device a fresh start and remove any small software gliches that could casue this issue.
Press and hold the Side button and either the Volume button until you see "slide to power off". Slide from left to right to turn off your iPhone and wait for some moments, then press and hold the Side button again to turn on the device.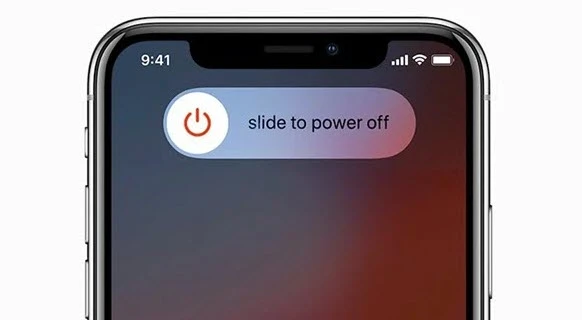 2. Check Your Face ID Settings
When Face ID is malfunctioning, you should check if it is set up correctly. Also, you should check if the features you're trying to use Face ID are turned on.
To do this, navigate to Settings > Face ID & Passcode and enter your screen passcode when prompted. Make sure that Face ID is set up and turn on the features like iPhone Unlock, iTunes & App Store, Apple Pay, etc.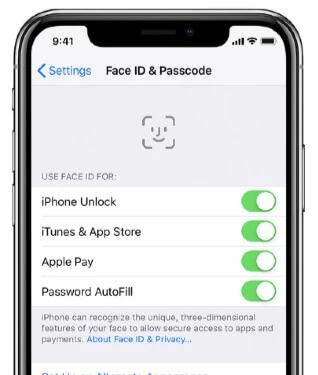 3. Make Sure the TrueDepth Camera and Your Face Is Uncovered
If you have set up Face ID and it is still not working, then you should check to see if the TrueDepth camera is not obstucted. Remove any phone case or screen protector that is blocking the TrueDepth camera.
If anything is covering your face, the Face ID feature will not work properly. Your eyes, nose and mouth should be fully visible to the TrueDepth camera. If you are wearing a face mask, a hat, or sunglasses, take it off and try using Face ID again.
4. Face the TrueDepth Camera Directly
Please note that Face ID only works on iPhone when the TrueDepth camera is in portrait orientation and you're facing it directly. And the iPhone should be 10-20 inches (about an arm's length) from your face for Face ID to work.
5. Clean The Cameras & Sensors On the Front of Your iPhone
Gunk or debris may cover the cameras or sensors used for Face ID and make it malfunction. In this case, you can try clean off the cameras and sensors on the front of your iPhone iwth a microfiber cloth.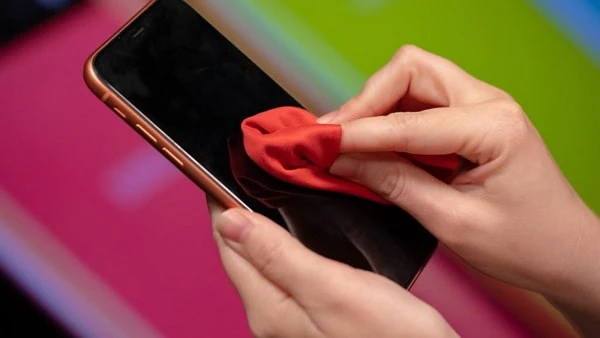 6. Add An Alternate Appearance
Generally, Face ID can recognize your appearance very well. But it may not work if you wear glasses, a hat, or a face mask. Apple has provided a feature "Alternate Appearance" from Settings on iOS 13, allowing you to add an alternative appearance to use Face ID.
Go to Settings, click Face ID & Password and enter your password to confirm the changes. Select "Alternate Appearance" and go through the face scanning process again.
Click "Finish" when the scanning process is finished. In this case, even if your face looks a little different, the chance of Face ID recognizing can still be greatly improved.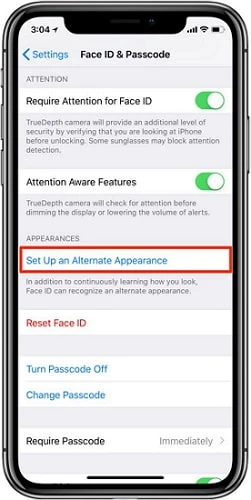 7. "Train" Your iPhone
Usually, when Face ID fails to recognize your appearance after iOS 17 update, the screen of entering the passcode will appear. In this situation, you can slide the screen up and try to unlock the device with Face ID again, but it is not recommended to do that! Because iOS system will record the failed Face ID scanning results. The more wrong results occur, the more accurate the Face ID recognition will be.
So if you've just started using the Face ID, or if your appearance has changed recently, and the Face ID doesn't recognize your appearance, you can use the screen passcode to unlock it. After a few times, you will find that the Face ID is "getting smarter".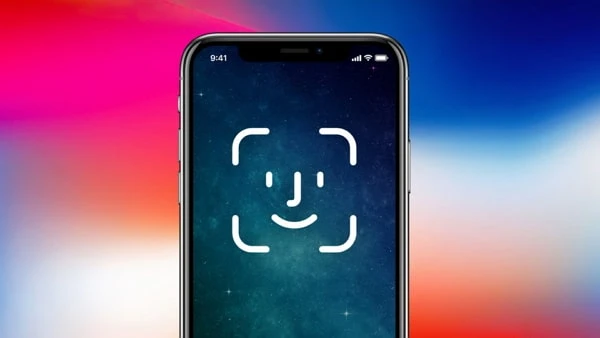 8. Disable "Require Attention for Face ID"
"Require Attention for Face ID" is turned on automatically when you are using a new iOS device. Face ID will verify whether you are looking at the iPhone when unlocking the device. It may sound creepy but it is necessary to prevent strangers from accessing your iPhone.
If you feel that this feature is not useful to you, you can go to the Settings > Face ID & Passcode to disable "Require Attention for Face ID". This will make it easier for your iPhone to recognize your face, especially when you are wearing sunglasses.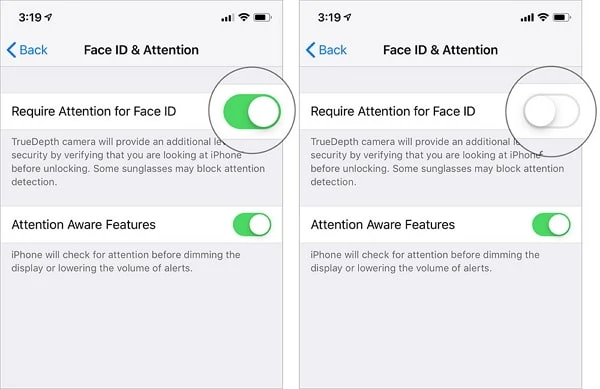 9. Check for iOS Update
You can update your iPhone to the latest version of iOS to fix any software bugs or glitches that could cause Face ID not working.
To check for a software update, just plug your iPhone into power and connect to a good Wi-Fi network, then go to Settings > General and tap on "Software Update". If there is an update available, tap "Download and Install".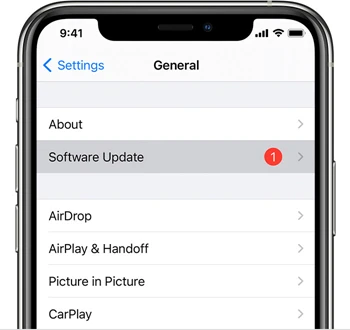 10. Reset Face ID
If you have gone through all the tips mentioned above and Face ID consistently failes, you can try to delete your saved Face ID and set it up again.
To reset your Face ID, open the Settings app and click on "Face ID & Passcode", then tap on "Reset Face ID". Finally, hit "Set Up Face ID" to set it up again.
11. Repair iOS System to Fix Face ID Not Working without Data Loss
The ultimate solution to fix all of your iOS system issues and screen unlocking issues is using FoneGeek iOS System Recovery - a 100% secure iOS system repair program.
Having been downloaded and used by millions of users worldwide and won much reputation of many software authorities, FoneGeek iOS System Recovery is now one of the most safe and reliable repair tool for iPhone/iPad.
If you are facing the issue of Face ID not working, why not try FoneGeek iOS System Recovery?
How to Fix Face ID Not Workong on iPhone without Data Loss
Step 1. Launch FoneGeek iOS System Recovery on your computer, then select the "Standard Mode" from the main interface.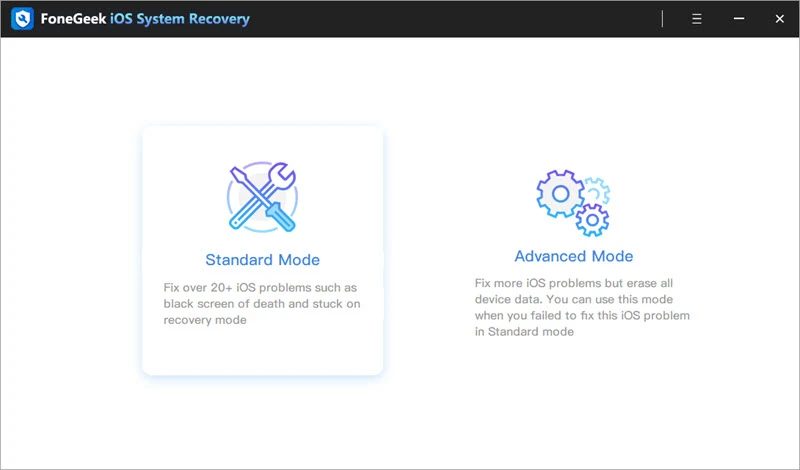 Step 2. Connect your iPhone to the computer using USB cable and click on "Next".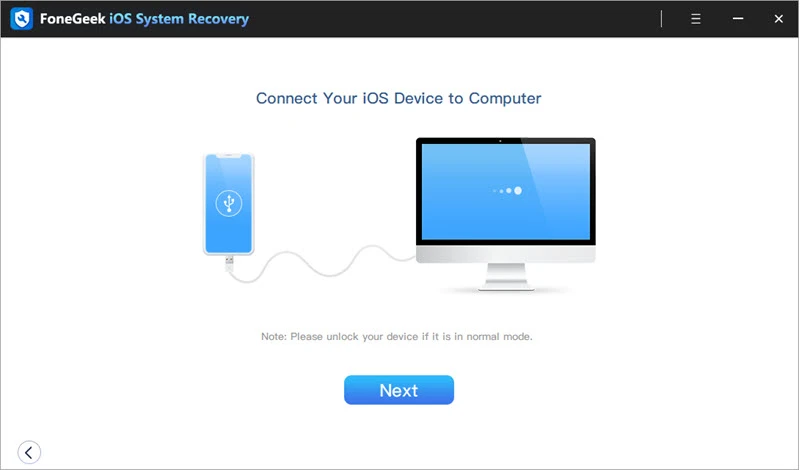 Step 3. Once the device is detected successfully, click "Download" to download the matched firmware package.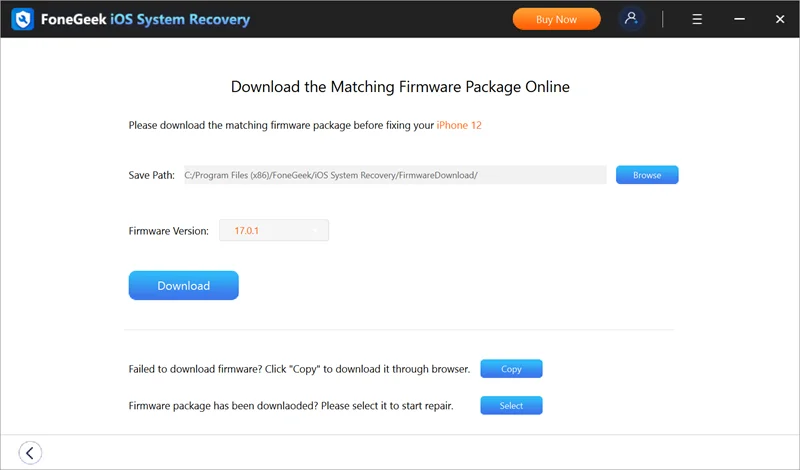 Step 4. When the downloading is done, click "Fix Now" to start the repair. After that, your iPhone will restart and the Face ID will work normally again.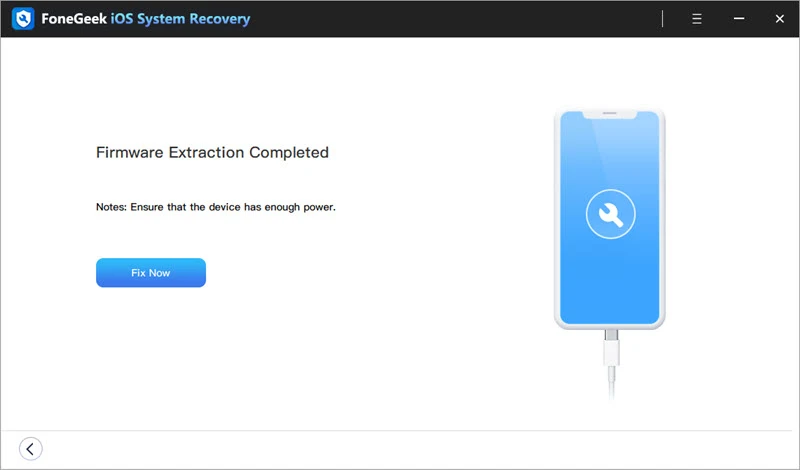 Conclusion
Now you must know how to overcome the issue of Face ID not working on iPhone. If you have tried all of these solutions and your Face ID is still not working, your iPhone may have some hardware problems. You should contact Apple Support to get your iPhone repaired.