Nowadays, the most common communication method is via text messages. However, text issues always occur no matter how good and how expensive the iPhone is. If you have recently come across the issue of 'iPhone not sending or receiving text messages', this article lists different solutions you can try to tackle the issue.
Possible Reasons for iPhone not Sending and Receiving Messages
If the number of SMS service center is set incorrectly or modified, the SMS will not be sent. If the text messages always fail to be sent or received, check if the SMS center number is abnormal.
After the SMS is submitted to the communication carrier, the large amount of SMS sent usually needs to be queued for transmission, and there may be a certain delay, especially during the holidays. If the message contains inappropriate content, the submission may fail and the relevant results will be fed back to the user.
After the SMS is successfully sent to the target phone, the SMS may not be successfully received due to the interception of the mobile phone firewall or mobile housekeeping software.
How to Fix iPhone Not Sending or Receiving Text Messages
1st Solution: Force Quit Message App
The iPhone sometimes will not receive or send text messages for a random glitch on the SMS app. If so, force quit the messaging app will possible get this issue fixed. If you have ever tried to force stop an application on iPhone, here are the steps showing you the detailed steps:
Step 1. Swipe up from the bottom of the screen, then pause to see the applications running background.
Step 2. Find the message app and swipe up to force quit this application.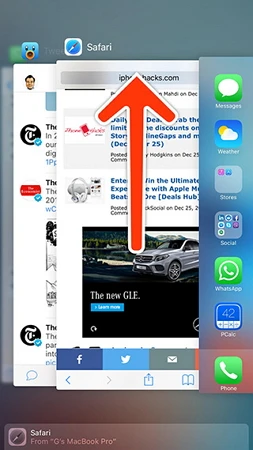 Keep reading if this way is still not working.
3rd Solution: Check Network Connection
To send a message as an iMessage or MMS message, the device should be connected with cellular data or a Wi-Fi connection. To send a text message, the device should be connected with cellular network. So if the network is not set properly, the iPhone will also fail to send or receive text messages. It is important to reset network settings to ensure a stable network connection.
Step 1.. Open the "Settings" app on the main screen of iPhone.
Step 2.. Click "General" and slide down to the bottom and click "Reset".
Step 3.. Then you can see 6 options for reset. Select 'Reset Network Settings'. After pressing this feature, the system will ask for the passcode to confirm the reset process.
Step 4.. After resetting the network, the device should reboot and you can send a text now.
4th Solution: Disable LTE or Use it for Data Only
To check whether the messaging problem is due to LTE
Step 1.. Launch Settings and select 'Cellular'.
Step 2.. Click LTE then tap 'Off' or "Data Only".
Step 3.. Now restart the device to check whether you can successfully send messages.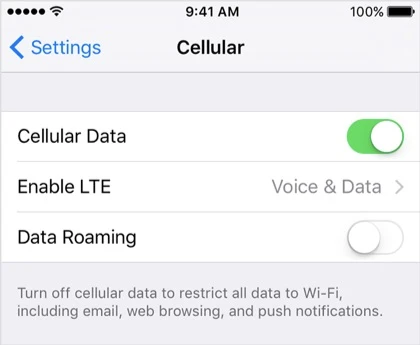 5th Solution: Update Carrier Settings to Fix iPhone not Receiving Texts
Your iPhone still cannot send or receive text messages after trying the above 4 methods? The next way you can use is to update carrier settings as the steps below:
Step 1.. Go to Settings > General on iPhone settings.
Step 2.. Click About to check if the Carrier settings needs to be updated. If the new update is available, tap on the 'Update' option.
6th Solution: The Most Recommended Way to Fix iPhone not Receiving Messages
The issue of iPhone not sending or receiving text messages can be the result of various factors. If you have gone through all potential fixes and the issues still remains afterwards, you may have wasted a long time. Then what to do next?
A 3rd-party software called iOS System Recovery is highly recommended in the last part. FoneGeek iOS System Recovery has been downloaded for more than 1 million times for now and won the reputation from PC Advisor and PC World. This program can easily detect any issues on your iPhone/iPad/iPod Touch and fix it however complex the issue is. And you don't need to worry that you data will be lost after fixing the issue, as the program will not damage your device data. So it is 100% safe and secure to use this repair tool.
iOS System Recovery: One Click to Repair Your iPhone
Any iOS issues you encountered can be resolved: iPhone not sending or receiving messages, iPhone screen flickering, iPhone stuck on verifying update, iPhone call volume low, text sound not working, etc.
iTunes errors such as error 27, error 9, error 4005, etc could also be fixed with the tool.
Remove screen passcode for locked/disabled iPhone, iPad, iPod Touch.
No data loss after the fixing process.
Fully compatible with iPhone 12/11/XS/XR/XS Max, iOS 14, iOS 13, iOS 12, iOS 12.1, iOS 12.2, etc.
How to Repair 'iPhone Not Receiving Text Messages' Without Data Loss
Step 1. Download and launch FoneGeek iOS System Recovery, and select 'iOS System Recovery'.
Step 2. Connect the iPhone to computer and click 'Start' tab.
Step 3. After successfully putting iPhone into DFU mode, click 'Repair' button and the repair program will detect and fix the messaging issue on iPhone.

As a professional writer who is interested in technology, Edwin J. Parke has helped thousands of users by offering various tips to solve their problems.

Home
>
iPhone Issues
>6 Ways to Fix iPhone Not Sending or Receiving Text Messages (100% Working)