7 Tricks to Fix iPhone Running Slow after iOS 14 Update
Edwin J. Parke
Last updated: Monday on Feb 01, 2021, 14:02:48
iPhone Issues
"Until a few days ago my iphone was great. Then I updated to iOS 14. I had heard that this update would fix the problem of iPhones running slow though I had never experienced that. Has anyone else experienced this? Is this a quick way to fix it?"
On September 20, 2020, Apple released the new iOS 14 operating system. After that, there were numerous Apple users saying that their iPhone running slow, stuck, and shut down after the the system is upgraded. You may also encounter such errors if you are ready to install the new-released iOS 14. Nevertheless, this kind of iOS 14 issues will not let you down from now on. In this article, we will discuss this issue of iPhone running slow after iOS 14 update and explore all the possible solutions.
1. The Fastest Way to Fix iPhone Running Slow Without Data Loss
Actually, this kind of iPhone running slow issue is always the result of software errors after iOS upgrade. The device will not respond in time for this issue. Luckily, FoneGeek iOS System Recovery is designed to get any iOS devices with issues to normal. This program is currently the preferred choice of millions of users. Read the features below to have the in-depth knowledge of this iOS System Recovery.
FoneGeek iOS System Recovery: Fix Any iOS System Issues
Any iOS device with various issues such as iPhone is stuck in Recovery mode, DFU mode, Apple logo, iPhone not sharing wifi password, frozon issues, etc. can be fixed with the fasted speed and highest success rate.
Any iTunes errors including iTunes error 9, 3194, 54, etc. could also be resolved in one click.
It is 100% safe to use this tool. No data will get lost after the fixing process.
Steps to Fix iPhone Running Slow after iOS 14 Update with FoneGeek iOS System Recovery
Step 1. Launch this program after downloading it on your computer. Afterwards, connect your iPhone to the computer using USB cable. 
Step 2. Choose "Repair Operating System" and the program will detect the device information after you entering the device into DFU mode. Then you need to choose the corresponding firmware package to fix your device.
Step 3. Click the "Download" button and the program will download the latest firmware to fix the slowing bug for iOS devices.
2. Reboot to Speed Up iPhone
Simply restart iPhone is another easy way to fix most of the iOS issues you met. Once force restart the device, it may perform better than before.
If your iPhone is iPhone 8 or earlier versions, then press and hold the side button to turn off the device. Then press and hold the top button to restart the device.

If your iPhone is iPhone X or newer versions, then keep pressing the side button to turn off the device. Then press the side button again to turn it on.
3. Clear iPhone Cache to Speed Up iPhone
After installing an app on iPhone, the app cache and the app data will be saved on your iPhone when you are using this application. However, the more frequently you use the app, the larger size of the app data will be stored, which may result in iPhone running slow. This clear the iPhone cache and data regularly will definitely improve your iPhone or iPad performance.
Head over to Settings on your iPhone, click General and then iPhone Storage.

Find the application that occupy a large space them click the apps and delete the cache.
4. Update Apps Version to Fix iPhone Running Slow Issue
Sometimes, the installed apps on iPhone with old system versions will affect the iPhone performance, as these apps may not be compatible with the new released iOS 14 version. Thus, update the versions of all apps is an urgent mission to us.
It only takes a few seconds for that. Go to Apple Store and click the option of "Update All". After that, all the apps will be updated to the newest version.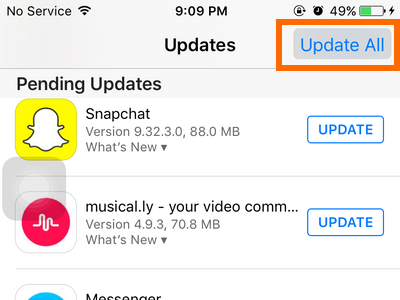 5. Turn Off Siri Suggestions and Siri Look Up
The issue of iPhone running slow after iOS update could also be fixed by turning off the feature of Siri Suggestions and Siri Look Up. This feature can always prevent the iPhone from using the full potential. Therefore, disabled this feature could be used to speed up the device. Try the steps below:
Go to Settings on your iPhone and scroll down to click "Siri & Search".

Then turn off the 2 features of "Suggestions in Search" and "Suggestions in Look Up".
6. Disable Background App Refresh
If Background App Refresh feature is turned on, the application content on iPhone will be refreshed automatically when the device is connected with WiFi or cellular data, which may ultimately affect the iPhone performance and make it running slow. Thus it will be necessary to disable this feature from Settings.
Run Settings app from the home screen, then click General to turn off "Background App Refresh" feature.
7. Factory Reset Your iPhone (Not Recommended)
Here is the last choice you can try if the above solutions didn't work and your iPhone is still running very slow. However, factory reset your iPhone is not that recommended, as this action will erase all the settings and data stored on your iPhone. If you have no other choices but reset your iPhone, then use iTunes or iCloud to back up the iPhone data first. This will avoid data loss.
To factory reset iPhone, go to Settings > General > Reset and select "Erase All Content and Settings". Then you will be prompted to enter the passcode to factory reset your iPhone.
Above are almost all the solutions you can use to fix your iPhone running slow after iOS 14/13 update. You can go through these methods one by one to get this issue fixed. To save your time, FoneGeek iOS System Recovery can be used to fix this issue with the fastest speed and highest recovery rate.

By Edwin J. Parke
Posted on Apr 04, 2019, 11:12:47
As a professional writer who is interested in technology, Edwin J. Parke has helped thousands of users by offering various tips to solve their problems.