Apple has released the new iOS 16 operating system and there were numerous Apple users saying that their iPhone running slow, apps not responding or loading, apps freezing, and more after update.
If you notices that your iPhone start going sluggish after upgrading to iOS 16, you're not alone. In this article, we will discuss the issue and explore all the possible solutions to make your iPhone work more efficiently.
Why Is My iPhone So Slow after iOS 16 Update?
While software updates are designed to improve performance, they can also cause new issues to arise. Here are some of the most common reasons why your iPhone might be slow and how to fix them:
Running out of storage space: Over time, your iPhone can accumulate a lot of unnecessary files and apps that take up space and slow down your device. To free up space, you can delete apps you no longer use, clear your cache, and transfer photos and videos to your computer.
Outdated software: If you're running an outdated version of iOS, your iPhone may not be able to handle the latest features and apps. Make sure you have the latest version of iOS installed.
Poor network connection or weak Wi-Fi signal: If your iPhone is having trouble connecting to the internet, it may be running slower than usual. Try turning off Wi-Fi and using cellular data, or vice versa, to see if that helps.
Exposure to extreme weather: iPhones are designed to work within a specific temperature range. If your iPhone has been exposed to extreme heat or cold, it may be running slower than usual. Try to keep your device at a normal temperature to prevent performance issues.
Suboptimal settings: Your iPhone's settings can also impact its performance. For example, features like motion and brightness displays can drain your battery and slow down your device. Adjust your settings to optimize performance and conserve battery life.
Deteriorating battery: Over time, your iPhone's battery may begin to deteriorate, which can cause your device to slow down.
Performance management: Some iPhone models may be impacted by Apple's performance management feature, which is designed to prevent unexpected shutdowns. If your iPhone is running slower than usual, check to see if performance management is enabled by going to Settings > Battery > Battery Health.
iPhone Running Slow after Update, How to Fix?
To fix these issues, you can try the following tips:
Tip 1. Force Reboot Your iPhone
Force restart iPhone is an easy way to fix most of the iOS issues you met. Once force restart the device, it may perform better than before.
For iPhone 8 or later, press and quickly release the volume up button, then do the same with the volume down button. After that, hold down the power button until you see the Apple logo.
For iPhone 7 or 7 Plus, press and hold the volume down button and the side button at the same time until the apple logo appears.
For iPhone 6s or earlier, press and hold the home button together with the power button until the Apple logo shows up on the screen.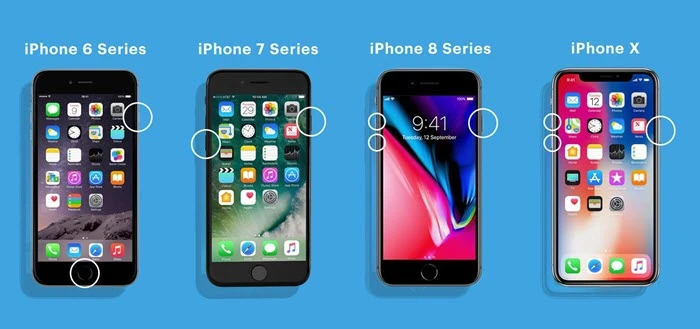 Tip 2. Delete Unnecessary Apps and App Caches
After installing an app on iPhone, the app cache and the app data will be saved on your iPhone when you are using this application. However, the more frequently you use the app, the larger size of the app data will be stored, which may result in iPhone running slow.
In this case, we suggest you to delete the apps you no longer need any more. For the apps you used every day, clear the caches will definitely improve your iPhone performance.
Head over to Settings on your iPhone, click General and then iPhone Storage.
Find the application that occupy a large space them click the 'Offload App' to delete the cache.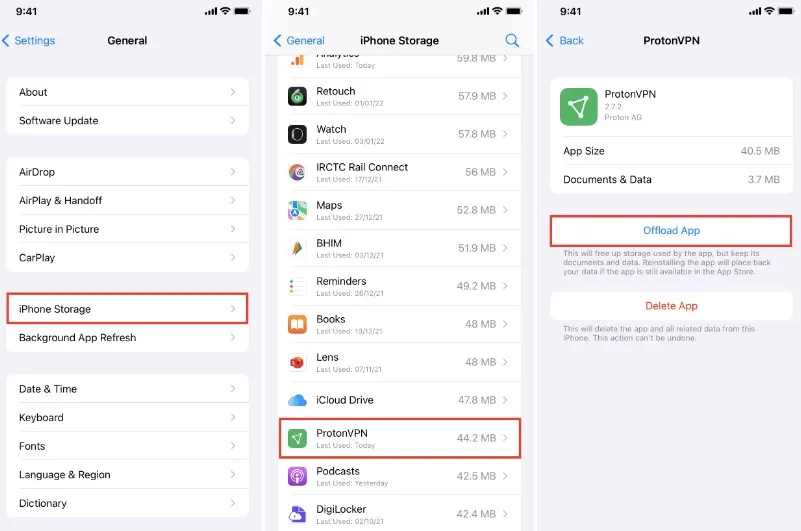 Tip 3. Clean Up Your iPhone Storage
Usually, your iPhone must have at least 1GB of free storage to perform normally. If your iPhone is running slower than usaul, you'd better check it's memory space and if necessay, delete some useless files to free up some space.
To check your iPhone's storage, go to Settings > General > Storage > Manage Storage. Delete anything like old messages, videos, photos and other files that you don't need. Then your iPhone should run smoothly again.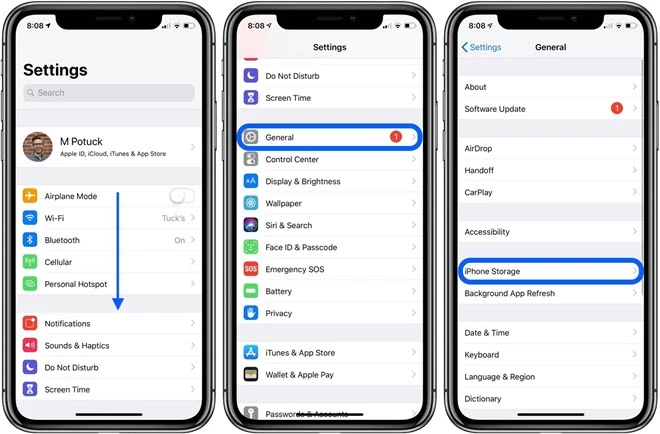 Tip 4. Turn Off Low Power Mode
Low power mode has also been known to significantly slow down an iPhone. So, once your device has been sufficiently charged, you might want to turn off Low Power Mode.
You can do that by simply opening the settings app, tapping on the "Battery" and then turning off the switch next to "Low Power Mode".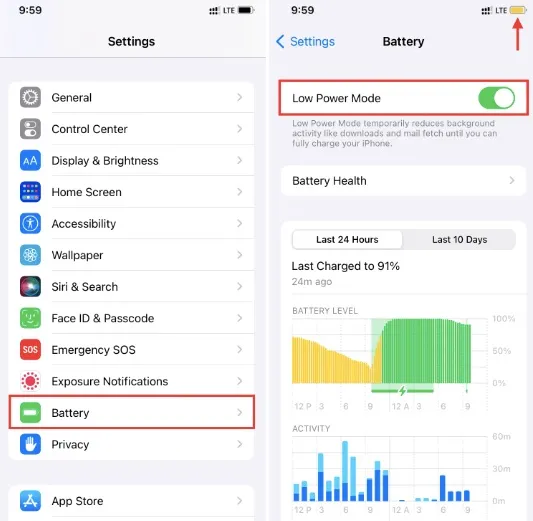 Tip 5. Turn off Location Services
If an app doesn't require location services, you can turn off its access to location services to improve the device's performance. While there are apps that need location services to function such as Maps and red-sharing apps, you can enable location services for these apps only when you need them.
To turn off location services, use these steps;
Go to Settings on your device and click on "Privacy & Security > Location Services".
Tap on a specific app to set its location permissions. You can set it to "Ask Next Time", "When I Share" or "When Using the App".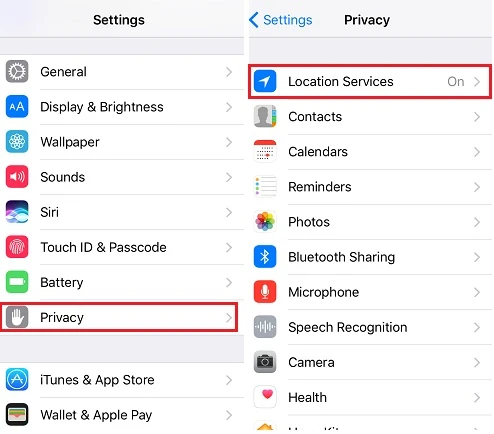 Tip 6. Remove Widgets from Home Screen
Too many widgets on the Home Screen can also significantly affect the iPhone performance. Fortunately, it is very easy to get rid of some of the widgets you don't need.
Simply locate the widget, tap and hold on it and then select "Remove Widget".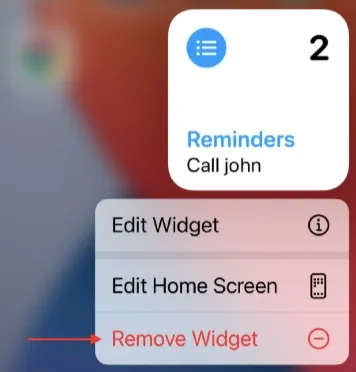 Tip 7. Disable Automatic Downloads
This will help reduce the amount of work your device needs to do just to keep running and you can always manually update these resources when needed.
So go to Settings > App Store and disable Automatic Downloads and updates for apps and other content like books and music.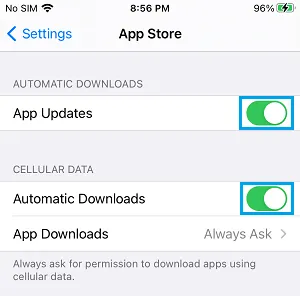 Tip 8. Turn Off Siri Suggestions and Siri Loop Up
The issue of iPhone running slow after iOS update could also be fixed by turning off the feature of Siri Suggestions and Siri Look Up. This feature can always prevent the iPhone from using the full potential. Therefore, disable this feature can help to speed up the device. Try the steps below:
Go to Settings on your iPhone and scroll down to click "Siri & Search".
Then turn off the 2 features of "Suggestions in Search" and "Suggestions in Look Up".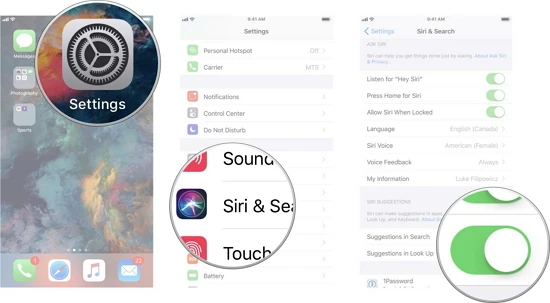 Tip 9. Disable Resource-Hogging Features
If Background App Refresh feature is turned on, the application content on iPhone will be refreshed automatically when the device is connected with WiFi or cellular data, which may ultimately affect the iPhone performance and make it running slow.
Thus it will be necessary to disable this feature from Settings. Run Settings app from the home screen, then click General and turn off "Background App Refresh" feature.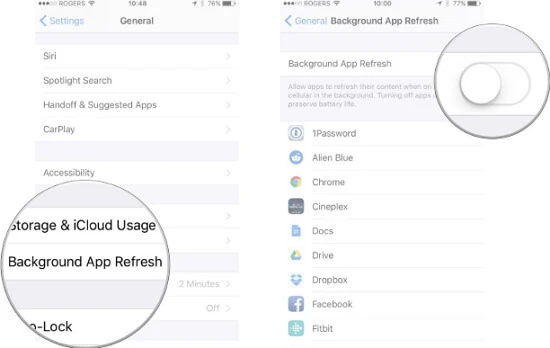 Other resource-hogging features like location services might also slow your iPhone. So you can head to Settings > Privacy > Location Services to disable it.
Tip 10. Manage iPhone's Temperature
Temperature extremes can cause your device to slow down as it tries to adjust to the new temperature conditions.
Therefore if you find that your iPhone is either too hot or too cold, try to bring it to an optimum temperature and the performance issues will stop.
Tip 11. Check the Network
If you notice that your device is running slow when you are trying to get an app to connect to the internet, the issue may be the network you are trying to connect to.
Try connecting the device to a different network to see if this will solve the problem.
Tip 12. Remove Phone of Malware
When your iPhone is affected by malware, its functions are hindered and one consequence may be low performance. Your device may have been infected by malware when you choose to jailbreak it and install apps from sources other than the App Store.
You can remove malware from your device by restarting, clearing the cache and browser history, or performing a factory reset.
Tip 13. Update Your Apps
Sometimes, the installed apps on iPhone with old versions will affect the iPhone performance, as these apps may not be compatible with the new released iOS 16 version. Thus, update the versions of all apps is an urgent mission to us.
It only takes a few seconds for that. Go to App Store and click the option of "Update All". After that, all the apps will be updated to the newest version.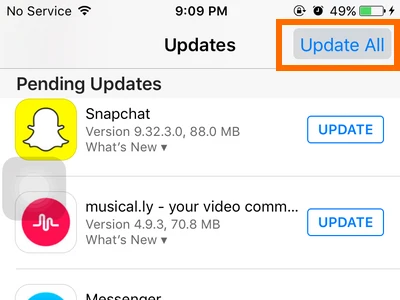 Tip 14. Install Any Update If Available
Apple often release subsequent iOS updates to introduce a number of bug fixes and performance improvements. If your iPhone started to slow down after upgrading to iOS 16, install any new update available for your device.
To do it, head to Settings > General > Software Update and tap on "Download and Install" if any new update is available.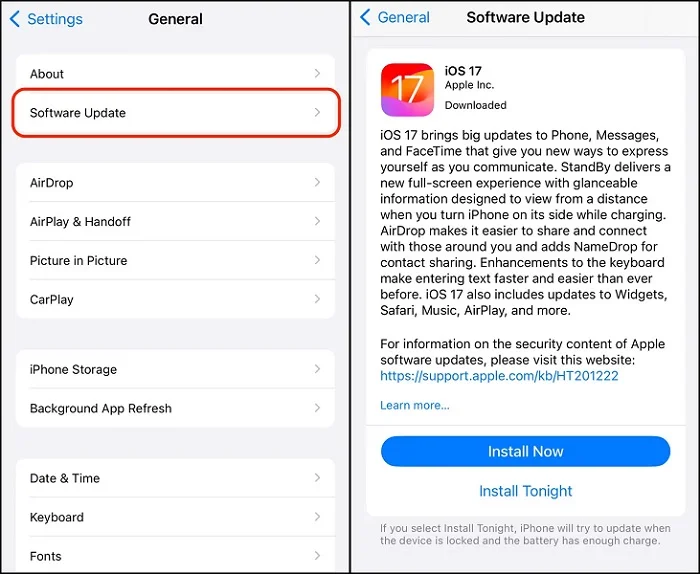 Tip 15. Factory Reset Your iPhone (Not Recommended)
Here is the last choice you can try if the above solutions didn't work and your iPhone is still running very slow. However, factory reset your iPhone is not that recommended, as this action will erase all the settings and data stored on your iPhone. If you have no other choices but reset your iPhone, then use iTunes or iCloud to back up the iPhone data first to avoid data loss.
To factory reset iPhone, go to Settings > General > Reset and select "Erase All Content and Settings". Then you will be prompted to enter the passcode to factory reset your iPhone.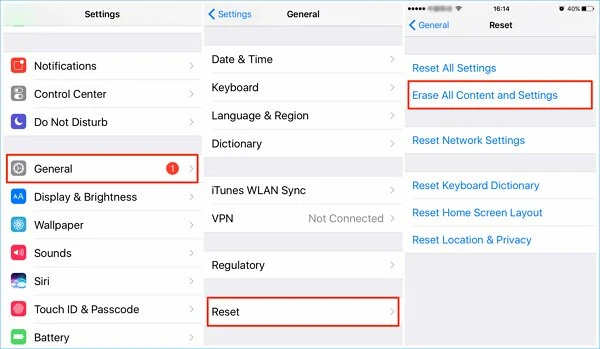 One-Click to Fix iPhone Running Slow withtout Data Loss
Actually, this kind of iPhone running slow issue is always the result of software errors after iOS 16 upgrade. The device will not respond in time for this issue. Luckily, FoneGeek iOS System Recovery is designed to get any iOS devices with issues back to normal. This program is currently the preferred choice of millions of users. Read the features below to have the in-depth knowledge of FoneGeek iOS System Recovery.
FoneGeek iOS System Recovery: Fix Any iOS System Issues
Any iOS device with various issues such as iPhone is stuck in Recovery mode, DFU mode, Apple logo, iPhone not sharing wifi password, frozon issues, etc. can be fixed with the fastest speed and highest success rate.
Any iTunes errors including iTunes error 9, 3194, 54, etc. could also be resolved in one click.
It is 100% safe to use this tool. No data will get lost after the fixing process.
It works well with all iOS versions and iPhone models, including the newest iOS 16/15 and iPhone 14/13/12.
Steps to Fix iPhone Running Slow after iOS 16 Update with FoneGeek iOS System Recovery
Step 1. Launch this program after downloading it on your computer. Afterwards, choose the "Standard Mode" to continue.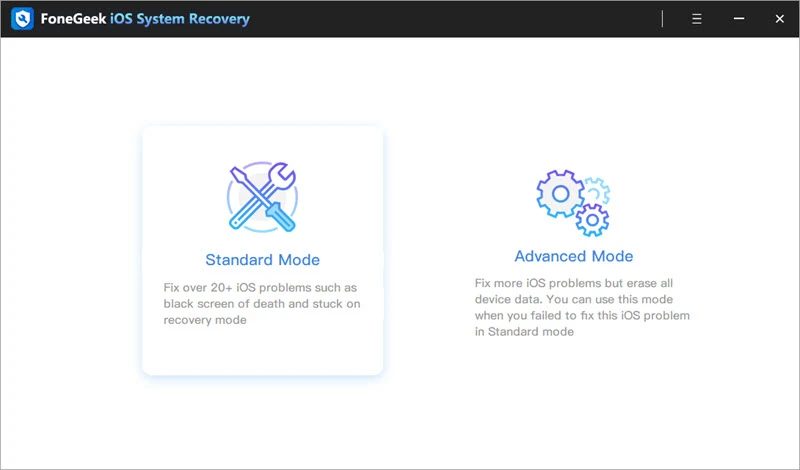 Step 2. Connect your iPhone to the computer using USB cable and the program will detect the device immediately.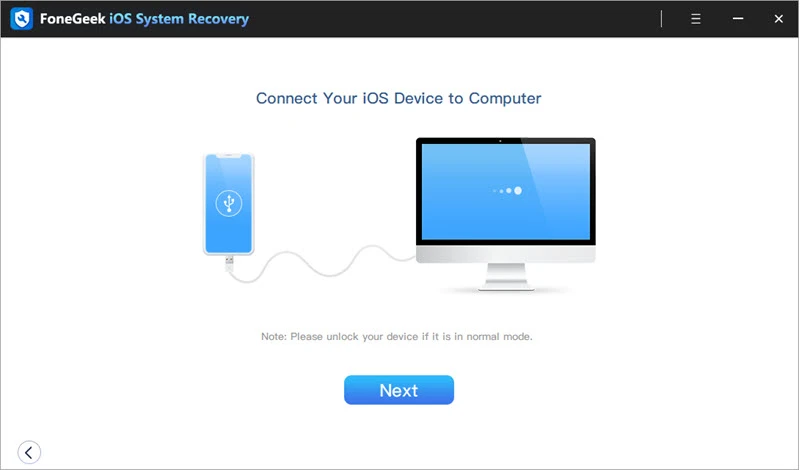 Then you need to choose the corresponding firmware package and click on "Download".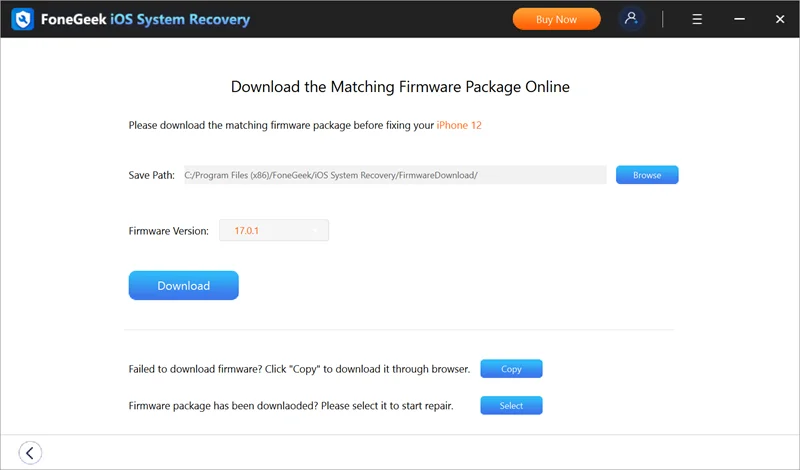 Step 3. After the firmware package is downloaded, click on "Fix Now" and the program will start to fix the slowing bug for your iPhone.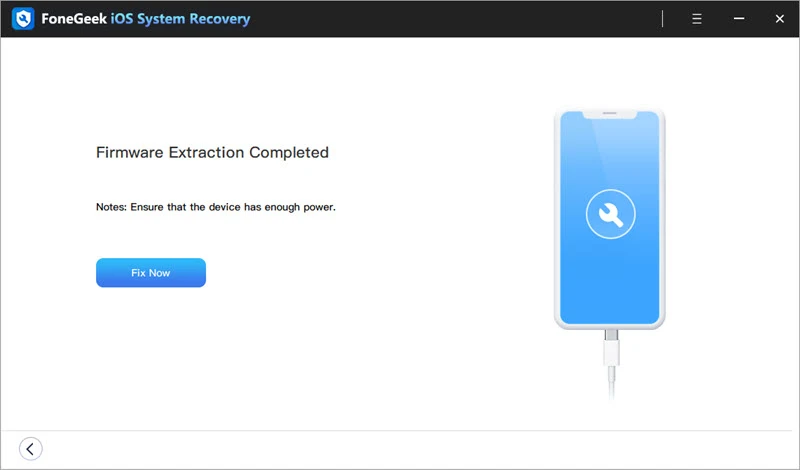 The Bottom Line
Above are almost all the solutions you can use to fix your iPhone running slow after iOS 16 update. You can go through these methods one by one to get this issue fixed. To save your time, FoneGeek iOS System Recovery can be used to fix this issue with the fastest speed and highest recovery rate.