Resetting networking settings effectively solves many network connection issues such as Wi-Fi disconnecting frequently, iPhone network not working, Bluetooth not working, etc.
However, while it may be a viable solution, not many users know the nitty-gritty of resetting network settings. For instance, what happens if I reset network settings? What does it do? These are just some of the questions that not many users can answer.
Luckily, we'll tackle all these questions and more in this article to ensure you're better informed before resetting your iPhone's network settings. Let's get started.
When Should You Reset Network Settings?
You can reset network settings on your iPhone to fix problems in certain situations, such as;
When your Wi-Fi keeps disconnecting, you must constantly reconnect it to your iPhone.
Your iPhone network is not stable - the signal is frequently interrupted or gets completely unavailable.
Your Wi-Fi connection becomes extremely sluggish, even despite having high-speed internet.
VPN is unable to establish a connection with a server.
Bluetooth having trouble connecting with your devices.
The mobile data turns on or off on its own.
How to Reset Network Settings on iPhone?
It's quite easy to perform this quick fix, although it will eliminate your iPhone's current Wi-Fi connections. You can easily do it in your iPhone settings; all it takes is a few taps. Follow these steps.
Launch Settings, go to General, and tap on it.
Head down to Transfer or Reset iPhone. You'll see two options, tap Reset.
A popup menu will appear, displaying several reset options, including resetting all settings/network settings/Home Screen layout/location settings. Tap Reset Network Settings because that's what you want to do.
When prompted, put your iPhone's passcode to complete the process. This will reset all your iPhone's network settings.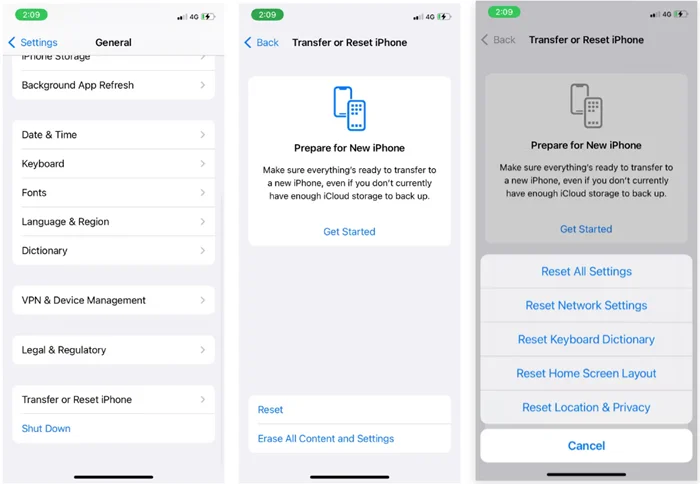 What Happens If I Reset Network Settings?
In most devices and services, it's possible to manually remove specific information that relates to individual internet connections. For instance, you're able to delete a particular Wi-Fi network if you don't use it anymore, and all the other Wi-Fi connections won't be affected.
However, resetting network settings is pretty different because it will delete the login information for that single Wi-Fi network and the data for all the other stored Wi-Fi connections.
The process will also delete your stored VPN information, Bluetooth device pairing, and mobile network preferences. Before I got informed, I always wondered what would happen if I reset network settings on my iPhone. So, if you've also been asking yourself this same question, then now you know what to expect.
Will I Lose Everything If I Reset Network Settings?
There's a big difference between a network settings reset and a factory reset. There is one thing you need to keep in mind always. Resetting network settings generally removes all your local network, internet, and paired devices' data.
On the other hand, a factory reset clears out everything on your device. It reverts the device to its original state like the first time you unboxed it. It deletes all the other essential data, including personal files, folders, and media on your device. Your web browser data like saved bookmarks, browsing history, and third-party applications are equally deleted.
Network settings reset only deletes:
The Wi-Fi login details – Wi-Fi network names as well as passwords.
Mobile network preferences like 4G/5G settings and data management.
VPN settings as well as local history and preferences.
Bluetooth device pairings and preferences.
No mobile carrier functionality or account information gets deleted during resetting network settings on either iPhone or Android smartphones. Resetting network settings also doesn't affect your ability to access apps, send texts, or make phone calls.
The process does just reset the changes to mobile preferences you made since activating your iPhone or iPad. For instance, if you disabled your iPhone's 5G, you'll need to do so again once the network settings reset process is complete.
Alternative Ways to Solve Your Network Issues
As mentioned, resetting network settings will wipe out your internet and network-related data. So, trying other fixes first before embarking on a network settings reset is better. You can do the following general fixes, known to resolve internet and network issues with no data loss.
Try restarting your device.
Switch on Airplane Mode and then turn it off again.
Try your internet connection on a different device.
Restart your modem and router.
Check and install the latest version of the iOS system.
If none of these works, you can use a third-party iOS repair tool, such as FoneGeek iOS System Recovery to fix the network issue you're experiencing on your iPhone. It is capable of fixing all kinds of iOS system issues (over 200 of them), including any network-related problems such as iPhone not connecting to Wi-Fi, iPhone constantly dropping Wi-Fi, iPhone weak signal, VPN not working, Mobile Data not working, and iPhone Bluetooth problems. It is very easy to use and can fix your network problem without any data loss. Also, it supports all iOS versions (even iOS 17) and all iPhone models (even iPhone 15).
Steps to Fixing Network Problems Using FoneGeek iOS System Recovery
Get the FoneGeek iOS System Recovery program from its official site. Install the program on your PC/Mac and launch it when done. From the home page, select "Standard Mode."
Use a USB cable (original Apple USB cable) to connect your device to the computer.
Once the program detects the device, another page with your iPhone model and several firmware package options will appear. Select your preferred iOS firmware version, then click "Download" to download the selected firmware package.
When the download finishes, verify the downloaded firmware package and then click "Fix Now." The program will instantly begin fixing your iPhone, thereby resolving any the internet and network-related issue it may have.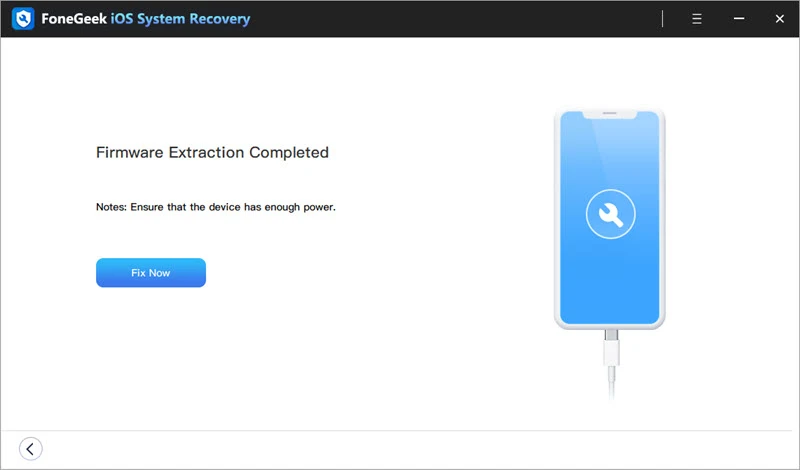 More FAQs about Resetting Network Settings
Is resetting network settings bad?
Well, resetting network settings will erase your iPhone's internet and network-related data. It's much better to try out alternative ways like restarting your device, switching on Airplane mode, turning it off again, and reconnecting to WiFi. They can help fix the connectivity issues without requiring a network settings reset.
Is it safe to perform the network settings reset?
Doing a network reset on your device is safe because personal data don't get lost during the process. Your music, videos, photos, etc., will remain intact. Even your contacts or text messages won't be deleted.
You'll only face slight inconveniences, such as manually logging in and entering your password again in your Wi-Fi connections and having to pair your audio devices like headphones and speakers before you stream audio over Bluetooth.
How often should I reset network settings on iPhone?
Anytime you experience an issue related to Wi-Fi or Bluetooth connection on your iPhone, you can consider doing network settings reset.
Why is my internet slow even after resetting Wi-Fi networks?
Resetting network settings can improve your Wi-Fi speed, but if it doesn't, it's likely that the speed internet package you subscribe to is inadequate compared to your data consumption.
The other possible reason is that many unauthorized users could be connected to your Wi-Fi network since you didn't set a new password once you reset your network settings.
What is the difference between resetting all settings and resetting network settings?
They are completely different. Resetting all settings removes all settings, including network settings and the other settings for Apps, email, etc. It deletes all content and settings on your device and restores it to its original state when it is new.
However, resetting network settings only removes the login details for all your stored Wi-Fi connections. It would help if you used reset all settings when you want to get your device ready for a new owner.
The Bottom Line
What happens if I reset network settings on iPhone? Well, the answer to that question, I believe it's pretty clear now. Hope this guide has helped you better understand what resetting networking settings mean, how to do it, and what you can expect from it.
However, if it fails to work, or you don't want to go through the hassle of entering your Wi-Fi login details again, we recommend using the FoneGeek iOS System Recovery. It will fix any network-related issue you're facing, and no data or settings on your iPhone will be removed.