The App Store has countless interesting applications that Apple users can download without any fuss. Sometimes, though, when you attempt to download or install these new apps, an error message saying "account not in this store" may pop up. When this error occurs, you basically can't buy, download, install, or update apps on your device.
While it usually means something could be wrong in the App Store, it's a pretty common error that shouldn't cause much worry. It can be fixed quickly and we're here to help you do that. In this article, we'll tell you exactly why you are getting this account not in this store iPhone error and show you some simple techniques you can use to fix it for good. So, check them out below.
Why Is My iPhone Saying "Account Not In This Store"?
You may get the account is not in this store iPhone error message due to various different reasons. The error usually, though, occurs when you're in a different region or country and you try using the App Store. In other words, if you were using the App Store in the United States and you travel to the United Kingdom, or vice versa, then the App Store won't work.
There could also be an issue with your Apple ID and that's why this account error appearing. Whatever the reason may be, the techniques below will help you fix this problem in no time.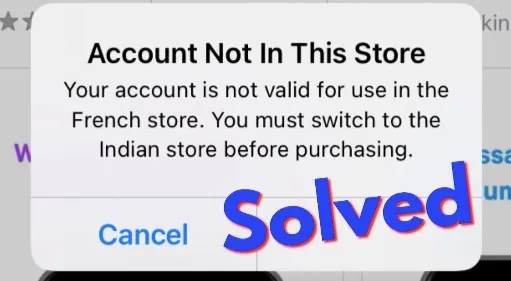 How To Resolve Account Is Not In This Store iPhone Error
Change The Country/Region In App Store And iTunes
The first fix you should try if you're traveling abroad is changing the region or country on your App Store and iTunes store too. But before you do that, you have to take care of the following things first.
Ensure you've downloaded all your previous purchases.
Ensure you've spent all your credits before you change the country.
Make sure you've backed up all the data on your iPhone, iTunes, etc.
Ensure you've left the Family Sharing Group prior to changing your region or country.
Cancel your subscriptions, even Apple Music.
Once you get all these things done, you can proceed to change the country or region. Follow these steps to do it.
Launch the App Store and tap the Account icon. Then, head to the top of the screen and tap "Your Name".
Next up, sign into your Apple ID and then tap the Country/Region option. Now select the current location.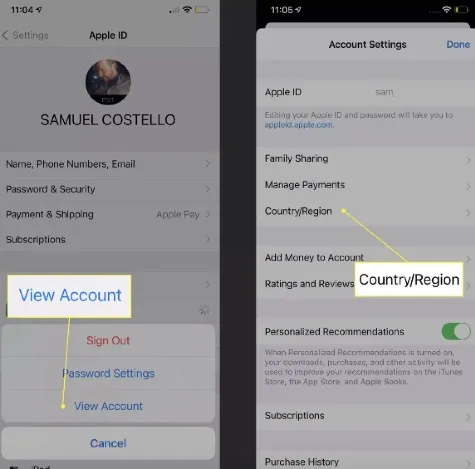 Ensure Country Or Region Is Updated On iPhone
You can as well fix this account error by updating your country or region on iPhone. To do that:
Open the Settings app and tap on "Media & Purchases".
Tap your Apple ID. Next, tap "View Apple ID".
Click the Country/Region option.
Go to "Change Country or Region" and select it.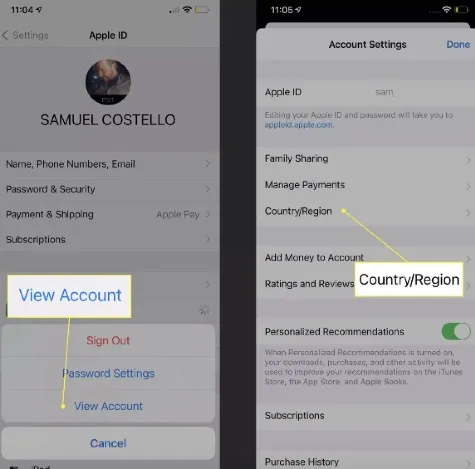 Now, choose your new area. Ensure the location you select matches your billing address and payment method.
Go through the instructions. When done, agree to the stated terms and conditions.
After that, add the new payment method you'll be using and tap "Next".
Finally, head to your App Store and check if the error is gone.
Turn Off Wi-Fi For Around 30 Seconds
We recommend turning off your Wi-Fi if the issue persists. Sometimes disabling the Wi-Fi can fix the error, so ensure you turn it off for at least 30 seconds. After that, turn it on again. Plus, you can reboot your device first before turning it on.
Change Your iTunes Password
Another way you can try is simply changing your iTunes settings right from the application. Try to change the password which should in turn reset your iTunes. It's an easy trick but one that sometimes works, although not for everyone.
Sign Out Of The App Store Account
If there's an issue with your App Store account that's causing the account is not in this store iPhone error, then signing out of the account and then signing back into it can fix the issue.
To do that, open the Settings app, tap on Your Name, and then tap on "Media & Purchases".
Now tap Sign Out to log out of your Apple Store Account.
After waiting a few seconds, sign back into the App Store and check if the error is gone.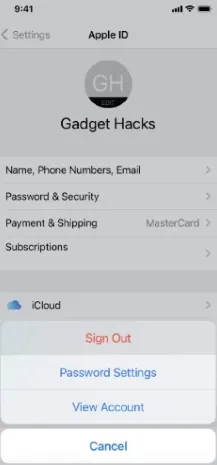 Disable The Content & Privacy Restrictions
While it's great to set Screen Time and Restrictions for parental controls, they can sometimes restrict the way your device works if it is not set up correctly.
If that's so, head to Settings, open the Screen Time menu, and tap the "Content & Privacy Restrictions'' option. Now tap the switch beside Content & Privacy Restrictions to the off position to disable it.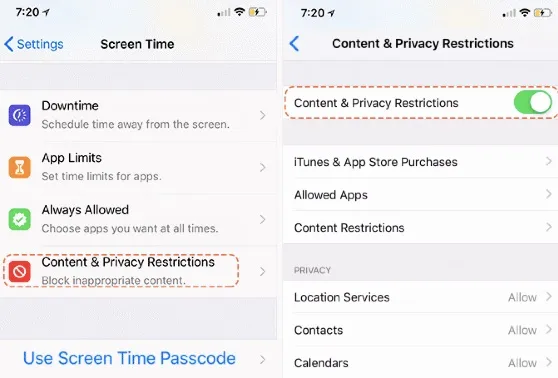 Open the App Store and check if the issue has been resolved. If not yet, go to the next step.
Ensure iCloud Service Is Turned On
It could be possible that your iCloud Services are turned off. This may have happened accidentally or a software bug may be behind it. Or even you may have disabled it for some reason but didn't remember to enable it again. Either way, this could be the cause of the account not in this store iPhone error. Follow these steps to ensure that your iCloud Services are turned on.
Open Settings from your home screen.
Head to the upper part of the Settings page and tap on Your Name.
On the next screen, tap "iCloud".
You'll now see all the apps that are connected to your iCloud. Check the switch beside one app, if it's green, then iCloud is turned on for the app. If it's gray, then it's disabled.
That's all! It's not a must that iCloud access is enabled for all the apps. If it's enabled for just one app, then your iCloud should work correctly.
Change iCloud Password
Regularly changing the password for your iCloud and everything else, at least every once in a while is always a good idea. Therefore, you may want to reset your iCloud password now, especially if you use the same password with your other accounts. It's a simple process. Here's how you can do it.
Launch Settings. Tap your name at the upper part of the Settings main screen.
When the next screen shows up, tap the "Password & Security" option.
Tap the "Change Password" option at the very top.
Now, type in your password when prompted to do so.
Type in the password once more to verify it.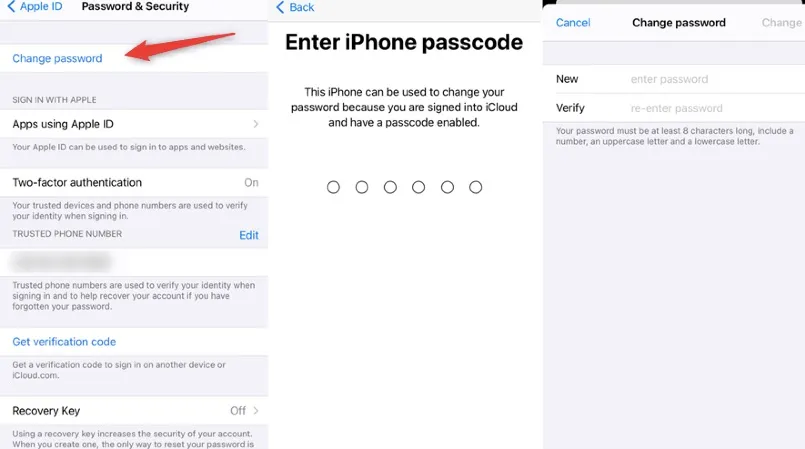 After you've done that, your iCloud password should now be reset. Ensure you do all it takes not to forget the password. We would advise writing it down and keeping it somewhere private where you won't forget. It's a good idea as well to have the written password stored in two separate places such that if you can't remember one place, you'll possibly remember or find the other place.
Contact The Apple Support
Your account may have a serious issue if none of the techniques above fixed the error. As such, it's time to reach out to Apple Support as only an Apple employee may resolve the issue. Visit Apple's website to get assistance online, through the mail, or over the phone. In case you opt to visit your local Apple Store, you should schedule an appointment first.
Bonus Tip: Unlock Apple ID Even When You Forget The Password
If you can't remember your Apple ID and you're unable to unlock it, don't panic as FoneGeek iPhone Passcode Unlocker can help you with this. It's a user-friendly software that can help you unlock your Apple ID quickly and easily. Here are the simple steps to using FoneGeek iPhone Passcode Unlocker to unlock Apple ID.
Download FoneGeek iPhone Passcode Unlocker, once you install it on your PC, launch it and select "Unlock Apple ID" mode. Ensure your iPhone is already connected to the PC during the process.
From there, click on "Unlock Now" to get the Apple ID plus the iCloud account deleted.
Next, click "Download" to download the right Firmware Package. After you have the package downloaded, click "Unlock Now".
FoneGeek will begin unlocking your Apple ID. The process will last for a few minutes. When it finishes, follow the instructions displayed on the screen to set up your device.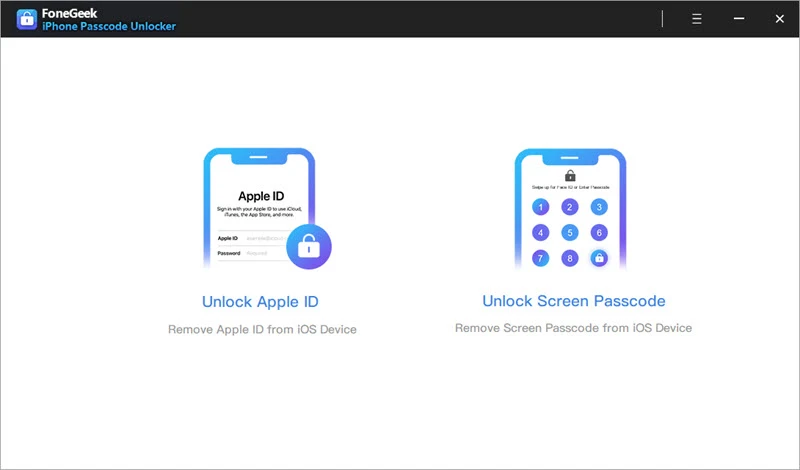 Conclusion
With all the possible techniques mentioned above, fixing the account not in this store iPhone error shouldn't be a problem. You can try all of them from the start to get the job done. Moreover, in case you can't remember your Apple ID and want to unlock it, we recommend you get FoneGeek iPhone Passcode Unlocker which will quickly and reliably unlock your iPhone without much effort.