An iPhone can be disabled or locked for various reasons and this can be problematic in that the device are often unresponsive and cannot be used. In most cases, a disabled iPhone can be fixed by connecting to iTunes, allowing it to resume proper function.
What if you are unable to connect to iTunes? Don't worry, there are many other ways to fix a disabled iPhone without using iTunes. In this article, we will provide you 3 different ways to unlock disabled iPhone without iTunes. Read on to check out.
1. How to Unlock Disabled iPhone without iTunes (NO DATA LOSS)
The best way to unlock a disabled iPhone without iTunes is using a third-party iPhone unlocking tool. FoneGeek iPhone Passcode Unlocker is the recommended software that you can use to remove screen password of your disabled iPhone under all kinds of situations. Besides the feature of screen password removal, it can also be used to remove Apple ID/iCloud account from your iPhone, iPad and iPod touch.
Main features of FoneGeek iPhone Passcode Unlocker (iOS 15 Supported):
It is capable of removing screen password for your disabled iPhoneor iPad without iTunes or iCloud.
It supports to unlock disabled iPhone with 4-digits and 6-digits passcodes, Touch ID and Face ID.
It ensures high success rate of removing Apple ID and iCloud account, even for second-hand devices.
It is fully compatible with the latest iOS 15 and iPhone 12 mini, iPhone 12, iPhone 12 Pro (Max), etc.
To unlock disabled iPhone without iTunes, follow these steps:
Step 1: Download, install and caunch the iPhone Unlocker tool on your computer, then choose "Unlock Screen Passcode" in the main interface to begin.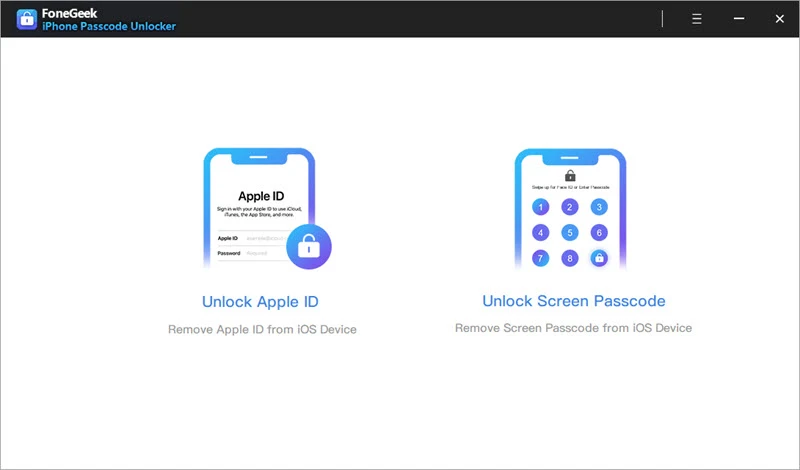 Step 2: Connect your disabled iPhone using a USB cable and wait for the system to automatically recognize the device. Once your device is detected, an interface will appear for you to activate the DFU or Recovery mode.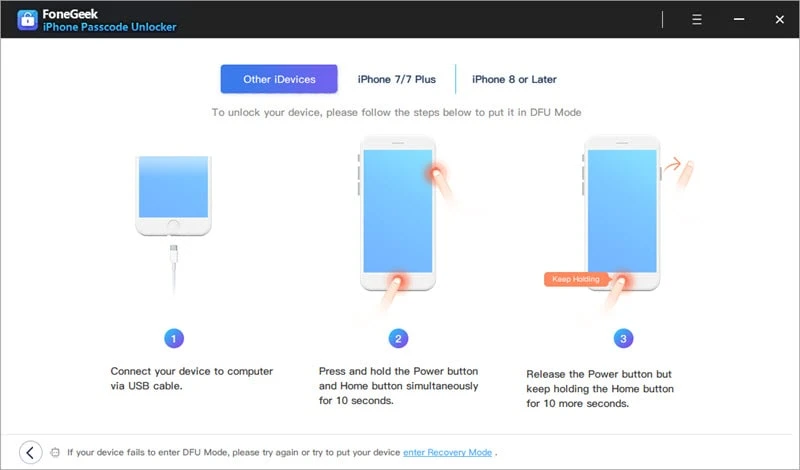 Step 3: Once your disabled iPhone has been recognized, the program will display the device information and provide available firmware versions. Choose your preferred one and click "Download".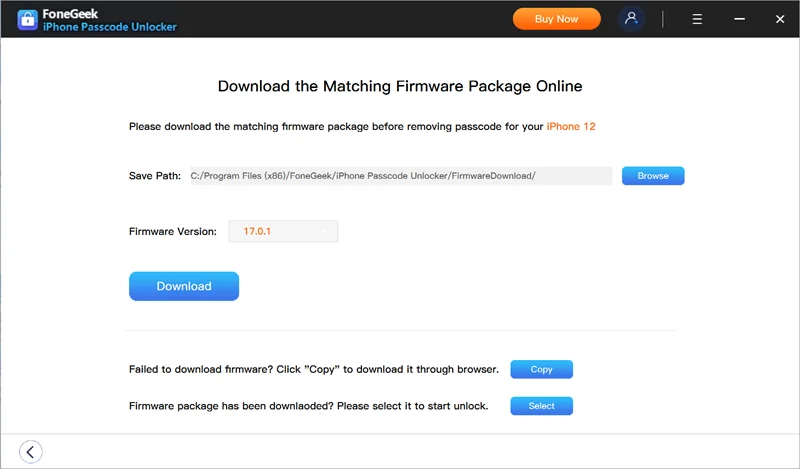 Step 4: When the firmware has been downloaded and extracted, click on "Start Unlock" and the program will automatically unlock the device. The process will take just a few minutes and the device will reboot when it is done.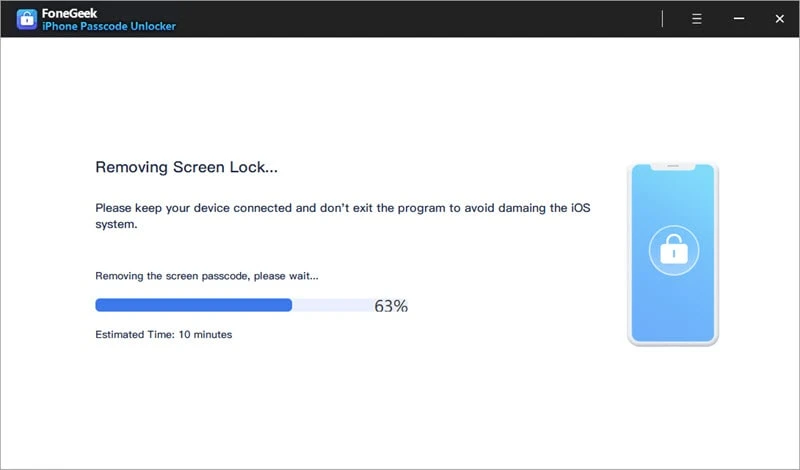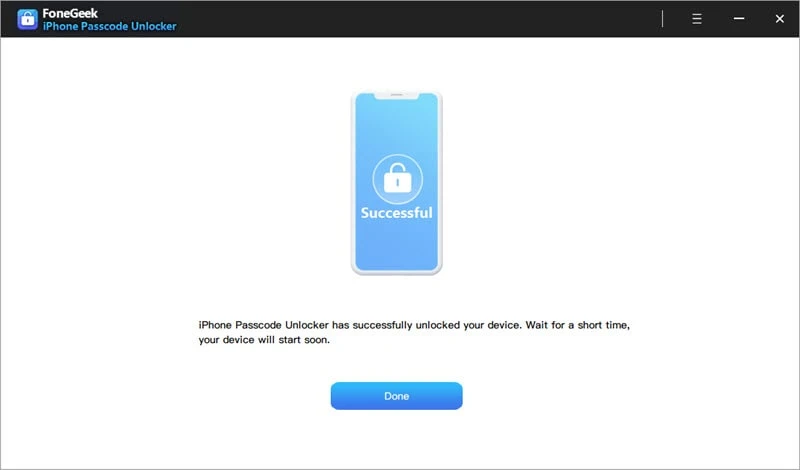 2. Unlock Disabled iPhone without iTunes through Find My iPhone
If Find my iPhone is enabled on your iPhone and the device is connected to Internet via WiFi or cellular data, you can also use iCloud to unlock disabled iPhone without iTunes. Here's what you need to do:
Go to http://www.icloud.com/ on your PC or another device.

Sign in with your iCloud ID if prompted.

At the top browser window, select "All Devices".

Click on the disabled iPhone from the list. If you cannot find your device, use the recovery method.

Click on "Erase iPhone" to erase the device including the screen password. Make sure the device is connected to a network of Wi-Fi.

Restore your device using the recent backup. If you did not back up, check iCloud before you set up as a new phone.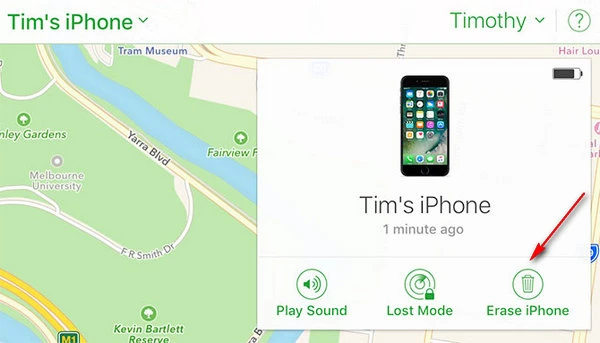 3. Unlock Disabled iPhone without iTunes Using Siri
Most people don't know that they can also unlock a disabled iPhone using Siri. Follow these simple steps to have it done:
Step 1: On your device, hold the Home button to activate Siri. Ask for the present time by saying "Hey Siri, what time is it?" Click on the Clock icon to begin the process.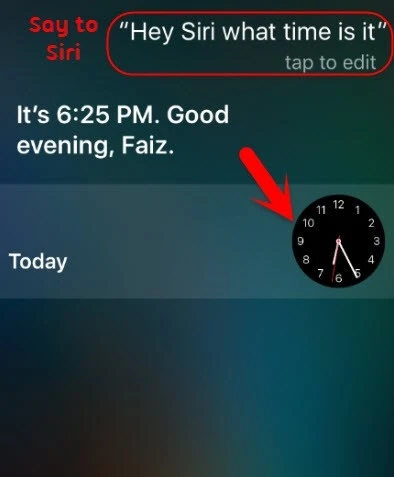 Step 2: Go to the World clock interface and click on the (+) sign to add another clock.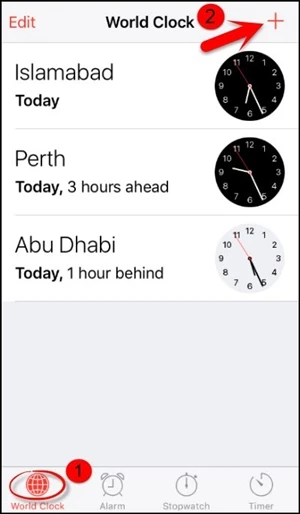 Step 3: You will be asked to search for a city. Type anything you want and then click "Select All".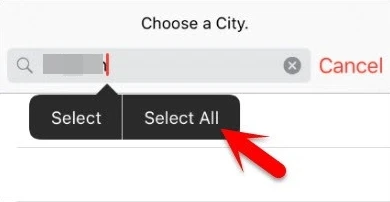 Step 4: Various options will appear like cut, copy, define, share etc. click on the "Share" option.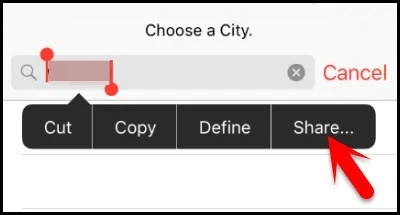 Step 5: Another window will appear with a list of options related to sharing. Click on the Message icon to proceed.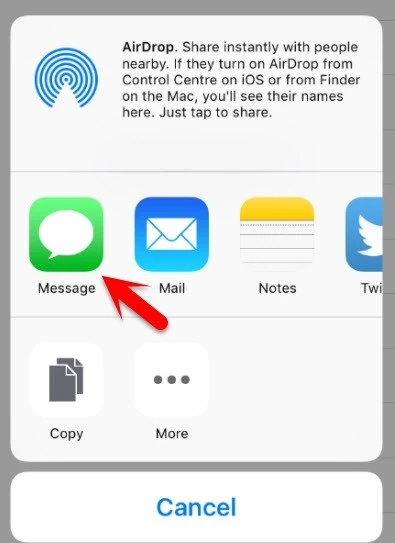 Step 6: In the "To" field, type anything and then click on the "return" button on the keyboard.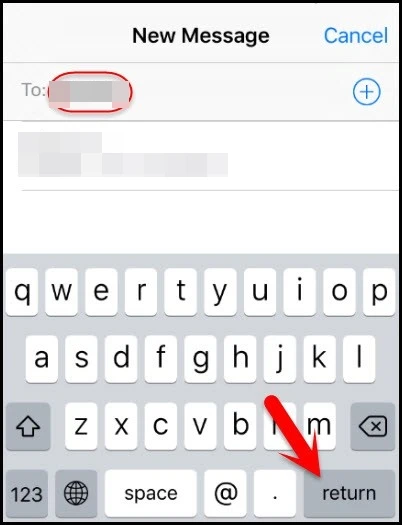 Step 7: The text provided will be highlighted in green. Select it and click on the "+" sign.
Step 8: A new window will appear, then click on "Create New Contact".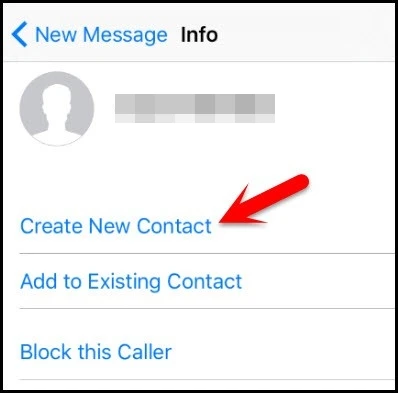 Step 9: On the Add New Contact screen, select "add a photo" and then click on the "Choose Photo" option.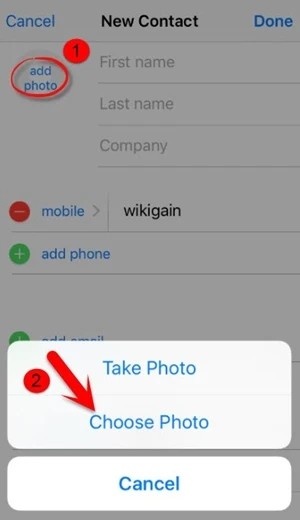 Step 10: The Photo library will open where you can view any album.
Step 11: Exit the interface by pressing the Home button which will take you to the phone's home screen.
Please note that there are some drawbacks of using Siri to unlock a disabled iPhone, for example:
This is a loophole in iOS devices that will only work on devices running iOS 8 to iOS 10.

It is a temporary solution and you will have to repeat the steps every time you want to unlock the device to access it.

The numerous steps you have to take are really time consuming and very easy to mess up.
Tip: How To Protect Your iPhone From Being Unlocked By Others
It is very easy to unlock disabled iPhone without iTunes, so it is a good idea to put extra measures to make sure nobody is able to unlock your disabled/locked iPhone when the device is lost or stolen. Here are some of the security measures you can add to your iPhone:
Disable Siri from your lock screen, then nobody will be able to access Siri from your lock screen. All you need to do is, go to Settings, click on "Touch ID & passcode", then scroll down to "Allow access when locked" and disable the Siri option.
At times you might forget to turn on the Find My iPhone feature on your phone. To turn it on, go to your phone's Settings, click on iCloud, then turn on Find My iPhone feature. Also turn on "Send last location" feature next to Find My iPhone.
You can also secure your iPhone by adding an alphanumeric password. To do this, go to your phone's Settings, click on "Touch ID and Passcode", then click "Change passcode" and select "Custom alphanumeric code". Enter a strong alphanumeric passcode that will enhance the security on your phone.
Conclusion
It can be very frustrating if you cannot access your iPhone because the device is disabled. The above information gives you various ways to unlock disabled iPhone without iTunes. Each method has its own pros and cons, so be selective when choosing the method to use. Whatever method you choose, follow the instructions to implement. If you have any questions, let us know in the comments section below and we'll do our best to help.

As a professional writer who is interested in technology, Edwin J. Parke has helped thousands of users by offering various tips to solve their problems.

Home
>
Unlock iPhone
>[3 Ways] How to Unlock a Disabled iPhone/iPad without iTunes