Apple Watch arrives with passcode protection to prevent unauthorized access. Although the feature is for protecting users data and privacy, it can sometimes work against them. That is because if you forgot the password, you simply cannot access the watch and its features.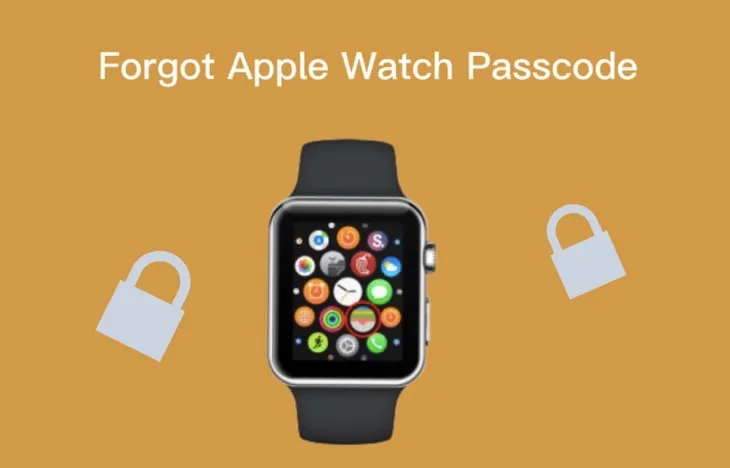 So, what to do when you forgot Apple Watch passcode? In the below part of the article, we will introduce you to some of the possible measures that you can take to regain access to your Apple watch. Keep reading to find all the details you will need!
Part 1. Can You Unlock Locked Apple Watch?
The answer is yes, as long as you are the authentic owner of the Apple watch. You can easily unlock the Apple watch by making use of the Watch app on your iPhone.
However, if you have purchased a second-hand Apple watch with a passcode, then things might not be easy for you. You will need to unlock it by resetting the device, which will eradicate all the data and settings of the watch.
Below, you will find several methods to unlock Apple watch with and without paired iPhone.
Part 2. Apple Watch is Locked but You Know the Passcode
If someone locked your Apple watch after 10 unsuccessful login attempts, you can easily unlock the device following this guide. However, you need to know the passcode for this. Here is what to do:
Launch the Watch app on your iPhone. Tap on Passcode.
Now, turn on the toggle bar for "Unlock with iPhone."

Press the Digital Crown. Make sure that the iPhone and Watch are in Bluetooth's range.
Now either the passcode or utilize any other method like Face ID or Touch ID to unlock the Apple watch.
Part 3. Apple Watch is Locked but You Have a Paired iPhone
It is still possible to unlock your Apple Watch if you can't remember the passcode but have access to the paired iPhone. In this process, you will need to hard reset the Apple watch to get rid of the passcode.
Note that this will erase all data and settings of the watch. However, it shouldn't be an issue as the connected iPhone will automatically back up the Apple watch data.
Here is what to do:
Launch the Watch app on your iPhone and go to My Watch.
Browse General> Reset from the My Watch tab.
Choose "Erase Apple Watch Content and Settings."

Enter your Apple ID password to verify the action.
Select Keep your cellular plan if the prompt occurs.
That's it; your Apple watch will be reset, and you can set a new passcode once the process is complete. You can also restore the backup from your iPhone.
Part 4. Apple Watch is Locked but You Do Not Have a Paired iPhone
Your Apple Watch is locked, you forgot passcode on Apple Watch and don't have the paired iPhone. Sounds like the worst-case scenario, doesn't it? Well, you can still reset the Apple watch following the below guide. In this case, you will need to perform a hard reset. Here are the steps you need to follow:
Connect the apple watch with a charger.
Tap and hold the side button until you find the Power Off screen.
Now press on the slider with a bit of force (don't slide).
Press "Erase All Content and Settings."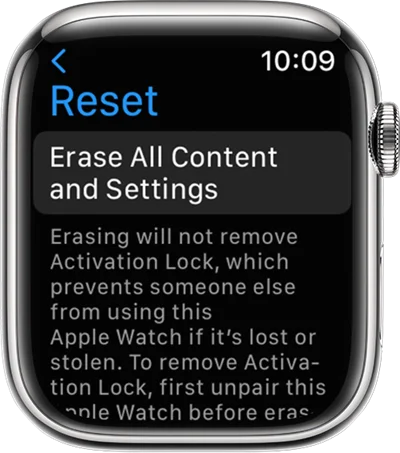 Once you press the button, the Apple watch will reset within a while, and you can then access it without a password. Don't worry about the backup, as you can do it after pairing it with your iPhone. You can also utilize this method if you have purchased the watch second-hand and don't get access to the paired iPhone.
Part 5. Safely Back Up Apple Watch Passcode
There are a lot of us out there who find it hard to remember passwords. You will especially find this scenario identical when you need to remember a lot of passwords. In such a situation, you can consider backing up the Apple Watch passcode so that you can still access the watch anytime, even when you forgot to remember the password.
You might think that the connected iPhone device will save the Apple watch passcode during the automatic backup. Well, it's not true. The iPhone does backup the data and settings of the Apple watch, but it doesn't save the passcode. So, you will need to consider other ways to preserve the password.
Here are some of the things that you may want to consider to backup your Apple watch password:
Make Use of a Password Manager
If you are someone who needs to deal with a lot of passwords and often struggle to remember them, a password manager can be the solution for you. They can remember the password for you and let you use it whenever needed while also keeping it hidden from others.
There are a lot of free and paid password managers available out there.
LastPass can be one of the best options for iPhone users as it is free and available in the App store. It equips the AES-256 encryption method which not only hides passwords from unauthorized people, but also from app developers. The same security protocol is used by Banks to assure secure transactions. You can manage and backup passwords for all the apps and services you use using LastPass.
1Password is another great option for you, but it comes with a price tag. However, with multiple layers of security, a well-designed and efficient interface, and navigation, it is worth the price. It lets you safeguard your Apple Watch password as well as other services and apps.
Write Down the Password
If you think using a password manager is an overwhelming option for you, you can always use this traditional method. You can simply write down the password in a digital note app or in your paper diary. It doesn't matter which one you use; make sure to take enough measures to keep it hidden from other people.
Conclusion
As you see in the article, you can easily regain access to your Apple Watch when you forgot the password. You can do this by making use of the paired iPhone device or by resetting the Apple watch. If you are still unable to solve the problem, you can consider contacting Apple support. They will surely help you to find an efficient solution.