Are you eager to bypass iCloud Activation Lock on iPhone, iPad or iPod touch? The device that you purchased from eBay, Amazon or other online platforms is likely to be locked using iCloud. If it does happen, the device will keep asking you for the iCloud login information of the previous owner when you start using it.
Don't worry. In this article, we're going to explain 5 practical ways to remove iCloud Activation Lock without password on iPhone or iPad. And 3 of the solutions are completely free. Keep reading.
What is iCloud Activation Lock?
Before digging in to the solutions, let's first learn what the iCloud Activation Lock is. Well, it is the major security feature used by iOS system for the iPhone, iPad, iPod touch and Apple Watch. When you accidentally lost your iPhone, you can try to find the lost device by activating the "Find My iPhone" service.
In addition, this service can also protect the information on your iPhone, even if the person who picked up and reset your phone, they still don't have access to the device data unless they provide the correct iCloud account credentials.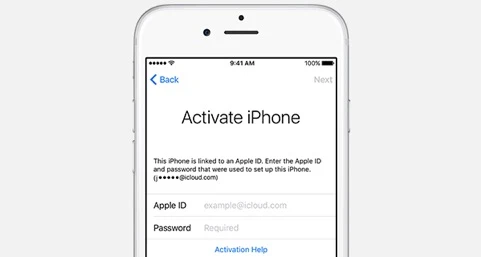 5 Ways to Remove iCloud Activation Lock without Password
iCloud Activation Lock is really helpful for protecting your iPhone/iPad in case it gets lost or stolen. However, this security system also causes problems when you purchase a second-hand iPhone and find it is iCloud locked. You won't be able to use it unless you remove the Activation Lock. Take it easy. Below are 5 practical ways (3 of them are complete FREE) to bypass iCloud lock without knowing the password.
Way 1: Ask Previous Owner to Remove iCloud Lock Remotely
Generally, this is the simplest and most straightforward way to remove iCloud lock for free. If you are lucky enough to contact the person who owns the iPhone before, ask them to bypass the iCloud Activation Lock remotely and you can then set it up with your own Apple ID. Here's how they do that:
Go to iCloud official site and sign in with their Apple ID and password.
Click on the "Find My" button and from the drop-down menu of "All Devices", select the device that needs to remove.
Click on "Erase iPhone/iPad" and confirm to erase the device, then tap on "Remove from Account".
After the previous owner removes the iPhone or iPad from their iCloud account, you can restart the device and then set it up as normal.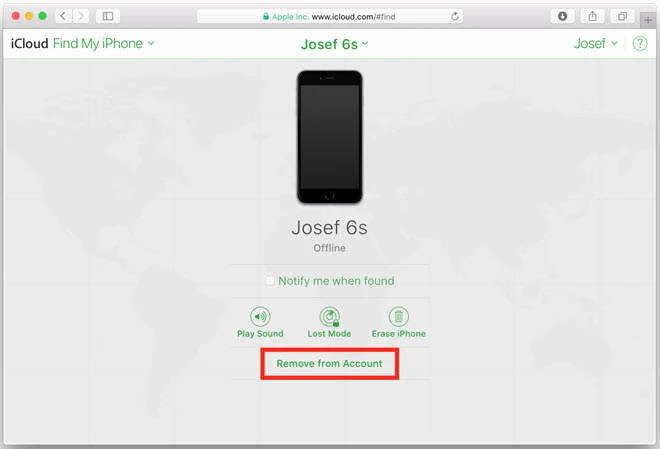 Of course, things can get more complicated if you can't get in touch with the previous owner or the person is unwilling to do that for you. In such case, keep reading to find another solution to bypass the lock.
Way 2: Use Free Trail Version of FoneGeek iPhone Passcode Unlocker
If you are looking for a reliable, fast and easy way to bypass iCloud Activation Lock without password, FoneGeek iPhone Passcode Unlocker (iOS 17/16 supported) is a good choice. It is one of the best iCloud Activation removal tools, with which you can remove Apple ID or any types of screen locks on your iPhone 15/14/13 or iPad without any hassle. It is a paid tool but offers a free trial version that you can try out its functions before buying. This software has assisted millions of users to bypass the issues related to unlocking iOS device and removing iCloud account.
Why Choose FoneGeek iPhone Passcode Unlocker:
Bypass iCloud Lock in One Click: Remove iCloud Activation Lock without password within only a few minutes.
All Types of Screen Locks Covered: Remove all screen passcodes from your locked iPhone/iPad/iPod touch, such as 6-digit passcode, 4-digit passcode, Face ID, Touch ID.
Easy to Use: The intuitive and user-friendly interface makes this tool very simple to use for everyone, no technical skills required.
Full Compatibility: It supports all iPhone/iPad/iPod touch models and all iOS versions including the latest iOS 17/16.
This program is highly recommended by D-addicts, GetDroidTips, Twitgoo, iLounge, Knowtechie and many other media sites.
Here's how to remove iCloud lock without password:
Step 1: Download the Windows or Mac version of this iPhone Unlocking tool on your computer. Run it and choose "Unlock Apple ID" from the main interface.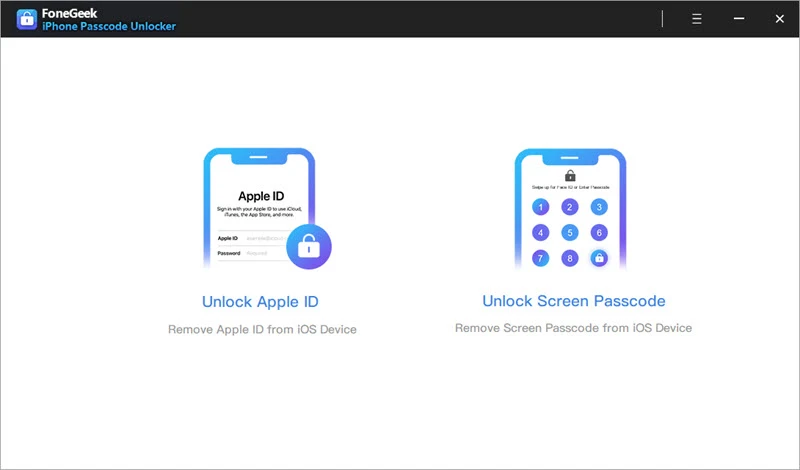 Step 2: Now use a digital cable to connect your iPhone to the computer. You will need to unlock the screen to trust this connection.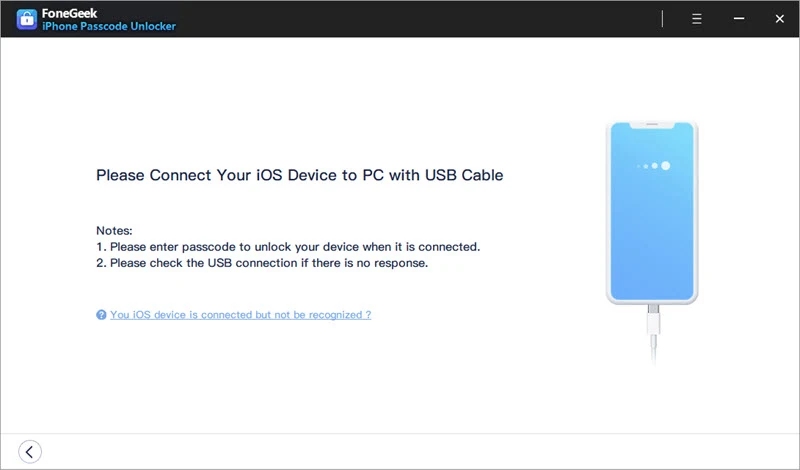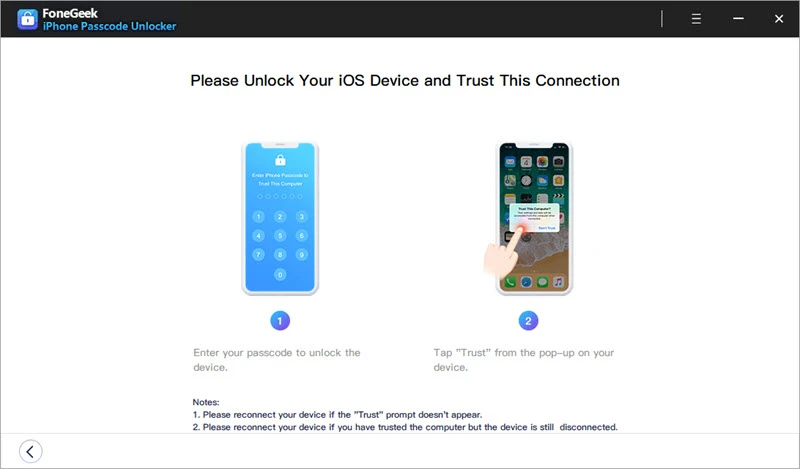 Step 3: When the iPhone is connected, click on "Start Unlock" and type the required information to confirm, the program will start to remove the iCloud lock. And the unlocking process will be completed in few minutes.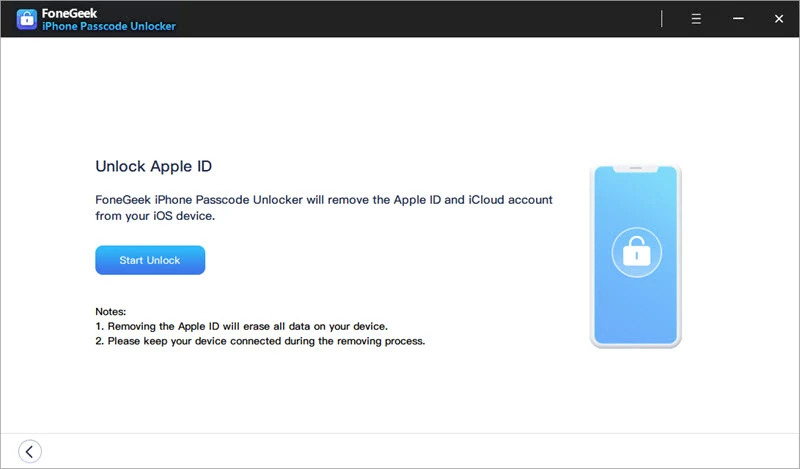 Way 3: Remove iCloud Lock without Password Using Online Services
Searching the Internet for "iCloud Activation Lock", you will find many online services claim to do iCloud Activation Lock removal for free. But most of them are scams and don't work, just trick you to click the pop-up ads or even bring virus that may infect your computer. And some services that works usually charge £40 or more money to bypass iCloud activation lock.
Here we will take DoctorUnlock.net as an example and show you how to remove iCloud activation lock online.
Step 1: Find IMEI number on iPhone.
In Settings: Go to Settings > General > About, and scroll down to get the IMEI number.
Make a Call: You can also get the iPhone's IMEI nubmber by directly dialing the code "*#06# in the Phone app.
On the Back of the Device: If you have an older model like iPhone 6 or earlier, you can flip the device over and look for a long number that labeled IMEI.
In Finder or iTunes: Connect your device to computer and open the Finder or iTunes, click the phone number or the device model to find the IMEI number.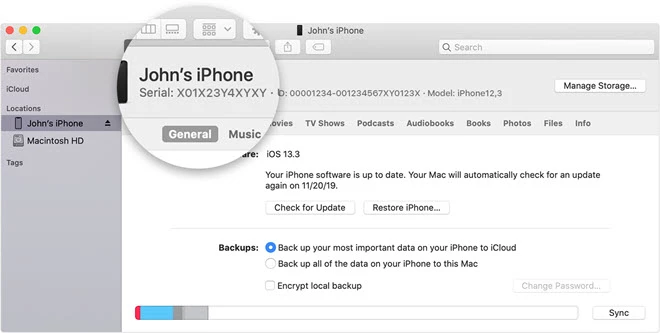 Step 2: Go to the official site of DoctorUnlock.net on your computer, select the iPhone model, network and then type in your IMEI number. Next, click "Unlock now".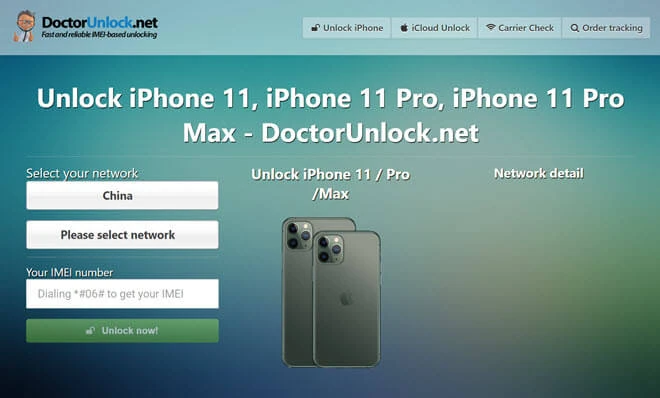 Step 3: On the next page, complete your payment and they will start unlocking the device. The unlocking process usually takes 3 to 4 days.

Note
If you've determined to try one of the online iCloud Activation Lock removal services, be careful to choose a reliable one before you pay any money.
Way 4: Bypass iCloud Activation Lock without Password via DNS
One more way to bypass iCloud Activation Lock is using DNS. This free method tricks your iPhone/iPad into thinking it's unlocked by connecting the device to Wi-Fi with a special DNS. After bypassing the iCloud Activation Lock, you can only use your device via Wi-Fi and still have no access to all the apps and features. Follow the steps below to start the process.
Step 1: Open your iPhone, iPad or iPod Touch, and then choose country and language.
Step 2: You will be navigated to the WiFi settings screen. If you don't see the "i" icon behind the WiFi network, you can press the HOME button and select "More Wi-Fi Settings".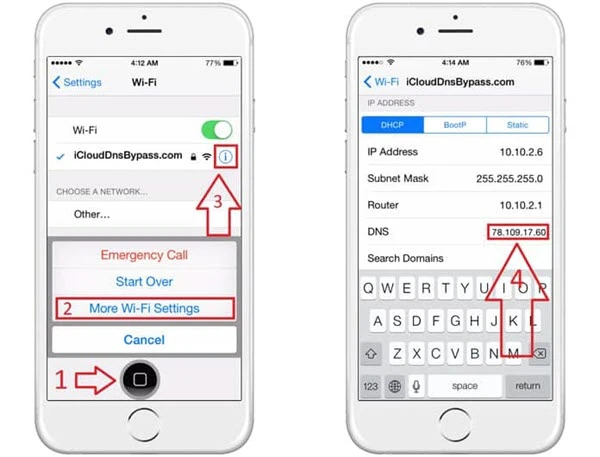 Step 3: Ensure that your iPhone is not connected to any network. If it is always connected with the network automatically, you can click on the "i" logo and select "Forget This Network".
Step 4: Click on the "i" icon and customize the DNS information. You can choose any of the IP addresses given below:
US/North America: 104.154.51.7
Europe: 104.155.28.90
Asia: 104.155.220.58
Other Regions: 78.100.17.60
Step 5: Click the button at the top left of the screen, then select the WiFi network you have access to and enter the WiFi password. Next, your iPhone will jump to the next screen, but you should prevent it, and click the "Back" button.
Step 6: The iCloud lock will be removed and now you can choose the mobile apps, music, videos, cameras and other features you want to access.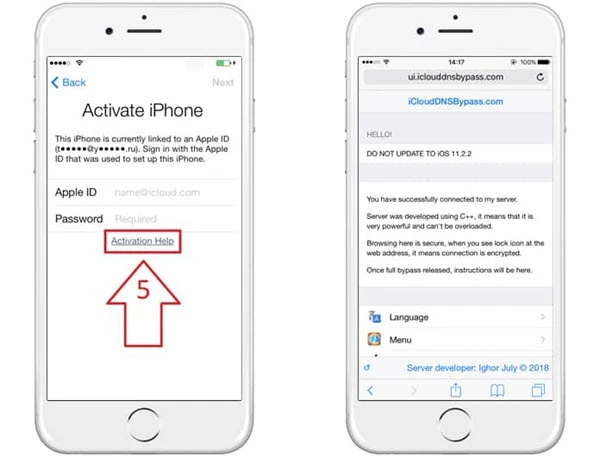 Note
The DNS bypass method only works for devices running on older iOS version. This is a temporary fix and you have to set it up again each time you reboot your iPhone or iPad.
Way 5: Ask Apple to Remove iCloud Activation Lock for You
If none of these solutions mentioned above work, you can ask Apple, either visit a local Apple Store or call Apple Support, to remove iCloud Activation Lock from your device without using the password. However, you need show Apple proof of ownership:
If you are the owner of the iPhone, show Apple your proof of purchase like the original receipt that contain the device's serial number and your name.
If you've bought a second-hand iPhone, prove that the ownership has transferred from the original owner to you like the eBay transaction and the payment confirmations.
Apple will also check if it is a stolen iPhone. If the device has been reported stolen, they will refuse to help.
Conclusion
If you're about to buy a used iPhone, you should ensure the device isn't iCloud locked as well as reported as stolen. If unfortunately you've bought a locked device, you can follow the solutions above to remove iCloud Activation Lock with ease.
After checking the comparison, FoneGeek iPhone Passcode Unlocker is the quickest and most efficient solution to bypass iCloud lock. You can free download it to your computer and have a try.