Finding out that your iPhone is stuck on the activation lock screen is very frustrating. And to bypass the situation, you require a professional service to unlock your device.
One such technical solution is DirectUnlocks. This platform was founded to assist users all across the globe in unlocking their devices. The platform can help unlock any iOS device by employing the IMEI and the serial number of the iPhone to execute the unlock procedure safely. Furthermore, they assure to offer the quickest ways in the market to remove the activation lock. But is it true? Do they fulfill their promise?
In this DirectUnlocks review, we will uncover if the platform is credible or not, along with both benefits and limitations, to comprehend if it satisfies your needs. We will also present its best alternatives that can rectify the issue of iCloud activation lock quickly and efficiently. Read on!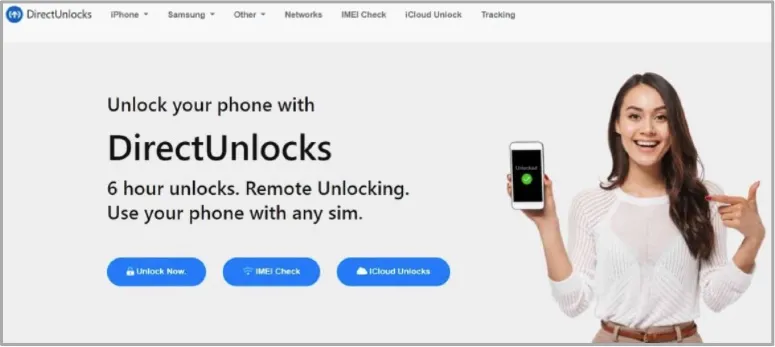 1. Is DirectUnlocks Safe to Use?
DirectUnlocks is an online service wherein you need to pay in advance and wait for it to unlock your iOS device. So practically, you pay the amount and share the IMEI number of your device and stay until the company responds.
Evidently, DirectUnlocks works well in several cases, but there are a few circumstances when users don't get any updates from the platform and don't even receive the reimbursements. Further, because it is a costly service it can be hard to bear such a misfortune.
Therefore, an advance payment option can be risky because you may get fooled.
2. Is DirectUnlocks Really Helpful?
We came across several reviews, and many of them acknowledge that the service is serving faultlessly, unlocking their iPhones or other devices in less than a day. On Sitejabber, it shows 79.8 positive reviews for the last 12 months.
As shown, there are users who are not getting positive assistance from the platform. The reviews about DirectUnlocks not offering iDevice unlocking services and not refunding the amount raise the question of its credibility.
Accordingly, we recommend you read users' reviews and analyze the platform properly before deciding to utilize any of its services.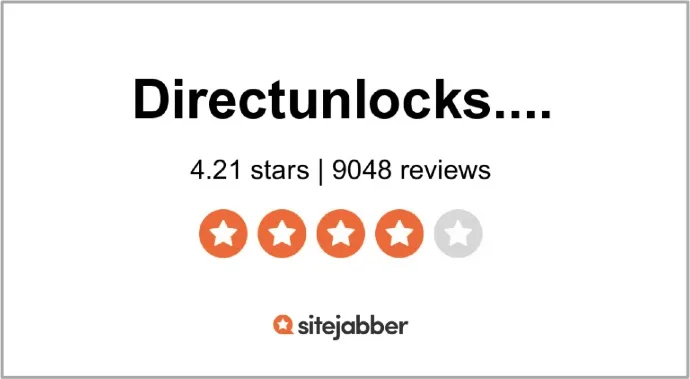 3. Pros and Cons of DirectUnlocks
Let's have a glance at the advantages and limitations of DirectUnlocks.
Advantages
Delivers several unlocking services like the iCloud activation, SIM card unlocking, and more;
The platform has been active for many years;
It does not need downloading and installation;
They deliver the majority of phone unlocking services within 24 hours;
The platform holds a legitimate SSL certificate.
Limitations
The success rate of the tool is pretty low;
It is a costly platform, and the cost relies on your device models and system versions;
Accused of fraud by several users;
Submitting the IMEI number and the serial number of your iOS device is mandatory, which may increase the risk of getting your device corrupted.
4. Best DirectUnlocks Alternative – FoneGeek iPhone Passcode Unlocker
Now you might have discovered that DirectUnlocks is not a credible solution to unlock iPhone/iPad. Accordingly, you must find a more durable alternative to this service, like FoneGeek iPhone Passcode Unlocker.
It is a competent iOS Unlocker that is devised to eliminate a range of locks. So whether you have forgotten your screen passcode or your device is stuck at the iCloud activation lock screen, FoneGeek will assist you in removing the iPhone lock rapidly and accessing all your data quickly.
Following are a few critical characteristics of FoneGeek that make it the most dependable passcode unlocker tools:
Remove Screen Password on iPhone or iPad.
Bypass Apple ID on iPhone/iPad without any password.
Evade MDM Lock Screen and Remove MDM Profile in Mac.
Bypass Screen Time Passcode without Password in Mac.
Works best with iOS 17/iPad 17, iPhone 15/14/13, and more.
Here is the comprehensive step-by-step guide to bypass the lock from an iPhone using FoneGeek:
Step 1: Download and install the FoneGeek iPhone Passcode Unlocker software on your PC and launch the tool and select the "Unlock Apple ID" option on the home interface.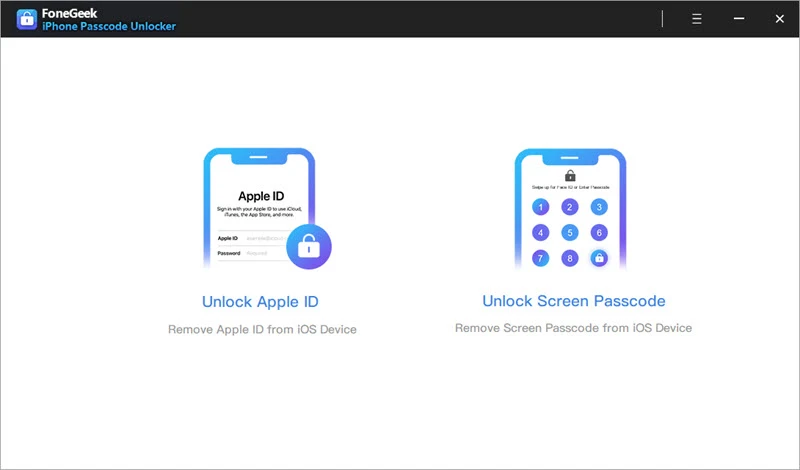 Step 2: Connect your iPhone or iPad to your PC via USB cable. The software will pop up the "Trust" option on your screen. Click on it to start the process.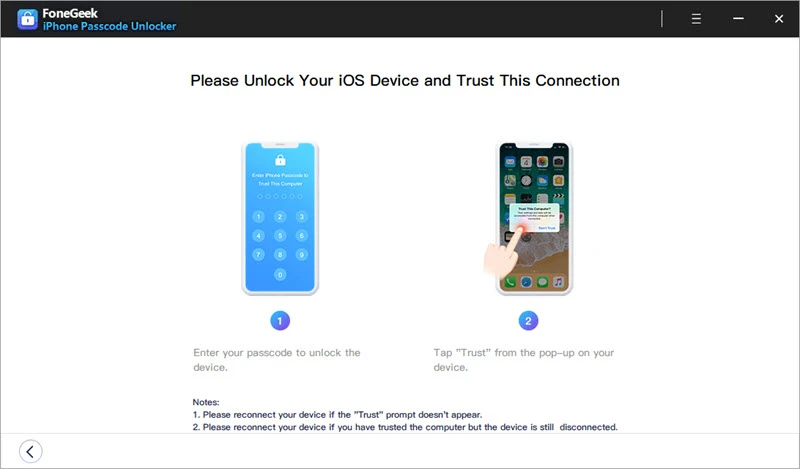 Step 3: Click the "Start Unlock" option. If the "Find My iPhone" option is disabled on your device, FoneGeek iPhone Passcode Unlocker will begin unlocking the Apple ID instantly. Wait for a few seconds for the unlocking procedure to finalize. The program will notify you if the Apple ID has been signed off or not.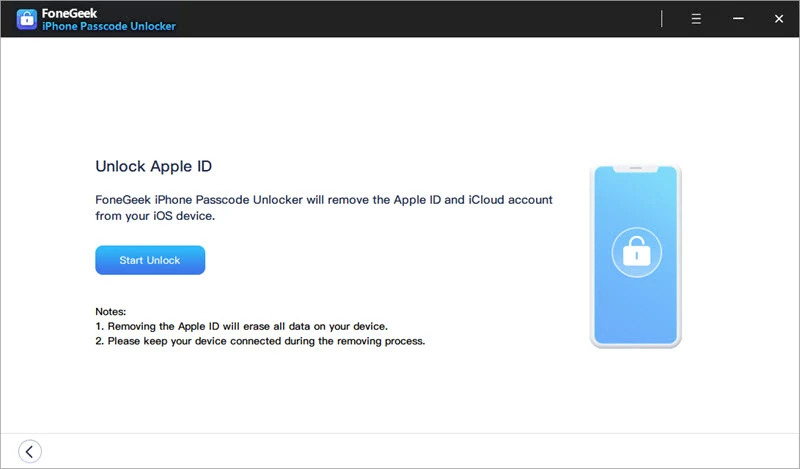 So that's how rapidly and efficiently remove Apple ID and screen passcodes from disabled iPhone/iPad with progressive technology. FoneGeek offers you an array of services at the lowest price, and it's manageable to utilize even if you are a new user because the interface is user-friendly. For example, you can eliminate all locks in just one click.
5. Other Trusted iCloud Unlock Tools
FoneGeek is evidently the most inexpensive and highly reliable iOS unlock tools that can consider unlocking your iDevices. Nevertheless, many other online unlocking services are legitimate.
iPhone Approved Unlock
iPhone Approved Unlock is an online iOS unlocking solution that utilizes the device's IMEI number to bypass the lock. You can use this software to eliminate various types of locks, encompassing iPhone locks and iCloud activation locks. The tool is fruitful for the majority of network carriers such as AT&T, Sprint, Tmobile, Verizon, and more.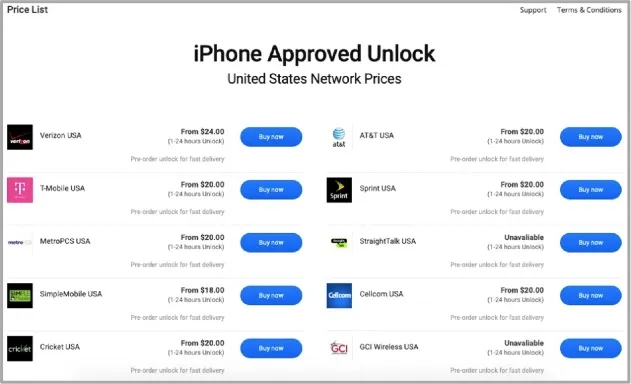 AppleiPhoneUnlock
AppleiPhoneUnlock is one of the most credible online tools that you can employ to unlock your iDevice from any network carrier. Moreover, it is one of the reasonable solutions as its rates start from $28 a month.

iRemover
iRemover is yet another online iOS unlocker that you can utilize to discard varied locks from an iPhone/iPad. Like every other tool, iRemover also asks for the IMEI number to unlock your iDevice. Yet, it's a great platform because its success rate is much higher than DirectUnlocks.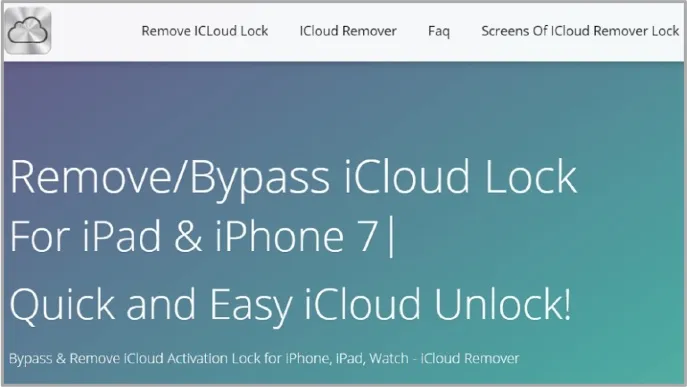 Conclusion
So here, you are well-equipped with a comprehensive DirectUnlocks Review to assess the features, benefits, limitations, and reviews about unlocking your iOS device. We recommend you analyze other alternatives as well.
The low success rate and several DirectUnlocks reviews demonstrate that DirectUnlocks is not a credible platform. You may also consider utilizing other reliable and worthy alternatives like FoneGeek. It'll assist you in unlocking your iPhone/iPad/Mac successfully and reap the value of every penny spent!.