User Concern
"Hello, I have an iPhone 14. My iPhone has an activation lock and I don't know password. Please help me activate the iPhone without Apple ID password!"
The Activation Lock on your iPhone is a security feature that is meant to keep someone else from unlocking the device. This can come in handy when your iPhone gets lost or stolen since the thief will not be able to activate your iPhone without the Apple ID or password.
However, it can also cause troubles. For example, you may forget your Apple ID and the password, or you buy a used iPhone online only to find that it is linked to an Apple ID. Without the correct Apple ID and password, you won't be able to activate this iPhone.
Can you activate an iPhone without Apple ID? Yes, you can. In this article, we will walk you through some simple approaches to activate an iPhone so that it can be used even if you don't know the Apple ID and password.
This guide covers all iPhone models, including iPhone 15, 14/14 Pro (Max), iPhone 13/13 Pro (Max), iPhone 12/12 Pro (Max), iPhone 11/11 Pro (Max), iPhone XR/XS/XS Max, iPhone X/8/7/6s/6, iPad Pro etc.
Part 1. Remove Apple ID from iPhone without Password
1.1 FoneGeek iPhone Passcode Unlocker - The Most Recommended Way
The best way to remove the Apple ID even if you don't have the password is to use a third-party tool like FoneGeek iPhone Passcode Unlocker. This tool is specifically designed for this task, allowing you to remove the Apple ID from all types of iOS devices easily and quickly. Once the Apple ID is unlocked and removed, you can then go ahead and set up the device.
Key Features of FoneGeek iPhone Passcode Unlocker:
Instantly remove Apple ID from iPhone without knowing the password.
Delete the previous owner's Apple ID and create a new one.
Unlock various kinds of screen passcodes for iPhone or iPad.
The process of removing Apple ID and unlocking iPhone screen passcode is fast, simple and effective.
Compatible with all iPhone models including the newest iPhone 15/14/13 as well as all versions of iOS including iOS 17/16.
Here's how to remove the Apple ID without password:
Step 1: Download and install FoneGeek iPhone Passcode Unlocker on to your computer and launch it. In the main window, click on "Unlock Apple ID" from the two options presented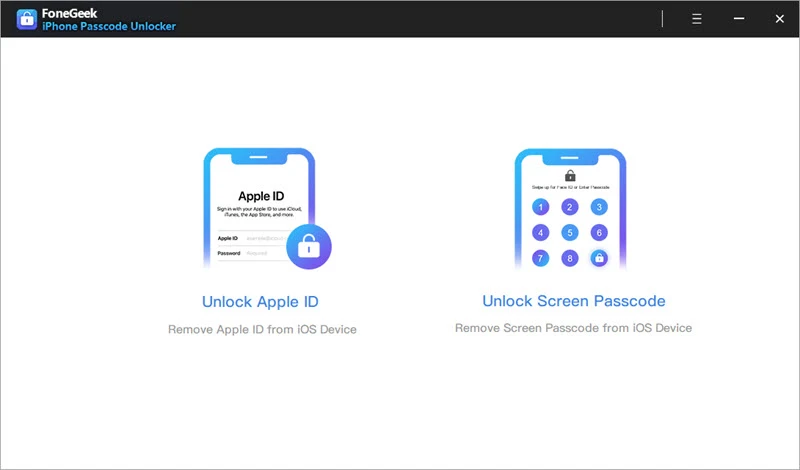 Step 2: Connect the iPhone to the computer to remove the Apple ID from it. When needed, you should also tap "Trust This Computer" to allow the program to detect the device.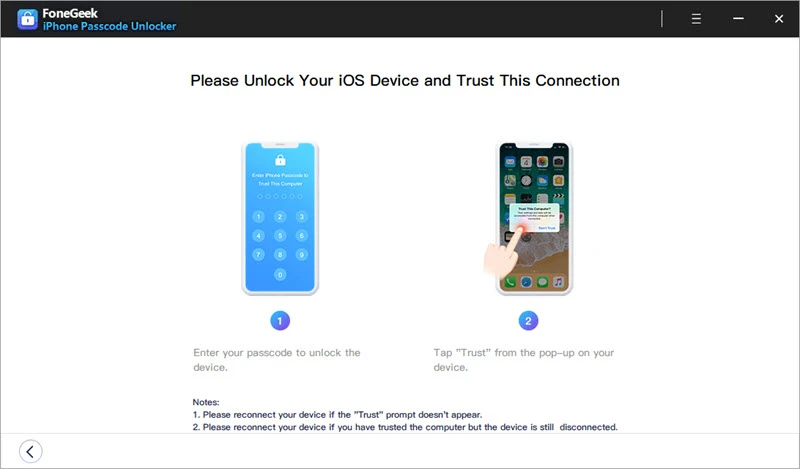 Step 3: If the "Find My iPhone" is off, just click on "Start Unlock" and the unlocking process will begin automatically.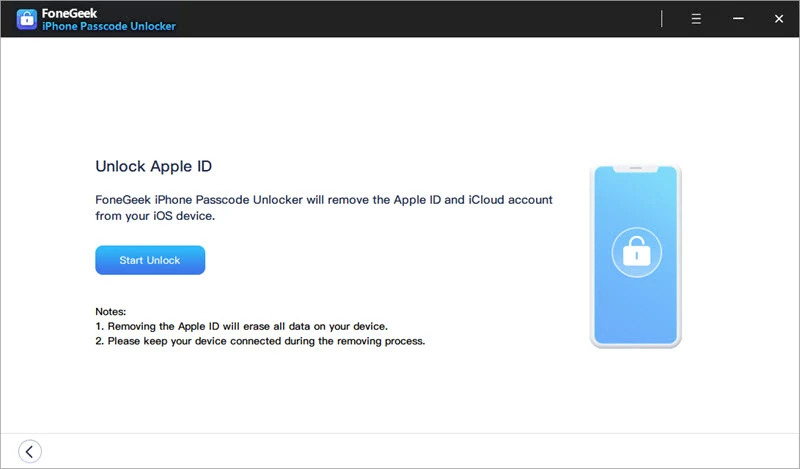 Step 4: The process will only take a few seconds. Once it is complete, a popup window will appear notifying you that the process is complete and the Apple ID has been removed from the iPhone successfully.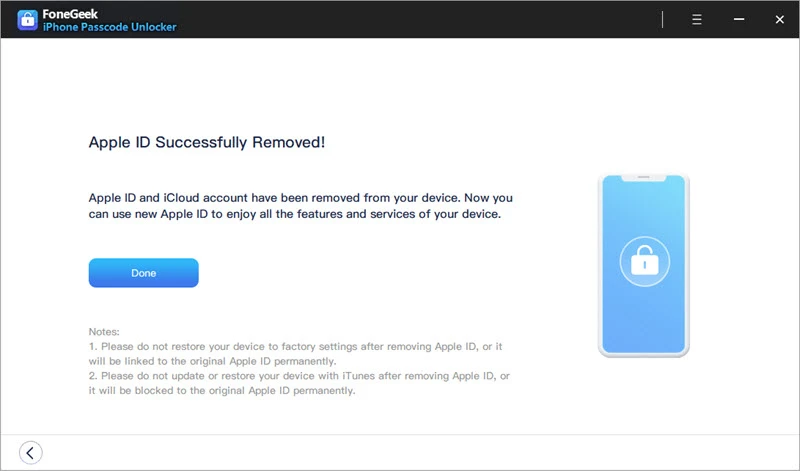 Option 2. iCloud DNS Bypass
Using iCloud DNS bypass is not the perfect method to activate iPhone without the owner's Apple ID or password. That's to say, it cannot fully activate your iPhone.
Step 1. Factory reset the iPhone from Settings until you go the to WiFi page.
Step 2. Click on "i" icon next to the WiFi netowork and click on DHCP tab.
Step 3. Enter the DNS IP address. Here are the IP address for different regions.
NA: 104.155.28.90
EU: 104.154.51.7
Asia: 104.155.220.58
Elsewhere: 78.100.17.60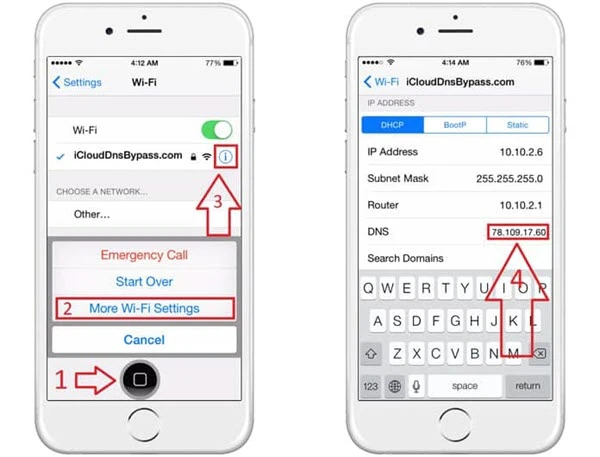 Step 4. After entering the IP address, normally connect to the wifi network.
Step 5. Click on Back button and "Activation Help". The iPhone will connect to the bypass server. After that, you can access your device without entering Apple ID.
Cons of this method:
You need to factory reset your iPhone first. If you don't do that, you will need to repeat the steps above.
This method will not turn off Apple ID, it just removes the iCloud activation lock.
If the IP address is invalid, you need to enter a different DNS IP and try again.
Option 3. Ask Apple Store for Help
This method is not recommended since the process is complicated. To remove Apple ID from iPhone on Apple store, you have to prove that you are the owner of the device. This usually requires you to provide the receipt of this device. But here are 2 things to take not before going to the Apple store:
You should prove that you are the owner of the iPhone.
Call Apple store to make an appointment in advance.
Part 2. Your Own iPhone: Forgot Apple ID or Password? Find or Reset It
If you forgot your Apple ID or password, Apple will temporarily suspend it, meaning that you are unable to access the above mentioned services. Thankfully, there are still ways to find your Apple ID or reset its password. Let's take a look at both.
Option 1. Reset Your Apple ID Password
If you have forgotten the Apple ID password, follow these simple steps to reset it and activate your iPhone: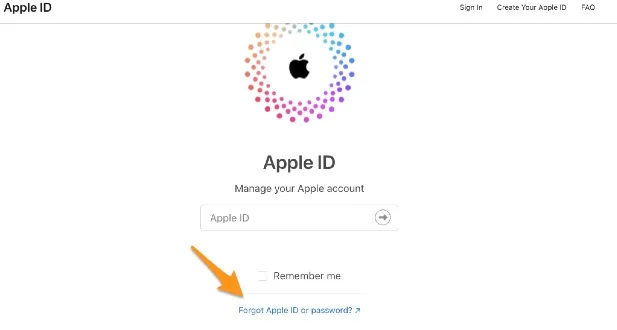 Enter your Apple ID to get started and then enter the phone number you used when creating the Apple ID.
You should get a confirmation call or text on your phone. Simply follow the instructions to reset the Apple ID password.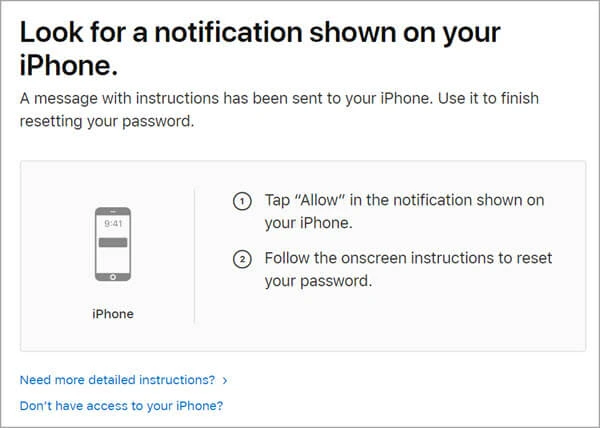 Option 2. Find Your Apple ID
You may also be able to find your Apple ID if you don't remember it. Just follow these simple steps to do that:
Go to https://appleid.apple.com/ and click on the "Forgot Apple ID or password" link.
When asked to enter your Apple ID, click on "Look it up".
Enter your first and last name as well as your email address. You should also neeed answer any security questions that you may have set up.
You will receive an email with a link to get your Apple ID and a new password to sign in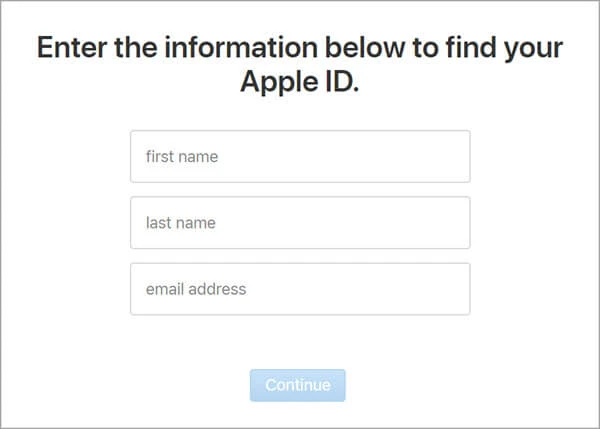 Part 3. For 2nd-hand Owner: Remove Apple ID on iPhone with the Previous Owner
If you purchase an second-hand iPhone but it requests for someone else's Apple ID and you can't use it, you can simply contact the seller and ask for the previous owner's Apple ID. Begin by contacting the seller and explaining that you are unable to activate the iPhone since it is still associated with their Apple ID. If the seller lives fairly closeby, you can bring the phone to them. They can then just enter their Apple ID on the Activation Lock screen, allowing you to continue with the normal activation process.
If the seller is very far from you and they can't access the phone, you can ask them to remove the Activation Lock remotely using iCloud. Here's how to do it:
Go to iCloud.com on any device and sign in with Apple ID and password.
Click on "Find iPhone" then followed by "All Devices". Click on the iPhone they sold to you and tap on the "i" icon to view the details.
If necessary, click "Erase iPhone". After that, click on "Remove from Account".
Once it is done, you can restart the iPhone and set it up as normal.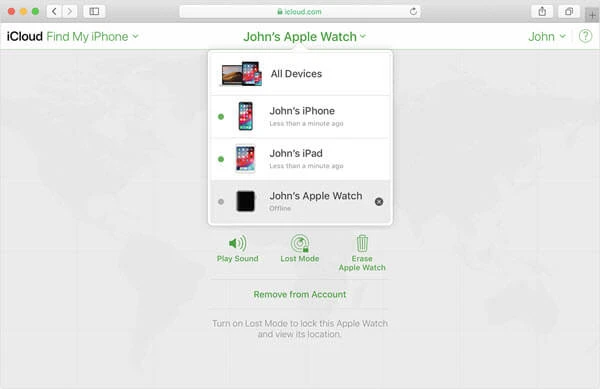 Part 4. Bonus Tip for Buying/Selling a Second-hand iPhone
To avoid purchasing a second-hand iPhone that you cannot use, here are two tips for you to watch out.
Check the activation lock
Ensure that the iCloud activation lock is disabled so that you can fully have access to your iPhone, or you will be frequently asked to enter the Apple ID and password of the previous owner.
Ensure that it is not stolen
Before purchasing the device from the previous seller or eBay, you need to check and confirm that the device is not stolen by using Apple's Activation Lock status tool. To check the status, the seller should tell you the IMEI number of the device.
Sign out of iCloud before Selling
If you decided to sell or give away your iPhone, do not manually delete any information from iCloud. If you delete them from iCloud, the files saved in iOS devices connected to the same iCloud account will also be deleted. Thus you can sign out of iCloud first and erase the data.