You got an email that says your Apple ID has been locked. But the email looks suspicious and unprofessional. In most cases, these emails are fake and used for phishing. But how can you be assured that the email is legit or a scam? Well, you have arrived at the right place.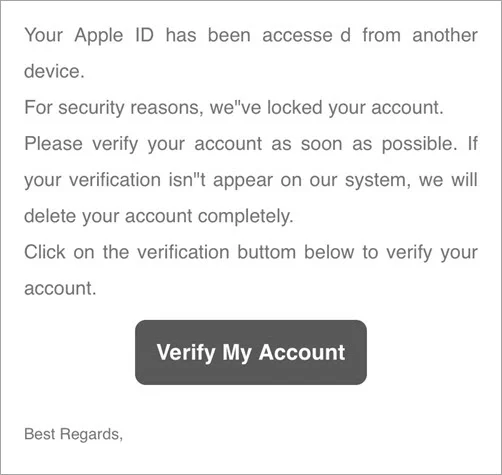 This article will let you know what to do when you get such suspicious emails. Keep reading the article!
Has Your Apple ID Actually Been Locked?
Not really. Although the email claims that your Apple ID has been locked, what is really happening is someone is trying to get your Apple ID and password. These types of emails are known as phishing scams, and they are used to obtain sensitive personal information like email, password, etc.
When your Apple ID got disabled, you got an email or warning with one of these phrases.
"This Apple ID has been disabled for security reasons."
"You can't sign in because your account was disabled for security reasons."
"This Apple ID has been locked for security reasons."
If the email says something else, you probably got a fake/phishing email.
How to Tell the Apple ID Locked Email Is A Scam?
There are actually many ways to tell whether an Apple ID locked email is a scam or real. Some of these include:
Grammatical Errors and Misspelled Words
The most common sign of an Apple ID locked scam email is bad grammar and misspelled words. Professionals write the original notices or emails from Apple, and they don't include any sort of errors.
However, when hackers send the emails, they usually arrive with many mistakes such as misspelled words, wrong grammar, poor punctuation, incorrect sentence structure, etc.
Suspicious Email Address
Give a closer look at the email address. If the email is generic public or free email services, it's obviously a scam email.
Some examples of these emails can be apple@gmail.com, applesupport@gmail.com, appleid@yahoo.com, etc. Apple never uses these types of email.
Generic Greetings
The scam emails usually include generic greetings such as "Dear Customer," "Dear user," etc. The official Apple emails usually don't have such greetings. Sometimes they even include your name in the greetings.
Threats and Deadlines
"Your Apple ID will be locked forever within 24 hours if you don't take action". In most cases, the scammers will threaten you with a deadline like this. They do this so that you can take action quickly without reasoning.
Spoofed Website
In most cases, the scam email will include a link that will look like Apple's original website, although it is not. Give a closer look at the website address, and you will see the difference.
Asking for PII
If an email asks you for credit card data or social security number, it's definitely a scam. They can even ask you for ridiculous information like your mother's maiden name, your credit card's CVV code, etc. Email from Apple activities will never ask for such information.
Formatting Issues
The scam emails arrive with weird formatting in most cases. You may notice things like inefficient uses of text-align, upper case, lower case, space, etc. Here is a trick: compare the email to other authentic emails that you got from Apple. This will reveal the differences.
What To Do When Receive Apple ID Locked Scam Email?
Here are some of the things you should consider doing after receiving an Apple ID locked scam email.
1. Never Click on Links in The Email
One of the mistakes that most individuals make is clicking the link in the emails. You can check your account-related information from the Settings of your iOS device.
If your Apple ID seems to work efficiently from the Settings, then the email is a scam, and there is no issue with your Apple ID.
2. Change Your Apple ID Password
If you clicked on the link and filled out your Apple ID credentials there, consider changing the Apple ID password immediately.
Open the Manage your Apple ID page on the Apple website and tap on "Forgot Apple ID or password?" to change your password.
3. Clear Safari History and Website Data
The chances are high that you have used the Safari browser to browse the phishing link on the email. If so, you should clear the Safari browser history and website data to get rid of the evil cookies of the scam link.
Here is what to do: Go to Settings of your device and click "Safari". Then press "Clear History and Website Data."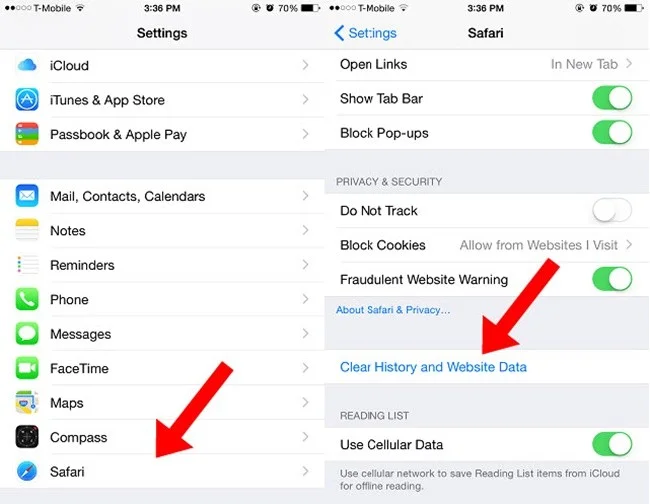 4. Report the Scam to Apple
Finally, consider reporting to Apple about the scam email. You will need to forward the email to reportphishing@apple.com. Apple will take proper action to prevent other people from affecting by this scam.
Bonus: Unlock Locked Apple ID without Password
Is your Apple ID really got locked? And what's worse, you have forgot the Apple ID password. Well, there is an easy way to fix it. FoneGeek iPhone Passcode Unlocker can help you get rid of this issue.
It is a powerful tool that enables you to easily remove Apple ID without password as well as other screen locks like 4-digit/6-digit passcode, Touch ID, Face ID, etc. This tool is 100% reliable and works well on iOS 16/15 and iPhone 14/13/12.
Here are the detailed steps to remove Apple ID without password;
Step 1: Download FoneGeek iPhone Passcode Unlocker and install it on your Windows/Mac computer. Then launch the program and choose "Unlock Apple ID" from the homepage.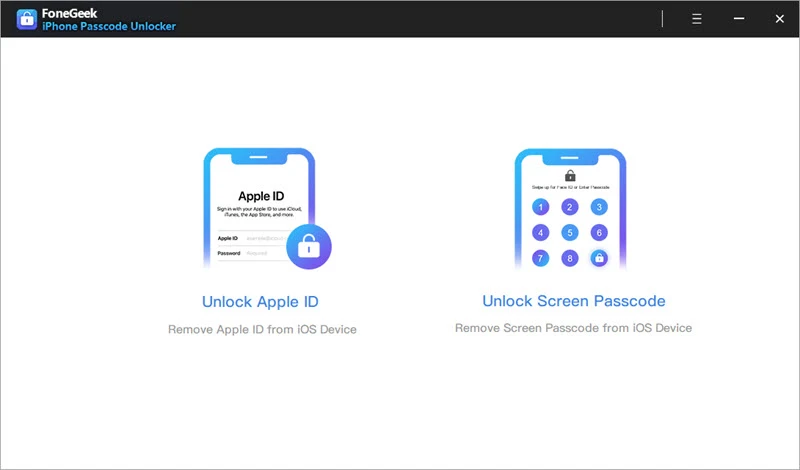 Step 2: Now plug your locked iPhone or iPad to the computer with lightning cable. Unlock the device and press "Trust" if you didn't already trust the device.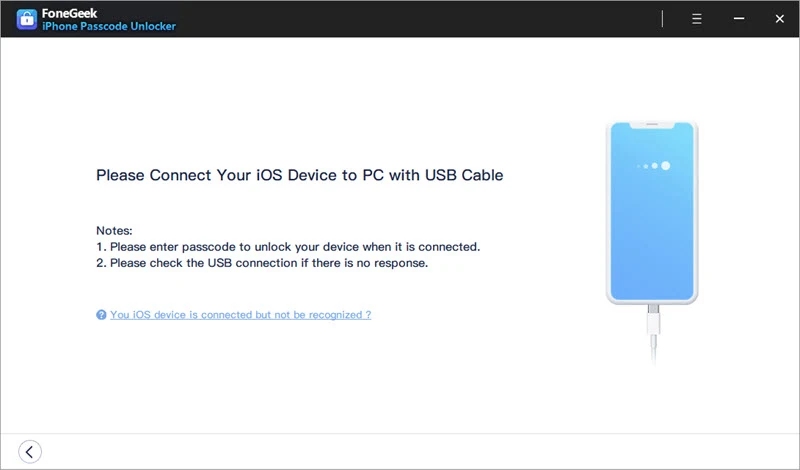 Step 3: When the iPhone/iPad is detected by the program, click on "Start Unlock" to initiate the process of removing the Apple ID and iCloud account connected to the device.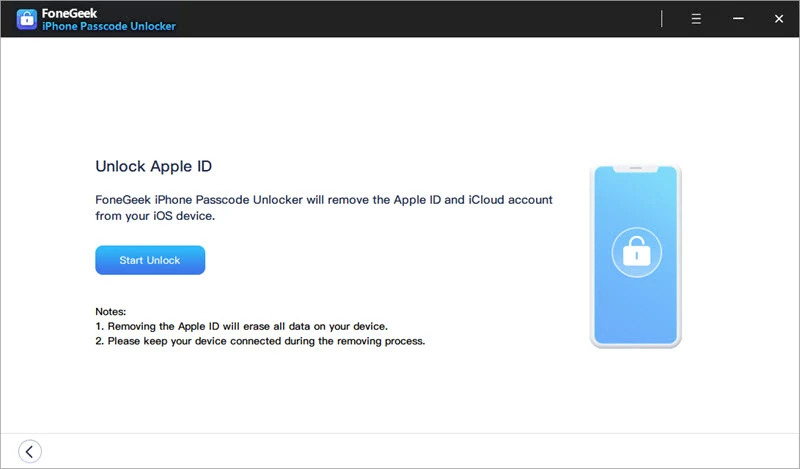 If the Find My iPhone is disabled on your device, the program will immediately unlock the Apple ID. Wait a while for the process to be finished. You will be informed on the screen after successfully removing the ID.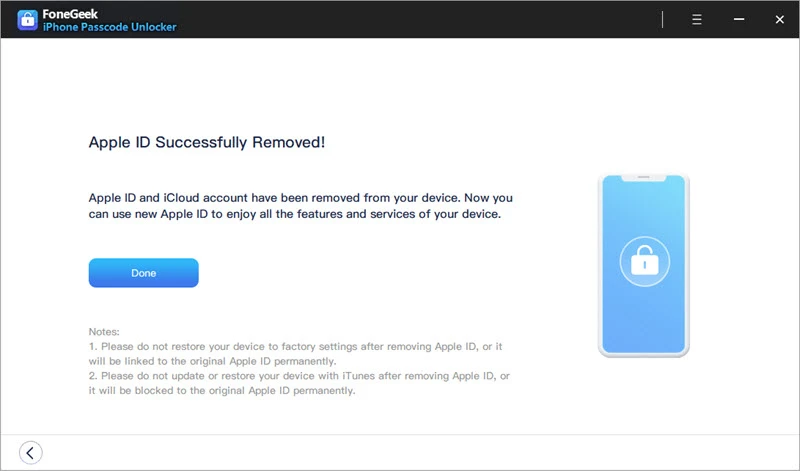 The Bottom Line
Apple devices are comparatively more secure, and that's why the hackers target the iPhone users with phishing emails more. We hope the above guide will help you stay safe from the Apple ID locked small emails. And, even if you end up with a locked Apple ID and forgot the password, use the FoneGeek iPhone Passcode Unlocker to remove it quickly and easily.