"Why is my Apple ID disabled?", "How to unlock my Apple ID?". These are some of the most commonly asked questions on the internet by Apple users.
This article will give a comprehensive look at the message "Apple ID has been locked for security reasons", its possible causes and indications.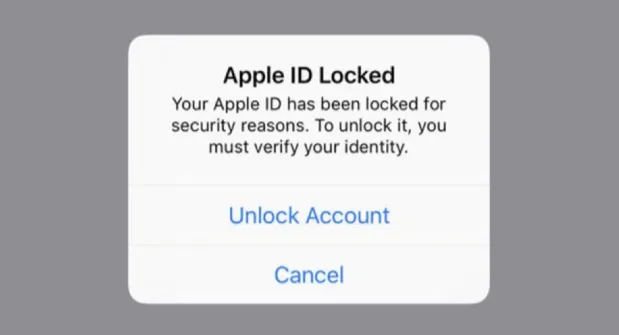 Along with that, we will let you know some of the solutions that you can try to get rid of this issue and retain access to the services and functionalities that require the Apple ID.
Part 1. Why Was My Apple ID Locked for Security Reasons?
First, let's see what causes Apple ID lock. Your Apple ID will be locked if it detects any unusual activities on the account. It can also get locked or disabled if it suspects any unauthorized access or security risks.
Here are some of the common reasons that cause Apple ID lock:
Trying to access Apple ID with the wrong credentials multiple times.
Entering wrong answers for security questions multiple times.
Using unauthorized tools to access iCloud data.
Utilizing third-party tools which are identical to open-source iCloud code.
Part 2. Fix This Apple ID Has Been Locked for Security Reasons
Unlock Apple ID Using Two-Factor Authentication
The most standard way to unlock your Apple ID is through two-factor authentication if you have this feature enabled. You will need a previously added trusted device or phone number to receive the verification code.
Here is how to make use of this option in iPhone/iPad/iPod:
Open Settings of your device.
Press on your name and then go to Password & Security.
Find and open the Change Password option.
Enter the iCloud password if needed.
Then, follow the on-screen guide to change the password.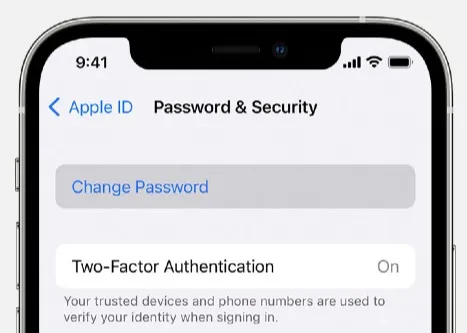 Here is the course of action you need to follow for Mac:
Open the Apple menu. Find System Preferences and tap on it.
If it's macOS Mojave, press iCloud and then Password & Security. For macOS Sierra/High Sierra, click on iCloud and then Account Details.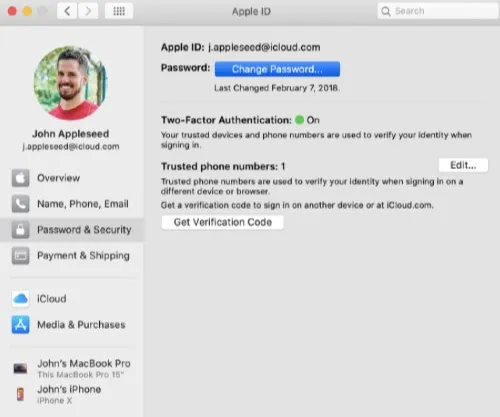 If you are requested to enter a password, press on Forgot Apple ID or Password. Then follow the on-screen guide to change the passcode.
If you are not asked to enter a password, simply press Change Password/Reset Password.
Unlock Your Apple ID by Recovering the Password
If you are the original user of the Apple device, it's pretty easy to unlock the device by resetting the password. Here is how it works:
Open the webpage

https://iforgot.Apple.com/password/verify/Appleid

from any device.
Enter your Apple ID in the text box and enter the given code for robot verification.
Click on Continue.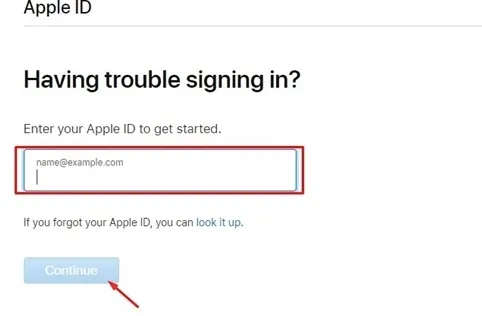 Now you will see a new page. The options on the page will be dissimilar for everyone based on the security integrated into the device.
You will receive a verification code on your trusted device if you have two-factor authentication turned on.
Else, you will be asked security questions that you have added while setting up the account.
If you are using the old two-factor authentication system, you will need to enter the code that you have got while setting the account.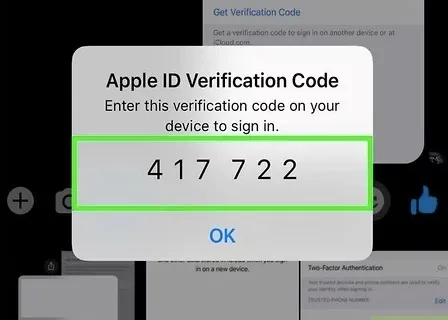 That's it; once you enter the correct code or answer, you will be able to set a new password to access the device.
Unlock Apple ID Using Recovery Key
If you have a recovery key, you can quickly recover access to the account. Here is how to unlock your Apple ID by using the recovery key.
Go to the account page of Apple ID. Press on "Forgot Apple ID or Passcode".
Now enter the Apple ID of your device and pick the reset password option.
Click on Continue and then enter the recovery key on the new page.

Pick a trusted device on which you want to get the verification code.
Enter the code. That's it; now you can reset the password.
After resetting the password, you should be able to log in to the ID with the new credentials.
Remove Locked Apple ID via FoneGeek iPhone Passcode Unlocker
If you forgot the answer to security questions or couldn't access the trusted devices, it can be pretty impossible to unlock the device. In such situations, you will require using third-party unlocker tools. Here we recommend the FoneGeek iPhone Passcode Unlocker.
It's a powerful tool that lets you remove the connected Apple ID from the device without any password. You can create and integrate a new account to enjoy the services again.
Here is how to use the FoneGeek iPhone Passcode Unlocker:
Step 1: Download FoneGeek iPhone Passcode Unlocker on your PC. Launch the program after installing.
Step 2: Now, find the Unlock Apple ID option from the app interface and click on it. After that, connect your iPhone with the PC via a USB cable. Once the iOS device is detected, you will see a new page on the app interface with Start Unlock option.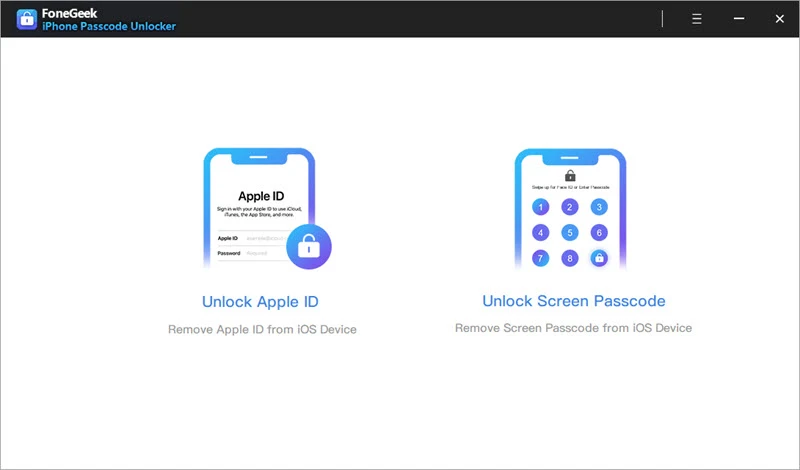 Step 3: Press on Start Unlock. Once you do that, the FoneGeek Unlocker will remove the Apple ID from your device instantly. It may take a while, and make sure you are not exiting the program when the process is ongoing.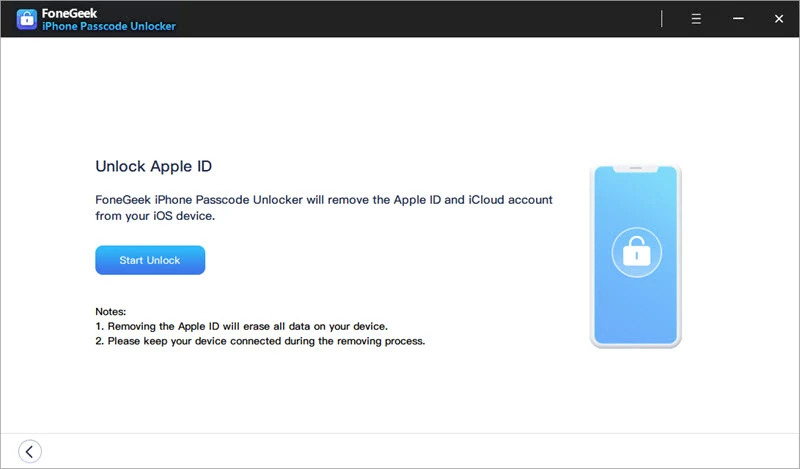 Step 4: Once the procedure is completed, you will see a confirmation message on the interface. That's it; now, you can add a new Apple ID and enjoy all the services without any restriction.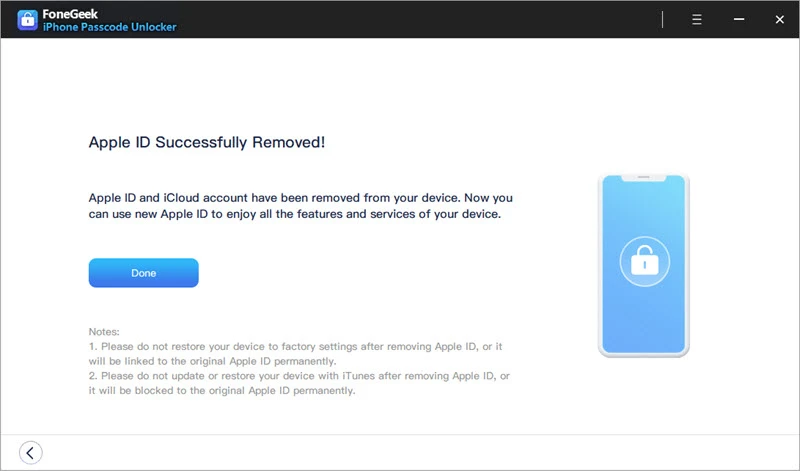 Part 3. How to Find Out If Your Apple ID has Been Hacked
When Apple detects unusual login activities on your account from different locations, it will lock the ID instantly as a measure of protection. They will let you know about the lock through a message saying that the ID is disabled/locked for security reasons. They will also inform you through an email about the issue. You will be requested to reset the account with your Apple ID and password.
If you have trusted devices for two-factor authentication, you will also receive a warning on the trusted devices about the suspicious login. You can easily realize that someone is trying to hack your Apple ID from these notifications.
Part 4. How to Protect Your Apple ID from Hackers
Here are some of the measures you can take to protect your Apple ID from hackers:
Use a complicated password consisting of letters, characters, and symbols to strengthen it.
Turn on and set up two-factor authentication. Hackers cannot get into your account when it is turned on, even when they know the password.
Avoid signing into the third-party tools with the Apple ID and passwords. Only use the login credentials on the authorized channels of Apple.
Don't share your password and ID with someone else. If you share the ID and they try to log in from a different location, Apple will lock the account.
Conclusion
Don't freak out if you see your Apple id locked for security reasons. It's a protective measure to save your account from unethical access. As you see above, you can easily lift off the lock from the account in several ways.
And, even if you forget the Apple ID login credentials, there is FoneGeek iPhone Passcode Unlocker. Using this reliable program, you can easily remove the old account and add a new one to enjoy all the Apple ID-related services and functionalities.