Apple ID password not working has been a recurring problem that a lot of iOS users have experienced. Many reported that even when the Apple ID password was correct, it was still not working hence they couldn't log into their account.
If you're facing the same situation and you've been wondering, "why is my Apple ID password not working?" Well, you're not alone and herein we're going to help you sort it out. First, we'll look at some possible reasons that could cause Apple ID fail to work and then walk you through various ways you can resolve it. So, let's dive into it.
Why Is My Apple ID Password Not Working?
The Apple ID is usually an email address that you use to log in to nearly all Apple services on your phone including App Store, iCloud, and iTunes. Therefore, once you sign in to your iOS device using your Apple ID, you'll be able to enjoy all Apple-related services using the same Apple ID account.
Still, though, there are many iOS users facing the issue of Apple ID password not working, even when they're certain their Apple ID and password are correct. The possible reasons why this happens could be:
You don't remember your Apple ID or password correctly.
You're using a new Apple ID or you changed your password.
Your Apple ID is probably disabled or locked and you were notified.
Apple's server is down or has some other issue.
These are the most common reasons and answers to the question of why my Apple ID password is not working. Below are several methods you can try to resolve the issue completely.
1. Restart Your iPhone/iPad
The first and easiest method that can help you resolve this Apple ID password not working issue is restarting your iPhone/iPad. A simple reboot of your iDevice may seem not much but it usually fixes many problems and it can as well fix this issue. Follow these steps to restart your device:
For iPhone 8 and onwards - press the Volume Down/Up button and Power button together at the same time. Keep holding them down, then release them when the Power Slider comes up on the screen. Drag the slider to turn off the phone and again press the Power button to start the phone (until the Apple logo appears).
For iPhone 7 and older models - press the Side button. Keep holding the button and only release it when there's a power slider on the screen. Now, drag the slider to turn off the phone and again press the Power button to start the phone.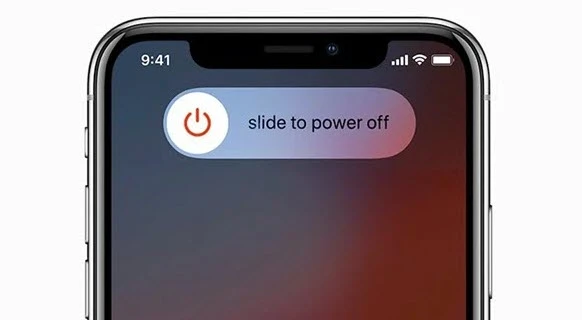 2. Sign Out Apple ID and Sign In Again
Signing out of your Apple ID account and then signing in back again can also help get rid of this my Apple ID password is not working issue. Once you sign out, wait for a few minutes before signing in again. To do that:
Launch Settings on your phone. Tap on your Apple ID banner (right at the top of the screen).
Navigate down to the end of the screen, then tap on the Sign Out option. Enter your Apple ID password when prompted and tap Turn Off.
Now, tap the Sign Out option once more to confirm.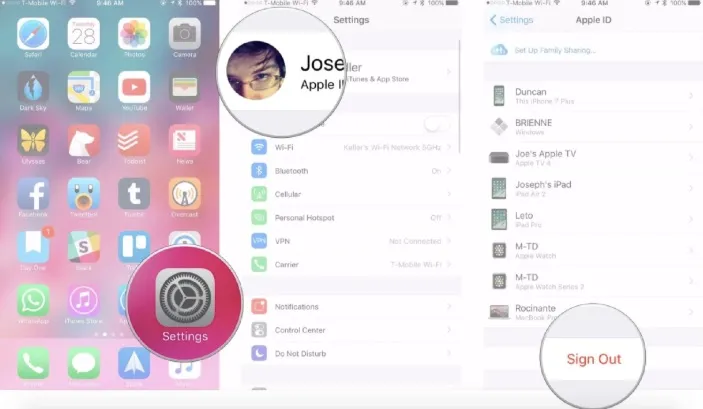 After that, you can restart your iPhone, open Settings, and sign into your iPhone again using your Apple ID and password. Just follow the on-screen instructions.
3. Update iOS to the Latest Version
You may receive the Apple ID password not working notification simply because the iOS version of your device is outdated. Therefore, check to see if there's a software update and if there's one, then update it to the latest version.
Launch Settings and tap General.
Next, tap Software Update. In case there's a pending update, tap the Download and Install option to update your iPhone to the latest iOS version.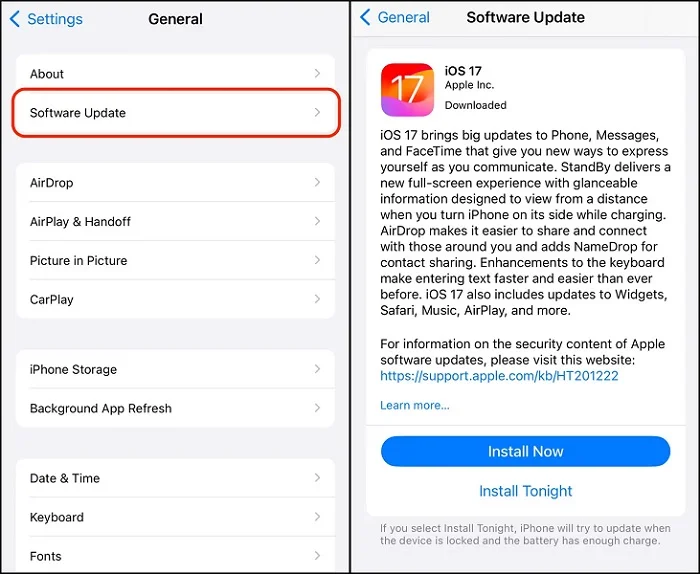 4. Reset Your Apple ID Password
In case you don't remember your Apple ID password, then you can reset it. Here are three ways you can do it.
Option 1. On Your iPhone or Other Trusted Apple Device
Launch Settings on your phone. Tap on your Apple ID banner (at the top of the screen).
Next, tap Password & Security and then tap Change Password.
Follow the provided instructions to reset the password.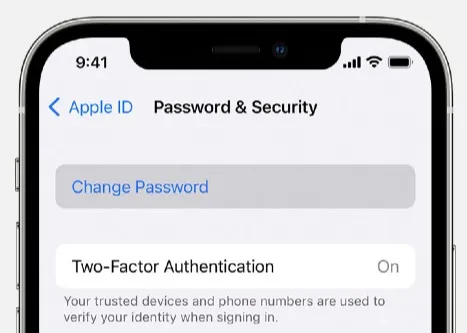 You can as well implement the same process on any trusted iDevice including iPad, iPod Touch, and Apple Watch.
For a trusted Mac, you can reset the password by selecting Apple Menu and then clicking System Settings/System Preferences. From there, sign in using your Apple ID and click on Password & Security. Click Change Password and then follow the displayed instructions.
For a new Apple device or if you're not signed in to your Apple device with your Apple ID, choose "Forgot Apple ID or Password?" when the option shows up. You'll see the option during the device setup when the Apple ID sign-in screen appears. Once the setup is done, you can choose an app or any other option which requires you to sign in.
Option 2. Use the Apple Support App
Also, you can use your friend's or family member's Apple device to reset your Apple ID password with the Apple Support app, or use the one at Apple Store in case you can't access your Apple device but can access your trusted phone number.
Using the borrowed Apple device, launch the Apple Support app. If you don't have the app, download it from the App Store.
On the next page, tap on Passwords & Security. Tap Reset Apple ID Password and then Get Started.
Now, tap on the A Different Apple ID option.
Put in your Apple ID and then follow the displayed instructions to reset the password.
Option 3. On the iForgot Website
If you do not have a trusted device, then you can try resetting your Apple ID password on the web. The process might take a bit longer but it's simpler compared to the rest. Follow these steps to finish the resetting:
Visit the My Apple ID Website on a web browser. Tap the Forget Apple ID password option and put your Apple ID.
Confirm your identity. You'll receive an email from Apple or answer a security question to verify your Apple ID.
After the verification is successful, "Enter your new password" when prompted to do so and then tap "Update Password". That's it! Your Apple ID password is now reset.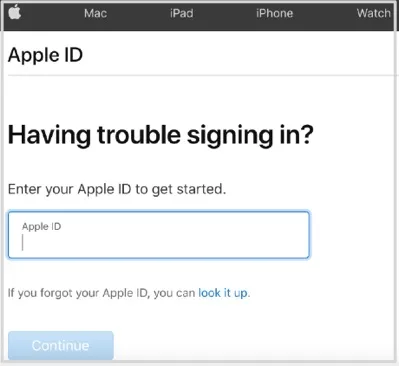 The web process can redirect you to your trusted device when possible. Hence, if you have access to any of your trusted devices at that time, resetting the password would be faster and easier then.
5. Create A New Apple Account
Another solution you can try to resolve my Apple ID password is not working error is creating a new Apple Account altogether. It's easy to set up a new Apple Account, just follow these steps:
Open Settings from your device. Scroll down to the iCloud option and tap it. On the next screen, tap on "Create a Free Apple ID."
Enter the relevant information (your birthday and name) to create an Apple account and tap Next. Tap on "Use your current email address" or "Get a free iCloud email address."
Once you fill out the required information, you have to confirm your account. Just follow the provided steps to verify your identity/email address and create a strong password.
Once you've successfully confirmed your identity, your new Apple account is now created. You should, however, ensure you set a strong password to protect your account.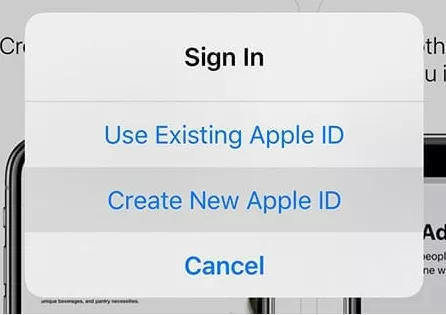 You should also ensure you've set up the two-factor authentication when creating the password. If you skip that step, you'll be prompted to set it later in Settings.
Extra Tip: How to Unlock Apple ID without Password
It's possible that the reason for this problem is that you've forgotten your Apple ID or password and the best choice for solving it if that's the case is to use a professional iOS unlocking tool like the FoneGeek iPhone Passcode Unlocker. This tool is able to remove Apple ID on iPhone/iPad without the password, thereby allowing you to create a new password or iCloud account. The program itself is simple to use and can work with nearly all iPhone models and iOS versions.
Main Features of the FoneGeek iPhone Passcode Unlocker
Instantly unlock Apple ID on iPhone or iPad without knowing the password.
Remove different screen locks (Face ID, Touch ID, 4-digit/6-digit passcode).
Resolve disabled iPhone or iPad touch without using iCloud or iTunes.
Compatible will most iPhone models (up to iPhone 14) and iOS versions (up to iOS 16).
How to unlock Apple ID without a password using the FoneGeek iPhone Passcode Unlocker
Select the "Unlock Apple ID" mode from the home screen after downloading, installing, and launching the FoneGeek iPhone Passcode Unlocker.
Get your iPhone/iPad connected to your PC using a USB cable. If you've already trusted your PC on your iPhone, the FoneGeek Unlocker should detect the phone.
Now, on the next screen, click "Start Unlock" to allow the program to remove the Apple ID plus the iCloud account currently linked to your iPhone/iPad.
After a few seconds, the program will alert you that the Apple ID has been successfully removed.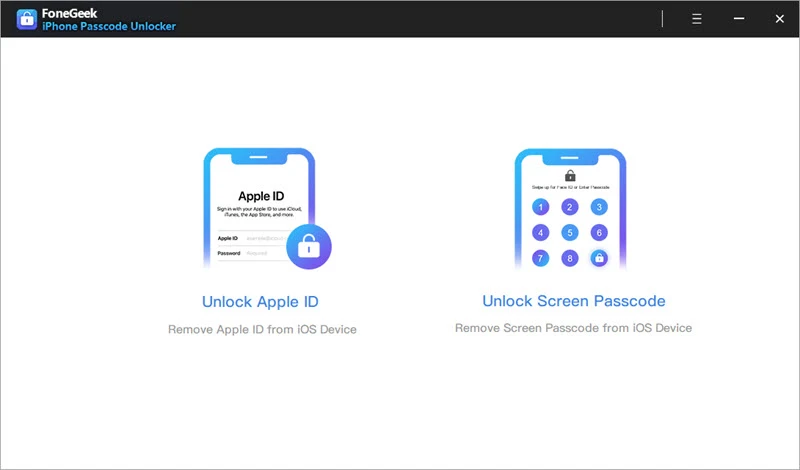 Final Words
By following the above methods you should be able to certainly put an end to this Apple ID password not working issue you're facing. All the methods are well tried and tested, and they indeed do work.
You can also choose to unlock the Apple ID on your device without the password if you don't wish to go through the trouble of trying out all the above methods. You can do this using the FoneGeek iPhone Passcode Unlocker. It's the quickest and easiest solution to this problem and once you have removed the Apple ID, you can create a new account.