When you can't remember the passcode to your iPhone and enter the wrong code too many times, the iPhone security lockout notification will come up on the screen and you won't be able to enter the code anymore to get into the device.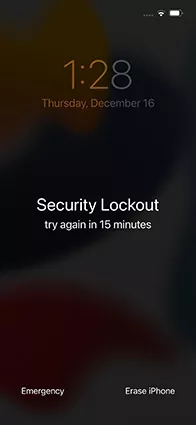 If you've found yourself in such a scenario, don't worry because there are ways that can help you get out of it. In this post, we'll explain the meaning of this "Security Lockout" screen you're seeing and also share several methods you can use to bypass iPhone security lockout to get back into your device. So, let's jump straight to it.
What Does iPhone Security Lockout Mean?
iPhone security lockout is basically a new feature that Apple added on the screen for iPhones running iOS 15.2 or later versions. It comes up after too many unsuccessful password attempts. So, what actually happens when your iPhone tells you "Security Lockout '' or "iPhone Unavailable"?
Generally, if you enter six incorrect passcodes in a row, then your iPhone will not be available for 1 minute. After the seventh try, the phone will be locked for 5 minutes. If you make an eighth attempt, then it will now get locked for another 15 minutes.
If you make more attempts after the 9th try and still fail to enter the correct passcode, your iPhone's screen will continue to show the notification "Security Lockout. Try again in 15 minutes".
How Long Does A Security Lockout Last on An iPhone?
Well, while there's a 15-minute timer when your iPhone shows the "Security Lockout" screen after the ninth incorrect passcode attempt, there's also another option ("Erase iPhone") that appears on the screen's bottom right corner.
This is yet another new feature that Apple added in their iOS 15.2 and newer versions in order to help iPhone users to erase and reset their locked iPhones straight away without having to wait for the timer. From there, you just set your iPhone up once more and continue using it as usual.
Still, though, you can decide to wait for the 15-minute timer of the Security Lockout to run out, then put in your correct passcode if you've remembered it and unlock your iPhone.
In case you enter the wrong passcode again for the tenth time, it will escalate to a longer waiting period. You'll now see the notification "Security Lockout. Try again in 1 hour". If you go ahead and make an eleventh attempt and you still end up getting the passcode wrong, your iPhone will automatically erase itself and then restore to factory settings. There would be no more options to enter your passcode.
These are the iPhone Unavailable/Security Lockout notifications and the corresponding waiting periods starting from the sixth to eleventh unsuccessful passcode attempts:
iPhone Unavailable try again in 1 minute
iPhone Unavailable try again in 5 minutes
iPhone Unavailable try again in 15 minutes
Security Lockout try again in 15 minutes
Security Lockout try again in 1 hour
Security Lockout try again in 1 hour
How Can I Get My iPhone Out of Security Lockout?
You can bypass iPhone security lockout by either completely resetting your iPhone without any delay by simply tapping the "Erase iPhone" option given on the bottom part of the screen, or you can wait until the timer of Security Lockout runs out and then put in your correct passcode.
If you have forgotten your passcode, you can follow the steps below to fix Security Lockout by erasing the iPhone:
On the Security Lockout screen, find the "Erase iPhone" button in the bottom corner of the screen and click on it.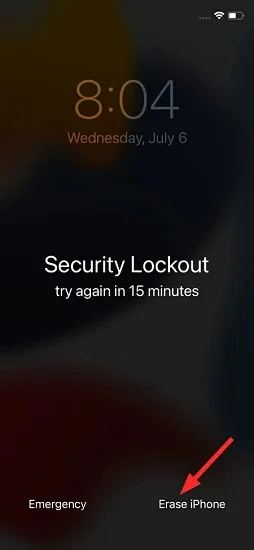 You will get an "Erase All Content and Settings" alter and you can erase and reset the iPhone now or wait for entering passcode later.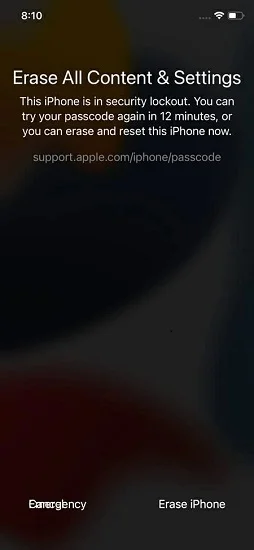 Just click "Erase iPhone" and enter your Apple ID password on the next screen, the iPhone will be reset automatically.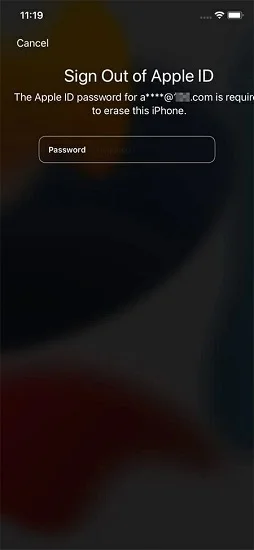 What If There Is No Erase iPhone Option in Security Lockout Screen?
Option 1: Use iPhone Passcode Unlocker
When you've unsuccessfully tried all the passwords you can remember and the iPhone security lockout screen is still there but with no "Erase iPhone" option, you can consider unlocking your iPhone without using any passcode. It's very possible. You can easily do this using FoneGeek iPhone Passcode Unlocker. It works with both the earlier and later versions of iOS. Moreover, it's very effective at removing alphanumeric codes, Touch ID, Face ID, and more. Here's how to use it:
Run FoneGeek iPhone Passcode Unlocker after downloading it on your computer and installing it. When it opens, click "Unlock Screen Passcode" to continue.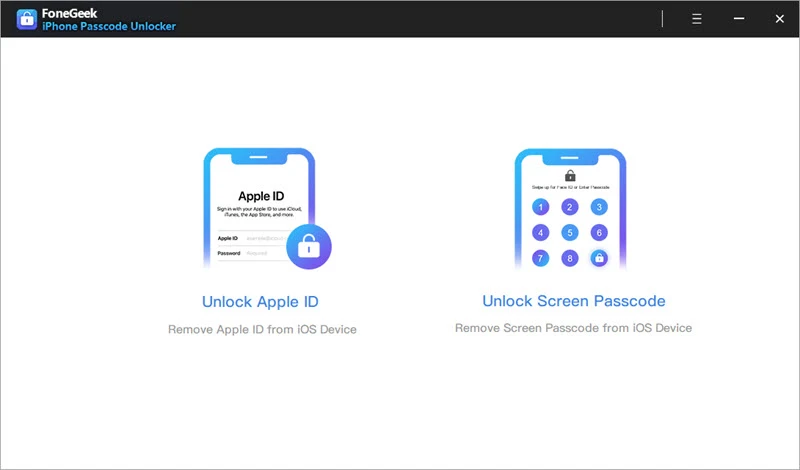 Get the locked iPhone connected to the computer via a USB cable. Then click "Next".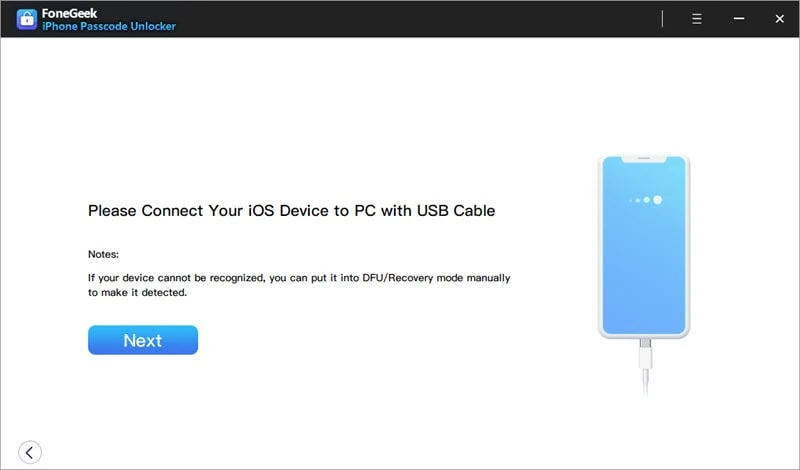 From the following window, click "Download" to get a matching firmware package file for your device.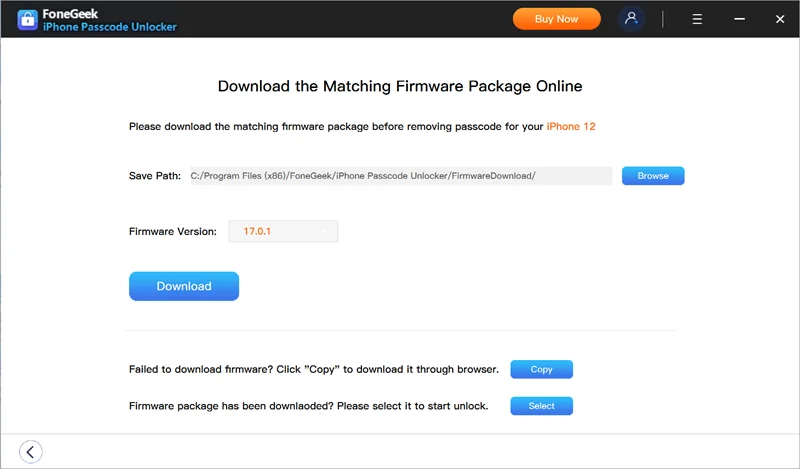 When the firmware package finishes downloading, click on the "Start Unlock" option to initiate the automatic removal of your iPhone's passcode.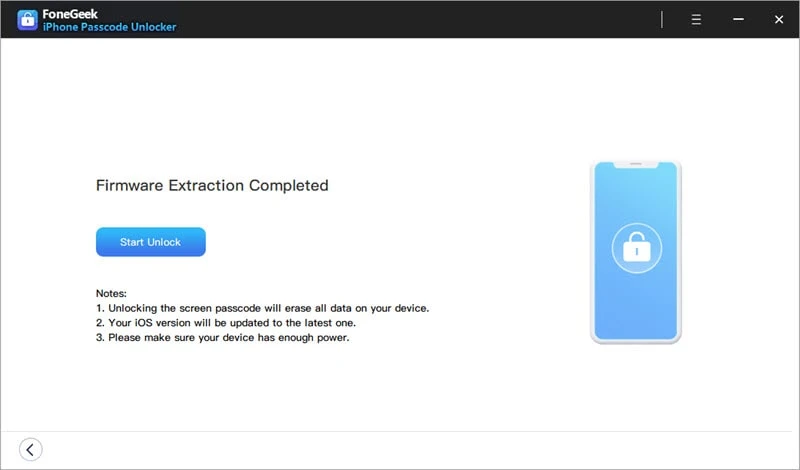 Allow the process to complete - should take a few minutes. Ensure the iPhone and the computer remain connected throughout the process. Then create a new passcode, Touch ID, and Face ID for your unlocked iPhone. You can now restore your data from any of your previous iTunes or iCloud back-ups.
Option 2: Restore Security Locked iPhone with iTunes
Although FoneGeek iPhone Passcode Unlocker offers the easiest way to bypass iPhone security lockout, some users are skeptical of third-party apps. If that's your case too, then you can use iTunes to bypass iPhone security lockout instead. This is quite a straightforward method, but the success rate is relatively low.
In most instances, iTunes can fail to recognize a locked-out phone because of security concerns. Nonetheless, here's how to use iTunes to overcome the security lockout iPhone screen.
Open the iTunes app on your computer and get your iPhone connected to it. Enter the iPhone into recovery mode - the procedure will vary depending on the model.
When your device gets detected, hit the "Restore" button from the window that pops up.
Next, click the "Restore & Update" option. iTunes will begin downloading the software update meant for your device. The download can take a while to complete depending on the speed of your internet connection.
After the download is done, iTunes will begin to reset your iPhone. Wait patiently as the reset process would also take some time to complete.
Option 3: Unlock Security Locked iPhone via iCloud
Another method you can use to bypass iPhone security lockout if your device is still showing the "Security Lockout" screen is to use iCloud to reset the device. It's a method that doesn't need a computer at all, but it requires your Apple ID password and also Find My iPhone to be turned on. To bypass iPhone security lockout using iCloud, follow these instructions:
Go to www.icloud.com. Enter your valid iCloud credentials (Apple ID and then the password).
After you've successfully logged into your iCloud account, head to the "Find iPhone" option and click it.
Check if your device is listed under the "All Devices" list on the top bar. If it's there, click on it to begin unlocking it. Next, click "Erase iPhone" on the resulting screen.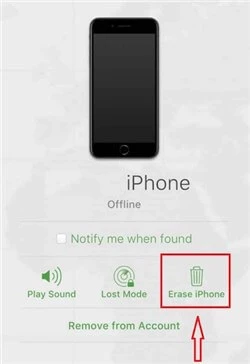 After entering your correct Apple ID passcode, your iPhone will be reset. From there, you'll have to set up your iPhone again like it was brand new.
How to Avoid Getting Security Lockout on an iPhone?
It's not fun at all when your iPhone enters into Security Lockout and there's nothing you can do about it. Here's how you can avoid getting locked out again.
Create a new passcode, one that you'll remember easily. Once you resolve this Security Lockout problem and you gain back access to your iPhone, we would advise that you set a new 4-digit or 6-digit passcode. Make sure you memorize the new passcode and even write it down on some piece of paper. Find a safe place where you'll put the paper.
Set up Touch ID or Face ID. With just a touch or a glance, you'll be able to unlock your iPhone instantly.
Avoid giving your device to kids. If they want to access and use your iPhone and enter so many wrong codes randomly, the Security Lockout notification might pop up again to stop unauthorized access.
Conclusion
You can gain back access to your iPhone if it's saying "Security Lockout" after unsuccessfully trying so many times and you still can't remember the correct passcode. Just use the different methods we've provided above and you'll bypass iPhone security lockout in no time.
The method we would recommend most though is FoneGeek iPhone Passcode Unlocker. It's the easiest solution and works smoothly and very effectively to unlock your device without requiring any passcode, even the latest iPhone 14. You can use it to quickly bypass the Security Lockout screen on iPhone 14. Download it and try it out.