People usually set multiple security levels on their phones to ensure that their data is well protected. No one wants their saved bank credentials, private conversations, personal images and videos accessed and exploited by unauthorized persons. However, even with Apple's robust security features, you may still have doubts about the safety of your data, especially when your phone gets stolen. It's not uncommon to ask yourself, "can someone unlock my stolen iPhone?" in such situations.
So, in this guide, we'll shed light on this "Can someone unlock my stolen iPhone?" question and let you know what to do when your iPhone gets stolen. We'll also share several methods you can use to unlock a stolen iPhone in case you find one. Let's get started.
Can Someone Unlock My Stolen iPhone?
Absolutely yes. A thief can utilize various ways to unlock the iPhone they stole. Not many mobile users like setting up passwords or unlocking security patterns that are complex. Most usually set up just simple passwords like 0000, 1234, 4321, 2023, 1919, etc. This is a fact that thieves are aware of and many times they don't need to use a computer to unlock the phone they steal.
In most cases, the first thing the thief would do after snatching the phone is to guess the lock screen password. Their previous experiences often put them in a better position to predict or guess a password that's likely to unlock the phone.
Therefore, if unfortunately, you're not keen on setting up complex passcode, it's quite possible that your device can get unlocked with just a wild guess. If that happens, the thief will have access to everything that's on your device.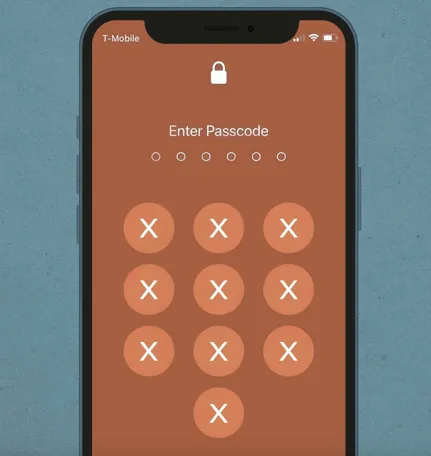 Don't Guess the Screen Passcode to Unlock iPhone
Not many people with iPhones would set their passcode as 0000 or 1234, though. They would definitely be a bit creative, which means there's little possibility that guessing the passcode would work.
Moreover, there are only a few attempts allowed to unlock an iPhone. Once you exhaust the allowed attempts, iPhone has default settings or built-in security measures that will disable the phone such that you can't use it anymore. You'll now be forced to find ways to activate the disabled iPhone so that you can unlock it. That is quite possible but it's time-consuming. The bottom line here is that you should avoid trying random number combinations to unlock the phone. Instead, check the section below for safe and effective ways of unlocking stolen iPhone to find its original owner.
How Can I Unlock A Stolen iPhone?
One of the most common concerns we hear from users is someone stole my iPhone can they unlock it? However, not everyone steals. You can come across or purchase a stolen iPhone without knowing, especially from online stores. In such situations, it's normal to want to know how a stolen iPhone can be unlocked. Here are some more precise and effective methods you can use.
Unlock Stolen iPhone via Siri
It's very possible to unlock an iPhone through Siri. But, this method will only work if the stolen iPhone runs iOS version 10.3.2 or 10.3.3 because there's a security loophole that can be exploited. The steps are as follows.
Press the Home button of the stolen iPhone and hold on to it to activate Siri. Ask Siri anything about time so that it displays the clock.
When the clock appears on the screen, tap the "+" icon that's on the upper right corner.
Go to the search box, type something in it, and then tap what you've typed to see Options.
Tap the Select All option and then tap on Share. You'll see a new pop-up. Go to Message and tap it.

The message menu will show up. Now, head to the To field, type anything, and highlight/select it by hitting the return/back button on your device's keyboard.
When you've selected what you've typed, tap the + button and then choose the Create a New Contact option. Tap the photo icon to be taken to the gallery.
Tap the Choose Photo option. This will move you to gallery. Now, go back to the main screen by pressing the Home screen button. That's it. You've finally unlocked the device.

Pros:
You don't need to use a computer to unlock the stolen iPhone.
There are no third-party apps involved.
It's a suitable method for those adept at playing with the settings.
Cons:
It's a long process that takes time and can be complex for beginners.
It won't work if the stolen device doesn't run on iOS version 10.3.2 or 10.3.3.
Unlock Stolen iPhone Through the Recovery Mode
The iPhone recovery mode allows users to restore their iPhone as well as repair other issues related to their devices. It's a very useful feature that you may have as well used to restore your device before. It's so effective that you can also use it for unlocking a stolen iPhone. The stolen iPhone has to first get connected to a computer that has iTunes installed with a USB cable. The next step is putting the stolen iPhone into recovery mode.
Now, the process of entering the recovery mode differs slightly based on the iPhone model. Here are the various key combinations for different iPhone models.
iPhone 8 and later models - Press Volume Up button, then quickly release it. Go to Volume Down button, press it, and then quickly release it too. Now, press the Side button and hold it to put the device into recovery mode.
iPhone 7 models - Press the Side button and the Volume Down button simultaneously, then hold them until the device goes into recovery mode.
iPhone 6 and earlier (older iPhones) - Press the Home button plus the Side button simultaneously for the device to enter recovery mode.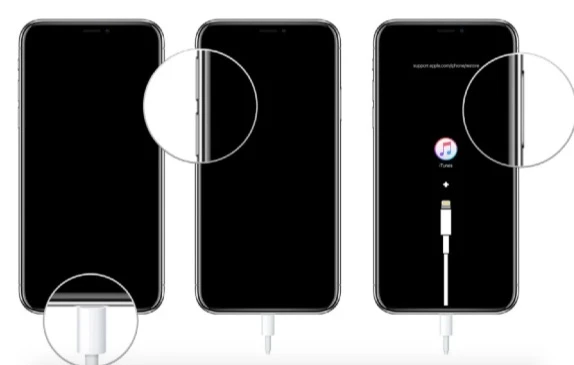 When you have the stolen iPhone in recovery mode, the Finder or iTunes will detect it. Once you see it, just click the Restore option, and all the data on the stolen iPhone, including the password, will get erased.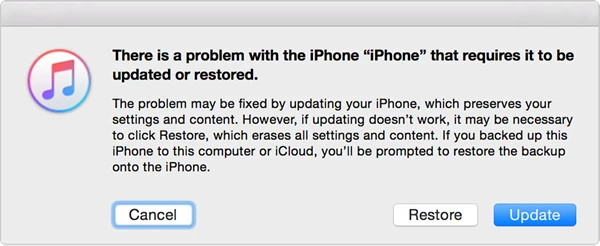 Pros:
It's a fairly simple process than using Siri.
It can work on all iOS versions.
You don't have to know your way around settings to use it.
Cons:
You'll need the original owner's correct Apple ID credentials.
It won't unlock the stolen iPhone if Find My iPhone was enabled by the owner.
You have to use a computer to execute the method.
Unlock Stolen iPhone Using an iPhone Unlocking Tool
Using Siri to unlock stolen iPhone is time-consuming and only works on certain iOS versions. The iPhone recovery mode offers a good alternative method but it fails to work if you have no correct Apple ID credentials for the phone and if "Find My iPhone" was enabled by the owner. So, what's the best method? Well, the most convenient method is to use an iPhone unlocking tool like FoneGeek iPhone Passcode Unlocker. With this software, you can factory reset the stolen iPhone without a passcode, whether the owner enabled Find My iPhone or not. It has many advantages like:
It doesn't need Apple ID details to unlock or remove the passcode.
The interface is highly user-friendly hence easy to navigate for all.
It gets rid of the Apple ID and password very quickly.
Offers a simple and straightforward unlocking process.
It supports all iPhone/iPad models and all iOS versions.
Steps to unlock stolen iPhone using FoneGeek iPhone Passcode Unlocker.
Visit FoneGeek official site and download the software. Install it on your computer.
Select the appropriate erase mode by clicking the Unlock Screen Passcode option.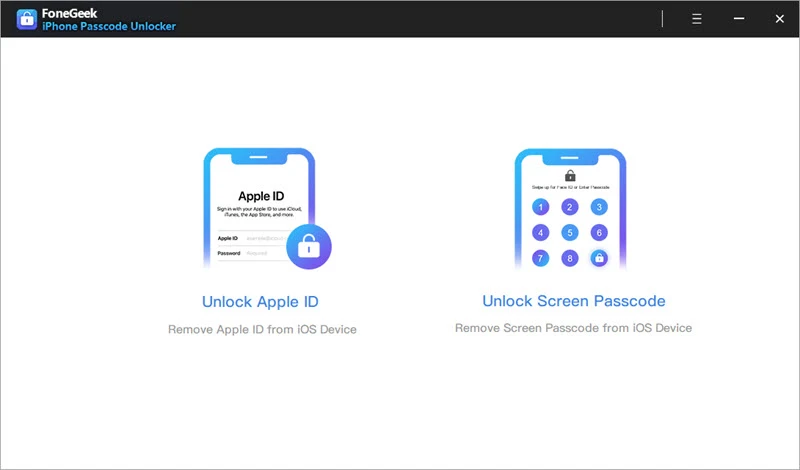 Use a USB cable to get the stolen iPhone and the computer connected.
Finally, click the Start Unlock button to have everything on the stolen iPhone erased.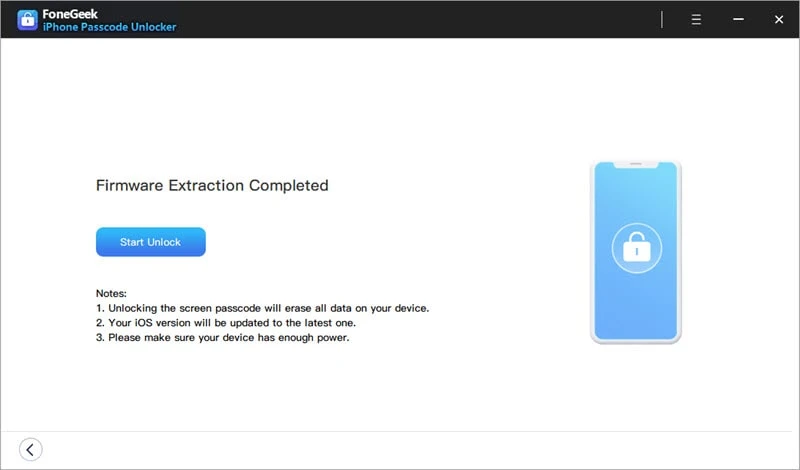 As a professional iPhone unlocking tool, FoneGeek will factory reset the stolen iPhone and delete any personal data stored on the device. There's nowhere you'll use Apple ID or password during the unlocking process.
What to Do in Case iPhone Gets Stolen?
Having your iPhone/iPad stolen is quite unfortunate, but you can do several things to ensure no one can use it or have access to the data stored on it. Here's what you should do.
Enable Find My iPhone
Have "Find My iPhone" turned on regardless of whether the iPhone is stolen or not. This is very important because enabling Find My iPhone turns on the Activation Lock. Since Activation Lock is usually linked to your Apple ID, anyone that steals or finds your stolen iPhone won't be able to use it with another account. Moreover, you can easily remove all the data on your device and even lock it completely.
Locate Your Stolen iPhone on Map
With "Find My iPhone" enabled, it's easy to find the actual location of your stolen iPhone. You just need to visit the official iCloud website, use your correct Apple ID details to sign in, and then check the devices connected to the account. From the list, click the Stolen iPhone and you would see its location in case it's still active. It will still show the last location of the iPhone, though, should it be inactive. You can also remotely perform the following functions on the stolen device.
Playing music or sound.
Enabling the Lost Mode.
Deleting the Phone data completely.
Wipe out Every Content and Settings Remotely
There's always a high chance of a data breach when your iPhone gets stolen. If you suspect this is the case, you can erase your device by following these steps.
Visit the official iCloud website and go to the Find My app. Open it and click on Devices.
Locate the stolen device from the list and select it.
Click the Erase This Device option.
Finally, click Erase iPhone to delete the stolen device.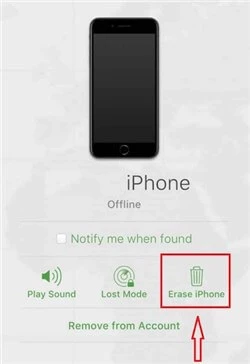 Note: This action will result in all the data stored on the device getting completely erased.
Avoid Giving out Your Passcode
You're likely to receive phishing messages when your iPhone/iPad gets stolen. You'll be told to change your passcode in these messages or to send a verification code that was sent to you. Chances are that you're dealing with Apple iPhone passcode thieves that are trying to get the passcode to unlock your stolen iPhone. So, if you get such messages, don't trust them.
Look out also for any suspicious emails and phone calls that request your passcode or some other personal information. It's rare for Apple to use any of these channels to ask for your passcode.
FAQs about Unlocking a Stolen iPhone
Do I need to erase my iPhone when it's stolen?
Well, we would advise erasing completely. If you do that, you're guaranteed that your personal data won't end up in the wrong hands and that no unauthorized person will access your accounts. It's a step that will also safeguard your privacy and even discourage the thief from misusing or reselling the device. Therefore, you should act swiftly immediately after your phone is stolen by reporting the theft and deleting your iPhone so that you can prevent any risks related to a stolen device.
If my iPhone is in Lost Mode, will I unlock it?
No, you won't be able to unlock your iPhone if it's in Lost Mode unless you disable it. The Lost Mode feature allows users to lock their iPhones remotely and display a message that shows their contact information.
Can I unlock an iPhone using a fingerprint after it's reported stolen?
Well, that's not possible. After an iPhone has been reported stolen, the authorities immediately add it to a national database for stolen devices. Once added to this database, you can't activate the device or use it again.
How can I avoid purchasing a stolen iPhone?
Find out the IMEI number of the device so that you can check its status. You should also examine the device physically before you purchase it. Check for the Apple ID and MDM profile. Check if the Find My iPhone/iPad option has been enabled on the device. In case the device has Apple ID or the MDM profile and the seller fails to provide the credentials, there's a high chance that it's a stolen device.
What can I do when I mistakenly buy a stolen iDevice?
Immediately you realize you've accidentally purchased a stolen iPhone, you should find the nearest police station and report the matter. In case the owner reported that the device is stolen, they will get it back. However, if it's not reported stolen, the police can't return it. They can allow you to keep the device since it can't be returned. Should they do so, you can unlock it. This is still not advised, though.
Conclusion
We have answered the question "Can someone unlock my stolen iPhone?" very well in the guide above. It's clear that a thief can unlock your stolen iPhone, but if you set a complex lock screen passcode, it would be impossible to unlock it. We also highly advise you to report a stolen iPhone to a nearby police station if you accidentally buy it.