You are trying to sign out from the Apple ID on your iPhone or iPad. You entered the credentials correctly and clicked the Sign Out button, but nothing happened. Instead of signing out, you are seeing an error notification saying "You can't sign out of Apple ID because your phone is being restored" or "Sign out is not available due to restrictions".
If this situation seems familiar, keep reading this article. Below, you will find the common reasons why you can't sign out of Apple ID and how you can fix it.
Why Can't I Sign Out of My Apple ID?
Several reasons can prevent you from signing out of Apple ID on your iPhone/iPad. The most usual reasons are included below;
You might have entered the password for Apple ID misspelt.
Your internet connection might not be responding.
Sometimes, it occurs because of verification failure as the device fails to connect with the iCloud server.
Sometimes, you may find the Apple ID is greyed out in the Settings App, preventing the sign out.
The device might be stuck on the sign out screen with the spinning symbol.
The Sign out button is greyed out, and you got an error message saying you can't sign out due to restrictions.
When you tap sign out, it says you can't sign out as the device is being restored.
How to Fix Can't Sign Out of Apple ID on iPhone
Now you know the usual reasons that cause the issue. Let's check out the solutions that you can utilize to solve it. Here are the resolutions you can try to solve the error;
1. Check Apple System Status
Begin with checking the Apple System status page. It lets you know if certain Apple services or features are down. Here is how to do so;
Visit the Apple System Status page.
Once the page loads, check the circle aside Apple ID.
If the circle is green, it's working. If not, it's down.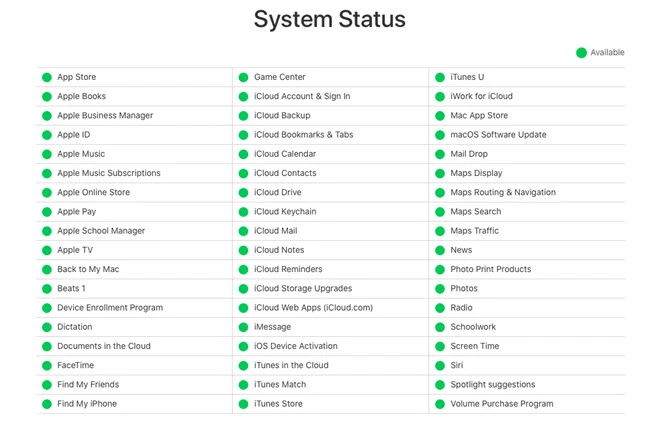 If the problem is on Apple's end, you have nothing to do but wait. Simply wait until Apple solve the issue.
2. Enable Cellular Data
If your WiFi is not working properly, turn on cellular data and tnen try login out from Apple ID. Here is how to turn on cellular data:
Browse your iPhone's Settings App.
Find and turn on the toggle beside the Cellular Data option.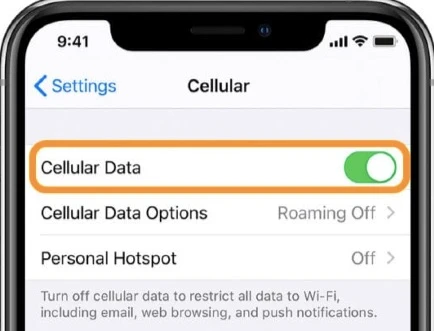 3. Force Restart iPhone
Sometimes force restarting your iPhone may help to solve the issue. Consider force restarting the device through these steps:
iPhone 8 or up: Quickly tap and release the Volume Up button. Do the same thing for the Volume Down button. Then long-press the Side button.
iPhone 7/7 Plus: Long-press the Power button and Volume button together.
iPhone 6 or older: Long-press the Home and Sleep button together.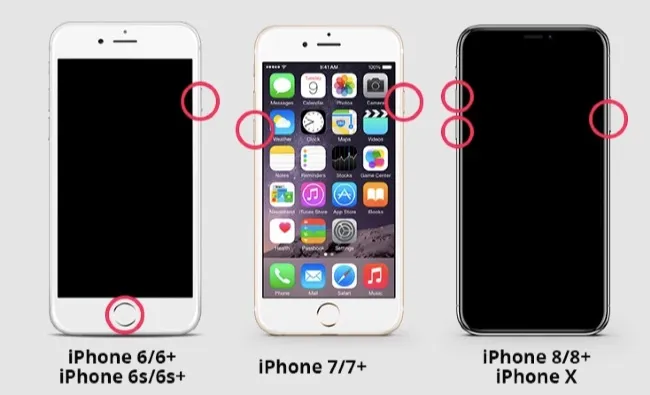 4. Stop Restoring iPhone from iCloud
If you get an error message that says you cannot sign out from Apple ID because of the device being restored, try to stop restoring the device. To do it: Browse Settings > name banner > iCloud > iCloud Backup, then press Store Restoring iPhone.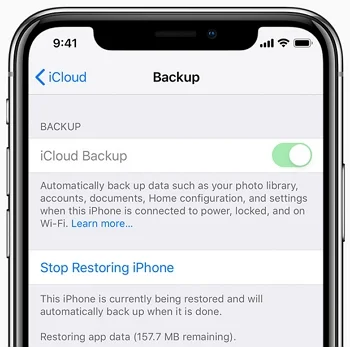 5. Turn Off Screen Time
Sometimes disabling Screen Time can help to sign out from Apple ID. Here is how to do so:
Go to iPhone's Settings > Screen Time.
Find and tap Turn Off Screen Time. Enter the passcode for Screen Time.
Next, confirm the popup to turn the feature off.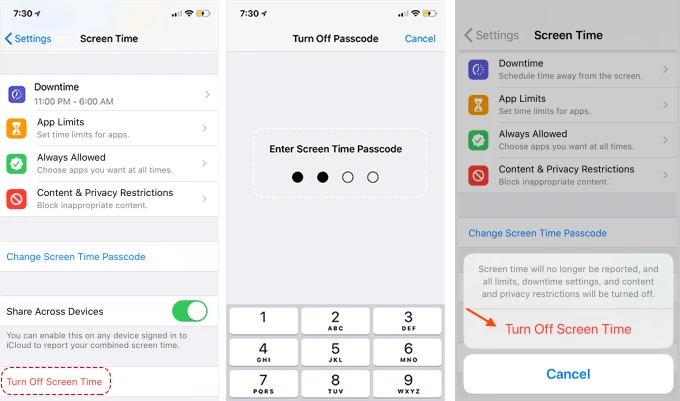 6. Reset Network Settings
Your network settings can be corrupted, which can lead to this error. Try resetting the network and check if the problem solves;
Browse iPhone's Settings and go to General > Reset or Transfer iPhone.
Click Reset > Reset Network Settings.
Confirm the popup to proceed to reset.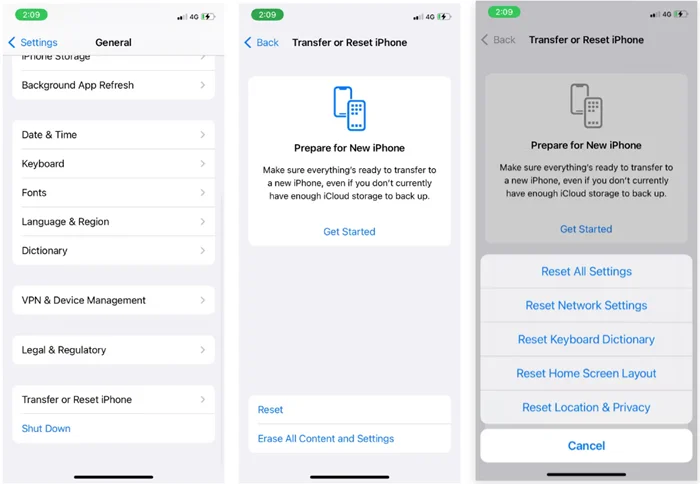 7. Factory Reset Your iPhone
If none of the above solutions solves the issue, consider factory resetting your device. Make sure to proceed cautiously, as it will delete all the data on your iPhone. Here are the steps:
Browse the Settings app and go to General > Reset or Transfer iPhone.
Find and click Erase All Content and Settings.
On the popup, press Erase iPhone. If asked, enter the passcode to go forward to the reset.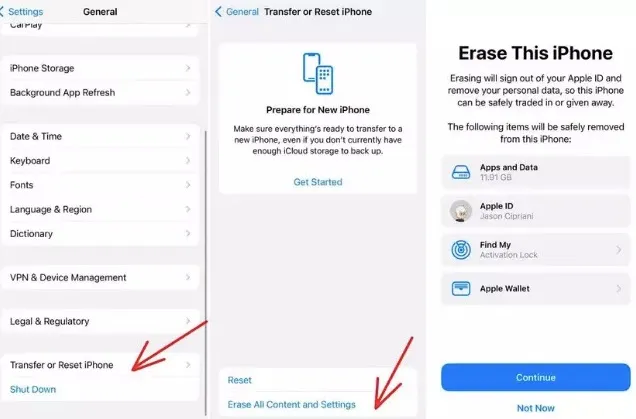 Once the reset is done, the iPhone will restart, and you will need to set it up again by adding your Apple ID.
The Ultimate Way to Sign Out of Apple ID without Password
If you cannot sign out of the Apple ID because of a forgotten password, the FoneGeek iPhone Passcode Unlocker will be the best way to fix the issue. It is a powerful and efficient tool that lets you quickly remove any passcode in iOS devices. The best thing is you don't need to know the passcode to remove your Apple ID. And you can unlock all sorts of iPhone lock screen, including 4-digit/6-digit passcode, Touch ID and Face ID.
Here is how to remove Apple ID without password:
Get FoneGeek iPhone Passcode Unlocker to your PC and install it. Then launch it and click "Unlock Apple ID" on the interface.
Now attach your iPhone to the PC through USB. If the PC is not already trusted, unlock the iPhone and click "Trust".
Now press "Start Unlock" to initiate the password removal of the Apple ID and iCloud account.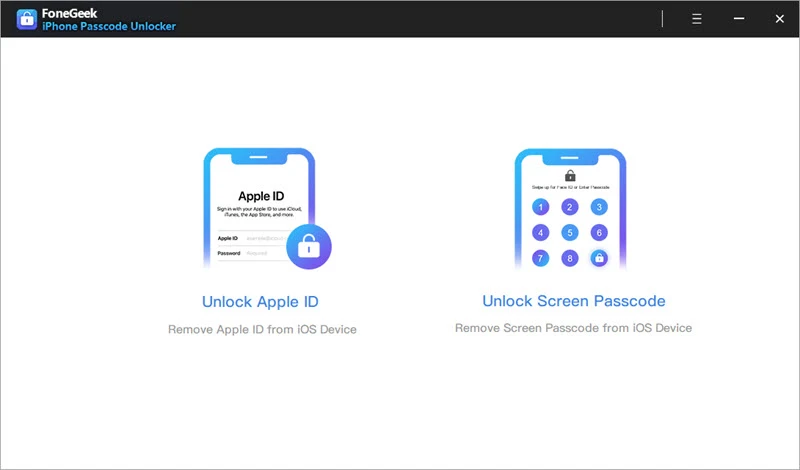 If the Find My iPhone feature is switched off, the FoneGeek app should be able to unlock the Apple ID immediately. It will require only a few seconds, and the program will let you know when the removal is completed.
FAQs on Signing Out of Apple ID
What happens if you sign out of Apple ID?
When you sign out of Apple ID, all the data stored in the iCloud will be removed from your iPhone, but they will remain in the iCloud server. You will be asked if you prefer to copy any data on your iPhone. You will also be signed out from FaceTime, App Store, and iMessage after signing out from iCloud.
Will signing out of Apple ID delete everything?
No, it won't delete everything. Your data will be available on the Apple servers, and you can access them anytime by signing in again. However, your access to all iCloud services, including iCloud Photos, iCloud Music, iCloud Drive, etc., will be revoked. If you want to keep any data stored on iCloud, you will need to back them up before signing out.
Final Words
It can be very annoying when you cannot sign out of your Apple ID. We hope that by pursuing the above techniques, you should be able to solve the can't sign out Apple ID issue. Note that you don't need to follow all these methods if you cannot sign out because of forgetting the passcode. Simply use the FoneGeek iPhone Passcode Unlocker and quickly remove Apple ID without password!