There are some reasons why you need to factory reset your iPad without passcode or computer:
When you forgot the passcode or when your device is locked or damaged, you may need to reset your iPad to unlock the device.
When you decide to sell your iPad and erase all the data, factory reset iPad is a good way to do that.
Through the way of factory resetting, the data and settings on iPad will be erased including the screen passcode. After that, you can set up your iPad as a new one and create a new scree passcode.
In this article, we are going to look at the various solutions to factory reset iPad without passcode or computer.
Part 1. Factory Reset iPad without Passcode or Computer
In the event that your iPad is lost, you may need to reset it to protect the data on the device. If you don't know the passcode and you don't have access to a computer, you can use the Find My iPad feature to reset the iPad. It is important to note however that this method will only work if Find My iPad was enabled on the iPad.
Prerequisites of this method:
The iPad should be connected with stable network.
You should enable 'Find My iPad' feature on iPad.
You should know the iCloud credentials of the Apple ID.
If you you want to reset, follow these simple steps;
On any other device, go to the iCloud official website and log in using your iCloud username and password.
Once logged in, go to "Find My iPhone" section and when you click on it, a map will open.
Click on "All Devices" and from the list of devices, select the iPad you would like to reset.
Click on "Erase iPad" and then confirm the action. If you need to, log in again and your iPad will be erased and therefore reset to factory settings.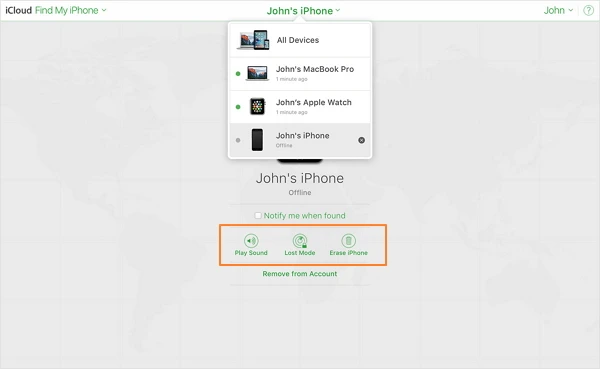 After confirming that you are going to erase iPad, your iPad will be restored to factory settings.
If you have installed Find My app on your iPad, you can click on this app, select your Pad from the Devices part and click on 'Erase This Device'.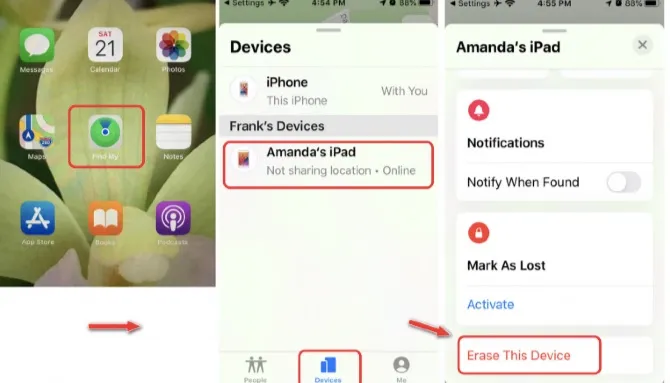 Part 2. Wipe iPad to Factory Settings without Passcode and iTunes
The other way to reset an iPad when you don't have a passcode is to use a third-party tool that can help you gain access to the iPad and reset the device without having a passcode. One of the most common tools for this purpose is FoneGeek iPhone Passcode Unlocker.
FoneGeek iPhone Passcode Unlocker is especially useful for those person who don't have enough time and patience to wipe a locked iPad to factory settings.
The iPad will be completely reset without entering the security code or passcode.
Remove iPad screen passcode and Apple account even if you forgot the passcode.
Completely remove the iCloud account and you can create a new account after the reset process.
It is an authentic tool to unlock iPad without affecting your device data.
This program is highly recommended by Filehorse, JustWebWorld, iGeekPhone and many other media sites.
It ensures up to 99% success rate at the lowest price.
Here's how you can use this powerful iPhone Unlocker tool to reset iPad without passcode:
Step 1: Download FoneGeek iPhone Passcode Unlocker and install it on your computer. Launch the program after successful installation and then connect the iPad to the computer using an USB cable. The program should detect the device automatically.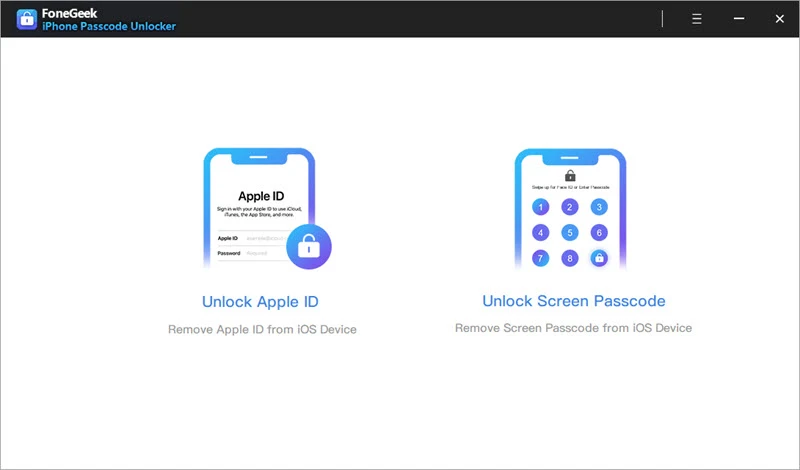 Step 2: Click on "Unlock Screen Passcode" and when the program presents the firmware for the device, select a download location and then click "Download".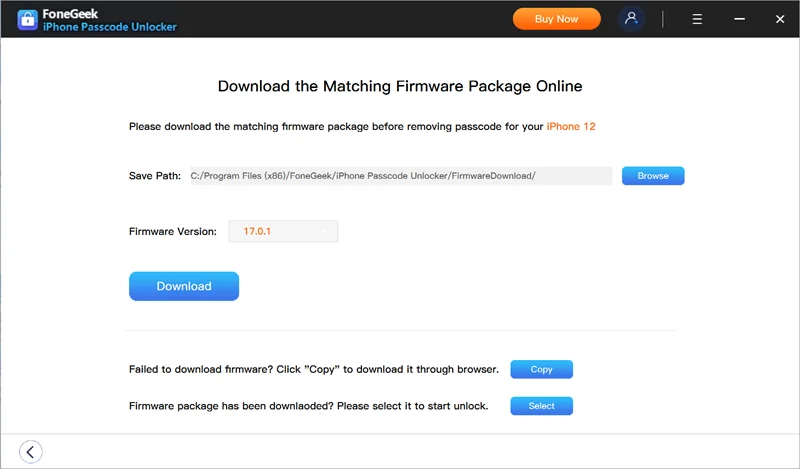 Step 3: Once the firmware has been successfully downloaded, click on "Start Unlock" and the program will begin resetting the iPad.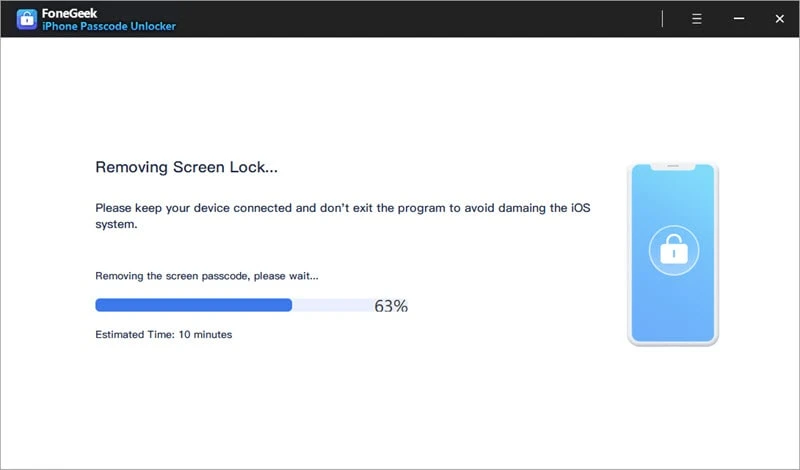 Once the procedure is complete, the passcode will be removed and you will be able to have access to the device. It is important to note however that this process will erase all data on your device and reset it.
Part 3. Reset iPad without Passcode Using iTunes
If you had previously synced your device in iTunes, you can very easily factory reset the locked iPad without having to enter your passcode. Here's how to do it:
Step 1: Connect the iPad to the computer and then open iTunes if it is not already opened.
Step 2: If iTunes requests a passcode, you may need to connect the iPad to a computer you have previously synced with or put it in recovery mode.
Step 3: iTunes should detect the iPad and sync the device, making a full backup of the current data. You may need to restore the device from this backup later, so don't interrupt the process.
Step 4: Once the syncing is complete, click on "Restore iPad" and the iPad will be reset to factory settings and you can then set it up again.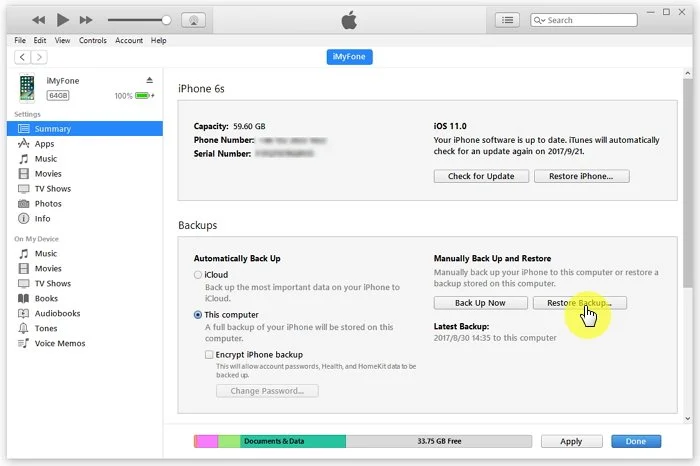 Part 4. Reset Locked iPad with iTunes in Recovery Mode
If your iPad has not been trusted with a computer, you can put the iPad into Recovery Mode and factory reset disabled iPad with iTunes. However, this will wipe out passwords, data and settings.
Step 1. Connect iPad to your computer and run iTunes.
Step 2. Get iPad into Recovery Mode by following these steps:
If your iPad has home button
Keep pressing down the Top and Side button to turn off iPad.
Hold down the Home button and connect the device to pc at the same time.
When "iTunes has detected an iPad in recovery mode" appears on the screen, release the Home button.
If your iPad is set with Face ID
Keep pressing down the Top and Side button to turn off iPad.
Hold down the Top button while connect the device to pc.
Release the top button until the iPad enters the recovery mode.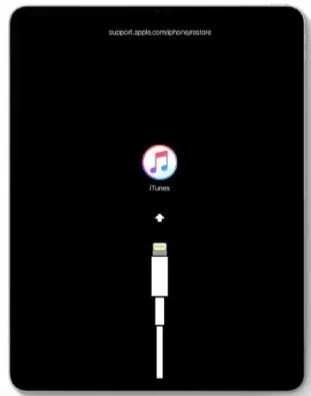 Step 3. iTunes will allow you to restore iPad when it detects that the iPad enters the recovery mode. Click on "Restore" or "Update" to proceed.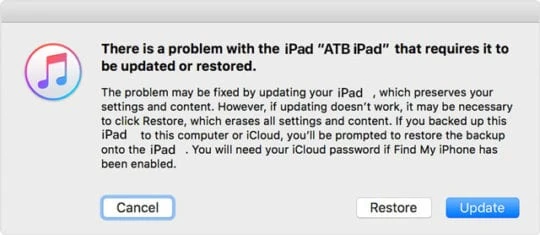 Part 5. FAQs about Resetting iPad
Q1. How do I completely reset an iPad to factory settings?
To completely reset, you need to erase iPad from settings.
Open iPad Settings and click on General > Transfer or Reset iPad.
Click on Erase All Content and Settings.
The iPad will get restarted with all data and settings erased.
Q2. How do I get rid of someone else's Apple ID on my iPad?
Open the site of iCloud.com.
Tap on Find iPad option.
Tap on All Devices at the top of this page and scroll down to select the device you need to remove the account.
Finally, click on Remove from Account.
Final Words
The above solutions will help you reset an iPad which could come in handy when the device is encountering some problems that are difficult to fix. You may also need to reset the device when you want to re-sell it, as this will allow the new users to set up the device using their own information. Whatever the reason you need to rest the iPad, you now know several ways to reset iPad without passcode or computer.