The Find My iPhone function, which allows you to find and lock your iPhone even if you don't have it with you, is an excellent method to keep it from becoming lost or stolen. You should first disable Find My iPhone if you're selling your iPhone. If the previous owner's Find My iPhone function is still enabled, turning it off can be pretty annoying.
If you are confronting this issue, you can try turning off the Find My iPhone setting, entering your password, and pressing Turn Off. You might see the below-mentioned error messages:
Verification Failed.
The username or password is wrong.
The issue registering the iPhone with iCloud.
Here are a couple of methods when Find My iPhone won't turn off.
Part 1. Why Can't I Turn Off Find My iPhone
If you cannot turn off find my iPhone, it is possible that your device was not linked up with the latest iCloud account you are using, or that you have some limitations installed on your iPhone or because of a damaged screen.
Read the solutions below that will resolve the issue, no matter what the cause is.
Part 2. What Can I Do When Find My iPhone Won't Turn Off
Turning off Find My iPhone is functional if you want to keep your whereabouts secret or if you're selling your device, or for any other reason. However, the causes discussed in the above section will not let you turn off find my iPhone. There are several possibilities to resolve it; select the one that perfectly fits you.
2.1 Turn on Location Services
If you do not turn on location services, Apple won't let you disable Find My iPhone manually. Check if "Location Services" is enabled or not. Follow the procedures below to do it using the "Settings" option;
Navigate to Settings > Privacy > Location Services on your iPhone and enable the "Location Services" function.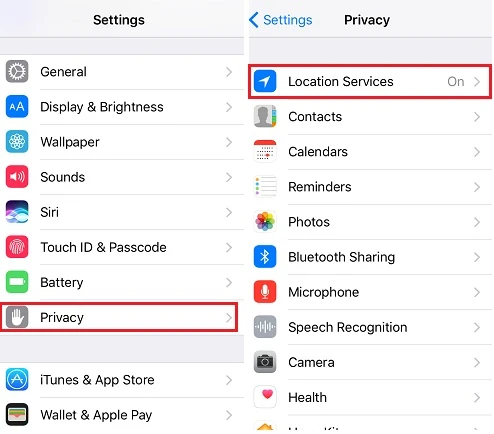 Enabling location services will let your iPhone accept your Apple ID credentials. After that, try to disable Find My iPhone through Settings and iCloud.
2.2 Using iCloud When You Can't Turn Off Find My iPhone
Even if you don't have access to the actual owner's credentials, you can disable the Find My iPhone feature by disabling the iCloud function. Disable the iCloud function by following the steps.
For Windows Users:
Navigate to the official iCloud website and sign in to your iCloud account.
From its primary interface, select "Find My iPhone" and select "All Devices" at the top of your PC screen.
Pick the device you want to remove. When you pick a device, the cross icon will appear on the right side of the device. So, touch on it to delete the device or select "Remove My Account".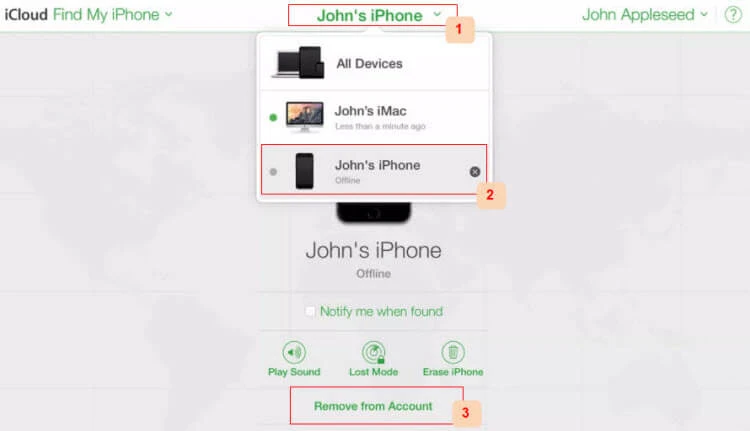 For Mac Users:
Go to "System Preferences" and select "iCloud". Following that, choose "Account Details".
You must now enter your Apple ID password and click "Continue". Then, click the "Devices" option on the account details page.
Finally, choose the device you want to remove and click "Remove from Account".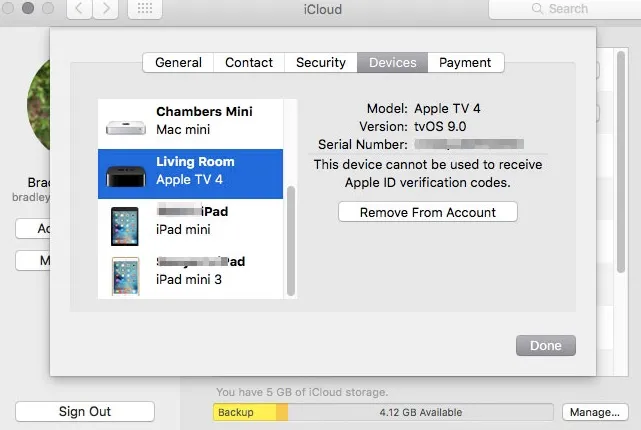 2.3 Disable Passcode from Settings
If the problem persists, deactivate your passcode in settings. Go to the "Settings" menu to do so. Select the "Face ID & Passcode" section for the most recent versions. For previous models, choose "Touch ID & Passcode." Then, change it to "Passcode".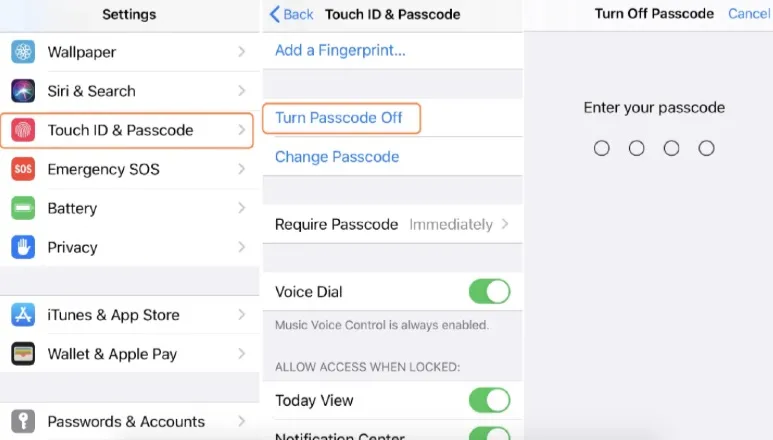 After that, deactivate the passcode and fingerprints, and you will be able to now turn off your Find My iPhone feature.
Part 3. Can't Turn Off Find My iPhone Because You Forgot the Password?
3.1 Put iPhone into Recovery Mode and Restore
If the above solutions are not working or if you've forgotten your Apple ID password, try recovery mode and restore your iPhone. However, back up your iPhone data to iCloud or another external storage place before using this approach. Your iPhone data may be lost throughout this process. Following are ways to put iPhones of different versions into recovery mode and then restore;
iPhone 6 and earlier: Press the power button and home button together.
iPhone 7 and iPhone 7 Plus: Press and hold the power button and volume down button simultaneously.
iPhone 8 and later
Press and release the Volume Up button.
Then, press and release the Volume Down button.
Press and hold the Power button until the recovery mode screen comes.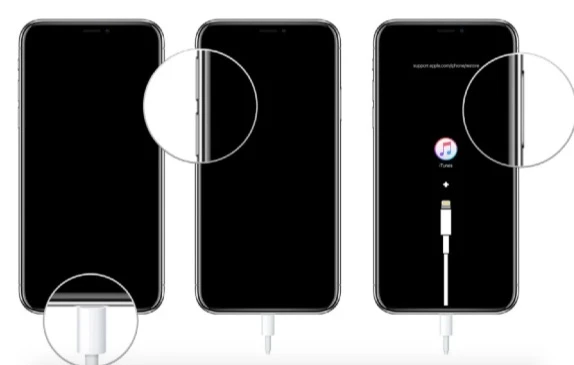 Further, follow the below steps that are common for all versions to complete the procedure;
Launch iTunes on the computer.
Connect it through the device USB cable.
iTunes will determine that your iPhone is in the Recovery mode.
Finally, tap the "OK" button to Restore your iPhone.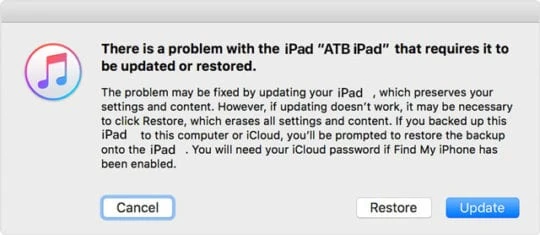 3.2 Turn Off Find My iPhone without Password Through FoneGeek
Suppose you are still unable to turn off Find My Phone. In that case, we recommend FoneGeek Passcode Unlocker, which will effectively defeat Various iPhone Locks to Regain Your iOS Device and address the Find My iPhone issue. Follow the instructions below to utilize FoneGeek iPhone Passcode Unlocker to solve the problem in minutes.
Download and install FoneGeek iPhone Passcode Unlocker on your computer, then run the application and choose the "Unlock Apple ID" option from the home screen.
Connect the iDevice to the computer and begin the unlocking process.
Connect your iPhone or iPad to the PC using a USB cord, and the program will prompt you to unlock the screen and hit "Trust" if you haven't already.
To erase the Apple ID and iCloud account presently linked with your iPhone or iPad, tap the "Start Unlock" button.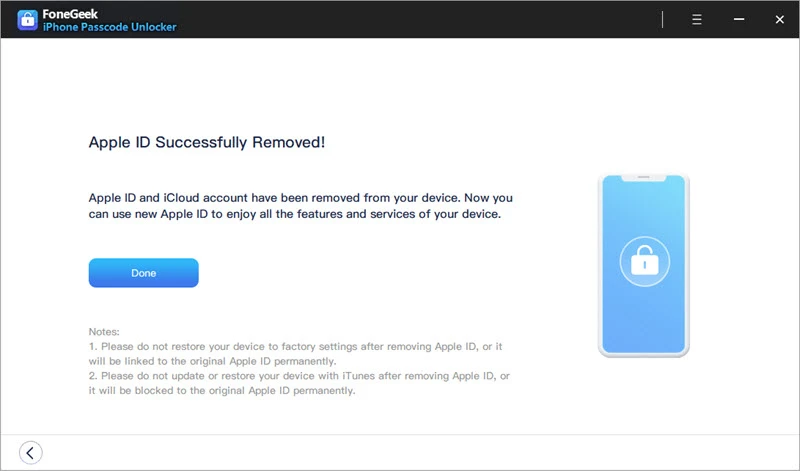 To Remove the Screen Passcode with FoneGeek
Use FoneGeek iPhone Passcode Unlocker on your computer and select the "Unlock Screen Passcode" option. Then, using the USB cord, connect your locked iPhone or iPad to the computer by clicking "Start > Next."
To remove the iPhone lock screen, boot your iPhone/iPad into DFU or Recovery mode and follow the on-screen instructions.
The software will display the device model and all possible system versions once your device is in Recovery or DFU mode. Choose your desired version and click "Download" to begin the firmware package download.
After the firmware has been downloaded to your computer, click "Start Unlock" to begin eliminating the iPhone screen passcode.
The screen passcode will be deleted from your iPhone/iPad in a few moments. You may set up your iPhone as fresh or restore it from an earlier iTunes/iCloud backup.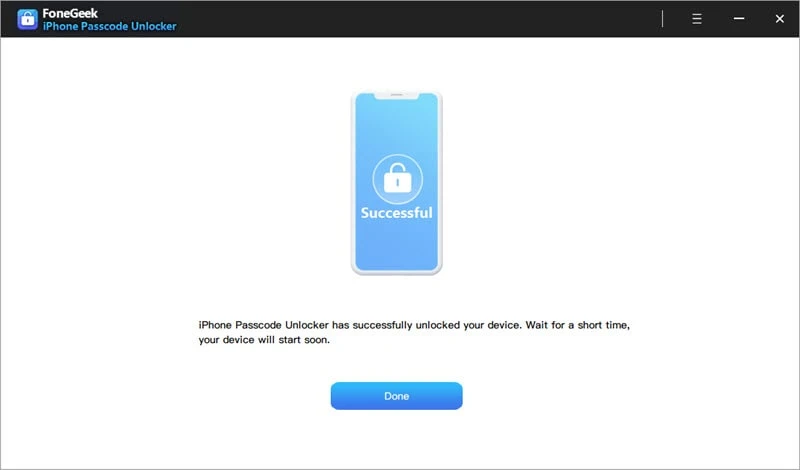 Part 4. What You Want to Know About Find My iPhone
Q1. Does Find My phone still work if the phone is off?
Yes, provided that you have enabled the Find My iPhone, the last known location function. This feature allows you to locate your dead iPhone quickly by showing you the previous location. Therefore, it is recommended that you must have enabled this option always to make it easy to find your lost iPhone.
Q2. What happens when you turn off FMI?
If you disable FMI, you will no longer be able to track your device if it is lost or stolen iPhone. For example, if you've misplaced your iPhone, you can't even check its location on a map or play a sound to find it. Turning this feature off also turns off the activation lock, making your device more prone to unauthorized use and other people locating and tracing your personal data.
Q3. What will happen when you don't turn off Find My iPhone
Turning it off before selling or buying is suggested because if this is not done, you can always locate your iPhone and see the location on the map. Also, the play sound to find your device will remain turned on with this FMI feature.
Final Words
The blog covers the most valuable methods that resolve the issue when you Find My iPhone won't turn off. First, evaluate all of the techniques provided and try them out to solve the problem. Then, use FoneGeek Passcode Unlocker to solve the problem quickly and easily. We hope you found this article valuable.