When you see a notification on your iPad's screen saying "iPad unavailable", you basically won't be able to use your iPad anymore. It's a great security feature that helps stop unauthorized use of your device, but sometimes it can work against you too, especially when you can't remember your password.
You'll get locked out of your iPad after entering the wrong password many times in a row, so you won't be able to access your contacts, messages, apps, media, camera, and also the settings of your phone. It's a frustrating situation, but luckily, there are various ways of dealing with this issue and we're going to share them in this article so that you can be able to get into your locked iPad. Before jumping into the solutions though, let's look at some of its common causes.
Part 1. Why Does iPad Unavailable Screen Appear on iPad
It's hard to fix a problem when you don't know its root cause and that's why it's important to learn why iPad says unavailable. So, what are the reasons behind the iPad unavailable message? Well, these are the main reasons:
Wrong Password Entered: too many incorrect password attempts in a row can equally cause this problem.
Old iPad Software: an outdated iPadOS may lead to this error, hence you have to ensure your iPad's software is up to date.
Issues with the swipe button: if the swipe button fails to work after an iPad has been locked for a long time, then the iPad unavailable screen may also appear.
Part 2. Fix iPad Unavailable Error without Using Computer
Apple's Recommended Way to Erase iPad with Apple ID And Password
Apple provides a step-by-step guide on removing the passcode for the iPadOS 15.2 and later versions when the iPad unavailable screen shows up. The method doesn't involve the use of iTunes on your PC. What's required of you is knowing the Apple ID and password that are associated with your iPad and ensuring your device is connected to Wi-Fi or a cellular network.
If you have all that set, follow these steps to reset the unavailable iPad running on iPadOS 15.2 or a later version.
Start by entering the passcode several times in a row until iPad unavailable message pops up on iPad screen and requests you try again later. If you're able to, then continue entering the passcode until "iPad Unavailable" or a "Security Lockout" screen appears with an Erase iPad option right in the bottom center.
Tap the Erase iPad option and then confirm the action again. Don't mind the alerts that say "This iPad is in Security Lockout. You can try your passcode again in 5 minutes, or you can erase and reset this iPad now".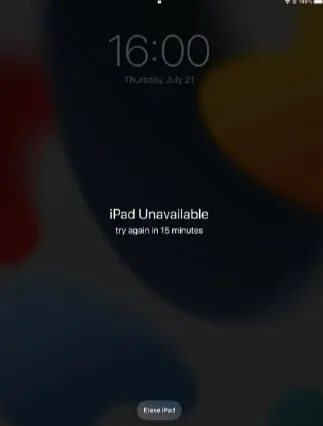 Now, put your Apple ID password in order to remove the Activation Lock on iPad.
Next, tap Erase iPad once more to completely wipe the iPad clean.
The process will take some time and then the iPad will restart. When it does, set it up and restore all your data from your recent backup on your computer or in iCloud.

Note
Your iPad will disconnect from the Wi-Fi network in case you ever turn it off and turn it on again when you see either the "iPad Unavailable" or the "Security Lockout" message on your iPad's Lock Screen. As such, the "Erase iPad" option won't show up on the bottom center of the screen to allow you to reset the iPad. Your device won't connect to the Wi-Fi network again until you unlock the unavailable iPad.
Erase iPad Remotely via Find My iPad (Password Needed)
You can also erase iPad via Apple ID without computer by using Apple's Find My feature. It's a method that works in a similar way for both iPhones and iPads. To erase an unavailable iPad, follow these simple steps:
If you have another iOS device where you've already signed in with the Apple ID that's associated with your iPad, get it and open Find My app. Head to the device list and choose the unavailable iPad and then erase it.
Head to another device's browser and then sign into https://www.iCloud.com. Click the Find iPhone/iPad option. Head to All Devices menu and select the locked iPad. Now, click "Erase iPad".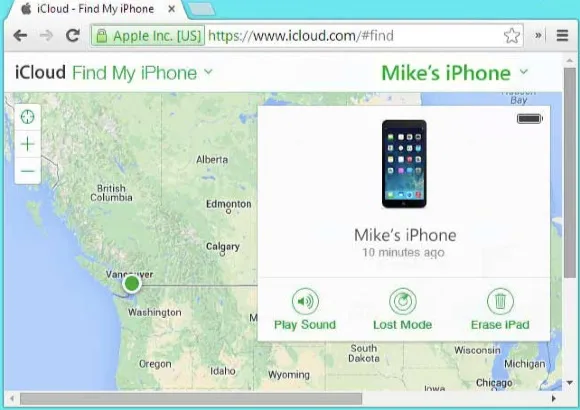 Once you complete the steps above, your iPad will get erased and you'll have to set it up again and also set up a new password so that you can start to use it without any problem.
Part 3. Bypass iPad Unavailable Screen Using FoneGeek iPhone Unlocker
If the "Erase iPad" option won't show up on the iPad unavailable screen or in case you have no Apple ID already set up on your iPad, then the methods we've provided above won't work for you. That doesn't mean though that you can't regain access to the unavailable iPad.
FoneGeek iPhone Passcode Unlocker is one powerful tool that can help you achieve that easily. This effective third-party software is able to unlock 4/6-digit passcode, Touch ID, and Face ID on iPad/iPhone/iPod Touch. Moreover, it needs no technical skill to use it to bypass the iPad unavailable screen, plus it supports all iPadOS versions.
Here's how to fix iPad unavailable using FoneGeek iPhone Passcode Unlocker
Download FoneGeek iPhone Passcode Unlocker on your PC and install it. Then, launch it and hit "Unlock Screen Passcode" button.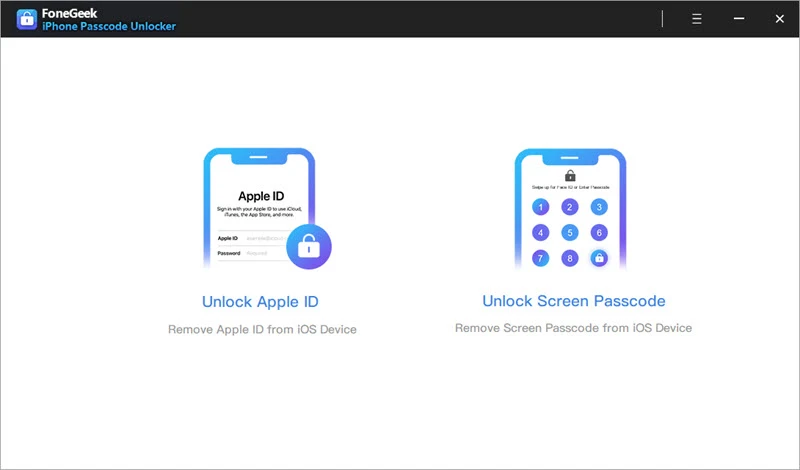 Get a USB cable and connect the unavailable iPad to your PC with this program. The program should automatically detect the iPad. When it does, hit the "Next" button.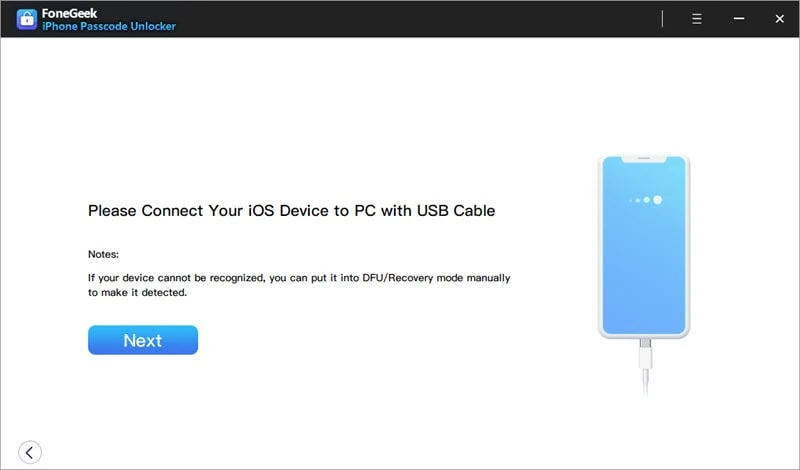 In case the iPad isn't detected by the program, put it into the Recovery/DFU Mode so as to make sure it's detected.
Now download the latest firmware package by simply selecting the save path you want and then clicking "Download" to proceed.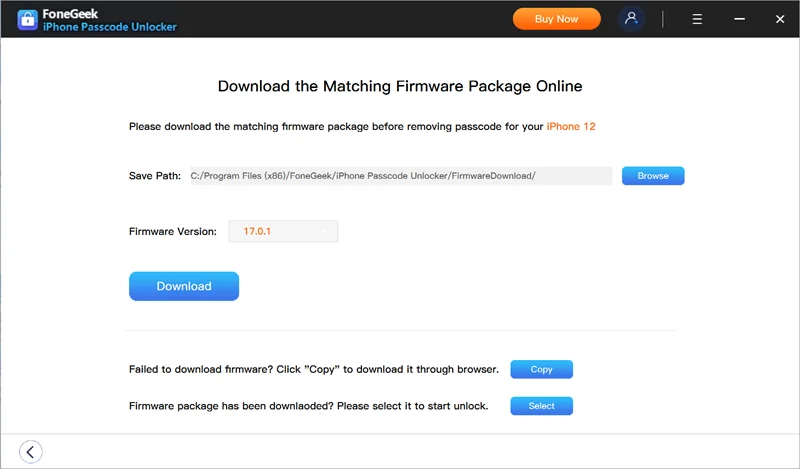 Once the firmware has been downloaded onto the computer, click "Start Unlock".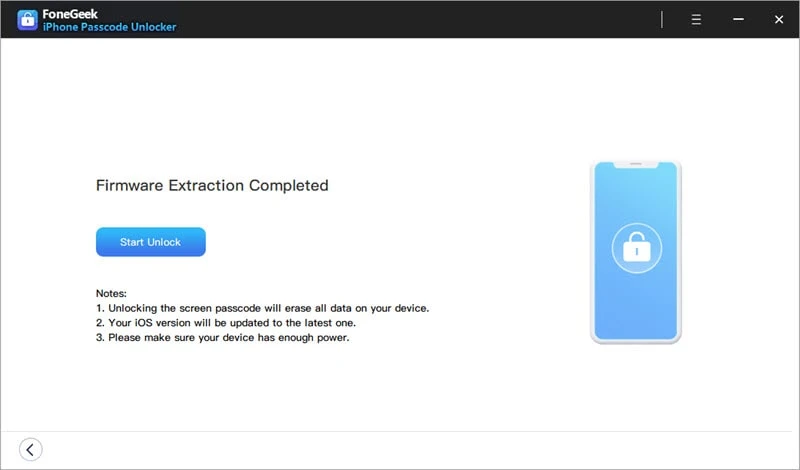 The FoneGeek program will immediately bypass iPad unavailable screen with no passcode.
Part 4. Unlock Unavailable iPad with iTunes
Another effective method you can try is restoring your unavailable iPad using iTunes. Keep in mind that this method as well requires a computer. Here's how to unlock unavailable iPad using iTunes.
Launch iTunes on your Windows PC or Finder on Mac. Get your unavailable iPad connected to the computer via a USB cable.
Instead of directly restoring iPad once iTunes detects the iPad, what you should do next is to totally switch off your iPad when iTunes fails to detect it.
From there, put the unavailable iPad into recovery mode. The procedure for doing this will defer depending on the iPad model.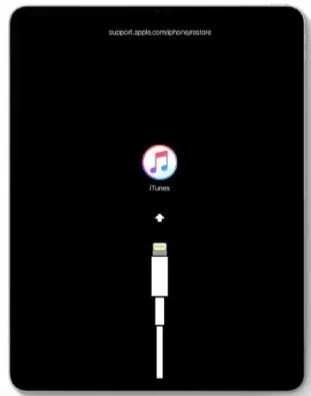 When connected, hit "OK" and then hit "Restore iPad" to begin the process.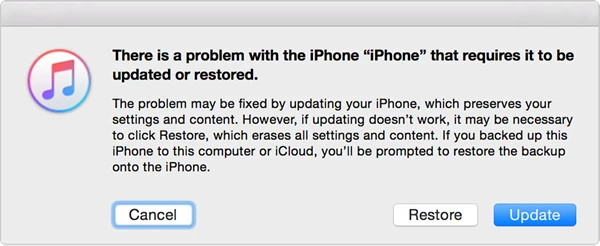 Wait for the process to complete (around 15 minutes). When it does, reboot the iPad and then set it up afresh like it's a new device.
Conclusion
As you've seen above, there are various ways you can deal with the iPad unavailable screen that's showing on your iPad. You don't have to be locked out. You can fix it without a computer, bypass it without an Apple ID password or unlock it with iTunes. You just need to pick your preferred method and follow the steps we've provided in this post.
However, of all the solutions we've mentioned, we would recommend FoneGeek iPhone Passcode Unlocker. It's the most effective and reliable iPad unlocker. It makes fixing iPad unavailable error easier and quicker, so try it out first.