User Concern
"I forgot my iPhone 14 passcode, can I reset iPhone without passcode? How" - Irene from Apple Community
After using an iPhone for a long time, we may always think of resetting the device to solve some hard problems. So, what does it mean to reset iPhone?
It means that the iPhone will be reset to factory settings. After the device is reset, all the data stored on the mobile phone will be deleted, including the photos, videos, contacts, call history, etc.
We all know that resetting an iPhone requires the correct passcode. Is there any change to reset iPhone without passcode? The answers are as below:
Part 1. Reset iPhone without Passcode is Necessary in Some scenarios
It is never easy to factory reset an iPhone. What is unpredictable is that iPhone apps or iOS system will go wrong after factory reset the device. However, it is still not unavoidable to perform the factory reset under some scenarios:
If you got a new mobile device, you may need to sell the old iPhone. But you forgot the password and you have to reset the old device to erase all the personal information to avoid compromising sensitive information.
You don't remember any password information to unlock your iPhone, you can easily erase the passcode by factory reset iPhone.
Factory reset iPhone is also an effective solution to troubleshoot iOS system issues if the iPhone is stuck on black screen, or having other problems.
If you need to restore your iPhone from iTunes/iCloud backup without computer, you have to perform the factory reset while you don't know the password.
Part 2. What You Should Know before Resetting iPhone without Passcode
It's necessary to know something about factory reset your iPhone:
2.1. Apple ID and password are still required to use your iPhone after factory reset the device. Reset iPhone will remove the screen passcode rather than the iCloud account. So you need the iCloud account information to set up your iPhone.
2.2. Reset the iPhone will erase all the data stored on the device. It is suggested to back up your iPhone data in advance so that you can restore your data after resetting. There are two common ways to back up iPhone data.
Via iCloud: Open the Settings app and select iCloud. Scroll down and click on the "Backup" option. Click "Backup Now" to save all the data to your iCloud account.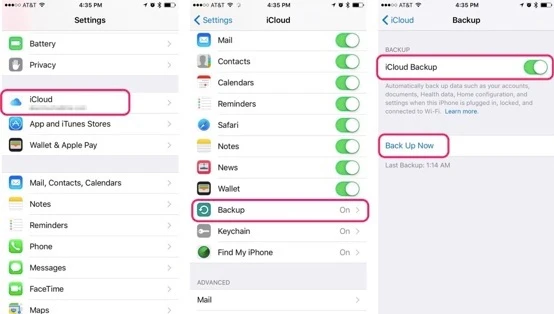 Via iTunes: Connect your iPhone to your computer and launch iTunes. Select your iPhone from the row of buttons above, select "This computer" and click "Backup Now" to back up your iPhone data to your computer, including photos and videos.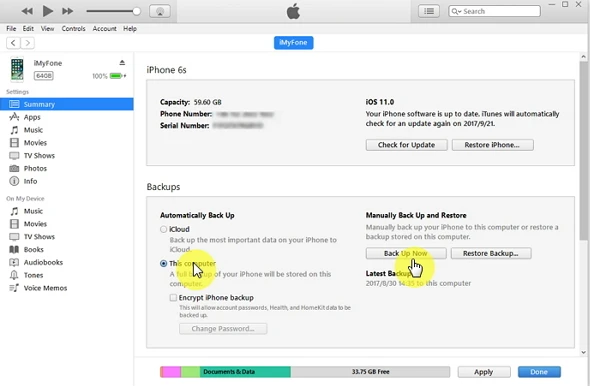 After backing up the iPhone data, you can now factory reset iPhone without password by following the solutions below.
Part 3. How to Reset iPhone without Passcode
3.1 Factory Reset iPhone without Passcode Using iTunes
Forgot the iPhone screen password? Can't use the iPhone anymore? Can't sign in to certain apps or websites? Then you have to reset your iPhone with iTunes.
Step 1. If you can't remember the screen password, you can put the iPhone to recovery mode: Shut down the device, then keep pressing the Home button while connecting your phone to your computer. Start iTunes and continue to press the Home button until the iTunes icon appears on the iPhone screen. Now you can restore your iPhone with iTunes.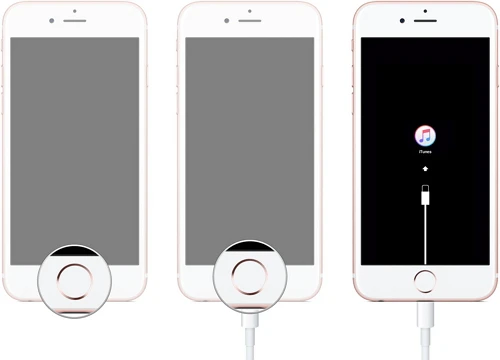 Step 2. iTunes will detect that the device is in Recovery mode. click the "OK" to confirm before restoring with iTunes.
Step 3. After the restoring process, the iPhone will be reset to factory settings.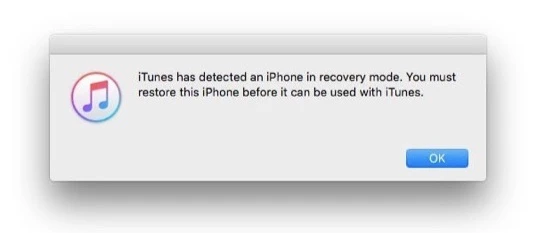 When the iPhone system is restored by iTunes, all the information will be erased, including the passcode. You can now turn on the device and access it without passcode. To transfer the data you previously backed up to the iPhone, you can then restore the device with the previous iTunes backup.
3.2 Factory Reset iPhone without Password via iCloud
Your iPhone is disabled and you don't have a computer in hand to reset the iPhone? Don't worry, you can also remotely reset your iPhone with "Find My iPhone".
Preparations of This Method:
Find My iPhone should be disabled on your iPhone.
Apple ID and password connected to your device is required.
another trusted iPhone/iPad/Mac is needed to receive the verification codes.
Step 1. Go to the icloud.com/find and log in to the website with your Apple ID on your iPhone. You can also log in as a guest on another Apple device to use the "Find My iPhone" app.
Step 2. Click on the "All Devices" menu and select your iPhone.
Step 3. Click the "Erase iPhone" button. Your iPhone will start to reset automatically.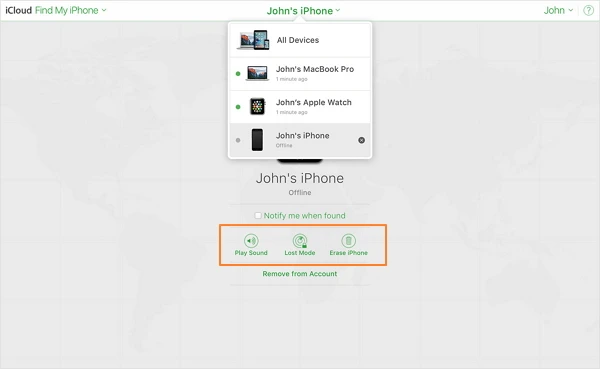 If the data on the iPhone have even been backed up with iCloud, you will then be able to get them back by restoring the iCloud backup.
3.3 Factory Reset iPhone without iTunes or iCloud
Your iPhone is locked and you input the password trying to unlock the device, the device may be disabled if the password is not correct. Factory reset the disabled iPhone without password will be the best method for you.
If the solutions above are not useful to bypass the screen password, then FoneGeek iPhone Passcode Unlocker is a 100% safe program for you if your iPhone passcode not working or you want to unlock iPhone with broken screen, etc. Not only screen passcode, this unlock tool can also remove iCloud activation lock for you.
How to reset iPhone without password with FoneGeek
Step 1. Before performing the factory reset, it is required to download and install FoneGeek unlock tool onto your computer. After launching it, click on "Unlock Screen Passcode" in the main interface.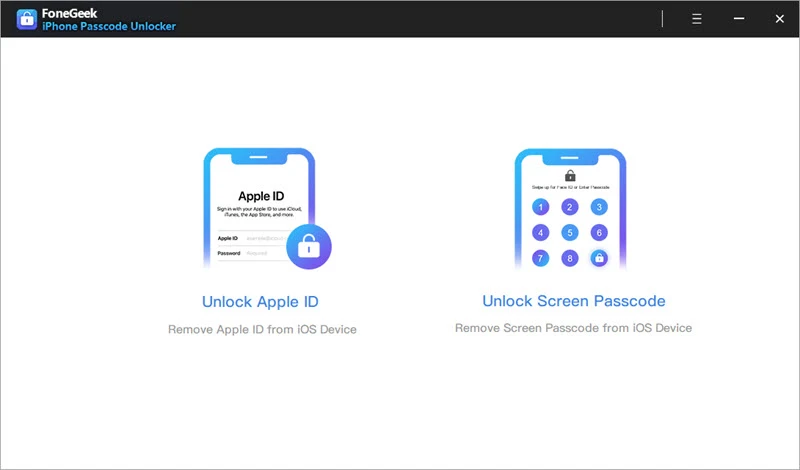 Step 2. Connect the locked iPhone that you need to reset the system with an USB cable.
Step 3. Your iPhone may not be detected since it is locked. If so, let the iPhone be into DFU mode and confirm the iPhone information. Then click on "Download" button to verify the firmware package and download it for your iPhone.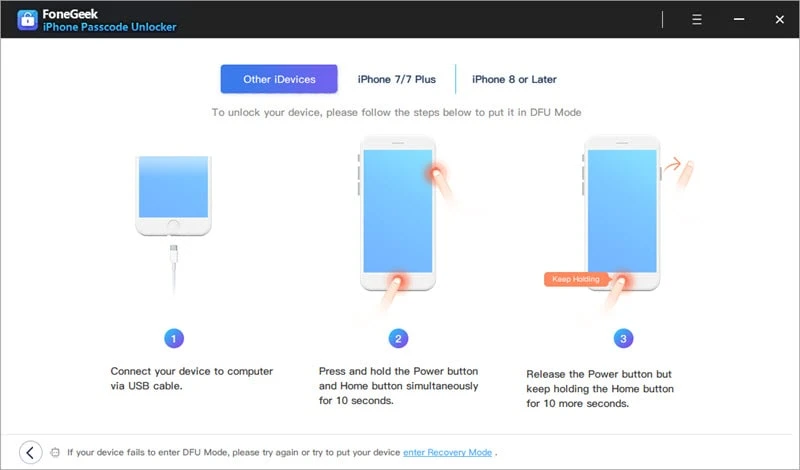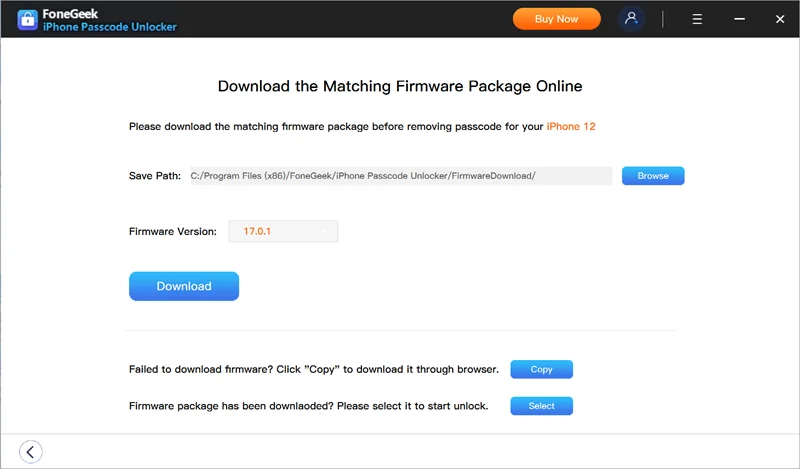 Step 4. FoneGeek unlock program will unlock the iPhone and factory reset the device.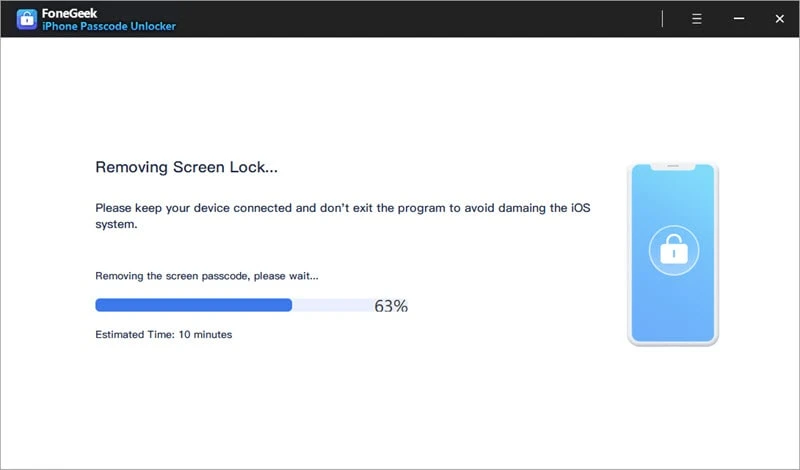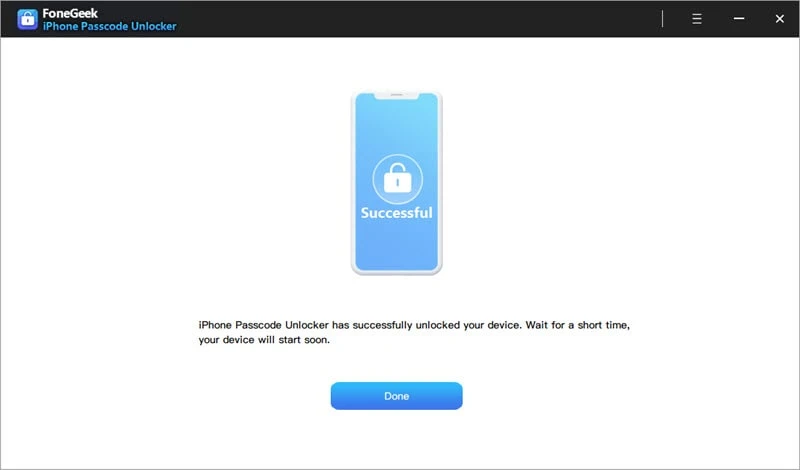 Part 4. Erase iPhone without Apple ID Password
Some methods above require you to provide iCloud account. If occasionally, the iCloud account has been connected to your iPhone but you forgot the passcode, you can try this way to reset the iPhone without Apple ID password.
The core premise of this method is that you have signed into iCloud on iPhone and 'Find My iPhone' is turned off.
On your iPhone, click on Settings to open this app.
Go to General > Reset and select Erase All Content and Settings.
Enter the screen passcode and tap on 'Erase iPhone '.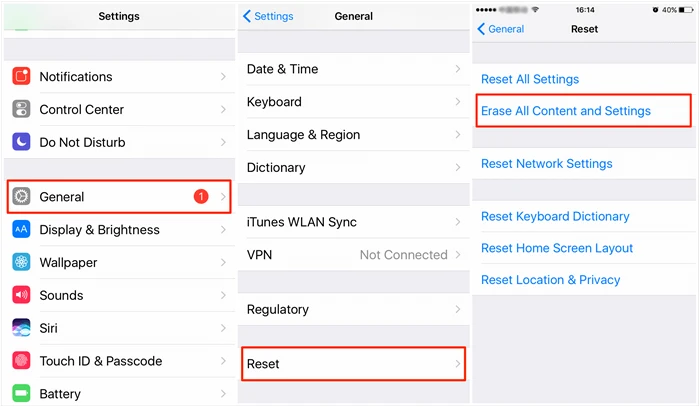 Conclusion
You can use the ways above to factory reset iPhone without passclode. After that, you can recover iPhone data from iTunes/iCloud backup you've made before.